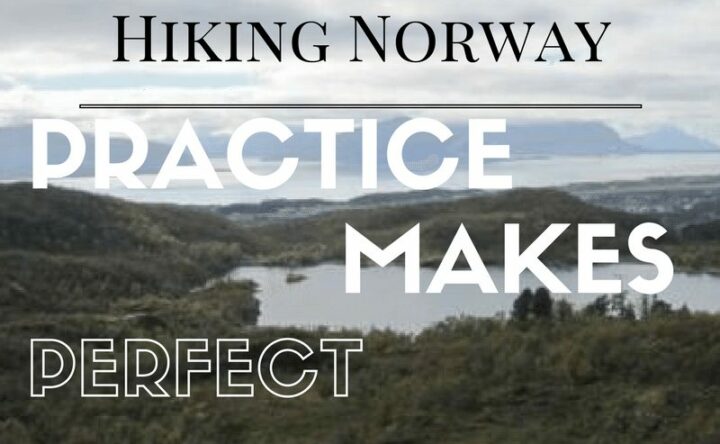 Jim Allen
Guest Feature
Hiking Norway Is A Blast!
By
|
Kate asked me to write about my trip to Norway. She loves to hike and so do I. When I told her I was hiking Norway, she asked, "You hiked all of Norway? I laughed, and said, "Nope, not all of Norway, I only had two weeks. But, I did hike one of the prettiest places, which is Mt Ulriken." So, when she asked me for details, I decided to write a post.
Norway is a great destination for hiking because it's beautiful with panoramic views and it is very safe. The people are reserved, but friendly if you are. Mt Ulriken is a great hike for solo female travelers and travel 50+. By the way, it's easy to find people to join your adventure so that you won't be alone for long.
Hiking Norway is a Blast!
The train ride from Stavanger was a long one – seventeen hours. I left the train station quite tired, but anxious to get to my hostel, the Montana Youth, and Family Hostel so that I could start on some world class hiking. Hiking you say? In Bergen? Yes!
Mount Ulriken is the highest of the Seven Mountains that rise steeply from the city of Bergen. Almost 2,000 feet tall, it begged me to hike it. The natural beauty of Bergen – steep rocky cliffs and thickly forested hills and mountains invite hikers to explore Ulriken – and I did. I looked up at the top of Ulricken. I smiled, as I knew I would be climbing the next day.
How to Get There
Take the number 12 bus the Bergen bus station. I paid about $5 USD. The ride takes about 30 minutes. You'll get off at the Montana stop. Just ask the driver – he'll smile because he sees your backpack the bus driver will know I'm a hiker. The driver stopped. He let me off. I walked for a short distance and saw the sign directing me to Mt Ulriken. Turn left at the sign. I spied a woman on the road, should I challenge her to race? The road goes straight up to the trail head–about a ten-minute walk. You're ready to climb! The best part about this climb, apart from the view, is that it's free! Then you spot another person on the road to the top of the mountain.
Then you see another person, a woman, on the way to the top of the mountain. Maybe I should ask her to race to the top. Or better yet, perhaps we can just talk, I don't have to race her. That might be the right approach. She just walked on. Oh well, wrong comment and a missed opportunity. Hiking Norway Is A Blast! I Love It. There are so many new friends to meet. Of course, there are some missed opportunities. I think I will work on this and try again later with my new improved comments. No More lost opportunities to meet nice people for me!
Footwear
You should wear appropriate footwear – I'd recommend hiking boots, as twisted ankles here are waiting to happen. Bring plenty of water, an extra shirt, and a camera. My September hike was windy, and it howled at the top – it was quite cold. Bring a light jacket if you feel you need one. It was a dry day, but the boulders were slippery, and I slipped quite a bit. So, I wouldn't recommend this hike on a wet or rainy day – it's not safe. I've done tons of hiking, and it's just not worth ruining your day with a sprained or broken bone.
The Easy Way to the Top
For those less intrepid, and not able or willing to hike, you can take a tram to the top. A casual restaurant sits on top with spectacular views.
The next day, feeling refreshed after touring Bergen, I filled up my water bottle, threw on my backpack, and headed out. You have several options. I took the steepest route to the top. Another route is a more gradual ascent. You decide what's best for you.
Steep Deception
This hike can be deceptive. Somewhat vertical, the approach is a gravel walkway, then you will climb a pile of boulders, and then a mix of stone stair steps. Halfway up, you'll encounter a metal railing. It's at this point that the fatigue will kick in. Maybe that's why the railings are there? Routes on Yosemite in Yellowstone National Park have this same system. Despite being the off season and later in the day, the trail was quite busy with local Nordics pushing hard to the top.
Stop and Enjoy the View
I took a break about a half dozen times along the railing to catch my breath and find the killer views of the gently rolling hills and Bergen sparkling in her glory below. I looked up at the summit. It was always the same thing when hiking – the peak never seems to be close enough!
Be Careful at the Summit
I resolved to power up from here – at all costs. My shirt was soaking wet. The cold air coming off the summit was bracing. I poured on every effort I had to reach my top. Only an hour after starting my hike, I was on top! The wind was howling, maybe blowing forty knots. But incredible views of the rolling mountains and ridge lines. How can I explain the beauty of the panoramic view, as I spied Bergen below? One word – Breathtaking! The harbor is spectacular, and the incredibly thick, lush mountain forests smell like Christmas evergreens. I am such a lucky guy!
Summit Ridge
There is quite a bit of exposure on the summit ridge, so watch your footing.
I peeled off my wet shirt and pulled on the dry one. It felt good. The late afternoon skies were starting to darken. It was getting colder. It was time to descend. Getting down is always the toughest part. My knees and hamstrings took a beating. Probably my body took a thrashing because I slipped several times. So eventually, fatigue took its toll on my body. You have to be very careful with your footing, as you are stepping on one slippery boulder after another on a steep incline. Again, wear hiking boots.
This hike is spectacular and gives one the flavor of an authentic Nordic climbing experience.
Here is my Frugal Travel Itinerary for Norway
Jenn, a fellow Blogger, shares her ideas for the Top things to do in Norway.
Hiking Norway from Bergen and Mt Floyen
Whenever you find yourself in Bergen, you must hike up Mt. Floyen. From the fish market at Bergen's harbor, just look up at the mountain – you'll see the funicular, or tram, that runs up the mountain. Several steep mountains surround Bergen's downtown – it would be a waste not to hike at least one of them! Walk across the street, and you find a series of stairs and paths that grow ever steeper. The Mt Floyen hike is quite gentle and took maybe 45 minutes – anyone in good health can do this hike. Along the way up, you will see numerous photo opportunities of Bergen and the harbor below.
Floyen
At the upper part of Floyen is a restaurant with a viewing area. The views from the top are spectacular and panoramic. You'll love the views – it is worth the hike. So, enjoy the views. I did.
Bodo Hiking
The landscape is barren and rugged in some places.
Just north of the Arctic Circle in Norway lies Bodo, a sleepy harbor town of some 50,000 people. Bodo is the end of the Norwegian train line. I asked at the hostel, located in the train station, where the best hiking areas were? – They pointed, and said to "head north, young man." I threw on my backpack and scurried out the door. I caught a local bus near the Sentrum, and within ten minutes I found myself in the outer suburbs. Signs pointed me to numerous trails branching off into the wilderness.
Hiking Norway from Bodo Harbor
Minutes later, I was passing lakes and streams. Climbing rocky ridges with views of the Bodo harbor below and mountainous islands in the distance – all of this only minutes from my hostel! I passed dozens of other hikers, most of whom seemed to be locals all out enjoying a hike on a crisp fall day. One lake I passed had a group of people swimming and warming up near a bonfire. I'm lucky to have done this hike in Bodo – I'll remember it forever!
Travel Tip: Keep your water bottle full when hiking. Hydrated hikers are happy hikers.
Want to learn more try these posts.
Copyright © 2020 Capetown-Rio, Inc. USA. All rights reserved. Republishing is allowed only with written permission. All photography rights on this page belong to Capetown-Rio, Inc. and the author. Do you have a question, business proposal, or speaking opportunity? Please contact me here.