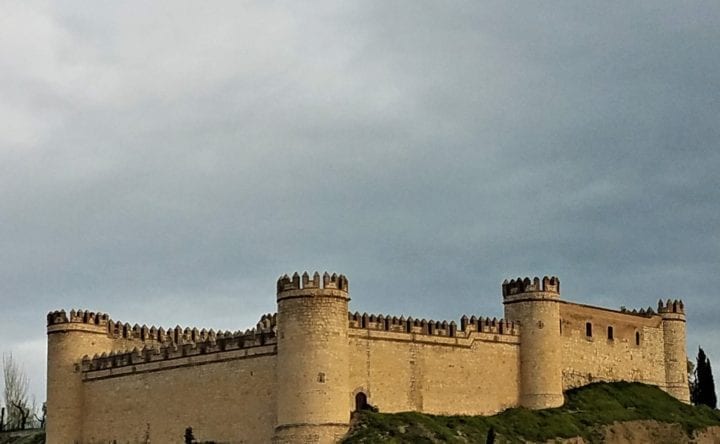 Spain
How a Barking Dog at Airbnb in Alcabon, Spain Changed Me
By
|
Have you ever heard of Alcabon? No? I never heard of Alcabon, Spain either. This is the land of Don Quixote. Don Quixote is a classic tale about a man who went insane, put a barbers bowl on his head, and made everyone who he met life's better. In this area of Spain, castles dot the landscape making this region a romantic destination. My little group of a family of five decided to stay outside of Madrid and Toledo to save money. Alcabon had available Airbnb units, so we booked one. In addition to renting the apartment, a barking dog came with this remote Airbnb for free. I learned it's not worth cutting corners on lodging when traveling.
The bottom line is – sometimes Airbnb isn't as advertised. There is nothing anyone can do once the unit is paid. We were stuck at this remote Airbnb in Alcabon with a barking dog and a stray cat.
Remote Airbnb Location – Alcabon, Spain
Alcabon is outside Madrid and the highlight of location was the local restaurant, one of only two in the town. We saw ads on TV for the restaurant, La Almazara de Alcabon. The food looked delicious. We can't wait to eat the local bean and meat dishes.
Arriving, we find the woman owner at her restaurant, La Almazara de Alcabon and our Airbnb. The lady seemed very sweet. She gave us a tour of the restaurant located in an ancient olive oil factory.  After taking the tour, we realize the woman can't speak a word of English and used Google translator to communicate with us.
As you can see from the photo below the ancient olive press took up a lot of room in the restaurant. The tables are set lovely and it is a beautiful location. The old wine vats are huge. I believe the restaurant fills up every night and is a happy place as long as you stick to the fixed menu. Don't order from the menu, order whatever is the set menu or the meal of the day.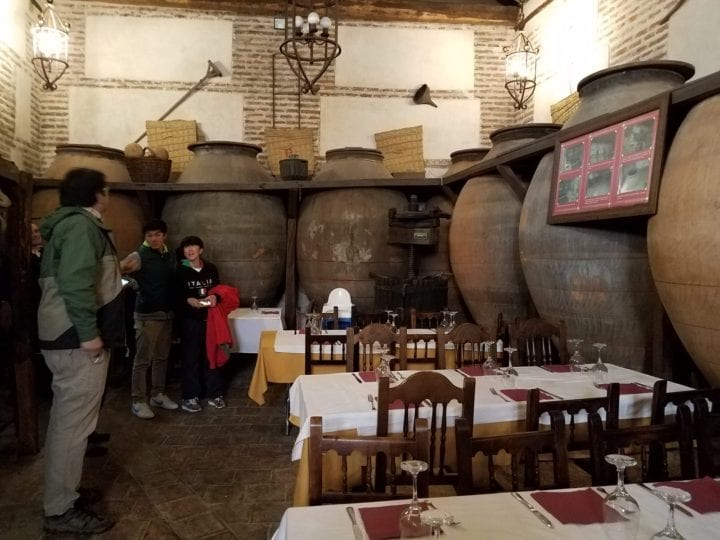 Check-in at the Airbnb
At check-in, the restaurant owner brought us to our second-floor apartment using the small elevator. When we left the apartment, we used the stairwell. We found dog poo all over the landing and all the way down the stairwell. This is the first indication that dogs were on site. Oh, and by the way, the poo stayed there for our whole visit. I hope this place is off Airbnb now!
Back at the restaurant, whiffs of delicious food filled the underground parking area. La Almazara de Alcabon is open for lunch and dinner. Lunch in Spain is from 2:00 – 4:00 pm. Dinner is from 8:00 – 12:00 am. We wanted to go to lunch between  2:00 – 4:00.
Missed Lunch
Unfortunately, we missed lunch because, for some reason in Toledo where we went sightseeing, the mother in our group decided her boys had to eat breakfast again at MacDonald's. They needed a cheeseburger fix or something. The dad and I waited outside patiently.
Later that day, she decided the boys had to go back for lunch at MacDonald's, and they did. The dad and I again waited patiently. We reminded everyone we were trying to have a late lunch at La Almazara de Alcabon by 4:00. We sat in the square waiting for them for two hours.
Restaurant Review
As I said, the town has two restaurants. At 6:00 pm the mom wanted the kids to have dinner. The fixed menu wasn't available because it wasn't dinner time so we ordered off the menu. It ended up being basic bar food, not what we saw on the T.V. ads. It seemed like they served us leftover soup from lunch which looked like old top ramen. If you ever make it to Alcabon, Spain, I would try the other restaurant in town.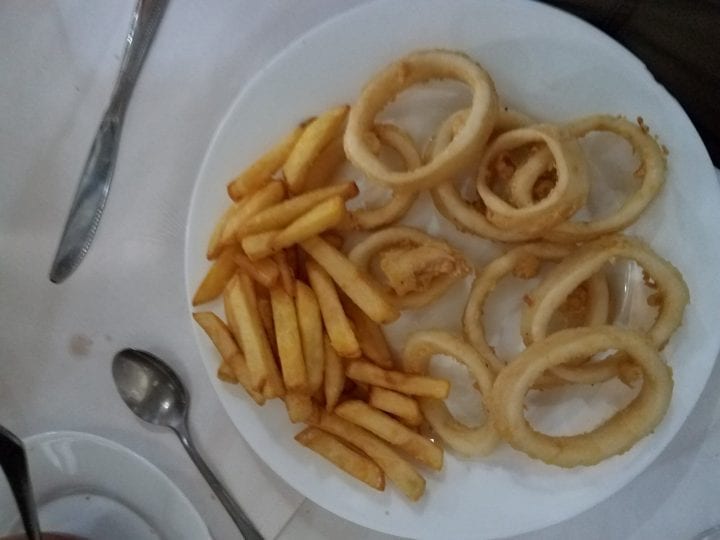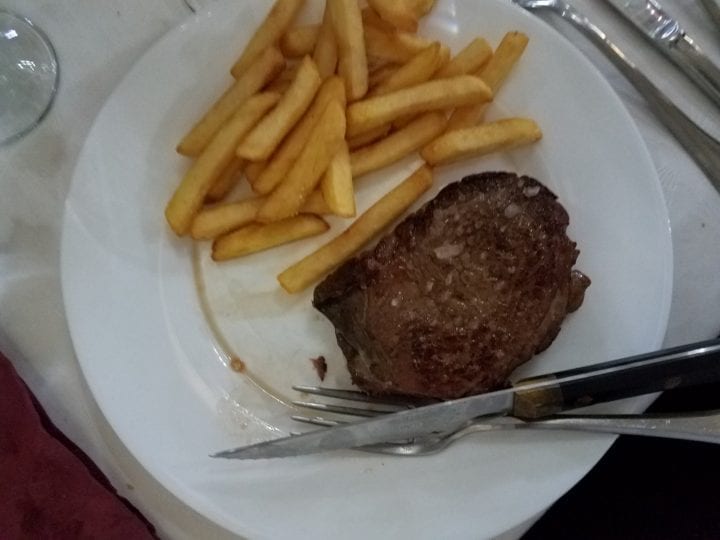 Other Restaurant
Go to the other restaurant shown below, but don't go early. In Spain, people go to dinner at 8:00 pm. Your meal will be better if you go to dinner at the regular posted serving times.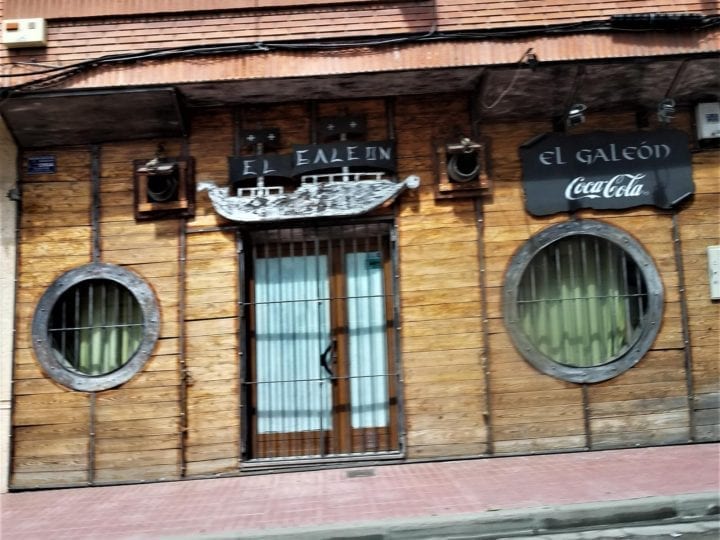 Double Trouble After Dinner
Sometimes, a little trouble comes with travel. Having a bad meal happens. However, we had some problems when we got to the Airbnb as well. The first little bit of trouble is a stray cat. Seems the cat wants to sleep, eat and play with us. The cat put a siege on our apartment. Desperately seeking attention from us, she made every attempt to break in.
Cats are wild in Spain. We learned from walking the Camino de Santiago – don't pet the kitty! Why? Because Spanish stray cats carry lots and lots of fleas. Pet a cat and you will get the worst case of fleas you have ever had.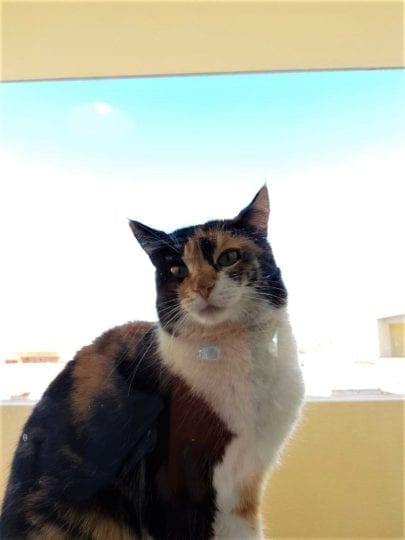 Dog Driven Crazy by Stray Cat
The cat taunted us, trying to break in at every chance. Finally, on one of our few sunny days, we closed the blinds to stop the cat from crying at the window sill. There are dogs next door. Boy, Kitty got the dogs barking.
One night, it started at dark around 8:00 pm and carried on until around 12:30. According to some in our house, it went longer than 12:30. Regardless, the dogs barked all night long.
Crazy Dogs
The dogs knock over water bowls, made loud crashing noises preventing everyone from sleeping. But worse, the dogs (there are two) terrified one of the kids, sleeping alone in an upstairs room. He got very scared of the dogs. The dogs are tied up and try jumping to escape which cause continual noise against his wall.
The child trying to sleep upstairs thought the empty unfinished room next to his is haunted. Then he thought it's someone breaking into his room. I'm upset by the noise, but he is scared to death.
We talk to neighbors about the dogs. Everyone knows about the barking dogs, this wasn't the first time it happened. The dogs are the neighborhood nuisance and hazard. Needless to say, this isn't listed as one of the features of the apartment.
Why Share This Information?
Since I'm writing a travel blog, I want to share the good and the bad when it comes to my trips. I'm sharing because, I think when it comes to travel, you get what you pay for, in all cases. If most rooms are one price and you find a place that is much lower – it's because that's what the place is worth.
Airbnb Experience
Because of my Airbnb experience in Spain, I will never rent from Airbnb again. For me, Airbnb is not worth the money or risk. Why do I feel like this?  I feel like this because good communication can fix any travel problem. Not being able to communicate with a host makes the rental problematic. Once you are in a rental, it's hard to move out if you don't like the location. It's not like a hotel, where you can ask for a different room. If an Airbnb is advertised and isn't like the ad, there is nothing that can be done. Once you have paid. It's over and you are stuck there.
I just don't want to ruin my travel adventure because I want to save money and end up not being able to sleep. Staying in a cold, dirty, noisy room, makes it impossible to sleep.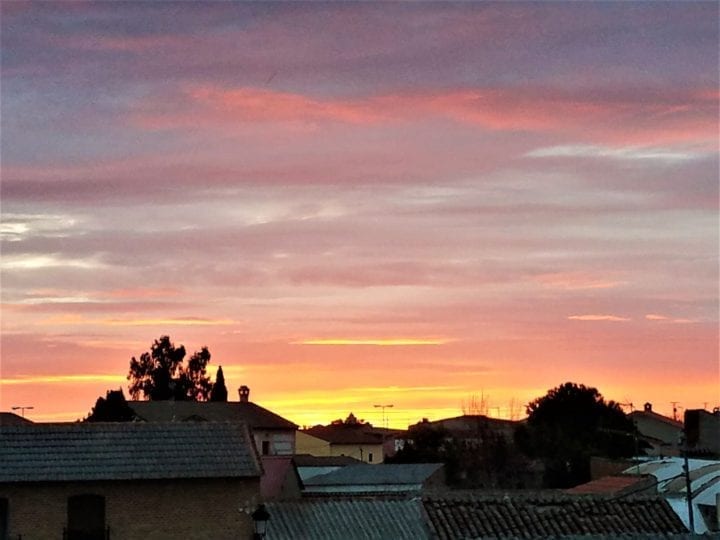 Here are some other posts about great food and travel you might enjoy. At these locations, we had great meals at great locations.
Copyright © 2022 Capetown-Rio, Inc. USA. All rights reserved. Republishing is allowed only with written permission. All photography rights on this page belong to Capetown-Rio, Inc. and the author. Do you have a question, business proposal, or speaking opportunity? Please contact me here.