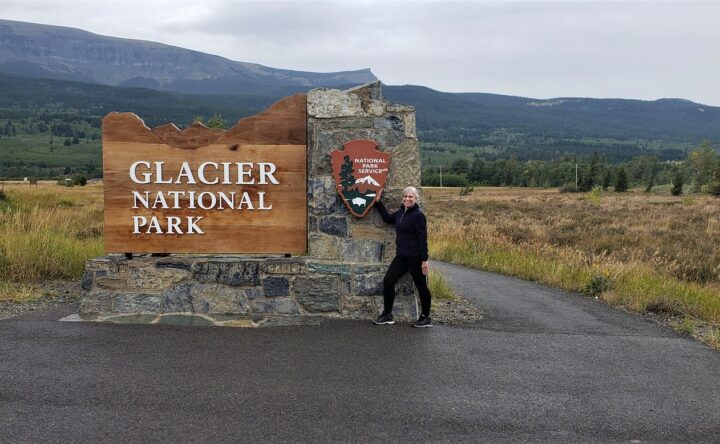 USA
Glacier National Park Itinerary – West, East and N.E. Glacier
By
|
Glacier National Park has always been on my bucket list, and it didn't disappoint my expectations! One of the parts of this trip was all the wonderful people I meet at Glacier National Park. Below is my Glacier National Park Itinerary for this journey.
Glacier National Park Itinerary – West, East and N.E. Glacier
I don't recommend booking hotel rooms at Glacier at the last minute, as I did. Because of my troubles at my home, I ran away from my problems in September. I ran to Glacier National Park to save my mind. Below you can see a photo of my living room. The wall in the picture is the second wall installed and looks better than the first. I'm on wall the third wall installed now and its working out well.
Why I Went to Glacier National Park
My trouble started with a broken window and grew from there. I've been trying to get it fixed since January. The problem with my home keeps growing, not because of what I have done, but because it has defects that need fixing.  The number of fixes keeps growing and the first company selected to fix them wasn't designed to handle my type of project. As more problems are discovered, I got overwhelmed. Now that it has gone on for more than nine months, I had to escape or go mad. My lawyer handled working with the HOA. I went to Glacier National Park to save my mind and to help me breathe again.
Solo Travel
Everyone travels for different reasons. Traveling solo is fun and relaxing for me. When I travel solo I don't have to count on someone else joining me. Solo travel lets me come and go as I want to go. I share this story because people travel for different reasons. This is my honest reason for this sudden trip. I'm thrilled I went. In my opinion, Glacier National Park is one of the best US National Parks.
Hotel Information
Usually, people book hotel rooms a year in advance for Glacier. Books for the upcoming year, start around September the upcoming year. I got lucky. I found hotel rooms and took whatever I could find.
One thing to Note: Check the Glacier National Park site for Bear season and road closures. It was Bear Season when I went. Therefore, RV or hard-sided car camping was allowed in East Glacier and some areas of the park. If you dont have a hotel reservation, come prepared to sleep in your car if the part posts Bear Warnings and Road closures.
Glacier Hotel Recommendations
My Glacier Hotel preference based on my research is the east side because it's less crowded. But in September it was overly crowded, everywhere in Glacier. However, the east side is the least crowded at any time of year.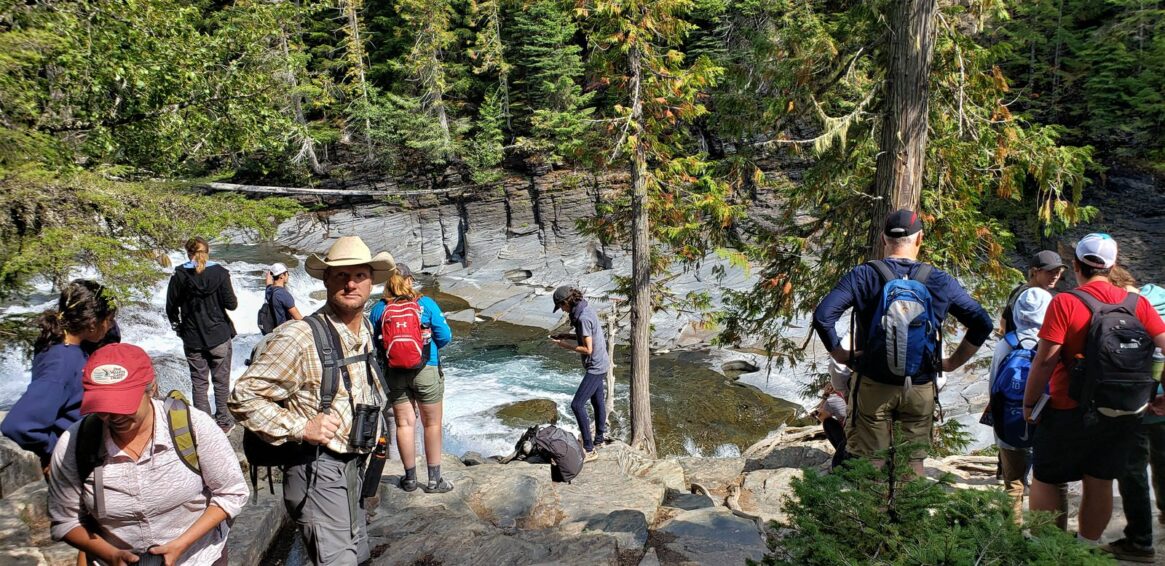 Too Many Tourists Visiting the Park
The park, designed for 1 million visitors over 12 months, receives 3 million visitors in the three summer months. Glacier National Park packed with people to try one's patience. It wasn't just me that felt this way, as I hiked and met friendly folks that were the first thing they said about Glacier. For example, Logan Pass parking was as crowded as Costco's parking lot on its worse day. To avoid parking lot wars, get out by 7:00 am arriving no later than 8:00 am.
Accommodations
Book early to get the accommodations you want. Also, book directly with Xanterra Travel to avoid the booking fees. Call 855-733-4522.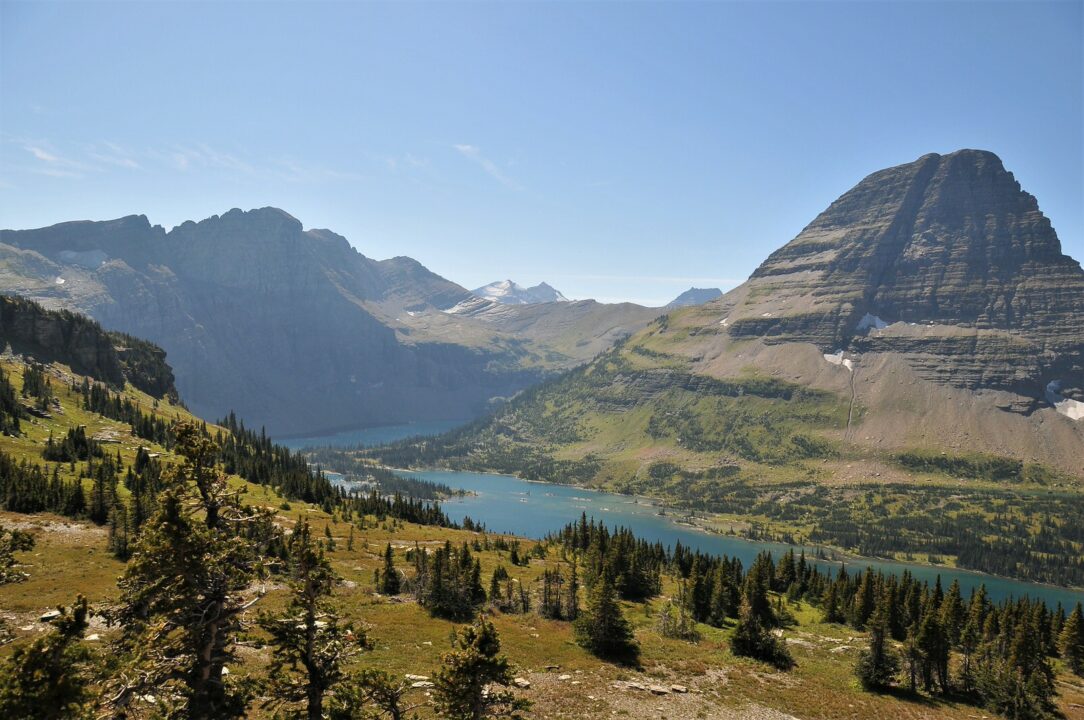 Glacier Park Lodges are open seasonally from the beginning of June through mid to end of September. Rooms book up fast, especially for the peak months of July and August.
For same-day reservations or to reach a lodge guest, call the property directly:
Many Glacier Hotel (406) 732-4411.
Swiftcurrent Motor Inn and Cabins (406) 732-5531.
Rising Sun Motor Inn and Cabins (406) 732-5523.
Lake McDonald Lodge and Cabins (406) 888-5431.
Village Inn at Apgar (406) 888-5632.
How to Get to Glacier National Park
Seattle to Kalispell, MT takes 8.5 to 9 hours. I left from Issaquah, WA, and rented a car from Enterprise through Costco.  Enterprise is excellent, and my preferred rental car agency because they can pick me up and drop me off at home.  Another good car rental company is AARP car rentals.  Compare these two agencies to find your best car rental rate. Both require a membership.
Another option if you are traveling from the Pacific Northwest is to try Amtrak. Eastbound Seattle trains leave at 4:41 p.m., connecting overnight in Spokane with eastbound Empire Builder trains from Portland. Visitors from Portland and Seattle arrive at Whitefish at about 7:30 a.m. Glacier shuttles can take you to your hotels.
The train also arrives at West Glacier at 8:11 a.m. and East Glacier at 9:44 a.m. Therefore you can get to Glacier by train and use the Glacier National Park Shuttle to get to all hiking destinations. This is the most ecologically sound way to see the park and maybe the least stressful.
Glacier National Park Itinerary
Day 1- I drove to Kalispell. Don't do what I did. My suggestion is to drive to Bigfork, the Vista Hotel, or another hotel/motel outside of the park.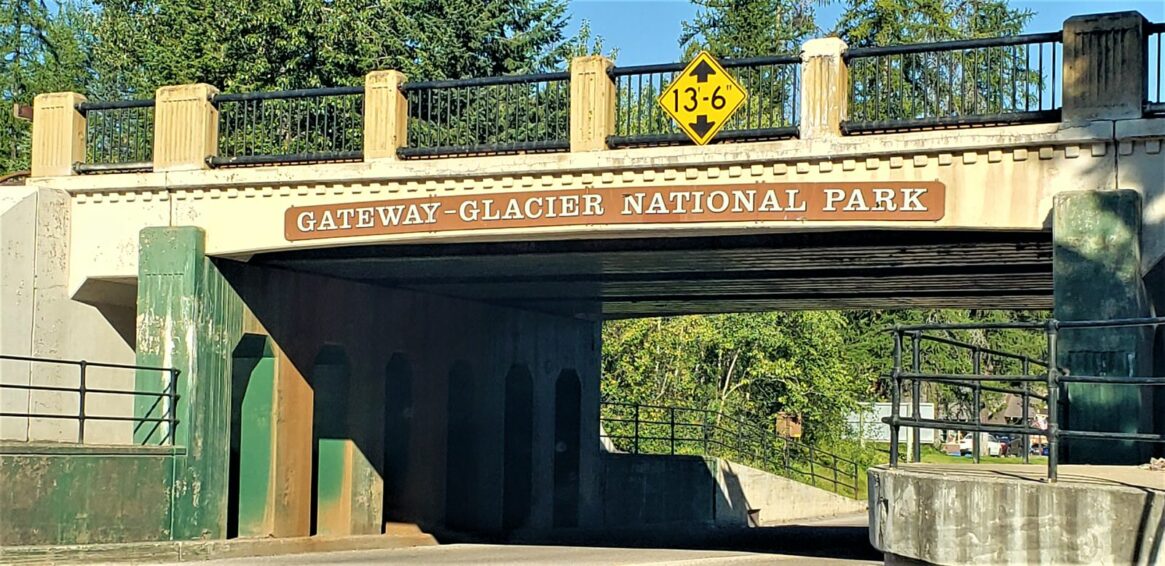 The first place I went to was Logan's Pass on my first day, and the first trail I hiked was Logan Pass Lake and Outlook.
Something to Note:
On day two, when the fog rolled in, it was terrifying to drive the pass and very slow going. When the weather is bad, the drive is very slow and challenging. I would say it takes about four hours to drive the whole pass. If the weather is terrible, it takes much longer.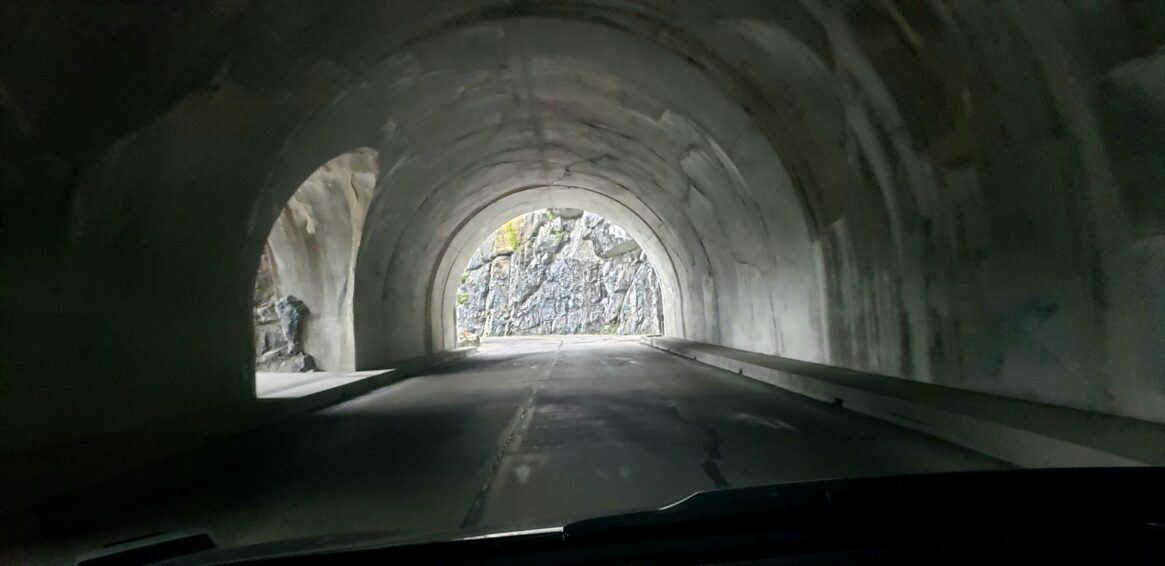 Weather Changes Constantly – Be Prepared
I was happy when I got to Logan's pass as my first day. Below is a photo of the Logan Pass parking lot on a clear day. An adorable couple helped me park and guided me into my parking spot because the tourists are aggressive and frustrated, so they steal parking spots. The sweet couple I meet in the parking lot helped me get a parking spot by standing in it and directing me. They were very courageous to help me.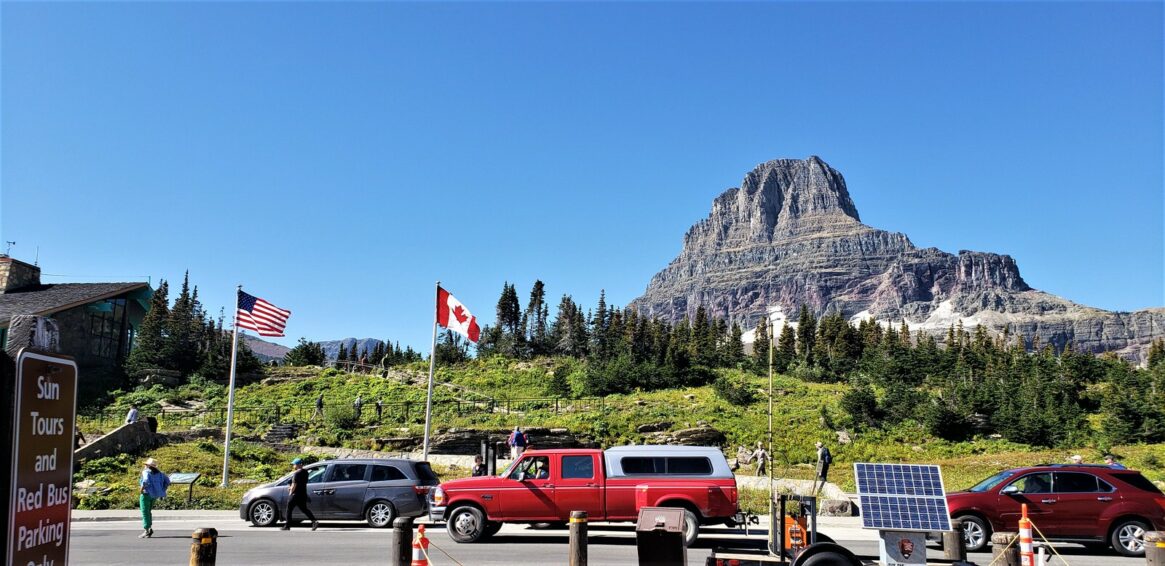 Day 2 – Glacier Highland Motel is right outside the West entrance, and I stayed there one night.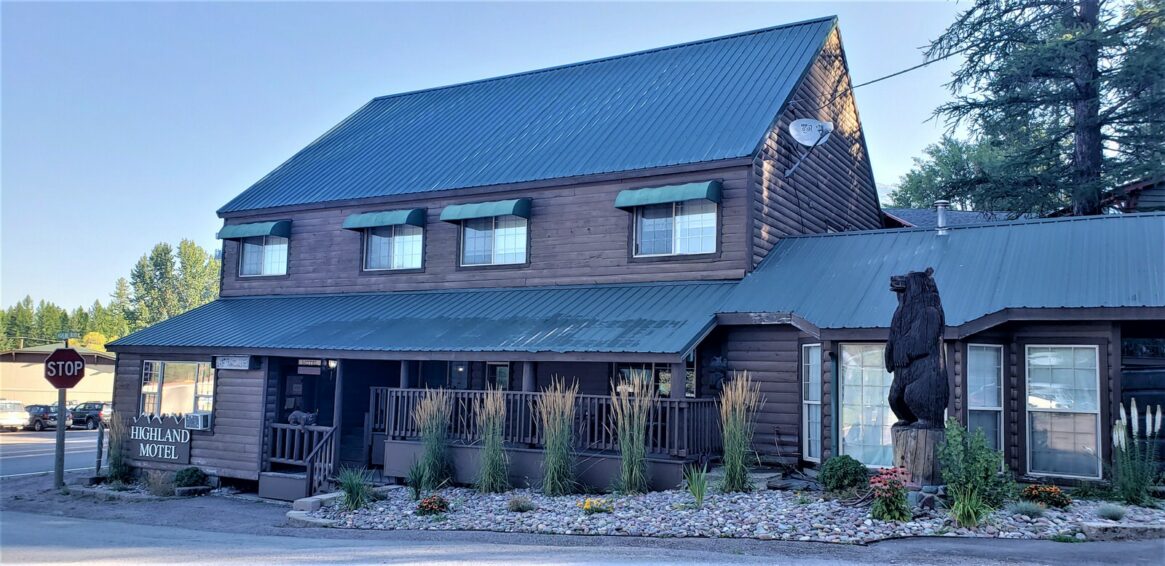 Day 3 and 4 – I stayed at the Swiftcurrent Motel and Cabins 
Below are some pictures of the adorable cabins.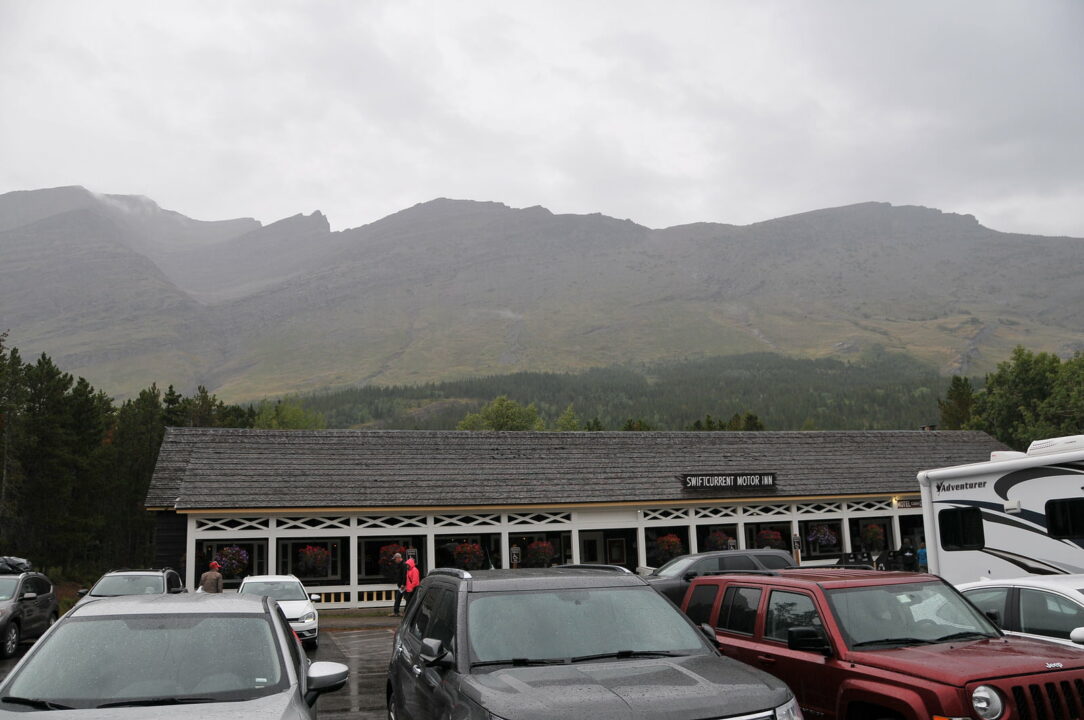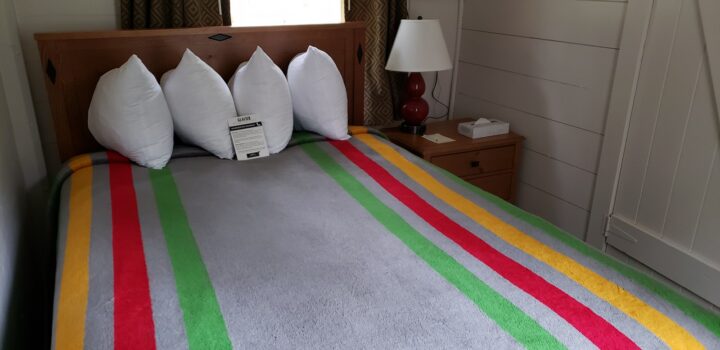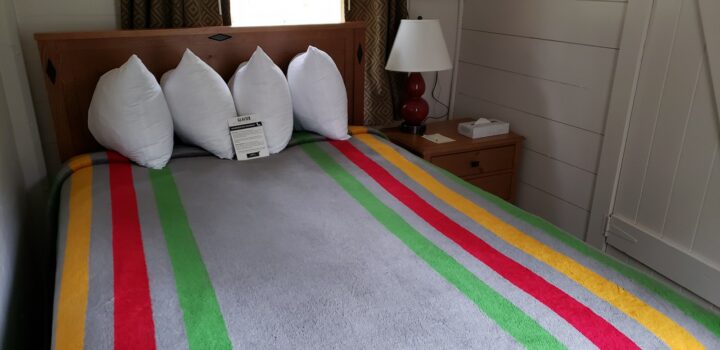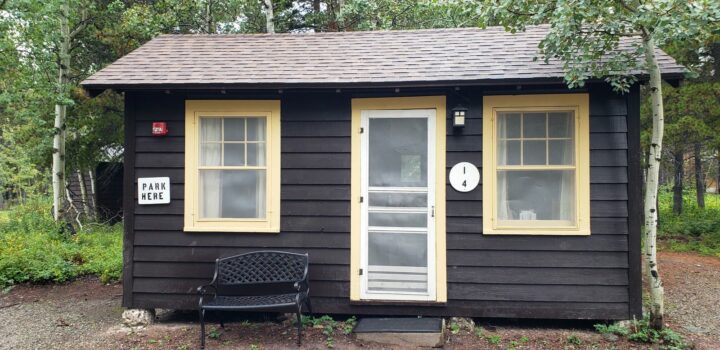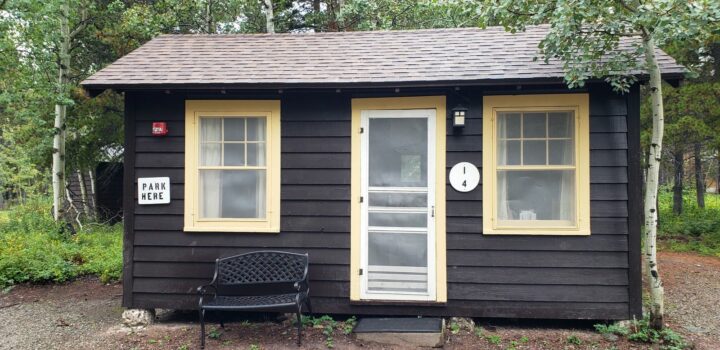 Day 5 – Lake McDonald Lodge and Cabins
Here is a photo of my wonderful cabin. I loved it!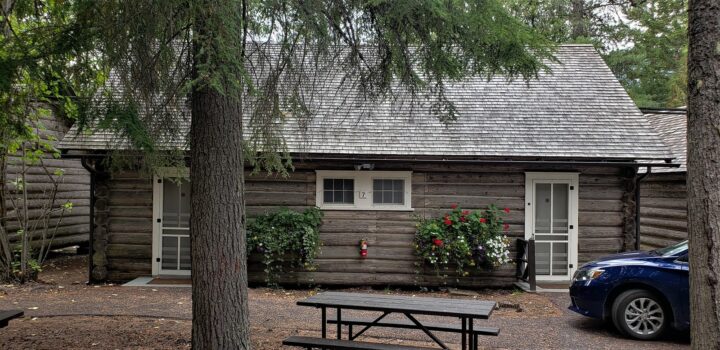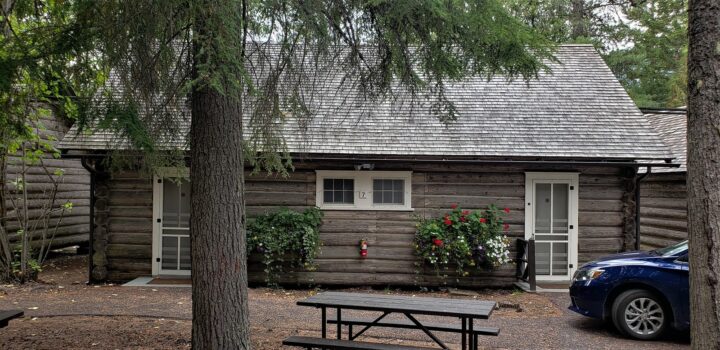 Here is the iconic Lake McDonald Lodge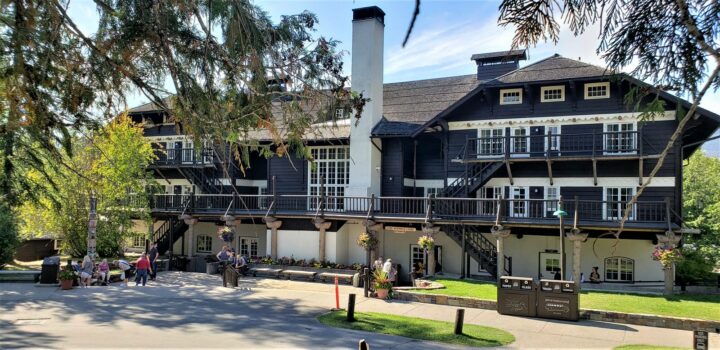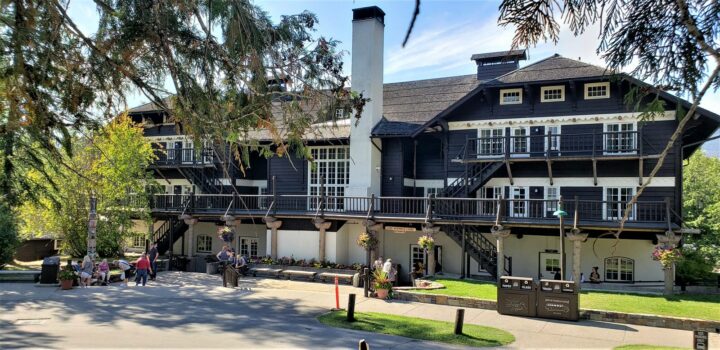 Sadly, I drove home on day six because there were no hotels available.
Try to Book Many Glacier Lodge
I wish I could have stayed at Many Glaciers Lodge. Luckily, I did get to eat in the bar by joining another group of three people. The chili was great. The Red Lentil vegan burger is excellent too. A friend told me the red lentil vegan burger was delicious, and it was super. It was sold out one time when I went, so back I went the next day to order it.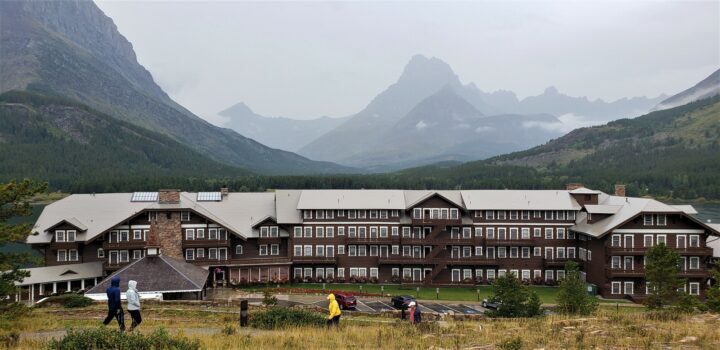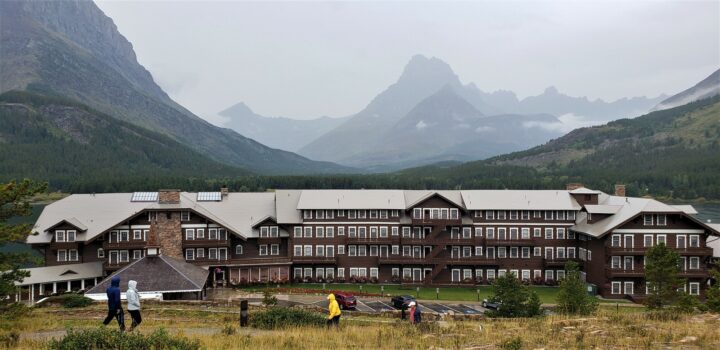 Eat here, stay here, or walk the lake. It's a fabulous location and a perfect spot for sunset.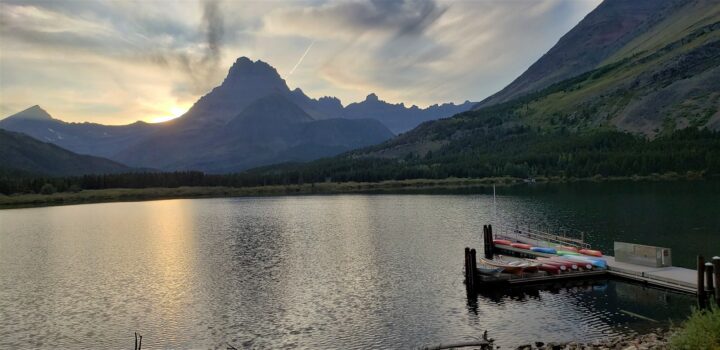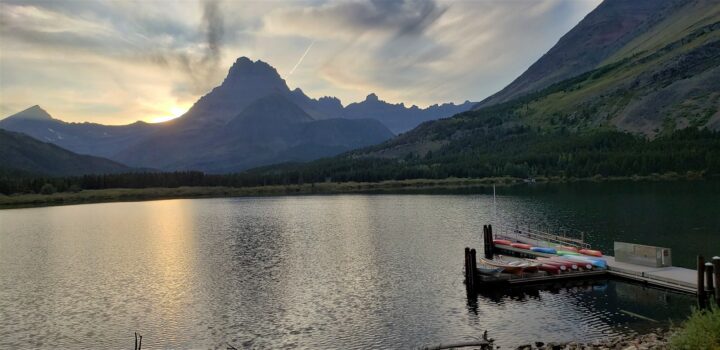 Below is St Mary's visitor center. All the visitor centers at Glacier National Park are informative, with rangers that are very helpful and full of exciting lectures and advice.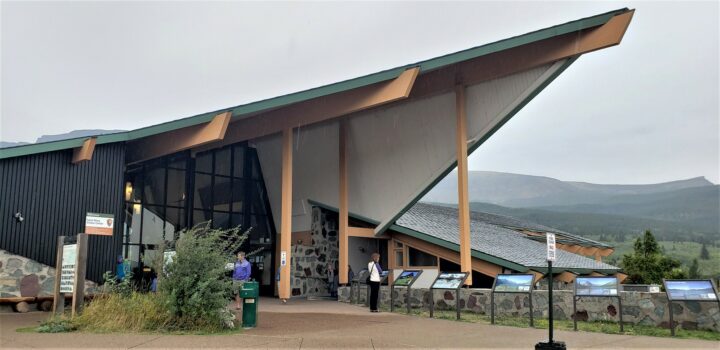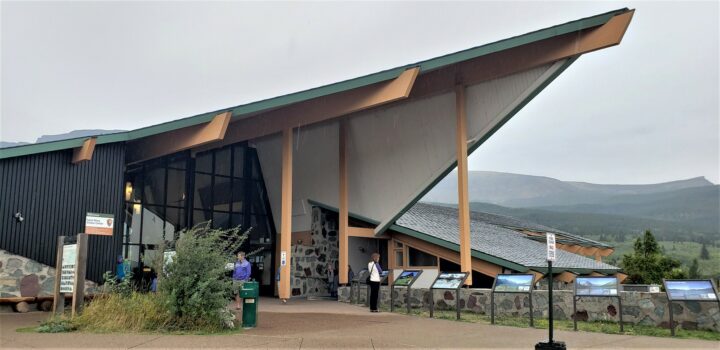 One More National Park
Please consider going to Yellowstone when you are in the Rockies. Here are some great Yellowstone sights I saw while I was in Yellowstone.
If you want to take the ultimate day hike? – Try Crater Lake walk 24 miles in one day.
Or if you are in Florida, try a day trip to Dry Tortugas National Park.
Copyright © 2023 Capetown-Rio, Inc. USA. All rights reserved. Republishing is allowed only with written permission. All photography rights on this page belong to Capetown-Rio, Inc. and the author. Do you have a question, business proposal, or speaking opportunity? Please contact me here.