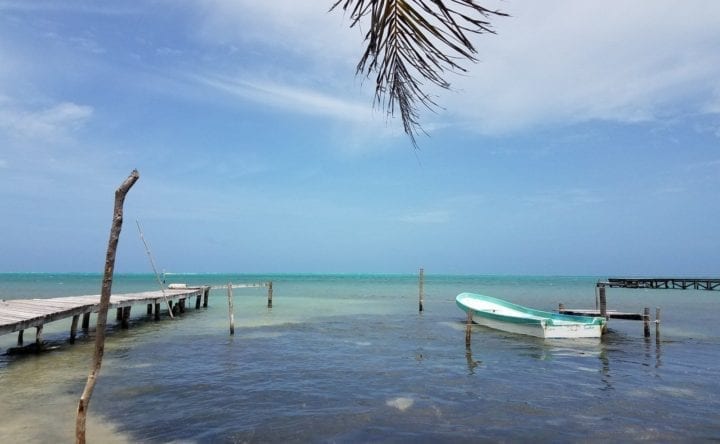 Belize
Best Food and Bars in Caye Caulker, Spiny Lobster Lunch
By
|
Sometimes the best part of a trip is the local people I meet along the way. The beaches, water, views, and activities are awesome in Caye Caulker. But, my lunch on Caye Caulker with the men who drove our boat was the best part of the day. It was enlightening because I learned about the high unemployment rate and challenges Belizeans face. I found out about the Guatemala conflict with Belize over Belize's abundant natural resources. It sometimes seems that conflict is everywhere even in an idyllic location like Belize.
Best Caye Caulker Food, & Spiny Lobster Lunch
We walked down the main street of Cay Caulker to find the perfect spot for lunch. After I passed the land for sale buildings, I saw lots of bars and restaurants. I saw little puppies for sale along the way. Specials on billboards are always offering today's best deal.

Ocean Ferry Dock
Next, I saw the ocean ferry dock that takes tourist to other islands including San Padro which is hugely popular. Here are the ferry rates and departures from Caye Caulker that go to other islands.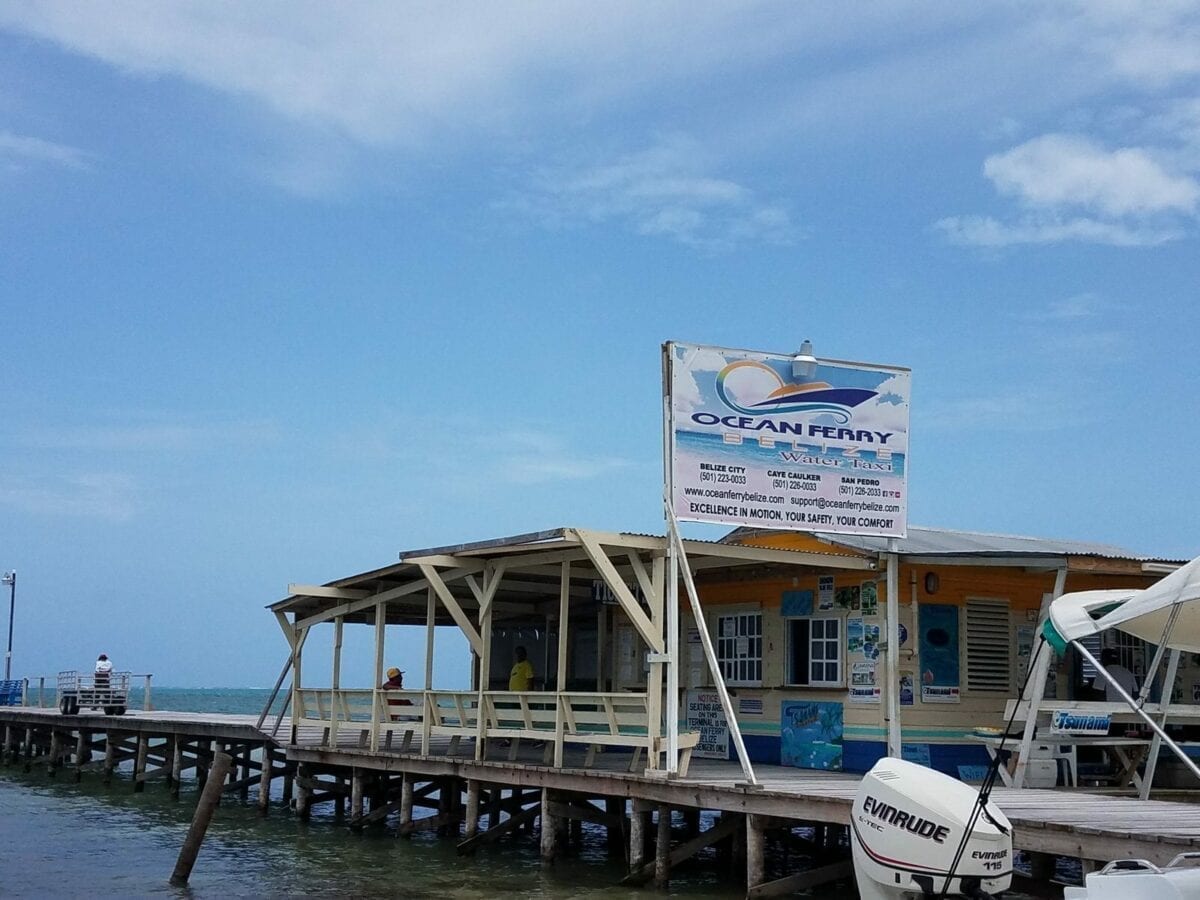 Beaches
We kept walking, past the beaches to the end of town. On Caye Caulker, walking is the transportation mode. No cars allowed on this island. It's an easy little walk and no worries about traffic.
If walking, isn't preferred, try renting a bike or golf cart.
I enjoyed the view of white sand beaches and gorgeous blue water.
All the bars sell food, but I wanted to find a lunch restaurant that had a unique ambiance. Since I was taking our boat driver and our snorkeling guide to lunch, I wanted a real restaurant.
As a special treat for me, I was looking for a good place with lobster. We found a restaurant with an unusual view and the most expensive lobsters on Caye Caulker. I don't know if this lobster was better than anywhere else, but, it was a large portion.
Restaurant
I was looking forward to a quiet talk to my new friends and learning about Belize from a local point of view.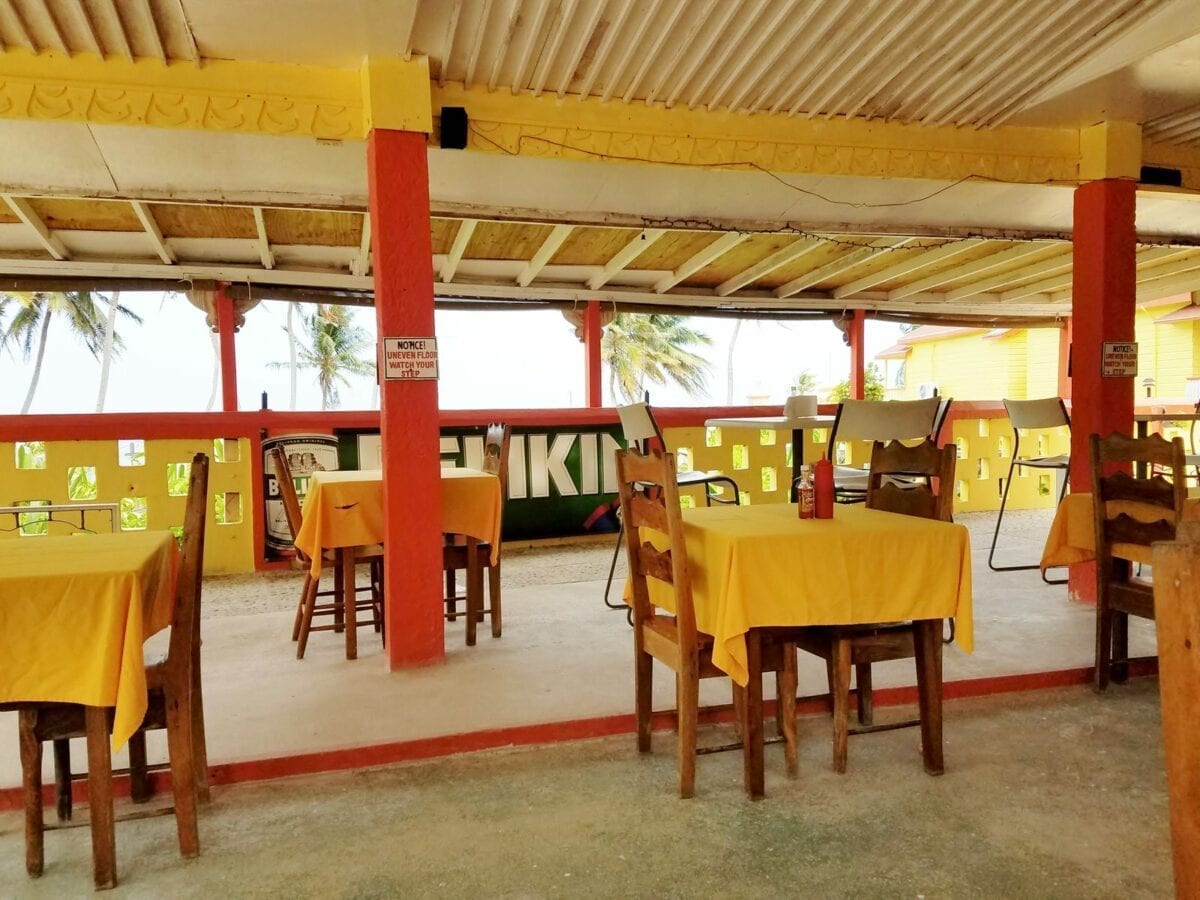 We sat down, ordered quickly and started to chat. I asked why everyone drank Belkin beer because I had seen a lot of ads for it. Belkin is a local beer. I tried one. Belkin tastes like a Pilsner. It was good, but, surprisingly they serve it at room temperature. I don't know if that's normal.
We were all starving, and we noticed that time just drifted by. The meal came on Belize time, but, it didn't matter after all this is my Belize vacation.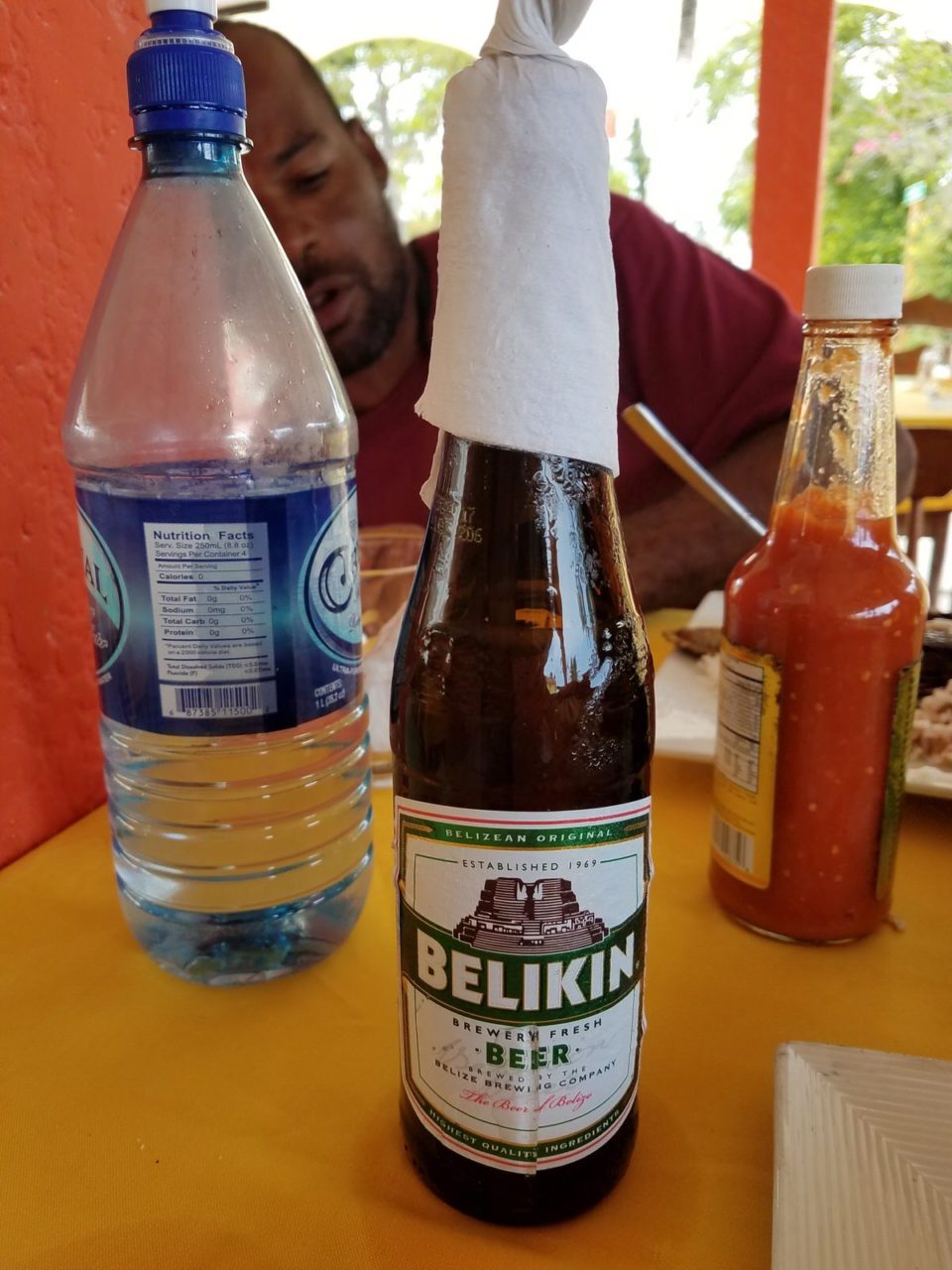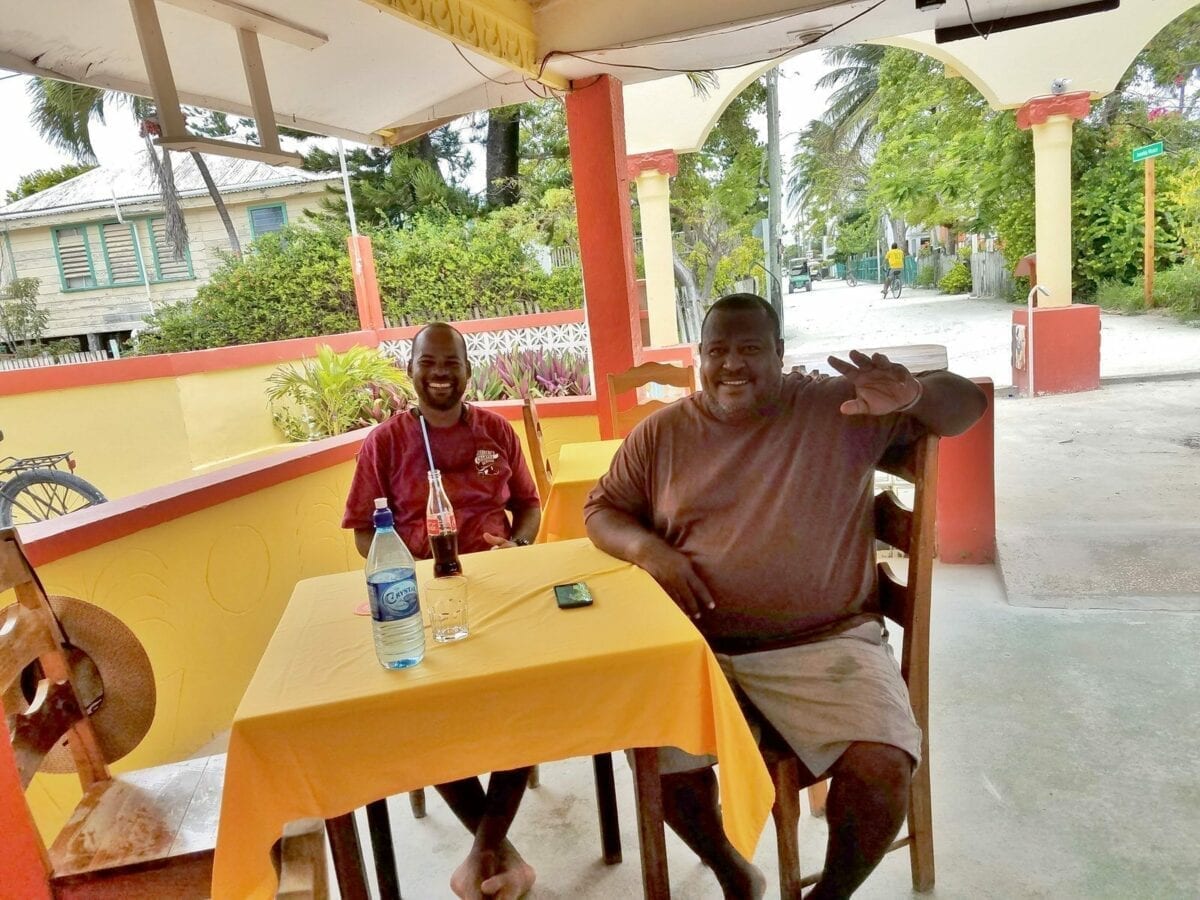 We were starving! As soon as our meal arrived, we all dug in, and then we realized, hey, wait, we need to take pictures of our food. Look closely at the photo, see, we had started eating before I realized we forgot to take the pictures. Everyone laughed.
Flipping the fish over, so we couldn't see the bites in to our meal, I took the photos. My friends helped me stage the photos, moving the fish sandwich into the right light.
As soon, as I put my lens cap back on my camera, we immediately started eating again. Obviously, it was good because we ate everything in minutes.
Fish Sandwich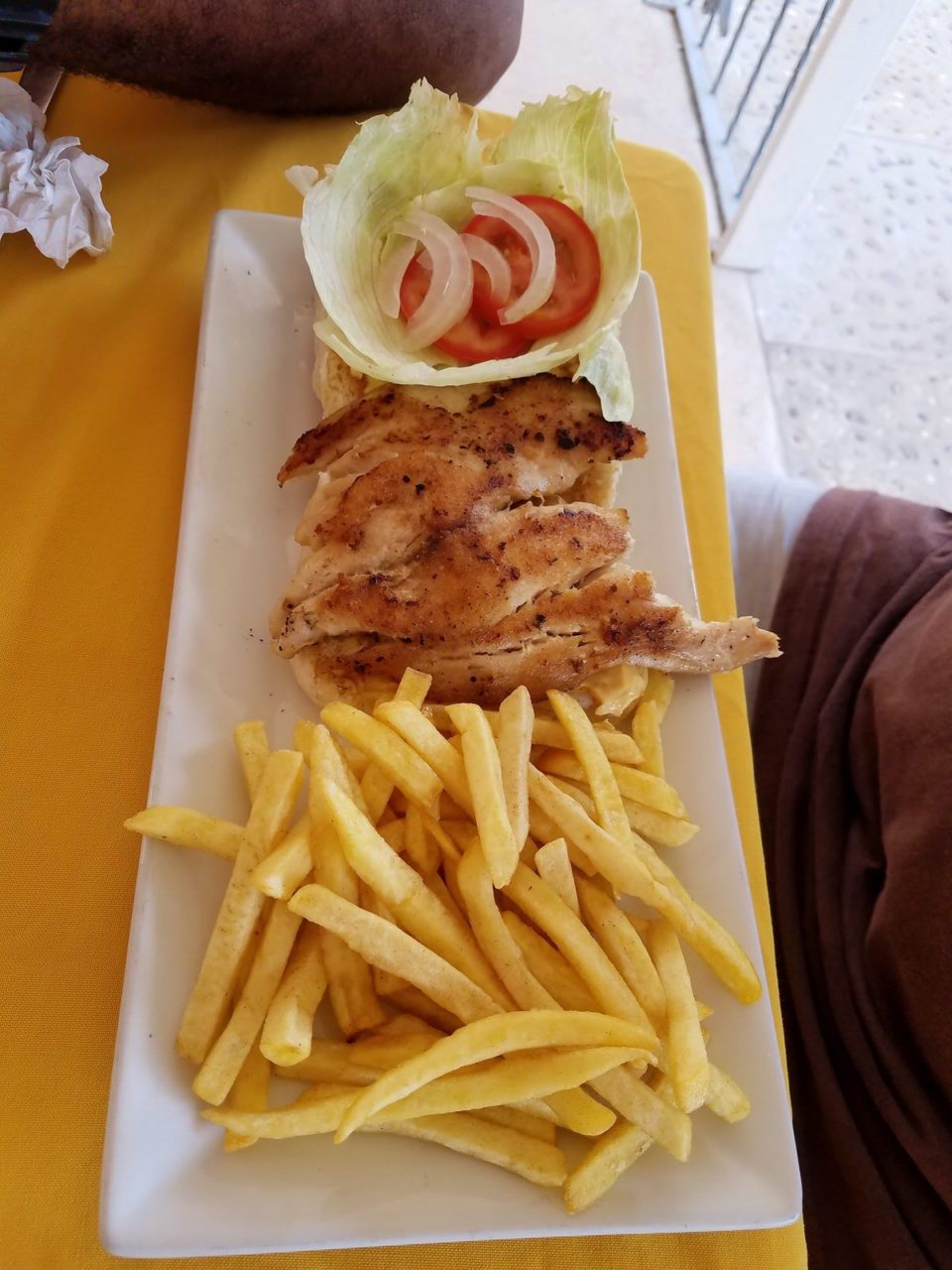 Fish with Beans and Rice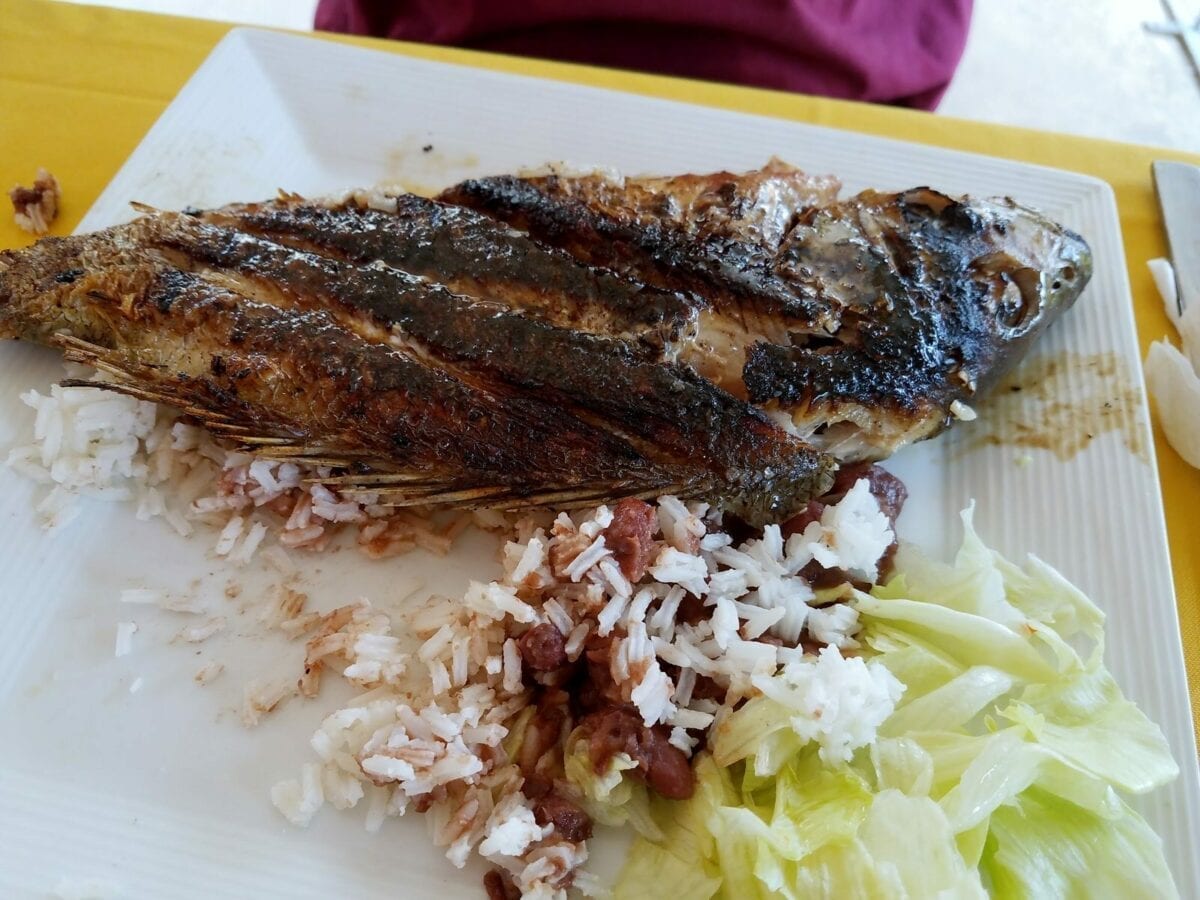 Lobster
My spiny lobster for lunch was delicious. Throughout the week we had eaten a lot of beans and rice. I lived on peanut butter sandwiches. If you don't like beans and rice, you are in trouble in Belize. Everything comes with beans and rice. A meal isn't a meal without beans and rice. It's interesting the first thing eaten was the beans and rice. I guess Belizean's love beans and rice.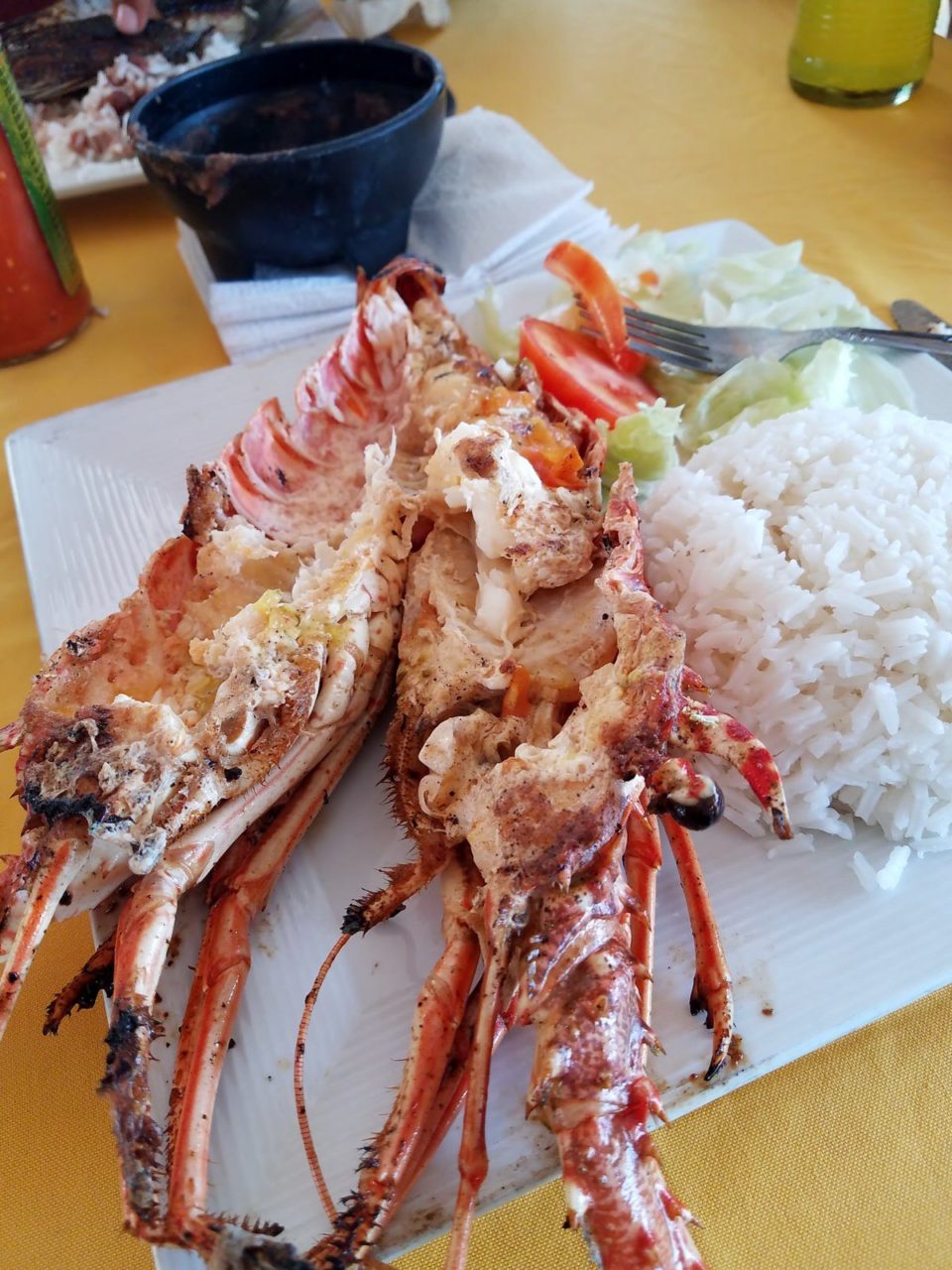 The view from the restaurant looked out on to the water, the beach and past the local graveyard. Yes, the restaurant was on the same property as the local cemetery.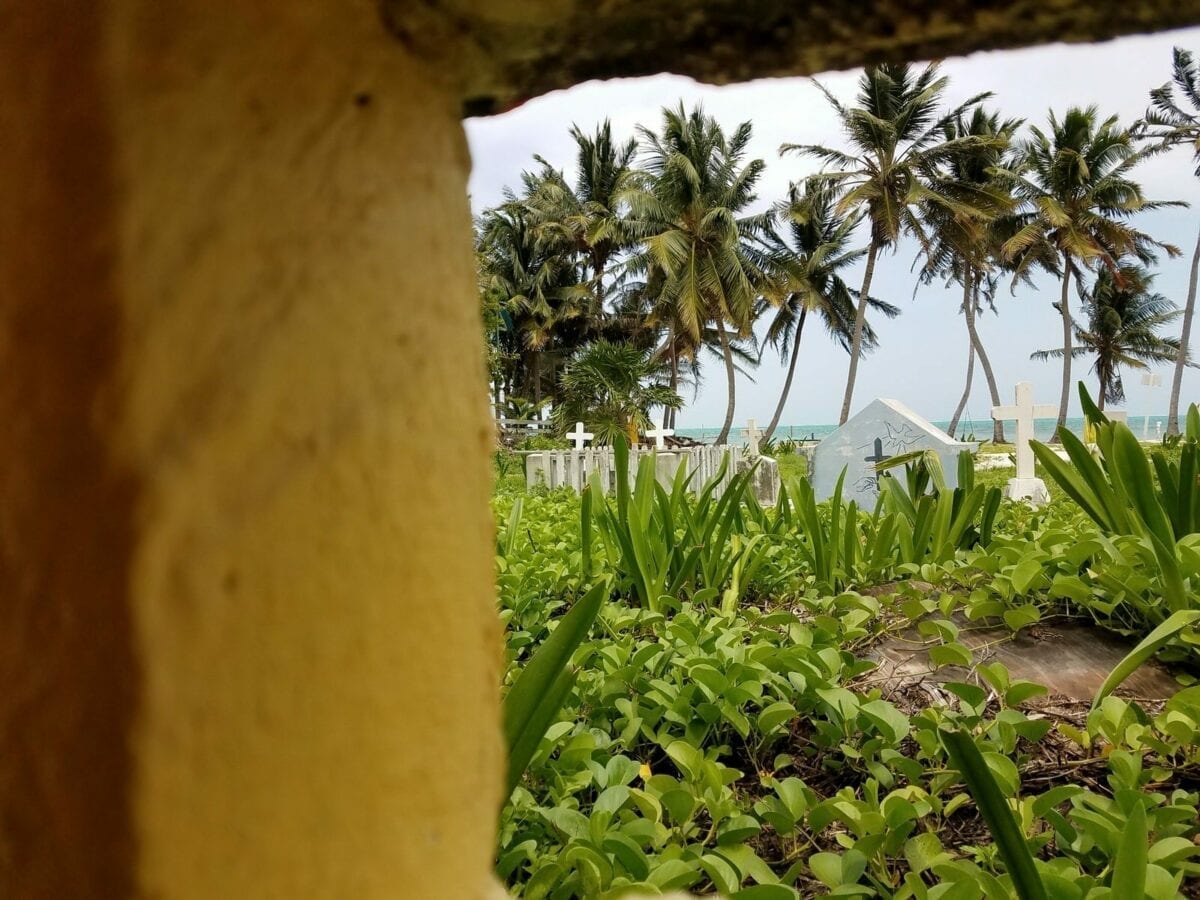 Cemetry Close Up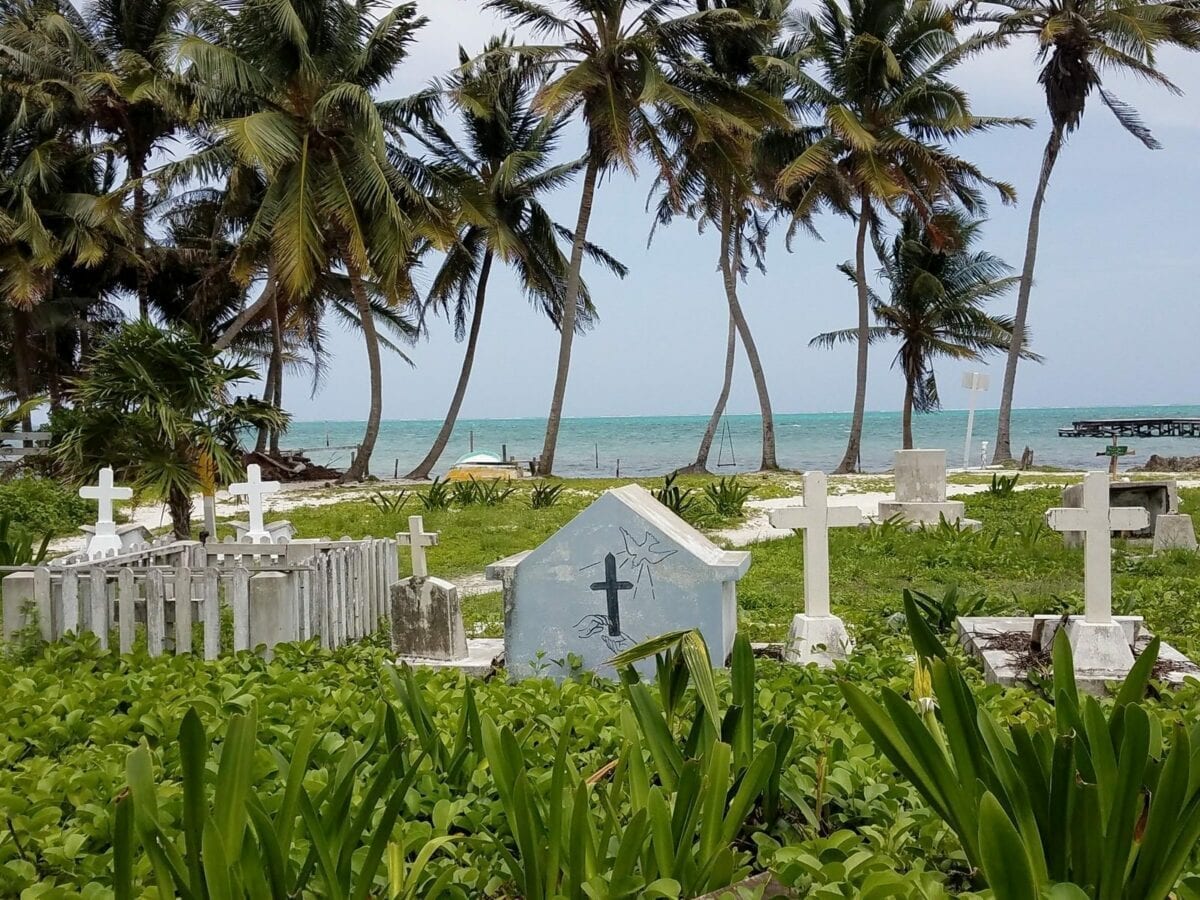 Thanks to my guests for making my dining experience great. They helped me find a great restaurant, and it was an excellent break.
By the way, I don't recommend the hotel.
Travel tip: I learned that I need me time, even when I am in a group.
Travel tip: I value meeting local people as much as seeing the great sites. Try to pay it forward when traveling. May be I'm the only American they'll meet. I try to share American hospitality when traveling. We all represent America when traveling.
Looking for more Caribbean trips, interested in fishing, how about a trip to Panama, it's a great travel destination.
Copyright © 2021 Capetown-Rio, Inc. USA. All rights reserved. Republishing is allowed only with written permission. All photography rights on this page belong to Capetown-Rio, Inc. and the author. Do you have a question, business proposal, or speaking opportunity? Please contact me here.