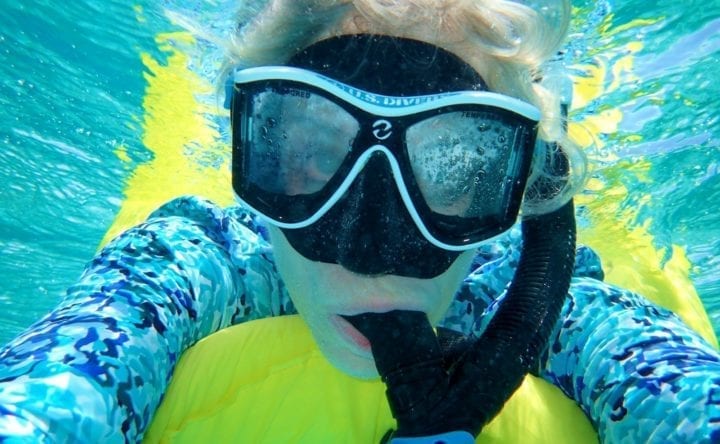 Belize
Swim with Sharks – Snorkeling Belize Barrier Coral Reef
By
|
Our Belize team had a day off. With excited anticipation, we boarded a bus, took a water taxi and headed to Caye Caulker for snorkeling and to swim with sharks. The dive boat was small, smaller than the ones I had been on in Australia. It had no shade, no water, but we didn't care. We could have taken Ocean Ferry Belize. The ferry goes from Belize City to Caye Caulker. Our local boat was a smaller private boat. The boat provided a fabulous snorkeling guide and a boat driver and we were heading out for a super adventure at the Belize Barrier Coral Reef and Shark Alley. I am sure you will agree, this is a great adventure for solo travelers, family travel, romantic travelers, couples, and adventure travelers.
Kate's View of Belize Barrier Coral Reef and Snorkeling
Everyone was excited and maybe some were scared to be on our way to swim with sharks in Beliz. With splashes on all sides of the boat, everyone jumped in without hesitation. Some masks came off as they hit the water, and some couldn't get the snorkel working correctly. I recommend bringing your own mask, snorkel, and fins. I bought my gear at Costco and I was glad I did.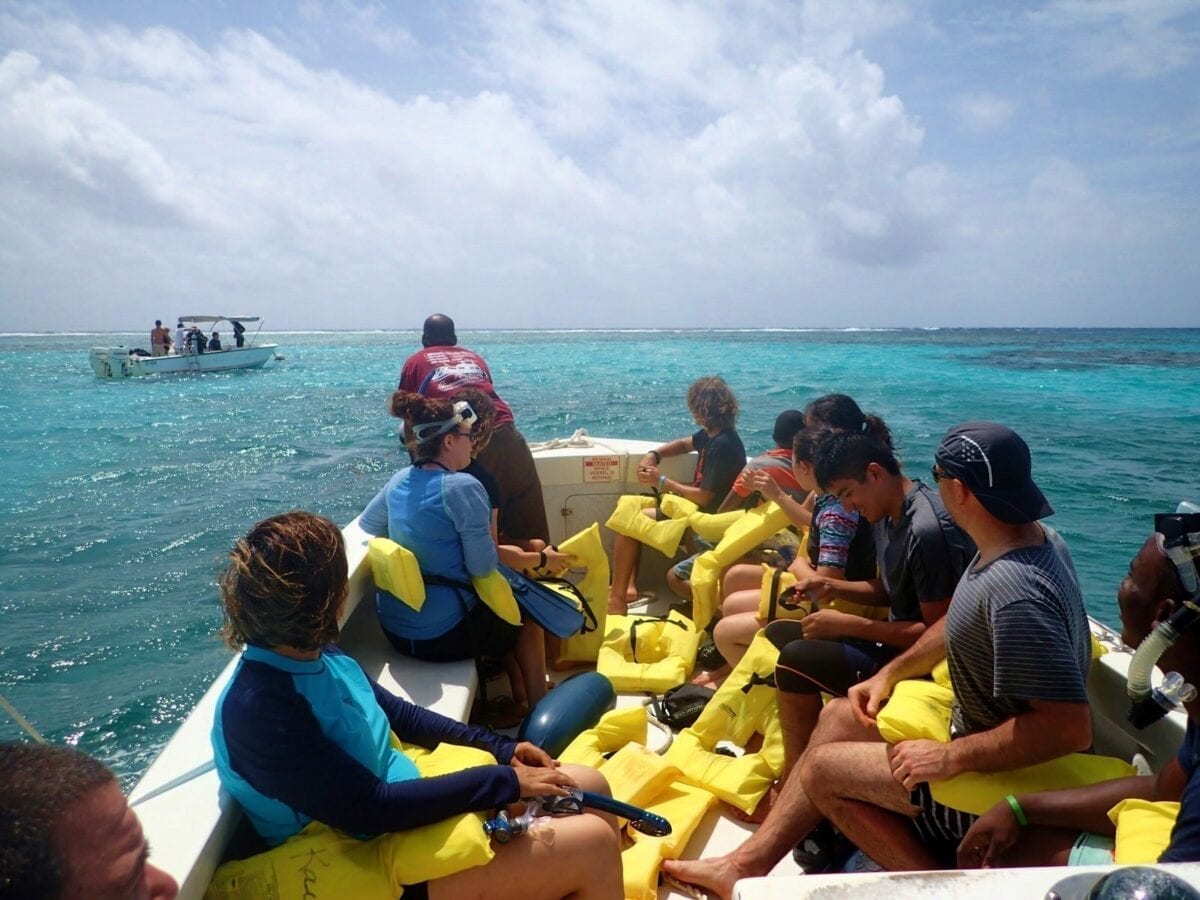 Dive boat in Belize from the water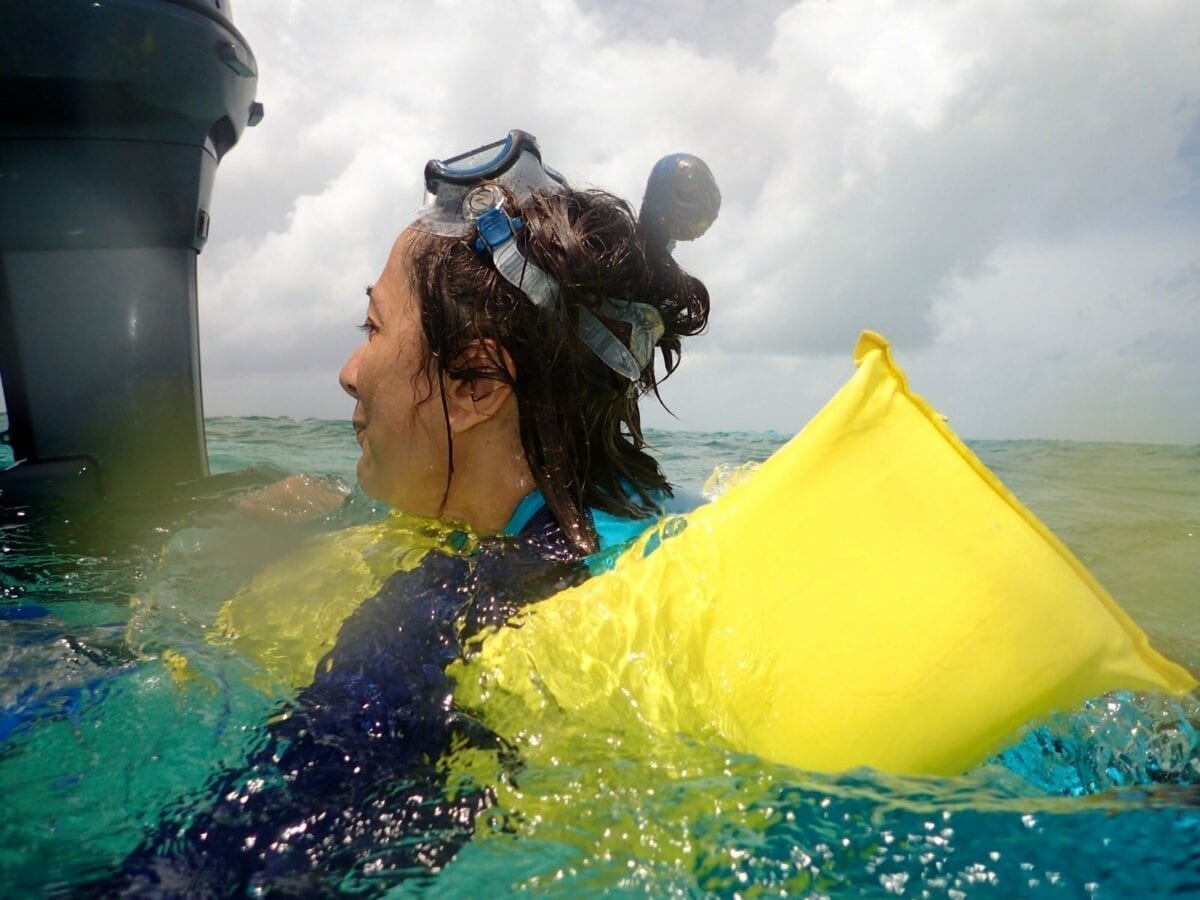 Snorkeling in Belize with Cosmina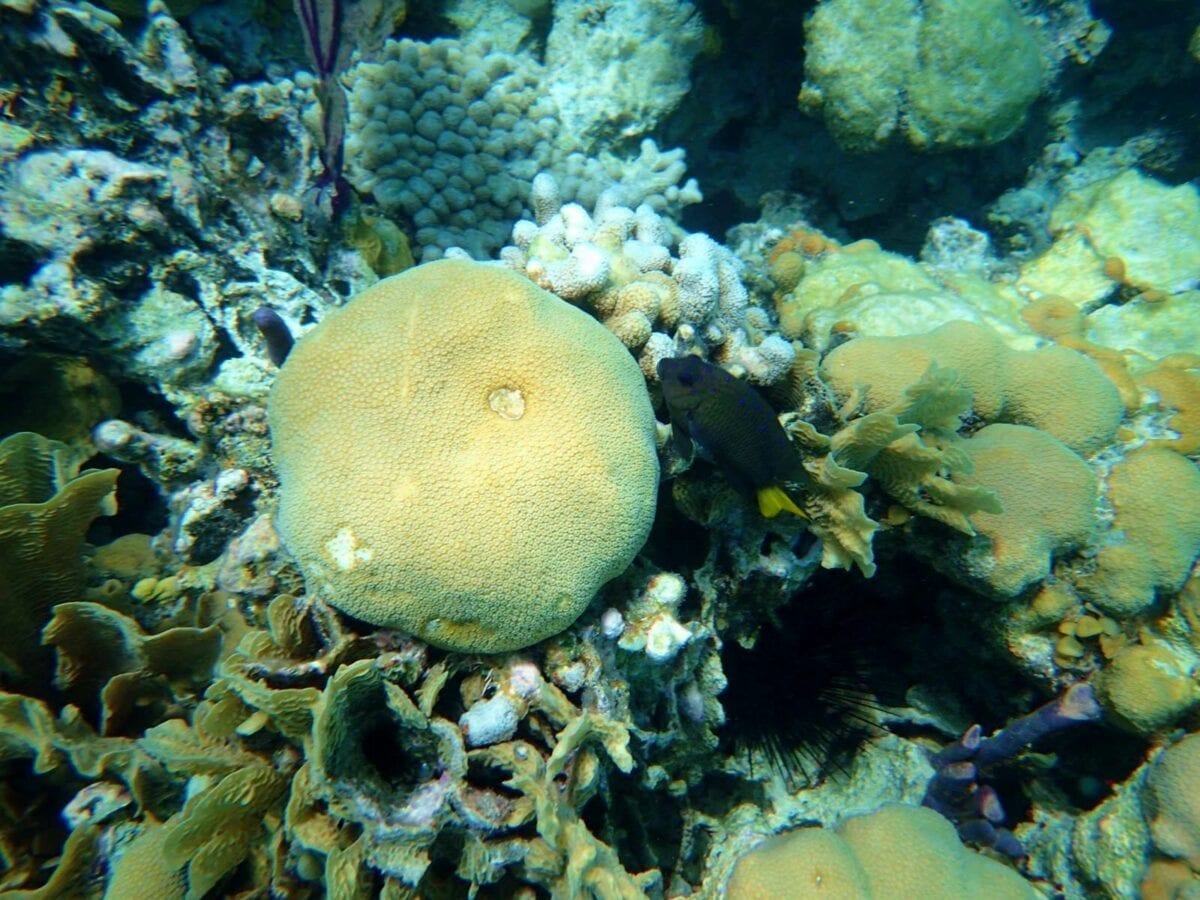 Coral
The ocean and the coral reef was fantastic. The coral seemed relatively healthy but, I don't really know what makes healthy coral but it was gorgeous. I was a little concerned that some of my friends weren't listening to the guide or being careful not to touch the coral. His instructions were simple, stay off the coral. The guide and I swam together at the back of the group without a life vest. Without the life jacket, I could dive and take better photos.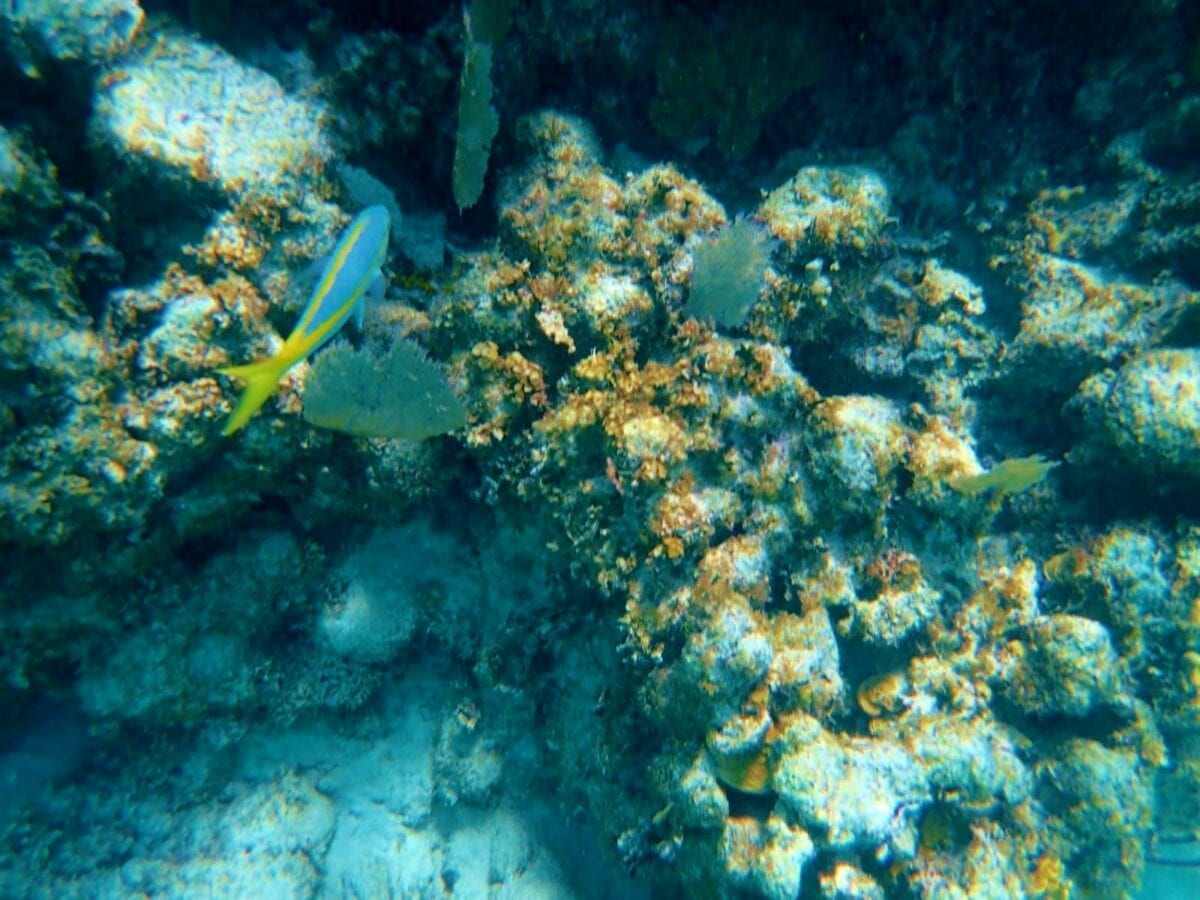 Purple fish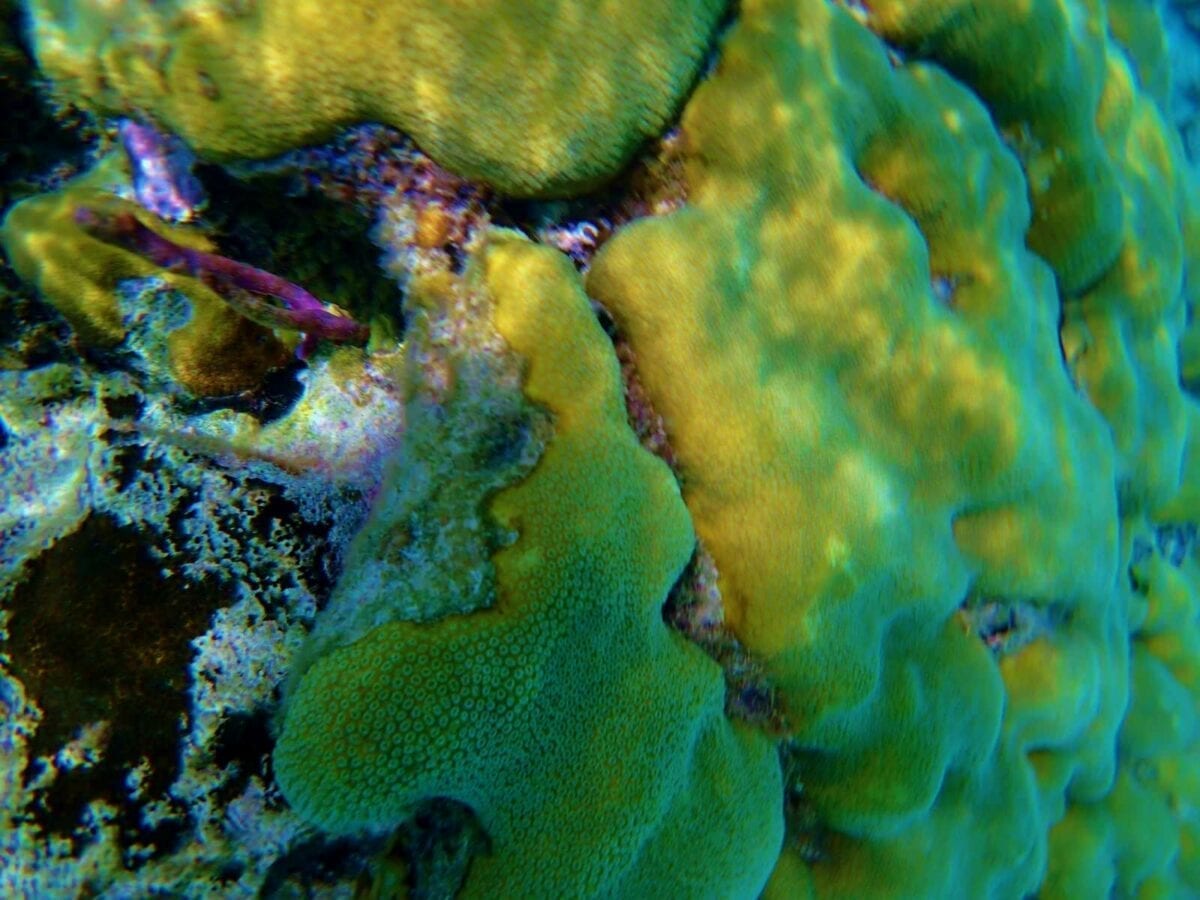 People from Underwater – looking for Belize brown sharks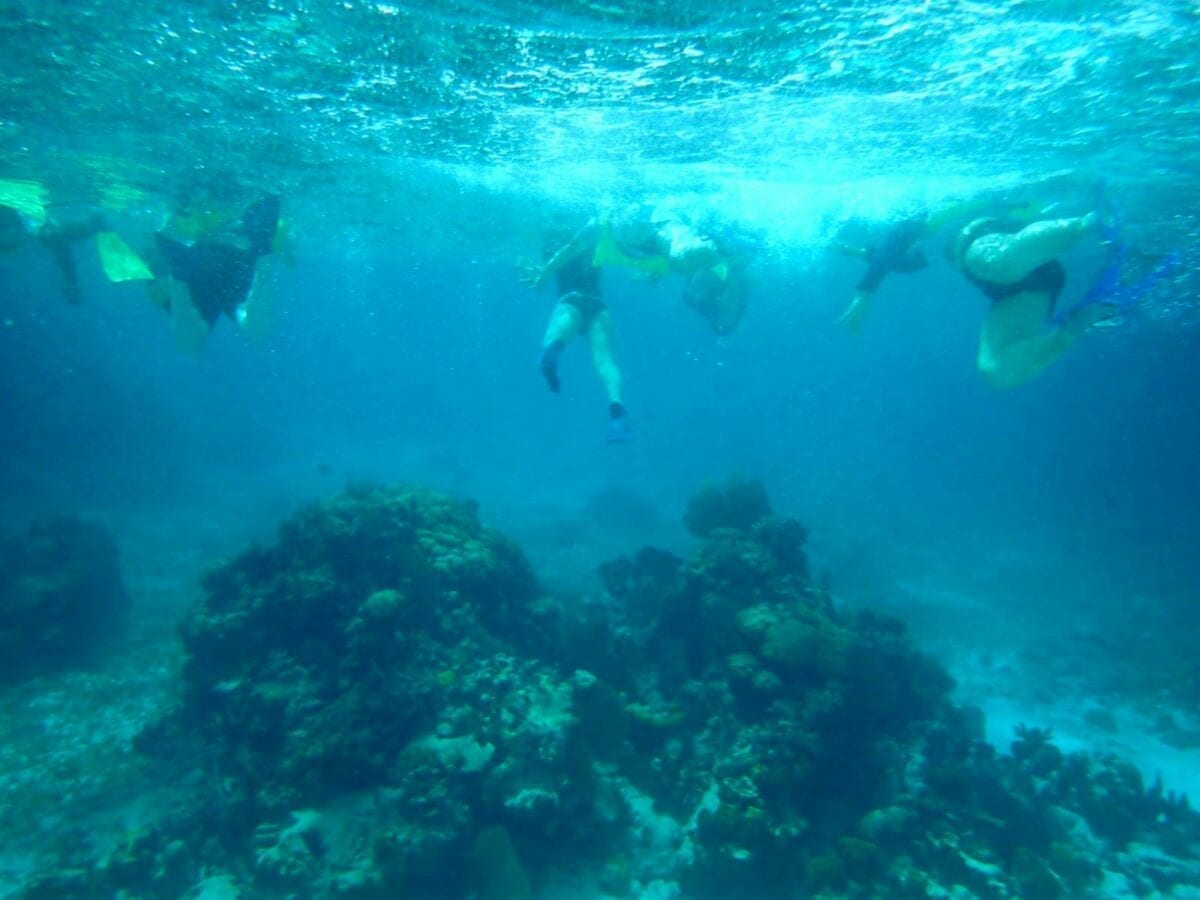 Back to the Surface
When we came back to the surface our guide showed us a conch shell. The shell looked pretty new and polished. I think he must save it to show to all of his customers. I wonder where the animal that lives inside was now? Long gone I bet.
And then suddenly, there was something coming out of nowhere, out of the distant water, and surprise, the sharks appeared. It was a 'heard' of sharks. Then the manta rays, sting rays, and tons of fish all appeared.
Swim with Belize Sharks
Yes, we were swimming with sharks. The sharks were all around us. Brown sharks are as friendly as can be. Shark Alley is the place to find all these fish, sharks, Manta rays, sting rays, (the photo on that link is just how it looked) and some other large fish is shark alley. The tour to take is a small private boat so you can see the sharks and enjoy the experience. Our boat was privately arranged through the church.
This area, Shark Ray Alley is world famous. There are lots of videos about it. (you can skip the first minute if you just want to see the fish,) Honestly, it is just like the photos.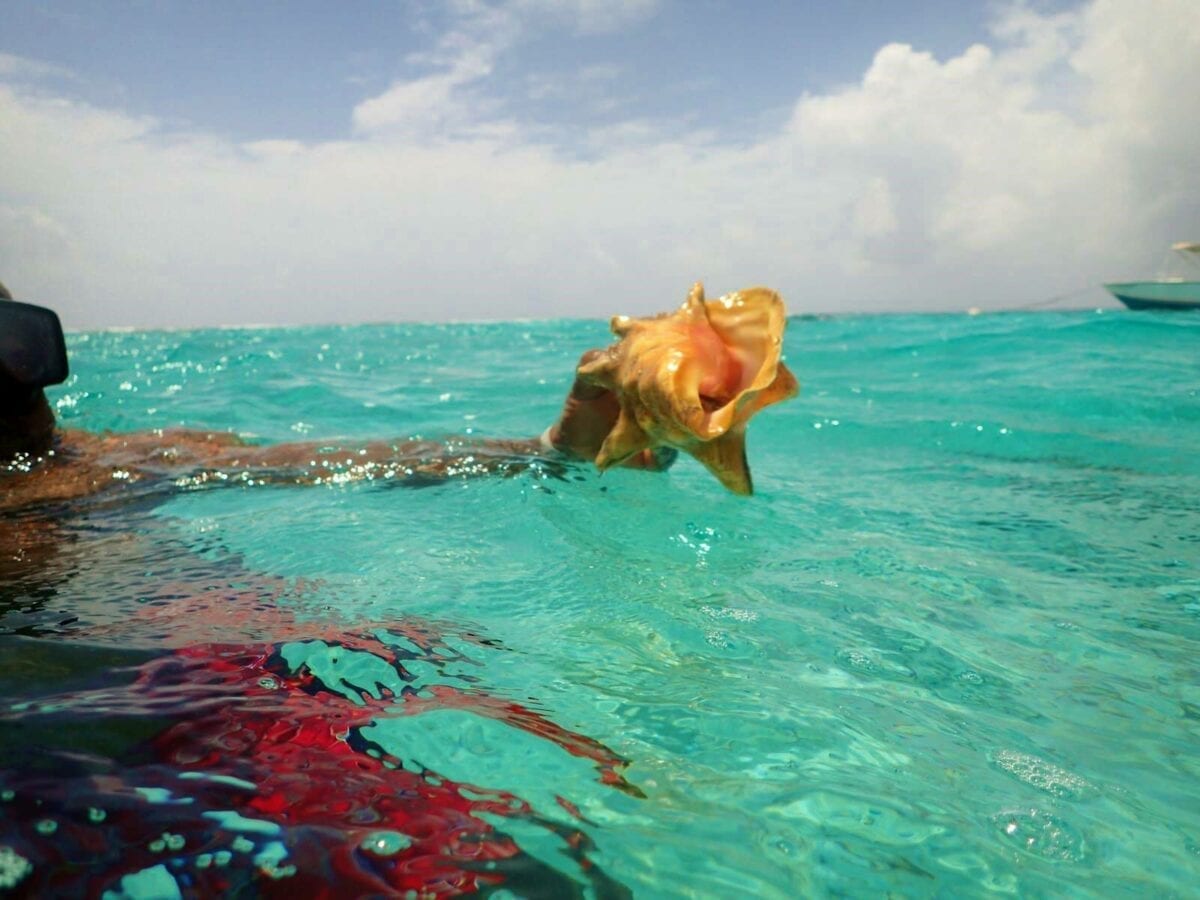 Swim with Sharks, Shark Alley Belize Barrier Coral Reef
As we splashed into the water, I think it dawned on some people that they weren't strong swimmers. If you are going to do anything in the water, be sure you can swim. The guide never asked if everyone could swim. Our leader didn't ask either.
What did I experience? Doing a water sport requires being a swimmer. Sounds kind of basic but sometimes, back to basics is important. One gal saw the sharks, and I thought she was going to drown. She got completely overwhelmed.
Travel Tips
1. Travel tip: Don't do crazy things when are enjoying adventure travel.
2. Travel tip: Prep for your adventure before you leave home.
It's a holiday after all. Have fun! A good way to avoid getting hurt is to listen to instructions.
If you need help planning your trip try these planning recommendations.
Copyright © 2021 Capetown-Rio, Inc. USA. All rights reserved. Republishing is allowed only with written permission. All photography rights on this page belong to Capetown-Rio, Inc. and the author. Do you have a question, business proposal, or speaking opportunity? Please contact me here.