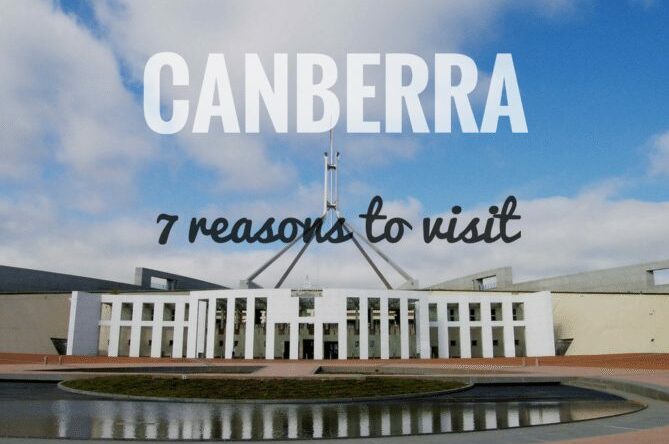 Australia
7 Reasons to Visit Canberra Now!
By
|
If you're wondering where to go for your next getaway or vacation, Canberra might be just the right place. Let's talk about the 7 Reasons to Visit Canberra Now! Only half an hour plane ride or three-hour drive from Sydney, Canberra is the perfect stop on your travels.  There's something for everyone in this amazing city, and the following list may speed up preparations for your next trip.
Visit Canberra – Perfect for Art Lovers
Visit Canberra Now
Canberra is a must-visit for anyone who values art, crafts, and history. The city is also famous for its incredible museums, and most of them are free! There are only a handful of places where you need to pay an entrance fee, but the price is still pretty low.
Breathtaking Birds Eye View
Canberra is a custom planned city with many green areas and unique architecture so why not enjoy the aerial view of the city. Be adventurous and take a helicopter sightseeing trip a relaxing balloon ride to take in the beauty of the city. In any case, you're bound to make some unique and unforgettable memories.
Daredevil's Paradise
Canberra is a hotspot for people who love to be physically active and enjoy some adrenaline rush. There are many outdoor activities to choose from like mountain biking, rock climbing, one of the many marathons held throughout the year. 
Wine tasting
Canberra is famous for its renowned wineries. During Canberra District Wine Harvest Festival, there are organized tours for wine lovers – you can take a bus from Sydney to Canberra and visit some of the finest antique cellar doors in the country. Not only that, but you'll also get a chance to taste delicious food and partake in truffle hunting competition.  
Lake Burley Griffin
Canberra's Hotspot
Canberra's iconic lake is another attractive sight which makes the capital of Australia worth seeing. This area is breathtaking and tranquil that you can enjoy by taking a walk or having a casual picnic next to the lake. Moreover, the lake itself is a great source of fun. You can paddle boat in the lake, but also ride a bike or Segway along the shore.
Flowers All Around
Schedule Time to Relax
Make sure to plan your trip for spring time if you would like to be there for Floriade festival, which will showcase a million of amazing blooming flowers. You can also pay a visit to Canberra's Commonwealth Park or Australian National Botanic Gardens during other seasons since nature never stops to be strikingly remarkable.
Fantastic Nightlife
There are so many things to do and try during the day, but that doesn't mean that Canberra's nightlife is lacking. Various nightclubs with different settings, moods, and styles make the nights in Canberra very lively and fun. You can dance your night away, make your own cocktails, take part in a game of pool, lounge in a bar, go to a beer garden and much more. A variety of hot spots makes nightlife in Canberra truly vibrant and thriving.
Have you been to Canberra before? Is there anything else you'd like to add to the list of top reasons to visit the Down Under's capital? Whenever you decide to go, you will have tons of fun, expect a packed schedule with loads of activities and don't forget your camera!
Copyright © 2023 Capetown-Rio, Inc. USA. All rights reserved. Republishing is allowed only with written permission. All photography rights on this page belong to Capetown-Rio, Inc. and the author. Do you have a question, business proposal, or speaking opportunity? Please contact me here.