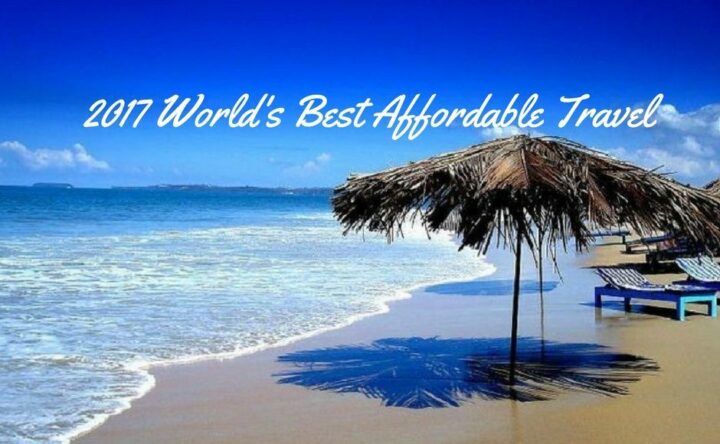 Guest Feature
2017 World's Best Affordable Travel
By
|
The world is full of affordable destinations, so if you are going on a holiday this year, you don't have to break the bank. If you are looking for wallet-friendly sightseeing experiences, here are 2017 World's best affordable travel.
Cities – 2017 World's Best Affordable Travel 
Lisbon, Portugal
Here is the first travel tip, Lisbon is undeniably alluring and known as a budget destination for 2017. Many amazing things in Lisbon are free and affordable that can fit any budget. If you visit Lisbon, there are plenty of places to uncover without compromising your wallet. You will find most budget hotels as double rooms in 2-star hotels are around 41 EUR, so you're going to get your money's worth! This picturesque city is also home to a host of specialty shops and restaurants that offer deep discounts. Therefore, there are lots of reasons to visit Lisbon during 2017.
Cannes, France
Cannes is not thought of as an affordable destination. But in France, it's known as a budget travel destination because there are so many things to do and see for free. La Croisette and Rue Meynadier are the most famous attractions that you can discover for absolutely free. If you are an expert solo female traveler, like me, and love art, several museums offer free entry on the first Sunday of the month. Beyond that, find the low-cost lodging, such as Airbnb or less expensive guest homes.
In 2017 Cannes has lots to offer. Besides, the food is delicious and cheaper than you would expect. So eat out at cheaper restaurants and splurge on a luxury car rental in Cannes t olive like the rich people of Cannes. Drive your luxury car to the spectacular views and have a picnic. One other thought and suggestion, Cannes hosts one of the world's biggest artistic events "the Festival de Cannes," so don't miss this opportunity as the celebrity spotting is free.
Barcelona, Spain
If a cheap vacation is what you're after this year, plan your trip to Barcelona. In truth, Barcelona offers cheap and even free sightseeing to visit on a budget. As a case in point, there are dozens of tourist destinations you can explore for free, including parks, cathedrals, and museums. Apart from that, it's possible to find great budget hotels for a clean and comfortable room. With its affordable eating and accommodation, you can save even more money. You can even find relatively low-cost transport.
New York City, NYC
While the days of New York City being a super-cheap destination are long gone, the city remains a budget destination. The city's historical sites come in all shapes and sizes you can explore. Entry to the Empire State Building is free which can save you hundreds when traveling with your friends. There are also other free attractions you shouldn't miss out such as the Natural History Museum, the Museum of Modern Art and the Metropolitan Museum of Art. Other than that, you can opt to stay overnight at a hotel on a budget. In fact, there are budget hotels as low as $80 per night.
Quebec City, Canada
There are so much culture and history to be had in Quebec City. Be a part of an amazing experience, visiting historical sites like Saint-Louis Forts and Châteaux and Cartier-Brébeuf Park. Explore Avenue Cartier for some of the very best food the city has to offer. Enjoy the view of Quebec City from the water by riding the Quebec-Levis Ferry along the St. Lawrence River for under $4.00 per person. You can spend time wandering the picturesque streets of Quebec City. The city also hosts many events and festivals that will offer you a myriad of outdoor recreational opportunities. Local food is cheap and delicious, so eat what the locals eat.
Countries – 2017 World's Best Affordable Travel
Nepal
Best of all for a budget traveler, the country of Nepal is surprisingly affordable. The most famous tourist attraction in Nepal includes the Royal Chitwan National Park in the south, a gorgeous natural area featuring a total of 68 species of mammals, as well as a wide variety of endemic birds and fish species. Nepal is the best destination that can save you money. However, if you're planning to do any trekking there, you can expect to spend little more than a few dollars a day. Of course, there are hotels, food, and drinks that are cheaper. For instance, you can find hotels less than $40 a day and find a cheap meal for US$10-12.
Vietnam
Vietnam is incredibly relaxing and beautiful. If you're interested in history and culture, Vietnam should be on your 2017 World's best affordable travel list. As a matter of fact, this country offers an excellent mix of historical sights and nature. Head to Hanoi, and don't miss the Old Quarter, which is full of colonial charm. Vietnam also has a lot of free temples and a wide variety of museums to see (some may cost small amounts).
The Do Temple, the Thien Mu Pagoda, the Vietnam National Museum of Fine Arts and the War Remnants Museum are very nostalgic. Moreover, there are plenty of affordable restaurants and hotels to visit in Vietnam. Hotel deals are as low as $10-15 per night. Here is the budget that Kate used when she went to Vietnam.
Vietnam Budget Recommendations
Philippines
The Philippines is a fabulous choice for budget-conscious travelers. This country is also heating up as a place for 2017. There are so many fantastic nature spots to see in the Philippines where you will get your money's worth. In other words, there are many travel destinations to choose from, to fit your budget and travel style. Pay a visit to the National Museum of the Philippines and the Money Museum. And thus, the Korean Cultural Center is a great free attraction that is worth checking out. Korean Cultural Center offers a Korean action comedy-drama film that will blow you. Don't miss out the province of Palawan with lots of water sports adventure for all ages.
More Info on 2017 World's Best Affordable Travel
Happy Travels in 2017 – Get Going. Travel.
Copyright © 2023 Capetown-Rio, Inc. USA. All rights reserved. Republishing is allowed only with written permission. All photography rights on this page belong to Capetown-Rio, Inc. and the author. Do you have a question, business proposal, or speaking opportunity? Please contact me here.