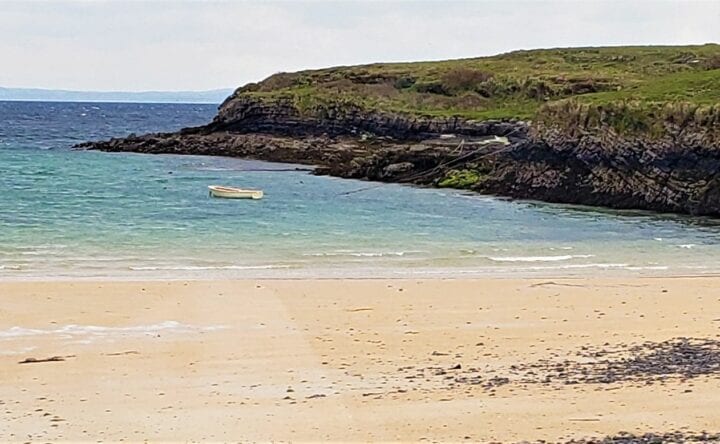 Ireland
Fabulous Visit to My Family Homeland, Donegal, Ireland
By
|
"After a bit of research, I discover I am from Donegal, Ireland, the Wild Atlantic coast. My father's maternal grandmother came from here.  While in Belfast, Northern Ireland, I took a bus to Donegal County and the town, Donegal.
Fantastic Visit to My Family Homeland, Donegal, Ireland
Starting in Northern Ireland, I was able to take a bus to Donegal. My family's homeland is beautiful, and the stories about my people are fabulous. It almost as if all the Irish people I met are natural storytellers. The people and the stories, plus the gorgeous location, made the adventure.
One comment I have to make is this. After taking this trip, I realized Brexit is problematic. Brexit borders between Ireland and Northern Ireland are a significant problem to secure. Currently, the systems are seamlessly integrated and work like clockwork. Even school kids use these buses to get to and from school, in potentially two different countries on one island.
Donegal, Ireland
Donegal located at the mouth of the River Eske in northwest Ireland.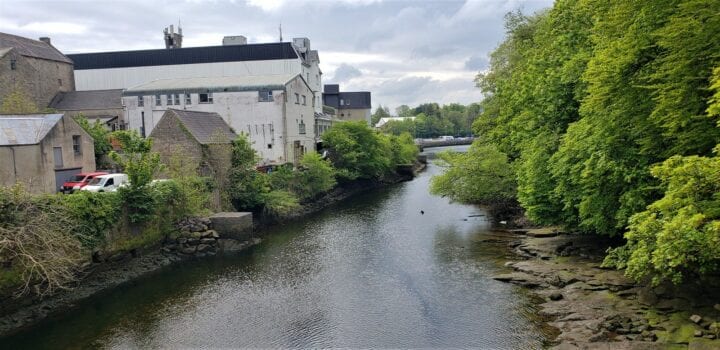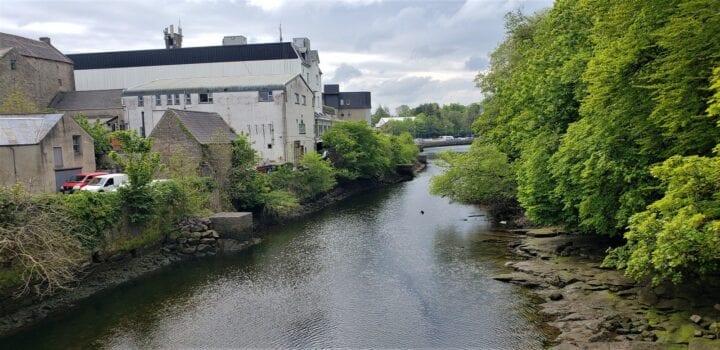 The Donegal Landscape
The landscape around Donegal heading to the wild Atlantic coast reminds me of  Cape Cod, Massachusetts. One exception is the seals on the beach and colossal surf waves. On the day I was there, the seals were out swimming.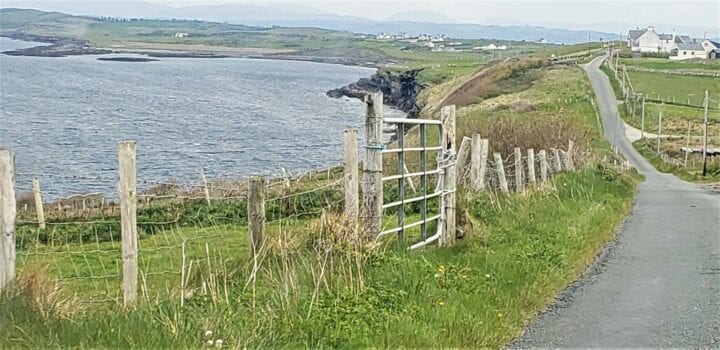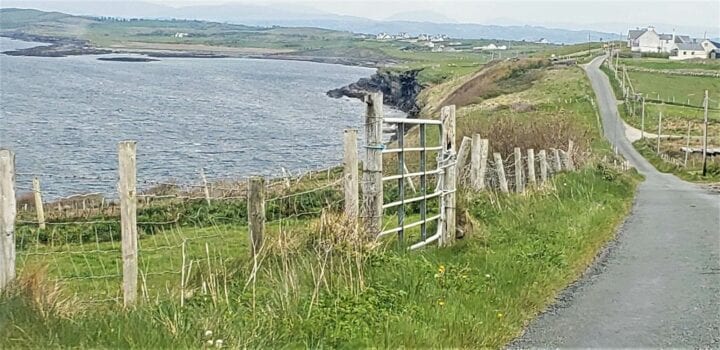 Donegal Castle and the Jacobites
Initially built in the 15th century, Donegal Castle has later additions from the Jacobean period. The Four Masters Memorial obelisk honors four scribes from the nearby Franciscan friary, now in ruins. Donegal Railway Heritage Centre hosts rail memorabilia in an old station house. Donegal Bay is home to a seal colony, plus cormorants and cranes. It's a sparsely populated area.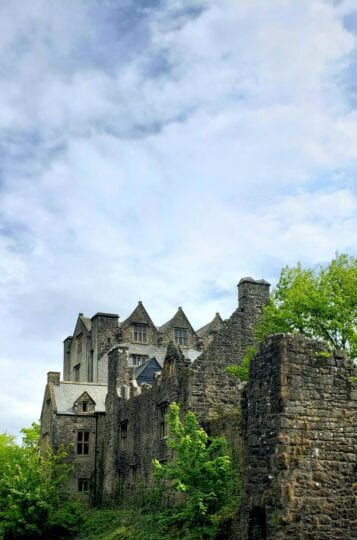 My Family Homeland, Donegal, Ireland
My fabulous day starts by going to the tourist center to ask the locals about the history of the small village and pointed me in the direction of Franciscan friary or monastery, and the port. Before I came to Donegal, I discovered that my great-great-grandmother was from here. Most likely, she left from the docks that once stood right here, in Donegal. Imagine the 1840's, now look at the photo below. In 1840 during the Great Famine, this was the spot of one of the busiest ports in Europe. My ancestor, my great-great-grandmother, was only 14 when she left her home to marry and find a new homeland. As a married woman, she went to the United States. Her husband was 25 years older. She was a Protestant, and he was a Catholic. And I have their family bible, now, my family Bible.
Family Bible
My great-great-grandfather's brothers left with him. He had one possession, their family bible. Today, I have the Bible because it went to the oldest person in our family. My great-great-grandfather, the second child, owned the Bible because his older brother left it behind when left for California to be a 49'er. He was never heard from again. My trip to Ireland is to find the Bible's origin. My story is a common scenario for the times. Many Irish people buried in the Paupers grave were from this area. Those more fortunate buried at the friary had more money and could afford a burial. Some survived, but Ireland lost millions of people to the Great Famine, the Potato Famine, or immigration to the United States, Australia, and other foreign lands.
My family bible shows the publish date as the name of the Pope. Therefore, the release date lists Pope Gregory XVI (Latin: Gregorius XVI; born 18 September 1765 – died 1 June 1846). As head of the Catholic Church, Bibles published during his leadership, are dated with his name. He ruled the Papal States from 2 February 1831 to his death in 1846.
Donegal, Ireland Religion
Approximately 85% of Donegal's population is Roman Catholic, and a sizable minority of Ulster Protestants also live here. My ancestors were from two different religious groups. The brothers were Roman Catholic, and she was a member of the Church of Ireland, a Protestant. In the town of Donegal today, religion still holds an important role. I saw four different denominations in the city.
Interestingly, I learn that the friary originally Catholic, then Protestant, likely changed hands many times. In history, it flipped ownership depending on the political climate, and who was in power. The big cross in the photo is the gravestone for Pastor Doherty. My great-great-grandmother was a Doherty. Mary Doherty, maybe a poor relation to the Pastor, because she couldn't read or write when she entered the USA. She arrived at Castle Garden: where immigrants came before Ellis Island | Here is the story behind the location.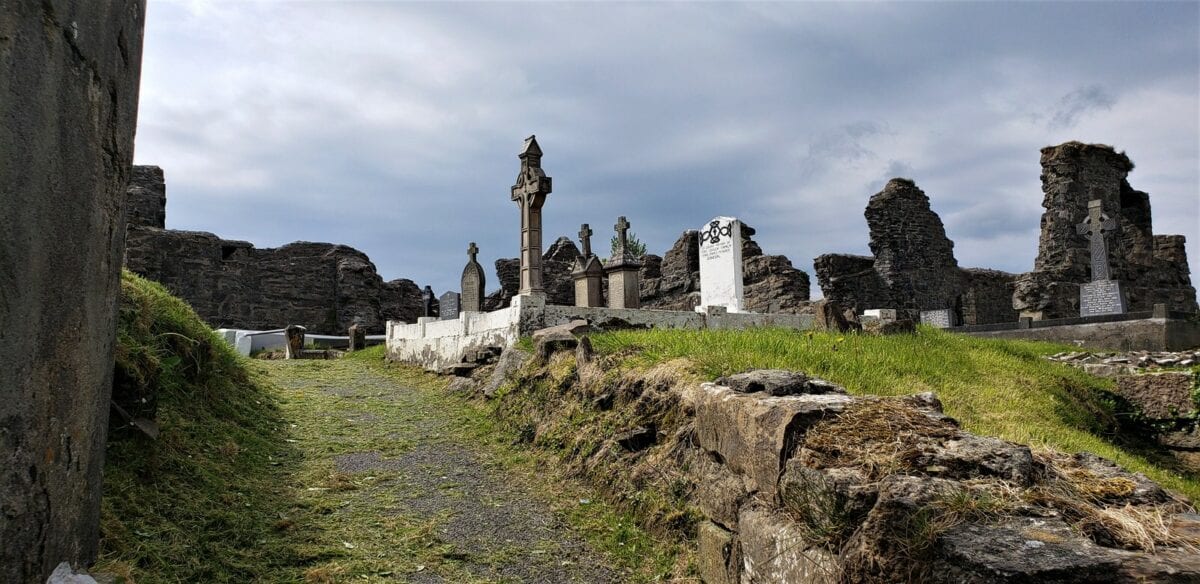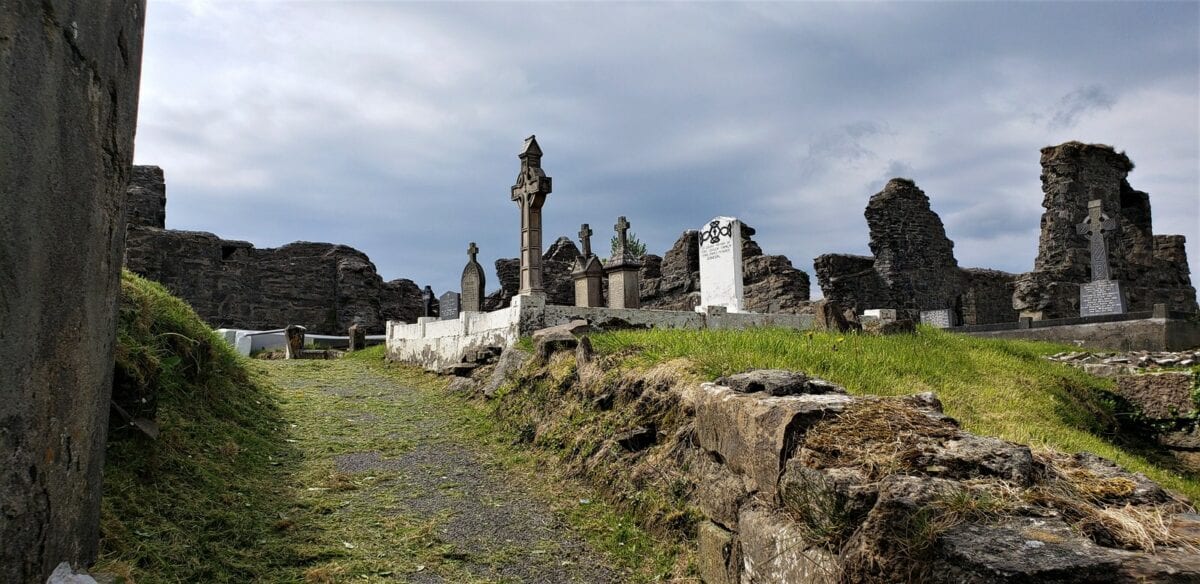 Potato Famine
In 1840, the Potato Famine killed millions of poor people, the working class of Ireland. The famine was especially bad for them because they worked hard and needed the calories the potatoes provided.
I believe my great-great-grandmother must have been illiterate when she arrived in America because she could not sign her name on boarding papers; others did it for her. The famine graveyard and the old factory with the soup pot are the remains of this memorial burial site.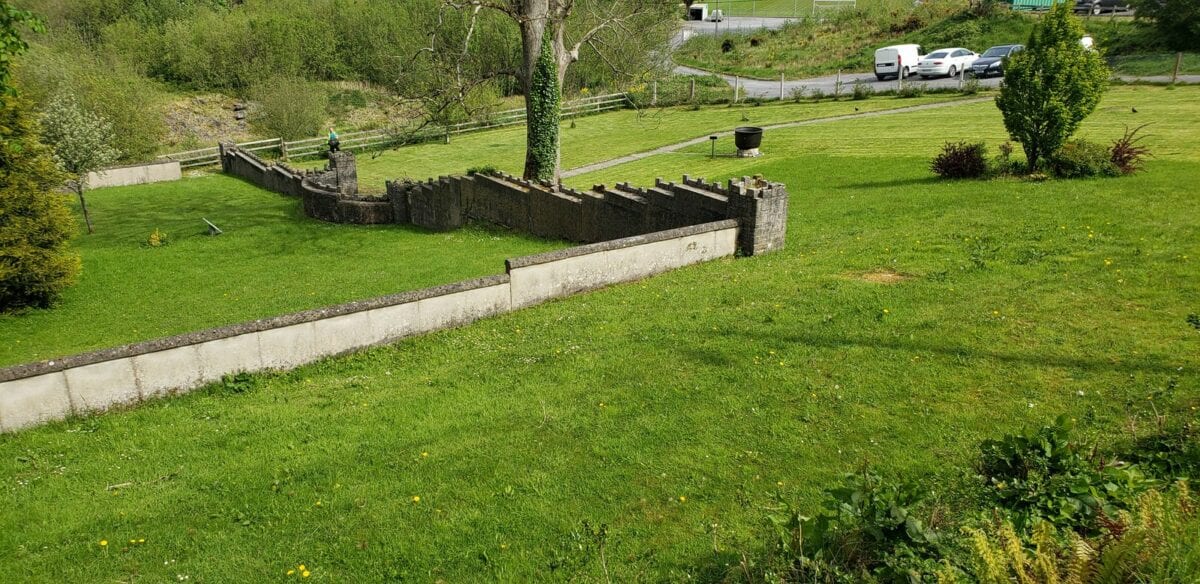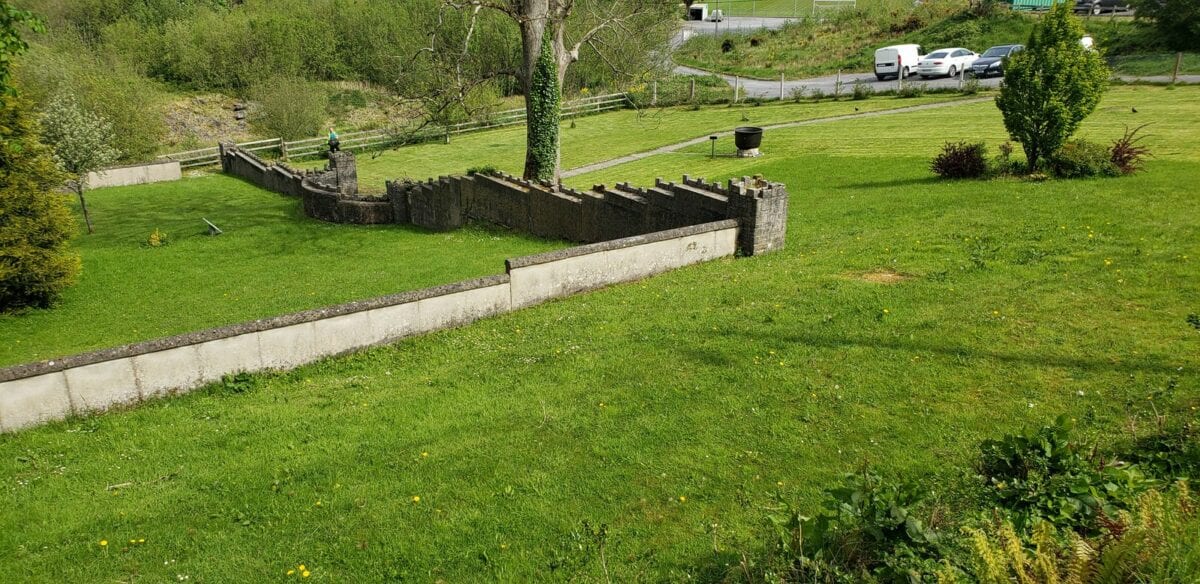 Paupers Graveyard – the Famine Graveyard
Visiting the friary graveyard, I came across the Doherty and McCallion gravesite, with the Pastors Doherty's name on it. Next to it, the McCallion headstone, which is my great-great-grandfather's family name. Later, the family name switched the spelling of their surname to McCullam, McCullum, McCullen, and many other spellings because it depends on who wrote the entry on the document. There is an exciting story behind Cornelius McCallam, Mary's husband. He was an Irish Civil War soldier who marched with Sherman. He died almost as soon as he enlisted from the camp disease.  When I stood in front of the family tombstone, I had doubts.
Was this his tombstone? Why would they leave if they could afford a headstone? Maybe some stayed, and some went to the states. Perhaps my ancestors have unmarked graves. Maybe they are among the many in Paupers Graveyard or the Famine Graveyard. I will never know for sure.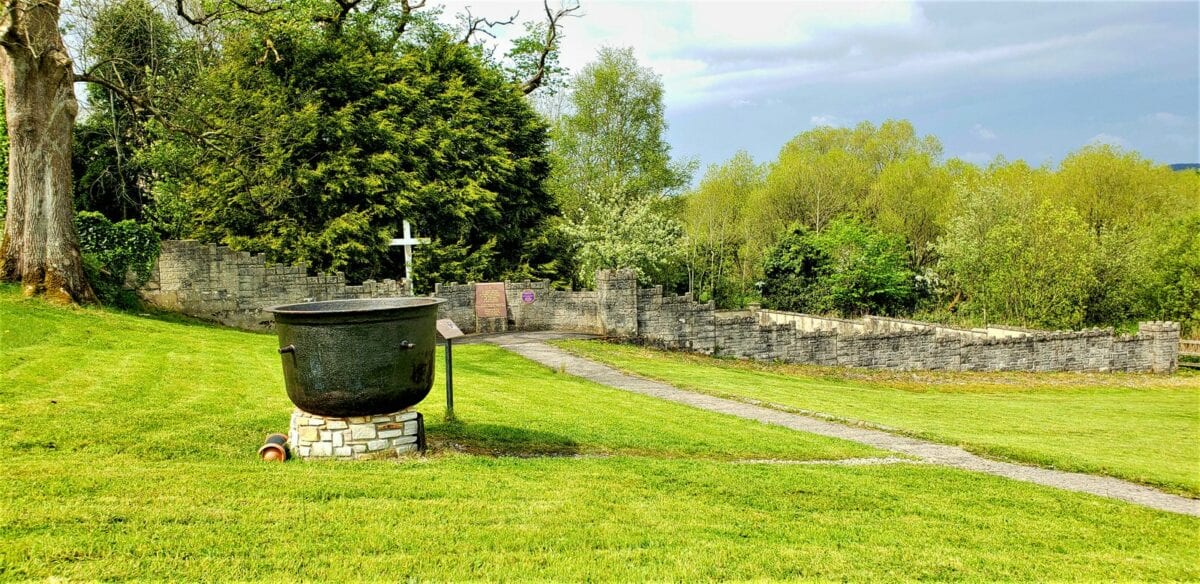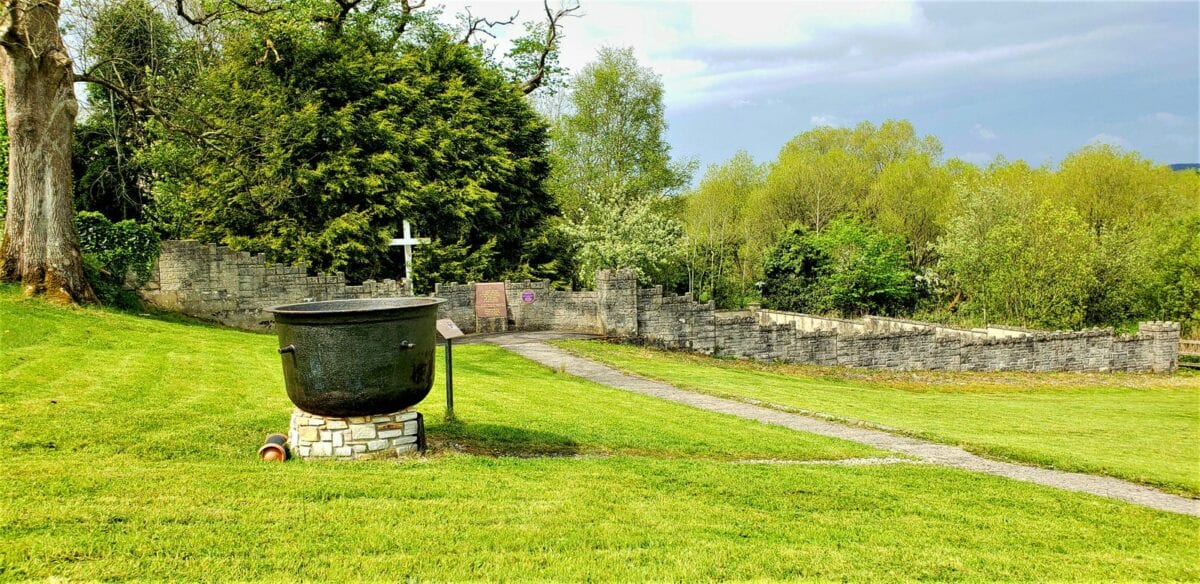 My Family Homeland, Donegal, Ireland
It is hard to find my Irish ancestor's roots. Their history is in private church records kept by the Diocese (Protestant) or Archdiocese (Catholic), which adds a challenge to my search. The point of this story is my family left because of poverty. Famine was rampant during the Potato Famine. They came to the USA for a better life, religious freedom, and to marry who they loved.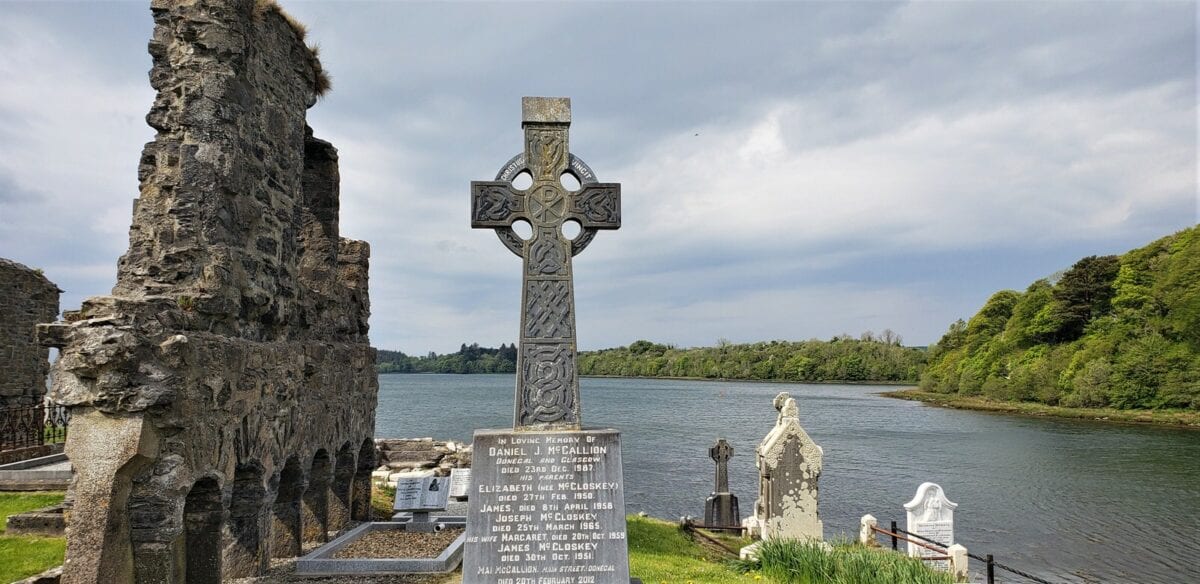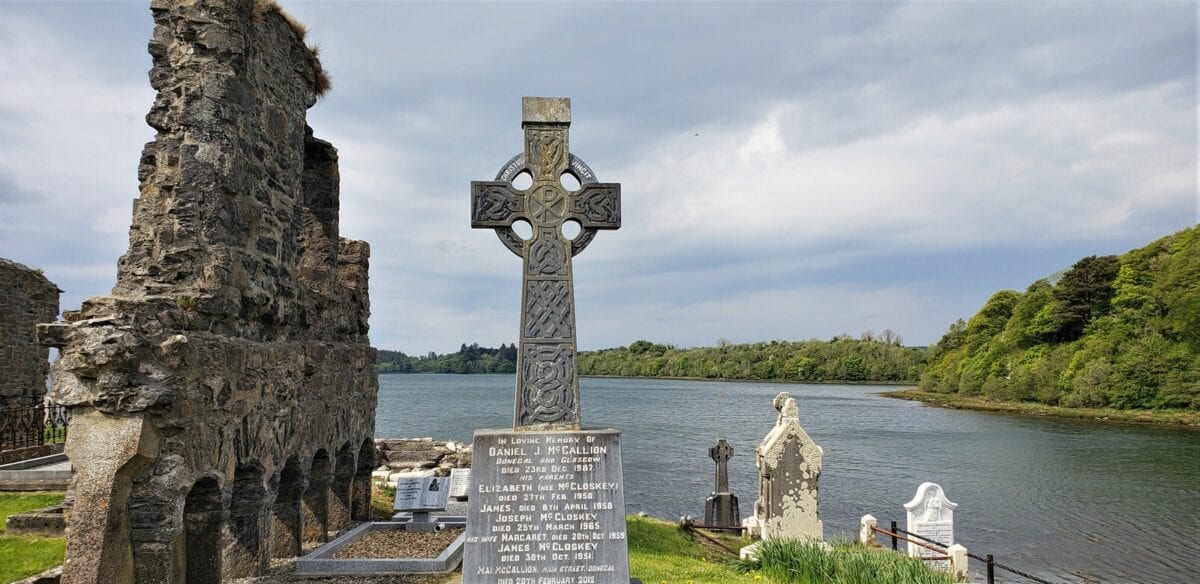 Both Sides of My Family Homeland
My people came to the USA on both sides during the civil war. Interestingly, on my mother's German side, they were abolitionists. My 45-year-old Irish great-great-grandfather was a civil war soldier. Many Irish fought in the civil war to gain citizenship. My great-great-grandmother raised her many children on her own. She fought the government for his 6 dollar pension and won it. The stories about her are part of our oral tradition, and after research, it turns out it's all true.
Would I Go Back Donegal?
Seeing this small town, which once was a busy port, is monumental to me. Visiting it is a thrill of a lifetime. There are lots of things to do in Donegal.  I would love to go back and spend a week in Donegal. I want to go hiking, meet more local people, and enjoy some slow travel here. A cab driver took me to the lighthouse, and we spent about two hours visiting the famous scenic overlook.
I saw St Johns Point. I felt eternally grateful to the taxi driver who took me there. Along the way, he stopped for many scenic points. The driver told me about an Irish pony called a Connemara pony. This breed of pony, which looks more like a horse, originated in Ireland. The pony is unique to Ireland and known for athleticism, versatility, and pleasant disposition. The driver said, "get out." then added, "Let's see if you are truly Irish? Let's see if the pony comes to you?" "Seems, the pony could tell, you are Irish," he told me. "She likes me, I said. Then the pony winked at me. I said, "I must be Irish." I have to say. It also seems to me that the Irish are fabulous storytellers!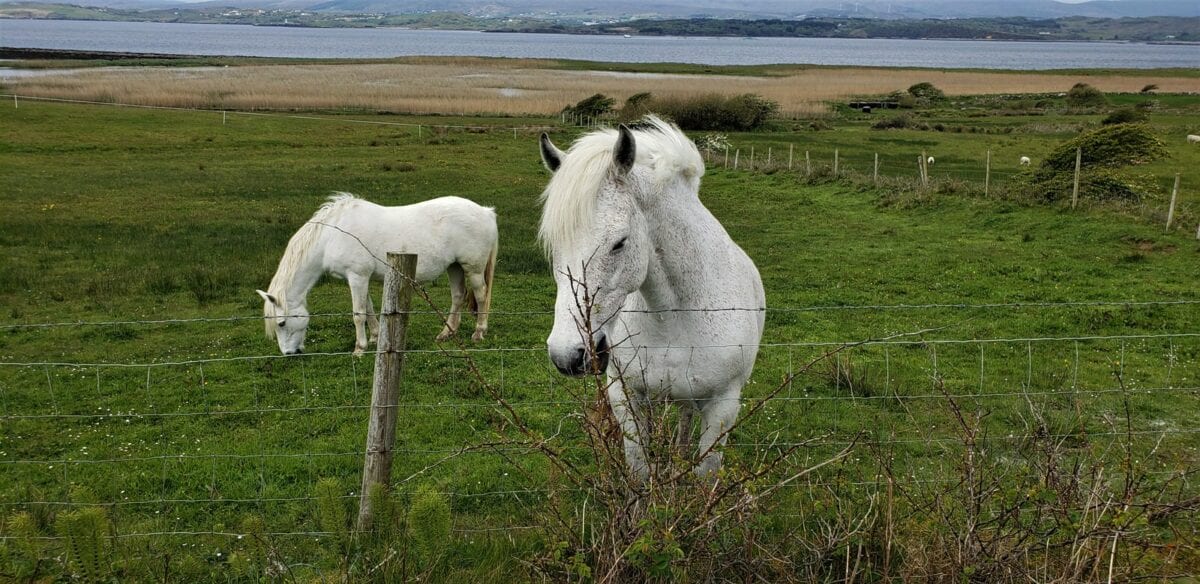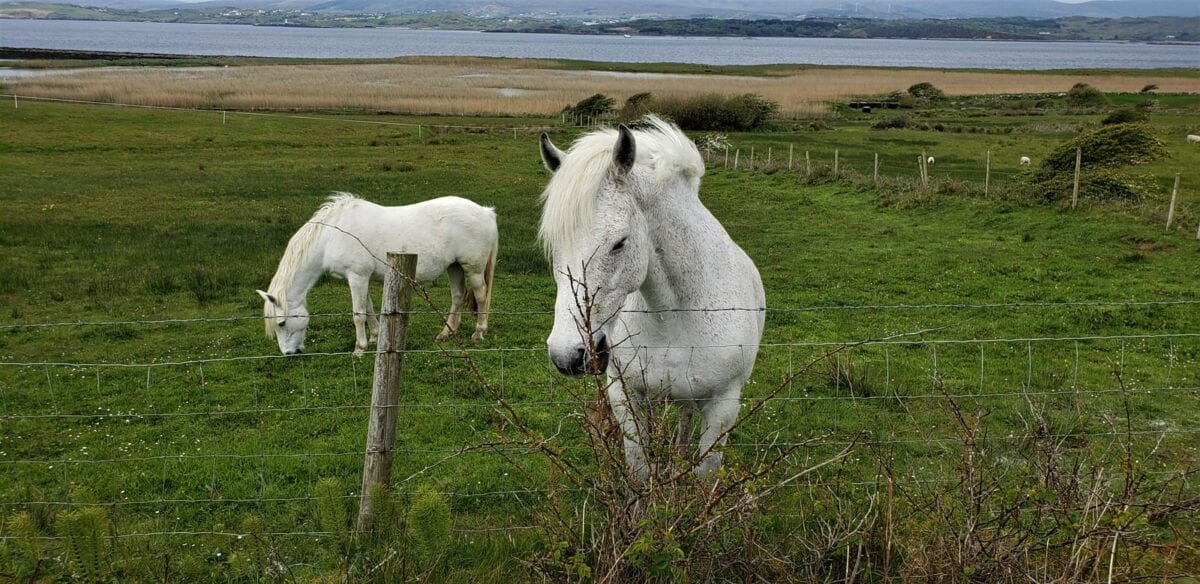 Where to Stay
Stay in town at The Abbey Hotel. It's an adorable, friendly location in the center of town. Since the bus stops here, ask for a room in the back. Next door is a cafeteria, with great food and good value too.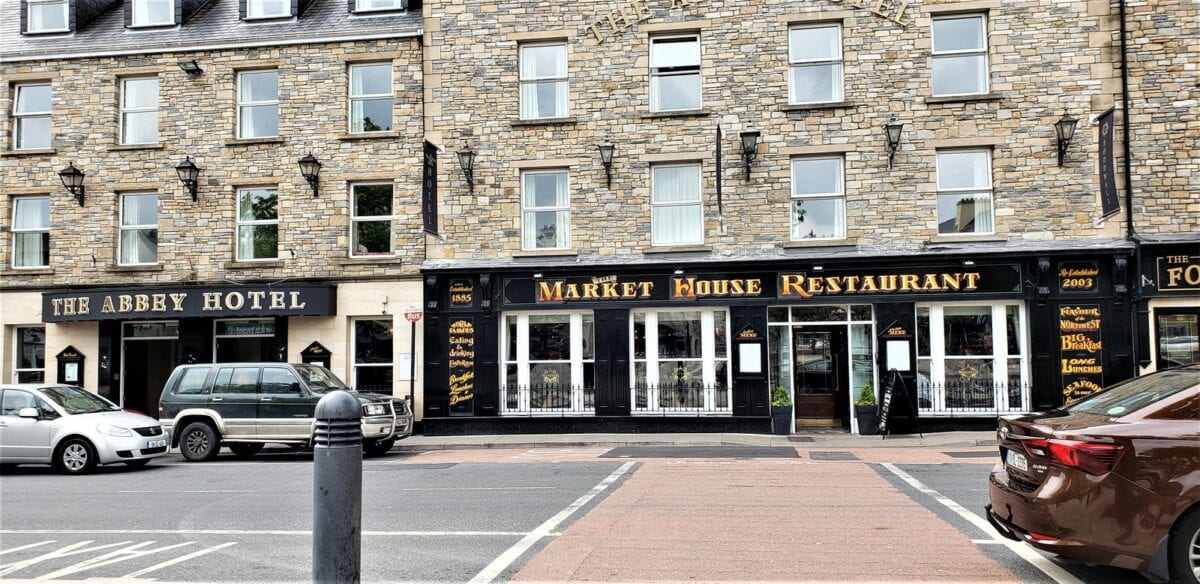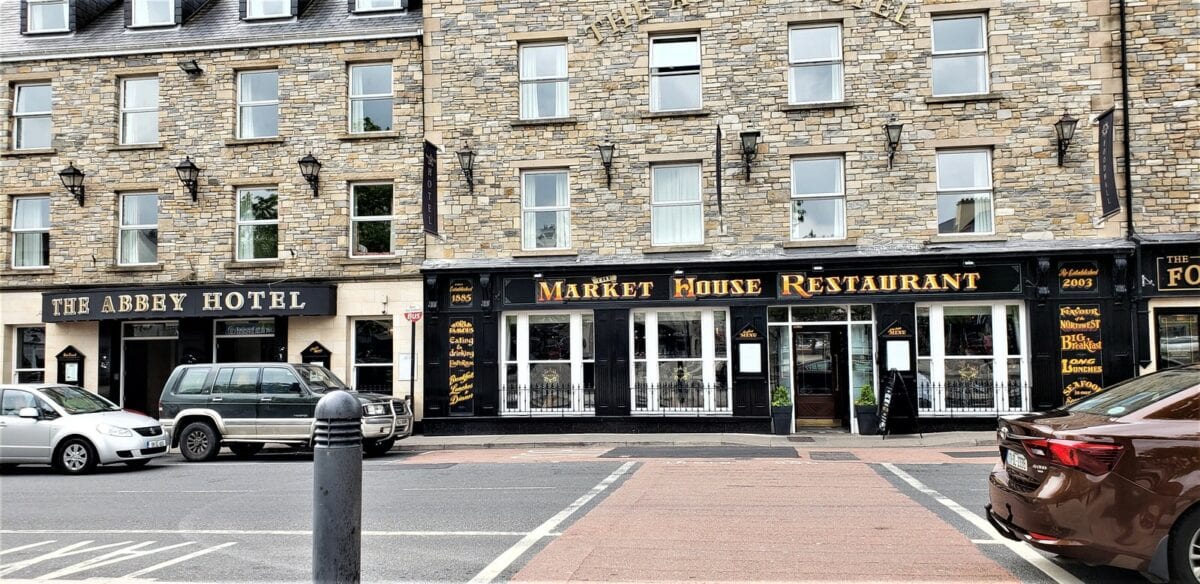 Want an excellent pub try, Old Castle Bar.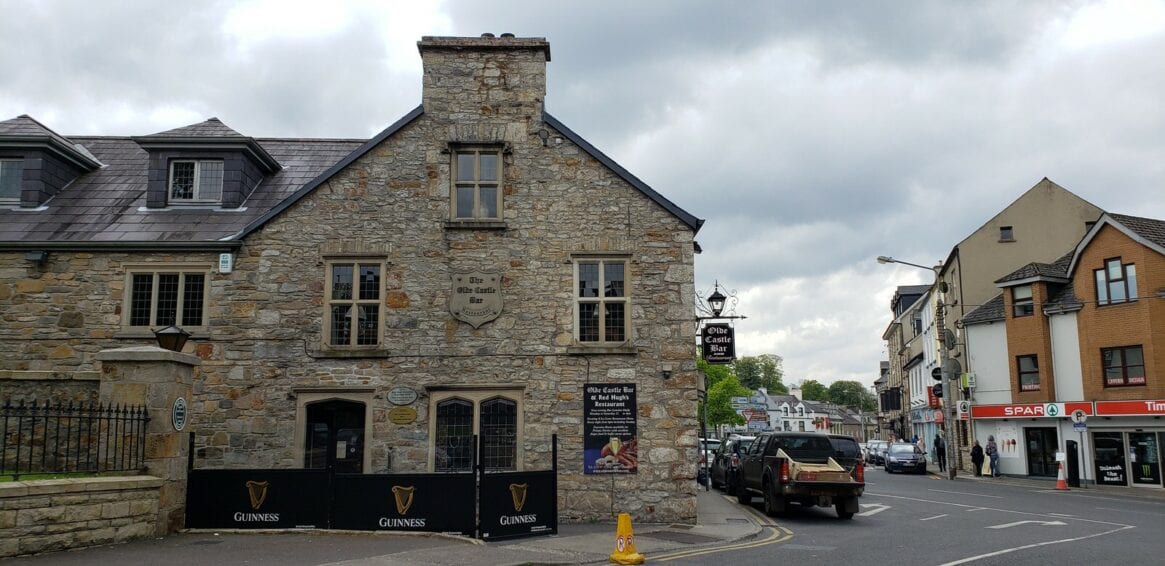 If you want to stay in a lighthouse, stay at Fanda Lighthouse.
I am interested in learning a little more about the search for my ancestors. Learn a bit more to read about my journey discovering my German roots. Here is also an exciting way to capture your memories while on your travel or vacation. I collect shells after putting my feet in each body of water where ever I go. Just don't take too many photos; it will destroy your memories.
Someday, I am taking my kids and grandson here. It's one of the best places I have been too. I feel like I fit here. Donegal, I will return to you.
Copyright © 2023 Capetown-Rio, Inc. USA. All rights reserved. Republishing is allowed only with written permission. All photography rights on this page belong to Capetown-Rio, Inc. and the author. Do you have a question, business proposal, or speaking opportunity? Please contact me here.