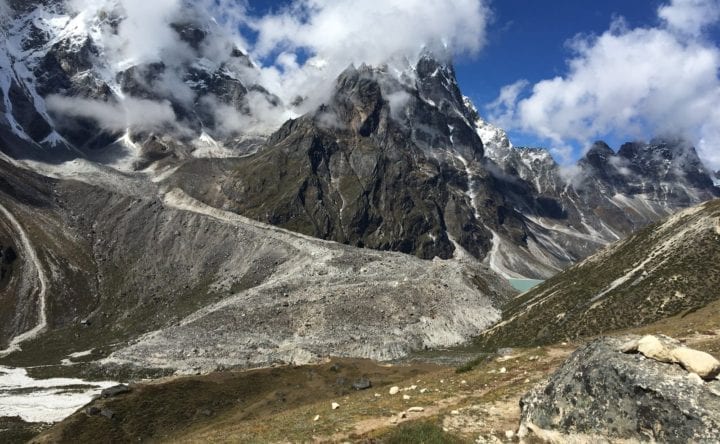 Jim Allen
Guest Feature
Travel Nepal to Everest Base Camp
By
|
Nepal is a tiny country sandwiched between China and India. In September 2017, I experienced the ultimate hike, a 14-day trek in the Himalayas. The highlight of the trek was Everest Base Camp, about 17,600 feet above sea level. This trek was exhilarating and challenging, and for those who love the outdoors and hiking, this is a must do trek.
Physical Training
High altitude trekking (above 10,000 feet) requires a minimum degree of fitness to successfully finish the trek. Please understand, though, that the key to complete this trek is a positive mental attitude. Start working out at least eight weeks before the trek. Emphasize cardio and core body strength training. Running, cycling and swimming are all great cardio choices.
Please get checked out and cleared by a medical doctor before choosing this trekking experience. Persons with serious medical issues have to consider not taking this trek.
The ability for anybody to acclimate at altitude is unpredictable. Listen to the guides, since they are experts in trekking and want to help trekkers succeed. The thing to remember is that trekking is always done slowly. This is slow travel at its finest. It's the best prescription for enjoying the trek and avoiding altitude sickness.
Kathmandu
Kathmandu is a chaotic and dusty city where we met as a trekking group. Consider using Intrepid Travel for the trek, as Intrepid has a carefully planned itinerary. Their guides will help trekkers get to Base Camp safely. Intrepid Travel guides manage the trip to provide enough time for hikers to acclimate.
Accommodations
Many trekkers stay in the Thamel District at the Kathmandu Guest House. Thamel is crowded with trekking equipment shops, restaurants, and hotels. The Thamel District is a fun place to stay and meet others interested in the trekking lifestyle. Sightseeing options are numerous in Kathmandu. My recommendation is the Monkey Temple, which sits high hill and has commanding views of the city.
Day 2 Off to Lukla
On the second day, our guide loaded us into a small van, drove along some narrow, bumpy and dusty streets of Kathmandu to the airport. At the airport, we boarded a small aircraft and took off for Lukla, Nepal, the "most dangerous airport in the world." This notable title is given to the airport because the airfield is located on the side of a mountain, the approach through a narrow mountain valley is unusual and the runway is impossibly short. The question in everyone's minds was "Will we make it?" The good news is we safely made it to Lukla.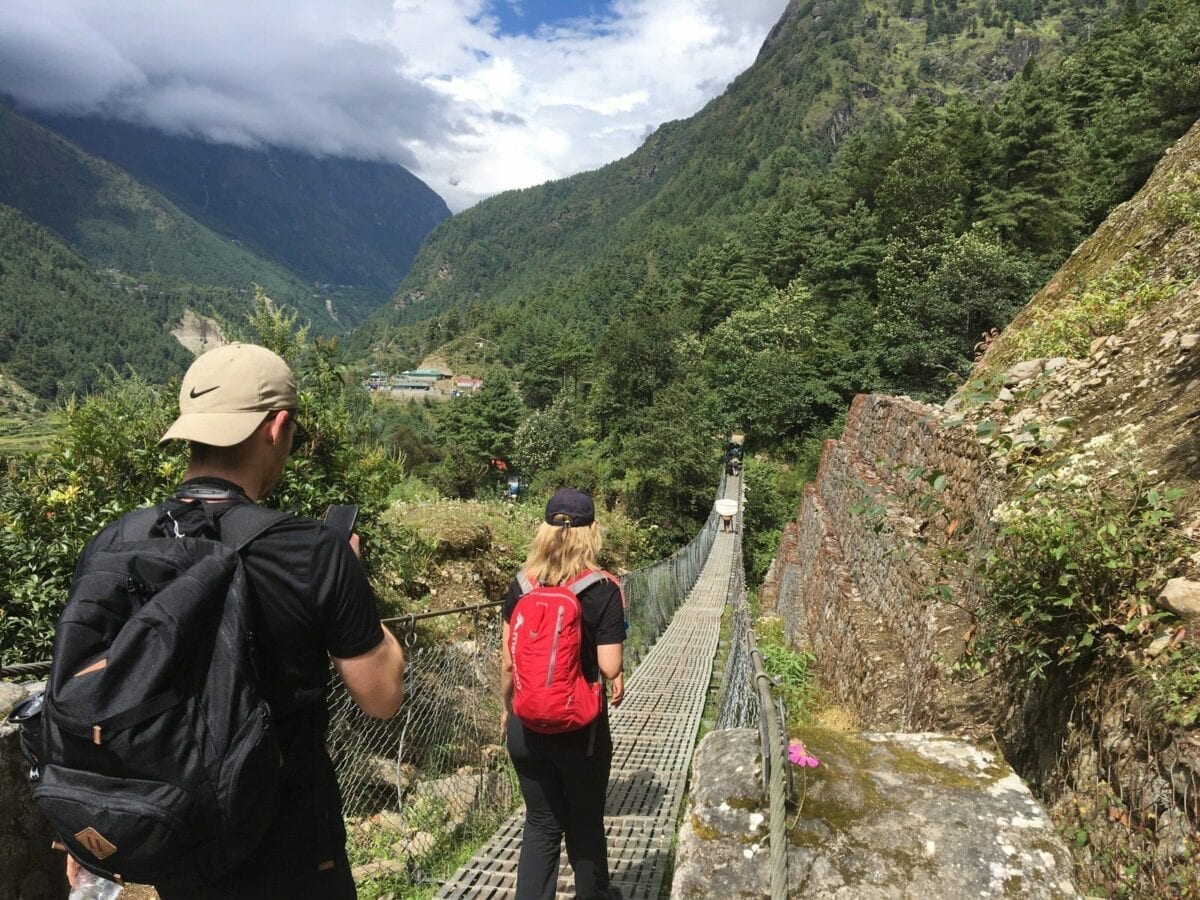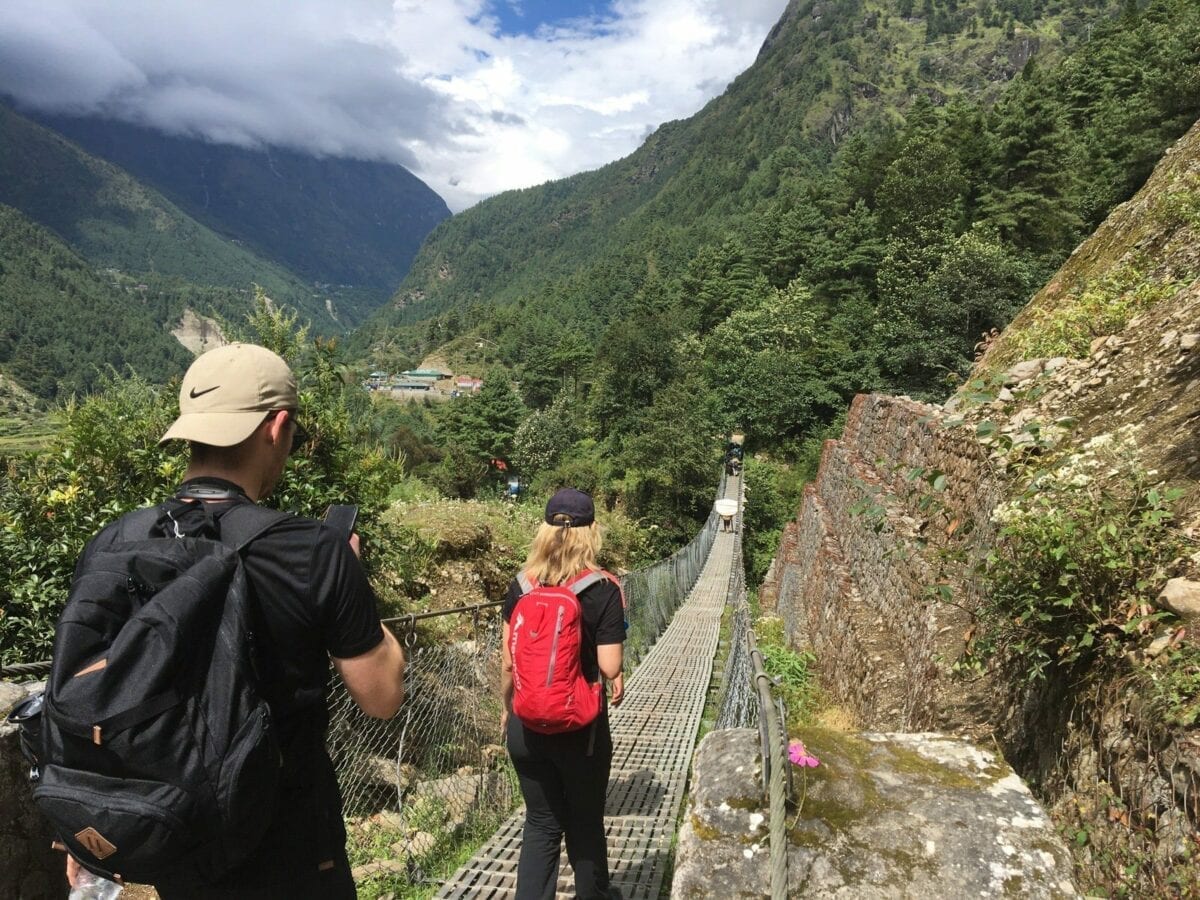 Hike with a View
Our trekking group passed through a hand full of small villages on the way up to Base Camp. Gorak Shep was the final stop on our trek before pushing into Base Camp. Many of the villages are a collection of teahouses and small shops where trekkers can buy essential hiking items.
We crossed several suspension bridges along our route up the Khumbu Valley. The bridges are metal and covered with prayer flags, and sway in the wind. The highest bridge we crossed was three hundred feet above the river below. For those with a fear of heights, just look straight ahead, hold on to the handrails and don't look down.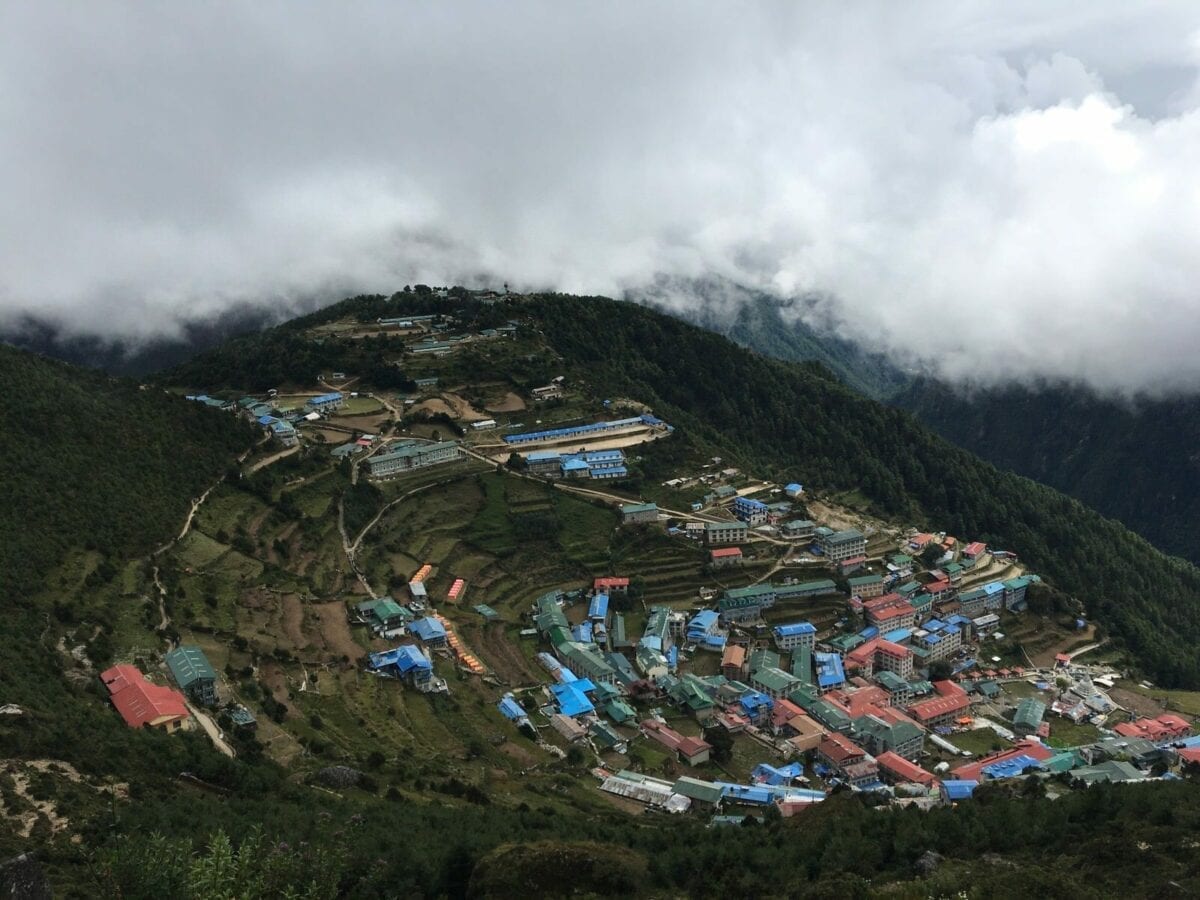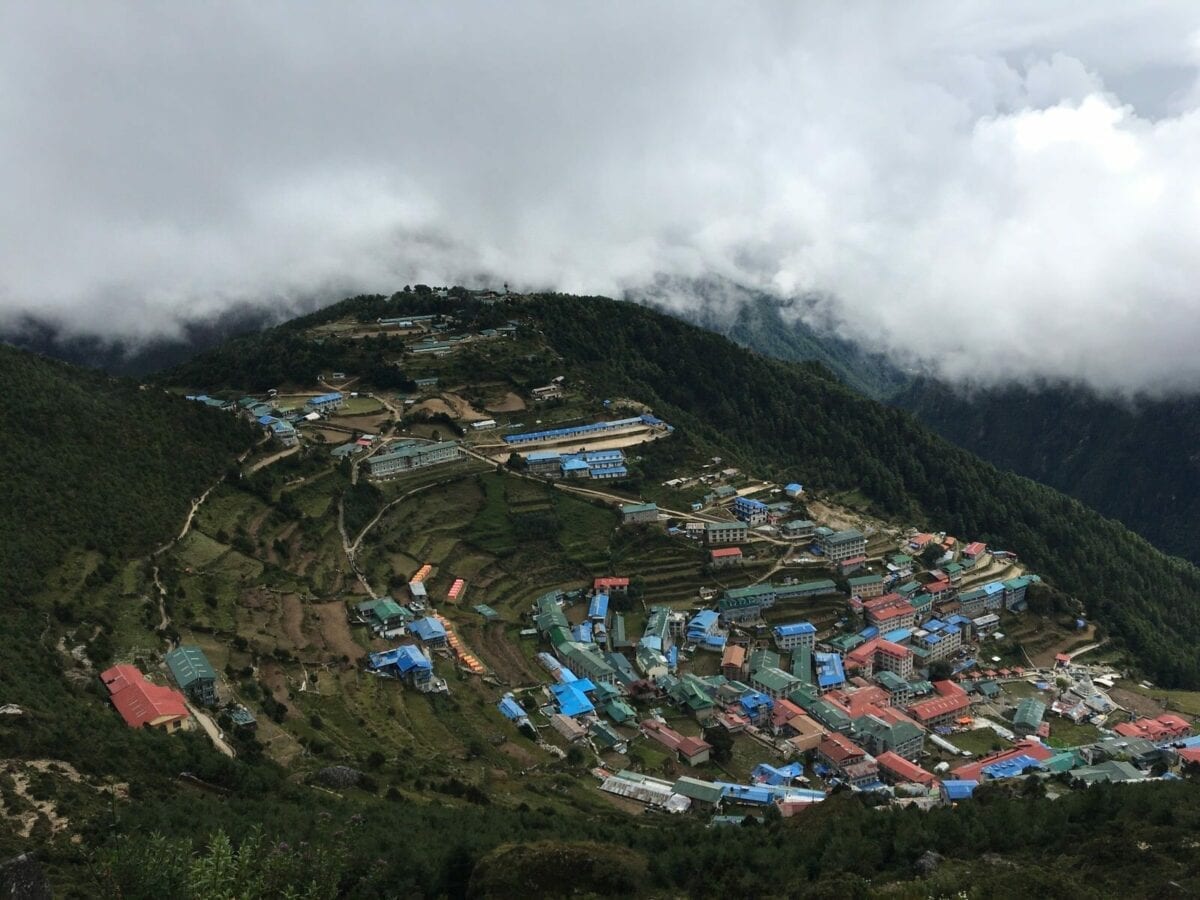 Ulitmate Hike
We trekked along the raging Dudh Kosi River, which appears milky white because of the glacial "flour." Glacial flour is finely ground bits of rock dust suspended in the river water. These minerals give the river it's "milky" color.
The ultimate hike, at lower elevations, we trekked through mountains carpeted with blue pine and rhododendron. Higher up, trekkers experience windswept, undulating vastness of the Pheriche Valley. Above the tree line, over 14,000 feet, locals grow potatoes and buckwheat.
Finally, at Gorak Shep, the landscape appears to be gouged out by a massive bulldozer. Giant boulders and rocks are scattered everywhere. High ridges of rocks, dirt, and boulders mark the edge of the glacier that pushed the land out of its way. I named the glacier "bulldozer" and has now melted and underground.
Everest Base Camp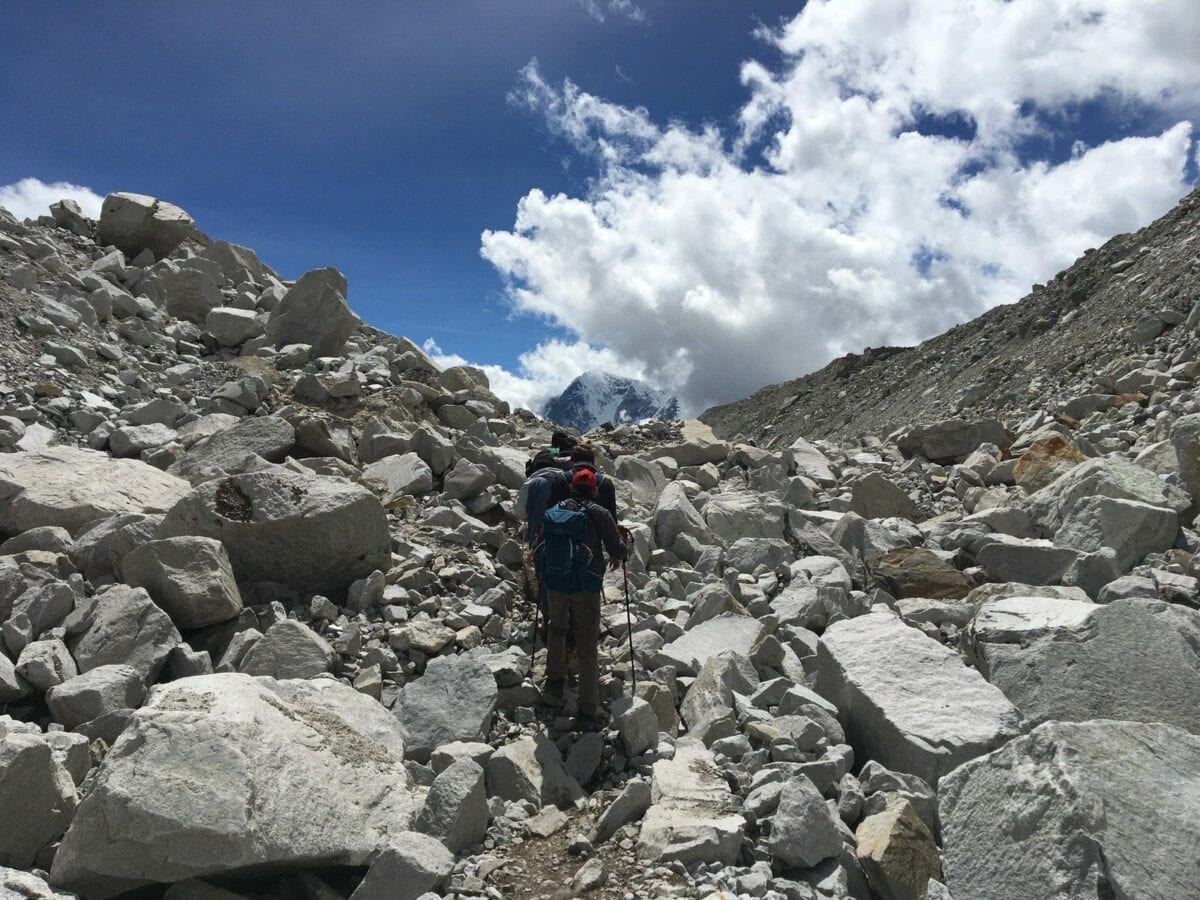 Everest Base Camp
When we arrived at Everest Base Camp, I felt an exhilarating sense of accomplishment. Many world-famous climbers arrive here in early spring, and train for six weeks to reach the summit of Mount Everest. By May every year, Everest Base Camp is crowded with hundreds of colorful tents, and hundreds of climbers, all with the lofty ambition of summiting the tallest mountain in the world.
Base Camp is a hilly jumble of boulders and rock, with tall snowy mountains forming the backdrop against a cobalt-blue sky. Gazing across the Camp, we could see the famous Khumbu Ice Fall about 15 kilometers away. We could hear the distant thunder of avalanches on the mountain.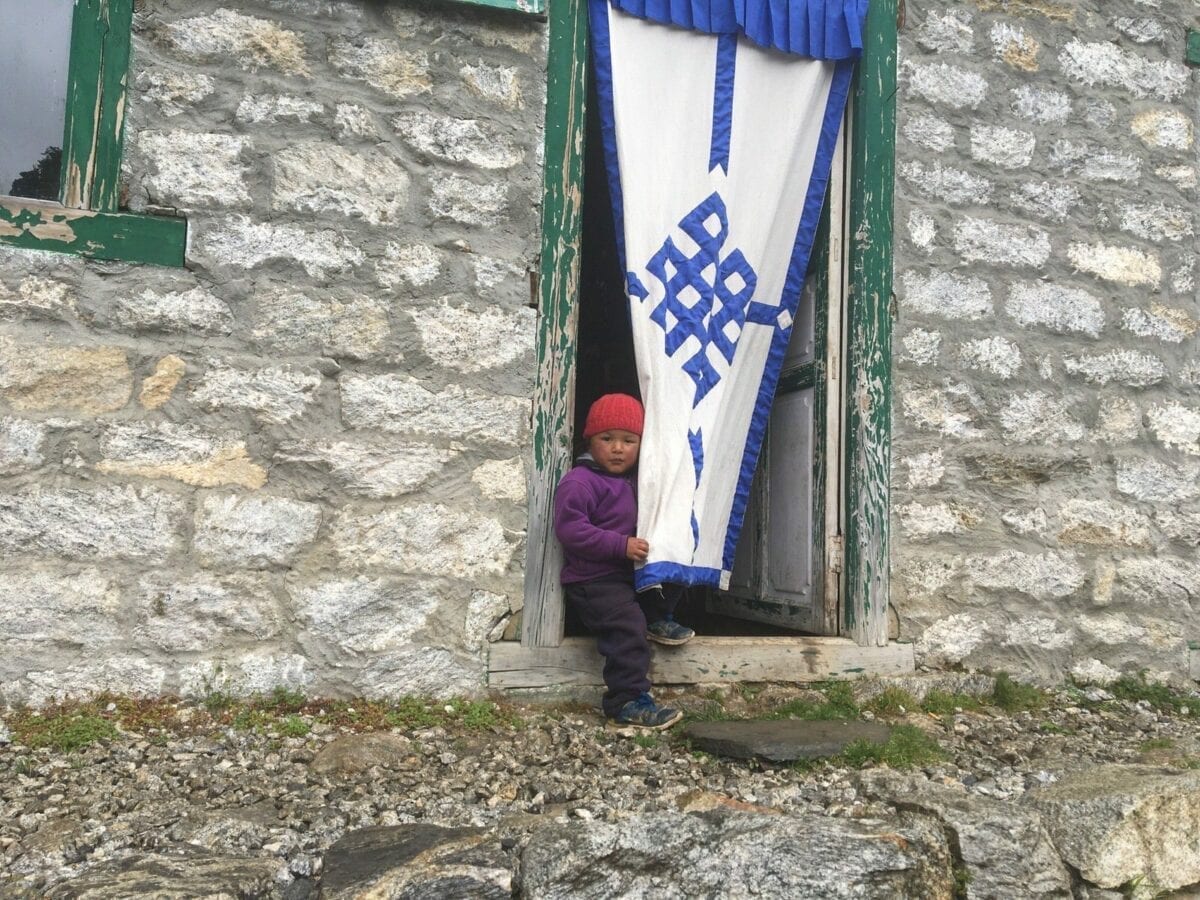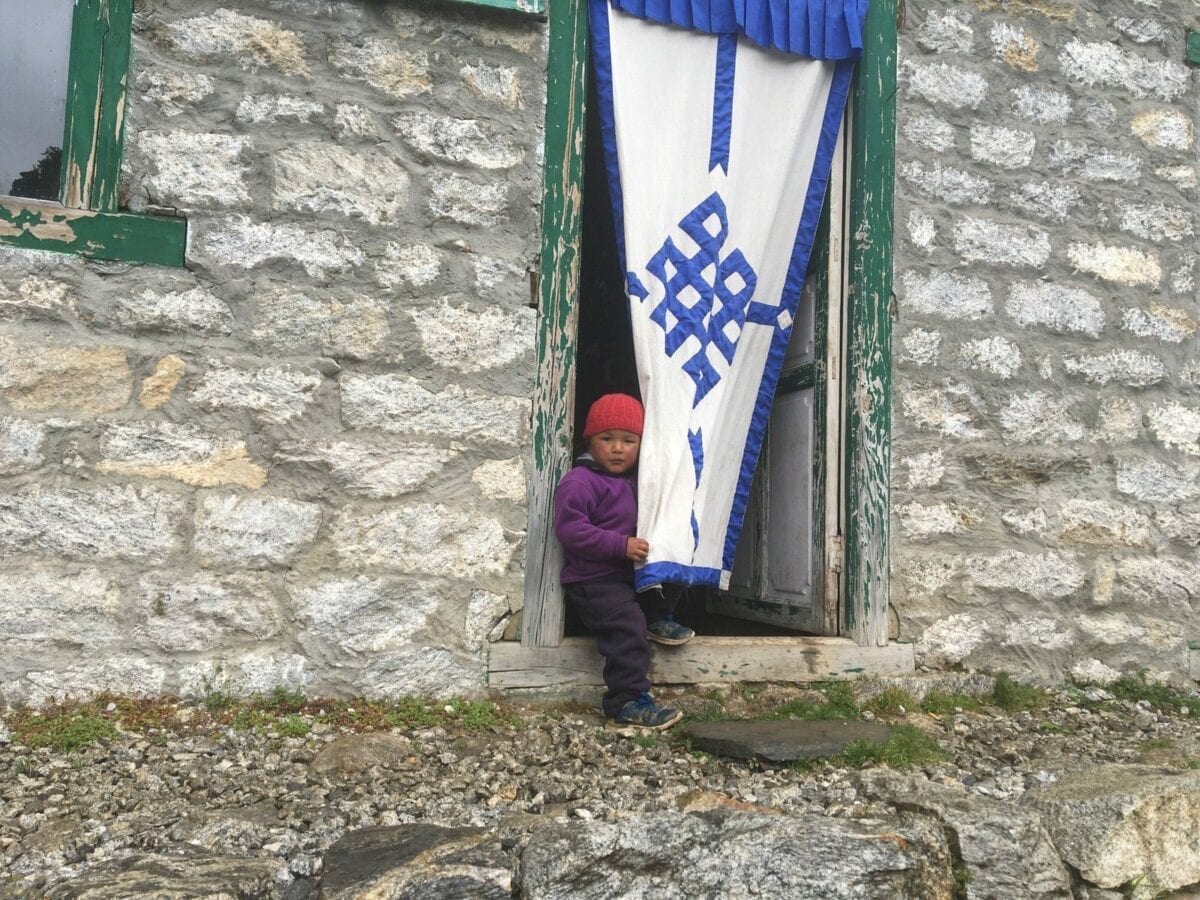 Base Camp is a desolate and lonely place with not a scrap of vegetation growing. The altitude is debilitating, many trekkers arrive exhausted. I saw flags and articles of clothing left by climbers. We could also see the melting glacier just below the surface of the rocks. We stayed less than thirty minutes to congratulate each other, take photos and revel in our achievement. Our guide said we had to go. Unless one is training to summit Everest, Base Camp is not a safe place to stay for an indefinite time. The Base Camp is vulnerable to avalanches, rock falls, and extreme cold. It is still the ultimate hiking location regardless of the danger and risks.
Teahouses and Food
While trekking along the trail, teahouses provide lodging to hikers. Some teahouses are quite primitive. We stayed at several with rudimentary bathrooms and no running water.
Avoid meat dishes while trekking, and order the vegetarian dishes that the teahouses serve. Choose meals with noodles, potatoes, and rice.
Our guide recommended eliminating caffeine and alcohol three days before leaving. Caffeine and alcohol consumption on high altitude treks are not good for the body. Both work to increase the heart rate and blood pressure. Drink at least four liters of water a day.
Celebration
After completing the trek, our group met at a steakhouse in Kathmandu. The steak slathered with spicy-hot mushroom sauce satisfied my soul, and the icy cold Everest beer numbed my throat as I washed down the steak. It felt wonderful to eat a real meal after 14 days in the mountains.
The next night, our trekking group moved to the Hyatt hotel in Kathmandu. Probably the nicest hotel in town, the Hyatt's pool, casino, and restaurant help a trekker relax.
Memories
Camaraderie among trekkers is legendary on this ultimate hike. Everybody has a story, and it's always interesting to hear the life stories of people from all walks of life. Friendships develop quickly from living in close quarters. Many people love the silence of the mountains. I enjoyed the company and conversations.
The deep, cobalt blue skies at high altitude are unforgettable. A picture can't capture the unique blue color. The contrast of a towering fluffy white cumulus cloud hugging a mountain peak with the wildly blue sky as a background is striking.
Viewing the Milky Way high in the Himalayas is a spectacle to behold. Imagine scattering trillions of sparkling diamonds across the night sky, and seeing their fiery brilliance light the heavens on fire.
Trekking in Nepal can change your life!
Travel Tip: Buy a quality pair of boots for this trip. Your toes and feet will thank you for it. Foot care on extended treks is critical to the health of your feet. Quality boots protect your feet.
Copyright © 2023 Capetown-Rio, Inc. USA. All rights reserved. Republishing is allowed only with written permission. All photography rights on this page belong to Capetown-Rio, Inc. and the author. Do you have a question, business proposal, or speaking opportunity? Please contact me here.