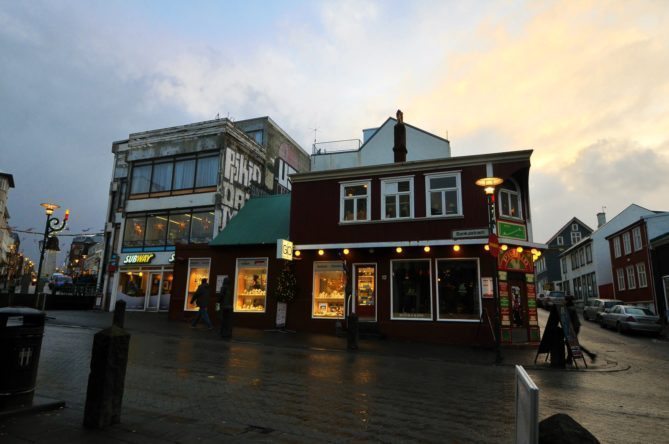 Feature
December's Wonderland Iceland
By
|
Honestly, I expected that Reykjavik Iceland wouldn't have a lot of daylight in December. But, didn't realize how dark and wet it would be. Even though I followed the weather for several months and did my homework, I didn't expect the flat light of Reykjavik. It is unique. What was surprising about Iceland to me is that the temperature on most days is identical to Seattle, London or Istanbul – but, Reykjavik, Iceland is December's winter wonderland. The December sun rises around ten a.m. and sets at around three p.m. So, in the winter be prepared for mother nature to run your day and to provide a light show.
Brief History of Reykjavik Iceland
Iceland is one of the oldest inhabited locations in the world and still pristine. The language is very close to the language the ancient Vikings spoke. Words like a rucksack, saga, and reindeer are all Icelandic words. About 93.2% of Icelandic people speak this ancient language. However, most folks in Iceland also speak English.
The population of Iceland is around 330,000 people. You will find that Iceland also has loads of emigrants from Schengen Area countries. Iceland is sometimes considered the fifth Nordic country and the recent emigration crisis of Europe hasn't reached Iceland. Reykjavik is the largest city and the capital, the location of foreign embassies, and the center of all things Icelandic
December Weather
If you go to Iceland in December, like I did, be prepared to enjoy the rain. Bing lots of layers of waterproof clothing. Lastly, you shouldn't be afraid of the dark. The sun only shines for about 6 hours. I know I am repeating myself, but the lack of light, the flat light, and rain affected me a lot. The most important advice I can give is – make sure everything you wear is waterproof.
What I Wore
I wore a North Face lined waterproof light weight jacket and a Columbia Sports waterproof long jacket. Under the outer layer, I wore silk undershirt and long underwear. This clothing combination is the perfect outfit for the weather regardless if it's snowing or raining. It continuously rained while I was there.
Tour Buses
You will go crazy on a tour bus if you do it every day, one day is fine. The reason why you will go crazy is that when the sun is out – you want to be able to enjoy it. Tour buses don't make any unscheduled stops for sudden sunbursts and random acts of sunshine. I didn't want to be stuck on a tour bus with some women barking orders at me while I watched the fleeting sun. But, I booked the tours because I think I was being lazy. Next time I will book a photography tour. Iceland is the best place for photographers. So, if you are a driver – I recommend renting a car. See the sights at your speed and schedule. Iceland is a place you can drive to see the sights.
Travel tip: Try to stay away from hiring too many tours.
Fly Bus
Most people use Fly Bus to go to and from the airport. I was very disappointed with Fly Bus. Their service made me feel like a piece of meat. On the way from the Blue Lagoon to the airport, their service is shabby – they leave early. So go to the stop at least 30 minutes early – because they do leave early. You feel upset if you are abandoned in the rain, as I was by Fly Bus. I know Iceland has commoditized its services to be efficient, but Reykjavik Iceland is so beautiful, it would be nice if tourist were treated better,
Travel tip: Be wary, Fly Bus will leave early from the Blue Lagoon!
I met a local small tour bus agent when I needed help, and he was extremely helpful and kind. Try to hire Skuli Unnar Sveinsson at Nordic Travel and Norraena, +354 570-8600 and Skui@smyril-line.is. When Fly Bus left without me at the Blue Lagoon, he offered me a ride to the airport which is about 20-25 minutes from the Blue Lagoon.
What Does Reykjavik Iceland Look Like?
It was dark and raining every day that I was in Reykjavik Iceland, with torrential rain and gale force winds when I was there. I love the rain. I am from Seattle. So when the sun broke, I loved it and appreciate it so much. Occasionally there were some sun breaks. The occasional sun breaks seemed to happen when I was on a bus going from one place to the next..Therefore, I didn't get to enjoy the little bit of sun because I was stuck on a tour bus.
Because I was missing out on Iceland's little bit of sunshine, I hired a wonderful person to show me around. Hiring him was a great decision. It didn't cost that much considering how much I saw and that he stopped for sunshine breaks.
How to Hire Local People
At the reception desk in my hotel, I told them, I was looking for a person to hire for sightseeing. The reception desk called a friend who is working to get his taxi license. He picked me up at my hotel and we negotiated a rate – about $120.00 for three hours. I asked him to pick the route. Again, this was another good bit of luck. Honestly, it was one of the best parts of my trip – because when the sun came out, he stopped and let me out of the car to take a few pictures.
My advice, hire small local tours or individuals as I did – Frazer was the man I hired. He was excellent! Freyr101@gmail.com and at Facebook at Reykjavikexpert.is
Here are the extraordinary things Frazer showed me while the sun was out.
Landakotskirkja – Catholic Church
Hallgrímskirkja – Luthern Church
Reykjavik Seltjarnarneskirkja – Church
Chruch in the Center of Town
The Beach and Coastline
The Harbor
The Opera House and the Harbor
The National Competition – Art Mound
The Cod Drying in the Shack at the Top – Nice view too!
Reykjavik – the town
The Famous Hot Dog Stand
The Ice Skating Rink — that wasn't very frozen
The Homes of Reykjavik
Graffiti
Art is everywhere in Reykjavik – from museums, shops street art and street animations – it's a vivacious place.
In my opinion, one of the best parts of my trip are the people I met. They certainly aren't stuffy or stiff like the manikins at Natura.
Solo Female Traveler
In Reykjavik Iceland, you will find many solo female travelers. I was fortunate to meet a lovely gal at my hotel from Singapore. She was traveling solo. Her English was perfect, and I wish I had more time to get to know her! But, if you are single and want to travel to Reykjavik Iceland this is a great place for solo travelers, and travelers 50 plus and at all stages of life.
Don't be Afraid of the Seasons
You will meet beautiful people on your trip to Iceland. So don't be afraid to go in December.
Suggested related posts
Copyright © 2022 Capetown-Rio, Inc. USA. All rights reserved. Republishing is allowed only with written permission. All photography rights on this page belong to Capetown-Rio, Inc. and the author. Do you have a question, business proposal, or speaking opportunity? Please contact me here.