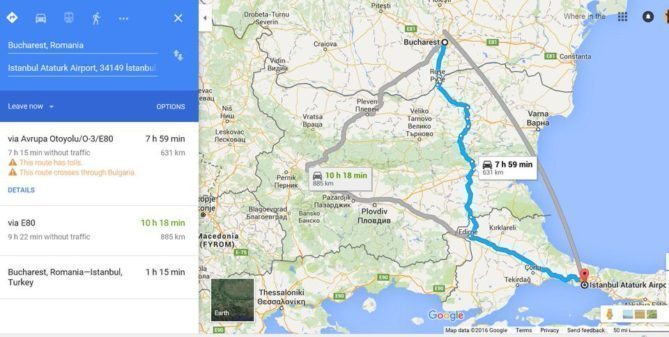 Feature
My Itinerary – Istanbul to Bucharest
By
|
Let me tell you about My Itinerary from Istanbul to Bucharest, it is very straightforward. It's an inexpensive, easy trip to a small, simple airport and a fast customs center. Bucharest, Romania is in Western Europe and it seems like Western Europe with exceptional value because of the strength of the US dollar.
My Itinerary from Istanbul to Bucharest
If you want to experience a slice of Western Europe on a budget, this is the place for you. Everyone speaks English, the people, are super-helpful, and the US dollars exchange rate is exceptional.
To Bucharest Otopeni (OTP) 07:50 p.m.
From Istanbul Ataturk (IST) 06:35 p.m.

Istanbul

Atatürk Airport (IST) to Bucharest Airport, (OTP)
Free baggage allowance one piece

Private driver – TRIPAVIP

airport driving service from Bucharest Airport, (OTP)
Delivers you to any

Bucharest, Romania Hotels

Alternate transportation:
Warning – Take a legitimate taxi upon arrival, ask for a pickup by the hotel, or check for a subway route to your hotel
Be careful taking an unlicensed taxi from the airport, generally, it's about 10 US dollars.
Ask for help from local people at the airport. In Bucharest, people are helpful and friendly. Someone will help you get a legitimate taxi.
Bucharest has subways that will take you to the suburbs
Ask at the airport if the subway can get you to your hotel
Remember, when flying out of Istanbul
It's not expensive to fly to Bucharest. It's the poorest of all EU countries. If the flight is booked 14 days in advance, the value is excellent.
Don't use the Sabiha Gokcen airport unless your hotel is on the Asian side
You can decide to take public transportation, buy a ride on a shuttle bus, or take a bus from the hotel, or taxi.
If you have a taxi, ask your hotel to request the rate from the driver, so you aren't overcharged.
Taxis have to run the meter, but they don't have to charge you the meter price if you have negotiated a fixed price. If your hotel arranges a fixed-rate taxi for you, have them write the amount on the back of their hotel business card so you are sure to get the right rate.
Copyright © 2021 Capetown-Rio, Inc. USA. All rights reserved. Republishing is allowed only with written permission. All photography rights on this page belong to Capetown-Rio, Inc. and the author. Do you have a question, business proposal, or speaking opportunity? Please contact me here.