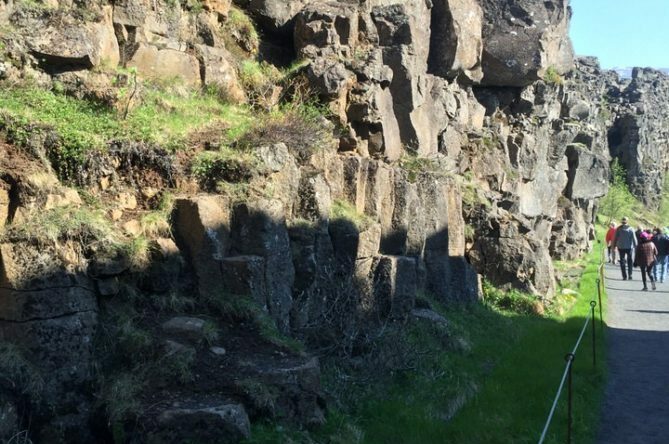 Jim Allen
Guest Feature
Awesome, Iceland Golden Circle Day Trip
By
|
If you have just one day in the Reykjavik area, take the Iceland Golden Circle Day Trip. The tour is a winner. I booked with Grayline of Iceland. It's a comprehensive peek at what southwest Iceland is about. Who doesn't like waterfalls and geysers? This tour is a bargain. I paid about $75 USD, and it includes a full eight-hour motor coach guided tour! The scenery en route to each stop includes views of farms, volcanoes, rivers mountains and lakes – Iceland is spectacular!
You could do this tour yourself, but you would need a rental car.
Golden Circle Classic Tour
The Golden Circle Classic Tour is a fabulous tour for solo female travelers and travelers 50+ and elder travel for older people with a handicap. The buses are wifi equipped, so you can keep up with e-mails and calls from home. This tour is easy and is a welcome break from backpackers who want to rest for a day.
Iceland's Waterfalls, Geysers, Farmlands and More
Pingvellir National Park is the first stop. You'll see tectonic plates–an area where continents are drifting apart. A beautiful lake is there as well. Between stops, the scenery never stops. I was lucky to spot Icelandic horses grazing in a farm–you'll stop at a farm at the end of this tour to get a close up look at these little beasts.
Why Solo Travel
I travel solo but was invited by a woman from Amsterdam to sit next to her and her friend. They made the trip even more fun. They laughed constantly. I hope they weren't laughing at me. To me, Iceland like Europe offers a better opportunity to meet people, as Europeans are generally more open minded and gregarious compared to Seattleites. It's certainly easier for me to make friends there than here in the "Seattle Freeze" zone!
Here is a travel guide on the shrine of Iceland, Pingvellir National Park.

Travel by Bus
Motoring into Gullfoss, you'll enjoy a magnificent waterfall after hiking up a well-maintained trail–it will take about twenty-five minutes. The mist will soak your clothing, and the roar of the falls is incredible. Look for rainbows on sunny days.
Geysir and Stokkur Hot Springs
Geysir, home of the Stokkur hot springs, reminds me of Yellowstone. The geyser shoots hot water about 80 feet every few minutes–watch out for the spray! The eruption always catches everybody by surprise even though it's a predictable eruption! You will hear people screaming when it erupts. Grab a bite to eat or drink before heading off to your final destination.
An interesting fact: With so much geothermal activity, Iceland is the only country in the world that obtains 100% of its electricity and heat from renewable resources. The glaciers and rivers are harnessed through hydropower to generate 80% of Iceland's electricity needs. The other 20% is generated from geothermal fields.
Back to Reykjavik
Awesome, Iceland Golden Circle Day Trip
Heading back to Reykjavik, you'll stop at an old church. A service was in progress during our visit. It's a very authentic look into the culture in this part of Iceland. You'll see two beautiful lakes. Streams of crystal cobalt-blue water. Sheep grazing. Green grass glistening in the sun. The winds can blow cold, even in the summer, so be prepared–bring warm clothing.
Another Nice Woman
I was lucky enough to talk with a local Icelandic girl inside a small gift shop across from the church. She told me she had been born in a small town nearby and had not yet traveled from Iceland. Interestingly, she said, she felt isolated. I suppose Iceland can do that to you–it's essentially all wilderness. I felt privileged to have spoken with her. She told me she couldn't wait to see the world. "Yes, see the world", I said. That's what I want to do.
Have you ever petted an Icelandic horse? You'll get your chance on this tour. They feel really different because their hair is coarse and thick to keep them warm. These animals are smaller than "traditional" horses–they remind me of ponies. These horses are used to herd sheep. After, your visit with the horses and farm animals, head into the store at the Icelandic Horse Park and have a glass of wine. Buy some merchandise.
As soon as the last remaining passengers boarded, and we left the Horse Park. We headed out.
Back to Reykjavik
It was time to head back to Reykjavik. What I had seen and the people I had talked to will never leave my memory. The ride back was quite quiet. The scenery, so spectacular, had a profound effect on me. How could anything be this beautiful? I was convinced that my home state of Washington was the most beautiful place in the world. I was wrong. Iceland is a strong competitor. Iceland's beauty will impress you. Come to this place when you can. Revel in the glory. I did. It sounds corny, but I feel I'm the luckiest guy on earth. This trip was the bomb. I will be back for more!
I loved the Awesome, Iceland Golden Circle Day Trip.
Read, more about my Iceland trip.
Travel Tip: Carry warm clothing on this tour. Even in the summer, it can get icy cold.
Copyright © 2023 Capetown-Rio, Inc. USA. All rights reserved. Republishing is allowed only with written permission. All photography rights on this page belong to Capetown-Rio, Inc. and the author. Do you have a question, business proposal, or speaking opportunity? Please contact me here.