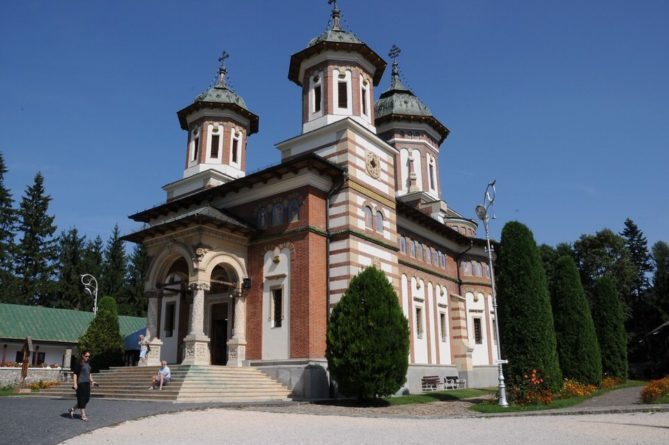 Feature
Travel to Another Romanian Monastery
By
|
We had been in the car so long that everything was blurring together but we were on our way to Sinaia Monastery Romania. Our beloved car saved us so much time. It was worth the extra money to buy Nicolae's services. We were off to see a Romanian Monastery called, Sinaia Monastery. When we again realized the car situation was pretty extraordinary. Nicolae had a beautiful Mercedes vehicle for his taxi service. This time, the guards parked us right next to the cathedral. This was becoming kind of funny. Here's how to see Romania in One Day!
Sinaia Monastery Romania

The car was turning into a celebrity, an important member of our trip. The car gave us a lot of laughs. Nicolae had never taken this car to these places, so even he was surprised at the reactions we were getting. We second-guessed where the staff at each tourist attraction would tell us to park. We always got the best spot.
This time was the best so far, because, for the first time, Nicolae was told to park inside the gates right next to the Cathedral. There is more to the story than the car.

Inside the gates and past the cathedral, we went to the small chapel. The tempera paintings were everywhere, from floor to ceiling, on all the walls inside and out.
Sinaia Monastery Romania
But I started to have trouble focusing my camera. Note to self: Be careful what you wish for!
Just joking.
I didn't see all of  Romania in a day, but at this point, it felt like I had. Honestly, I have no complaints. Nicolae never quit or suggested we do less. He is a fantastic tour guide. It is worth seeing Romanian Monasteries.
The second bit of honesty, I don't recall much more. I had hit my sightseeing 'overload button, the' and my brain turned off.
Can you tell where I was?
The ceiling covered with icons is gorgeous and the wall covered entirely with more icons. Inside and out, everything covered with images makes me feel like I am in heaven I have seen the golden gates of heaven because there were gilded icons everywhere.
Inside I took a photo of the ceiling — it felt like God was there.
There was a framed painting of a cross, done to preserve it because no one guarded this church either.
Last but not least, we saw a monk doing some gardening. Even Nicolae said, "Get the shot."  I took it, trying not to show his face or to disturb him.
I felt peaceful.
The car, the perfectly, strategically placed car, swept us away. Yes, this was very fun being a princess. It was also fun to watch people taking photos of the car as I took pictures of the people.
As I walked to the car, I realized, we had a great parking spot.
Even though I felt exhausted, the trip to Sinaia Monastery Romania was worth every moment and Sinaia Monastery may be one of the prettiest monasteries in Romania. I hope you get to see it. Do you have other favorites
Copyright © 2020 Capetown-Rio, Inc. USA. All rights reserved. Republishing is allowed only with written permission. All photography rights on this page belong to Capetown-Rio, Inc. and the author. Do you have a question, business proposal, or speaking opportunity? Please contact me here.