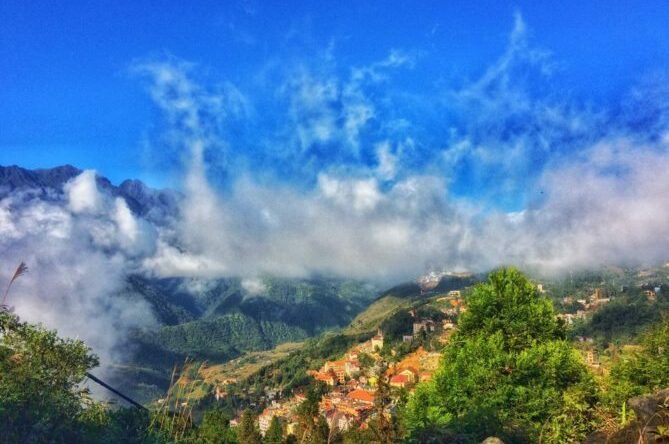 KC Sowers
Guest Feature
Sa Pa Vietnam Killer Views
By
|
Sapa is located in the northwest Vietnam, close to the border with China. Mountains dominate the region so Sa Pa Vietnam killer views are legendary. The climate can vary day to day. You will see four seasons in the span of two days (which we experienced). We had to see this outrageously beautiful place because there is no place like this in the World. It is so unique compared to the United States. In my opinion, it cannot be missed when visiting Vietnam.
Sa Pa Vietnam Killer Views
Beautiful No Matter The Season – Is Perfect!
The main draw to Sapa is the terraced rice fields built into the mountains and to see the ethnic minority tribes and villages. As you can expect, it's not easy to get to and from Sapa from Hanoi; overnight trains are the most popular mode of travel. We chose to pay extra and had a private cabin that is a 2-bunk berths in one compartment for privacy, which I recommend if there are only two of you traveling together.
Sa Pa Train
Each "tourist" train is more or less the same, you leave in the late evening and arrive very early the next morning. Lower your expectations, these aren't the high-speed luxury trains like the U.S. or Europe, it's loud and rickety, but gets you from one place to another.
We booked our tickets well in advance as they can sell out quickly. You have to bring your confirmation email to the train station, and then the station issues your tickets. Our hotel in Hanoi was kind enough to send along their bellhop to the Hanoi train station, and he helped us retrieve our tickets in Vietnamese. He also walked us to the right platform.
The Train to Sapa –  No Views on the Night Train
The train doesn't go straight to Sapa, it goes to Lao Cai, and we arranged a transfer via our hotel in Sapa to pick us up. It was pouring rain when we arrived at six a.m. and didn't look like it was going to let up anytime soon.
The Train
We had originally planned to do a all day trekking excursion. Unfortunately, we didn't prepare for the torrential downpour. Once we checked into our hotel, we worked with the hotel to set up a shorter trek to the villages and main terraced rice fields. They supplied rain boots for us. We bought more heavy-duty ponchos for about $5 for two, to ensure we be comfortable. Our guide was tiny under five feet tall. Here I am with her.
Sa Pa Vietnam Killer Views – Panoramic Rice Field Views
We spent a few hours walking up and down the valley through two different ethnic villages and saw firsthand how to harvest rice. As with most of Vietnam salespeople, there is always the push for westerners to spend money. Perhaps, it is all about the sale. In this region, the tribes are known for their hemp weaving and goods like purses, blankets, and zippered pouches. If you run into one of the tribal ladies in Sapa, they won't leave you alone. The tribal ladies follow you, asking you to buy their goods. It felt like the ladies were stalking us. If you decide to give one of them a chance, be prepared for a swarm of 12 more tribal ladies. All they want is for you buy their stuff. I hated it so much.
Trekking Place
Apart from trekking, the town of Sapa doesn't have much else to do. There are tons of massage parlors where you can get a $6-foot massage for 30 minutes, and you can hike up Ham Rong Mountain, which is a way to see the panoramic views of Sapa town and surrounding mountains. If hiking is your thing, you can easily spend a few days in Sapa going on various treks and seeing different villages, valleys, and waterfalls. But for what my mom and I were looking to do, you don't need more than one night in Sapa.
Weather
Next day the weather changed from rain and low cloud cover to a sunny day. Life is good.
We loved Sa Pa. We would go back for more of Sa Pa Vietnam Killer Views.
Copyright © 2023 Capetown-Rio, Inc. USA. All rights reserved. Republishing is allowed only with written permission. All photography rights on this page belong to Capetown-Rio, Inc. and the author. Do you have a question, business proposal, or speaking opportunity? Please contact me here.