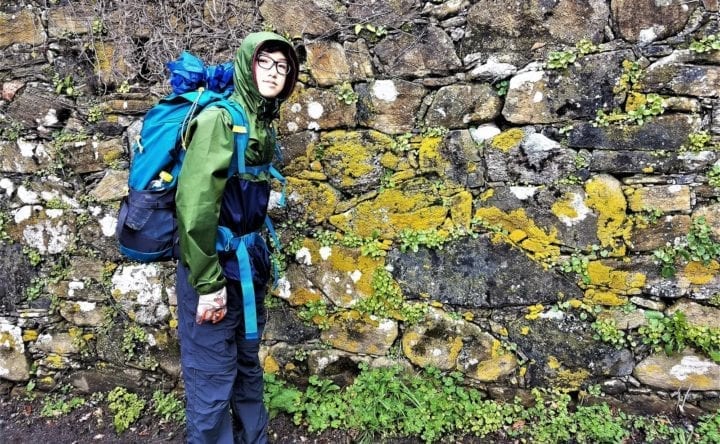 Hiking
The People on 'The French Way' Camino de Santiago
By
|
When I started planning my trek through Galicia, with Santiago de Compostela as my destination, it never dawned on me that I would make new friends while walking. I met many people and these souls are one of the best aspects about this walk. Here is a little story about my days walking The Way, 'The French Way', Camino de Santiago.
People on 'The French Way' in April
Day One
The first person I noticed was a tall woman about 35 years old who was in perfect shape with all the right gear. She had long black hair and walked with long strides. I first saw her in a church in Sarria. Later I saw her on the trail. Along the way, she would stop and have small bites of food. Passing me routinely, I eventually spoke to her. She was from the mountains in France and was a physical education instructor. She was on spring break because she was a school teacher. Boy, she was fit, happy, and positive.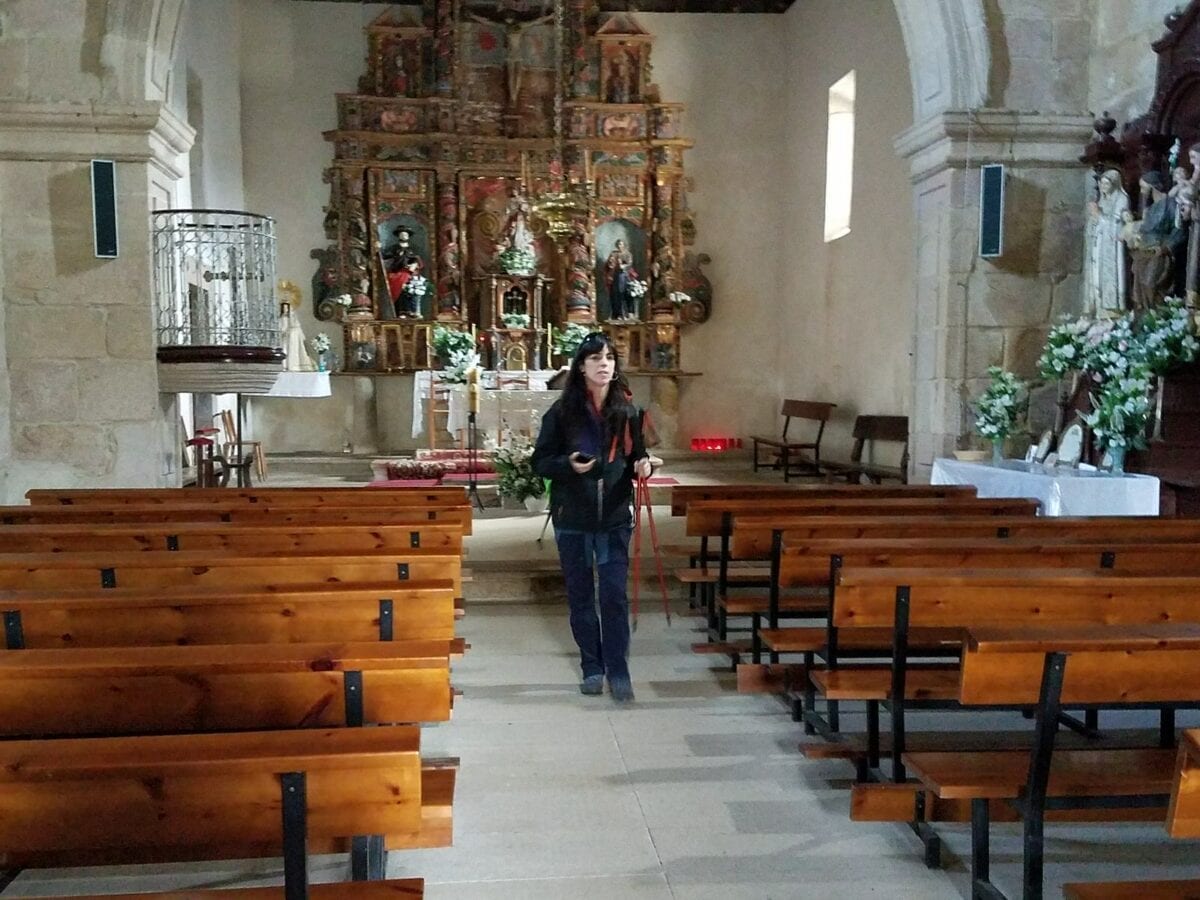 Person #2
Daniella Lopez Valdez is the next person I met. I noticed her because she is young and walking alone. Sole women travelers, this the journey for you! Camino de Santiago is a great adventure that is perfect for solo female travelers.
We kept bumping into her. Repeatedly, seeing the same people made the trip feel friendly and communal. Everyone says, 'Bien Camino' as a greeting to each other. When I heard the words, I feel comforted. The words force me to smile back,, no matter how I feel.
Day Two – The Secret to No Pain
For some reason, as long as I didn't stop walking, I didn't feel pain. I think my muscles warmed-up, and I walked at my pace. Maybe, I reduced the pain by drinking a lot of water too.(72 oz)
My travel buddies, a mom (52), dad (59) and sons 15, 13 and 11 years old made our group. My friends stopped to eat many times each day. I believe, they suffered a lot of pain as a result of stopping so much. As long as I kept moving, I was fine. After the first day of walking with my friends, I decided to walk alone.
On day two, off I went, pain-free.
Man in an Ancient Ruin Spotted
On day two, I walked at my own pace. While I was alone, I saw a posting that said there is an ancient ruin that Romans occupied. This ruin is one of the oldest in the area. Reading every sign, I ventured off to see all the landmarks. I had all the time in the world, which is a great feeling. Rarely, do I have enough time at home. Time is a gift the trek gives.  Galicia gave me the feeling that time is irrelevant. I used my time to find the ancient ruin.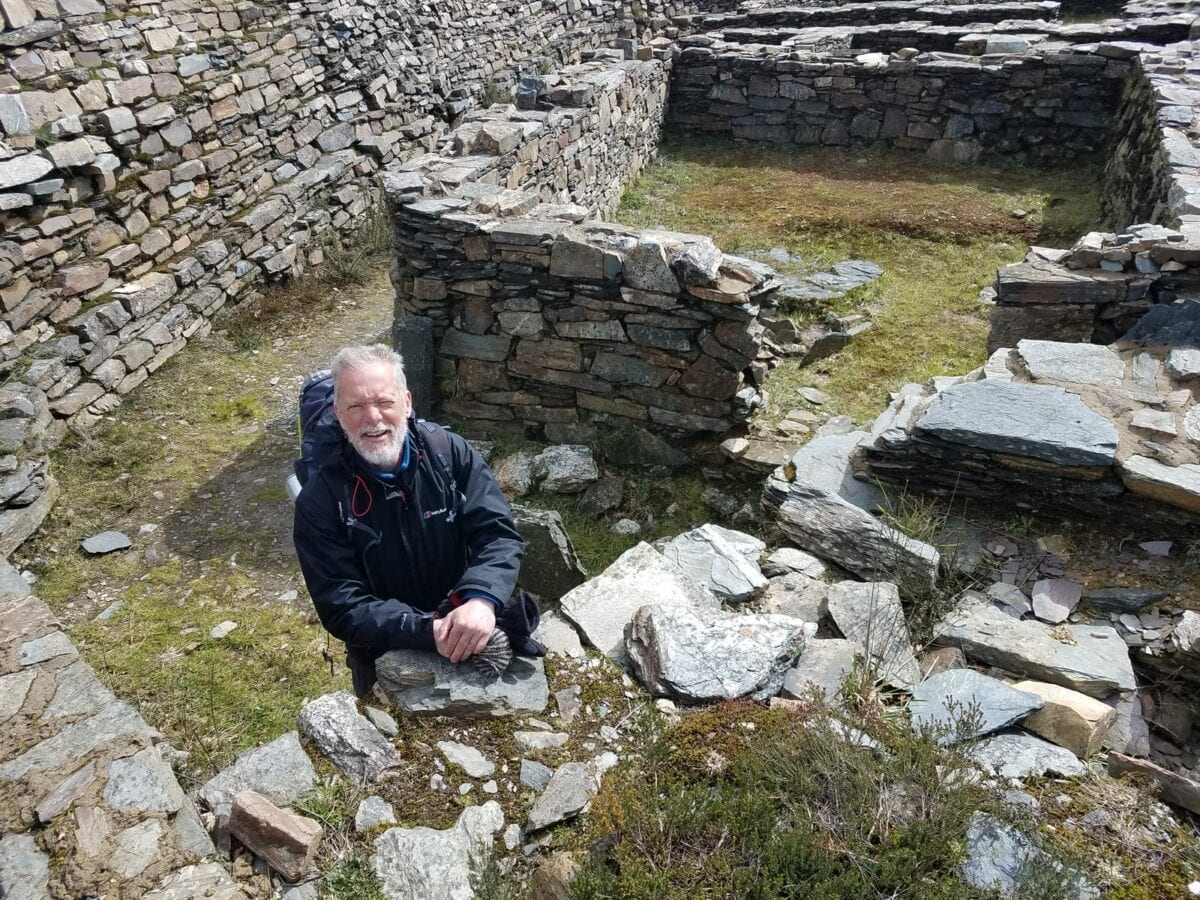 Man Without a Camera
Walking along the ruin mounds, I found the entrance to the ancient structure. to my surprise, I found a man in the ruin.
'Hi. Want me to take your photo with your camera.'
'I'm not traveling with a camera.'
'Can I take your photo?'
'Sure,' he said. then smiled.
I offered my hand to help him out.
'Do you want to walk a while?' I thought it is best to ask because some people want to walk alone for the whole route.
'Sure.' He said.
Expect the Unexpected
You don't often find a man in the middle of a ruin on a hilltop, and the man walked with me, and we shared stories. Giving little bits of information, we got to know each other, just a bit. Doing the normal things people do when they meet, we chat the day away. I ask, why he is walking, The Way? His answer is he is thinking.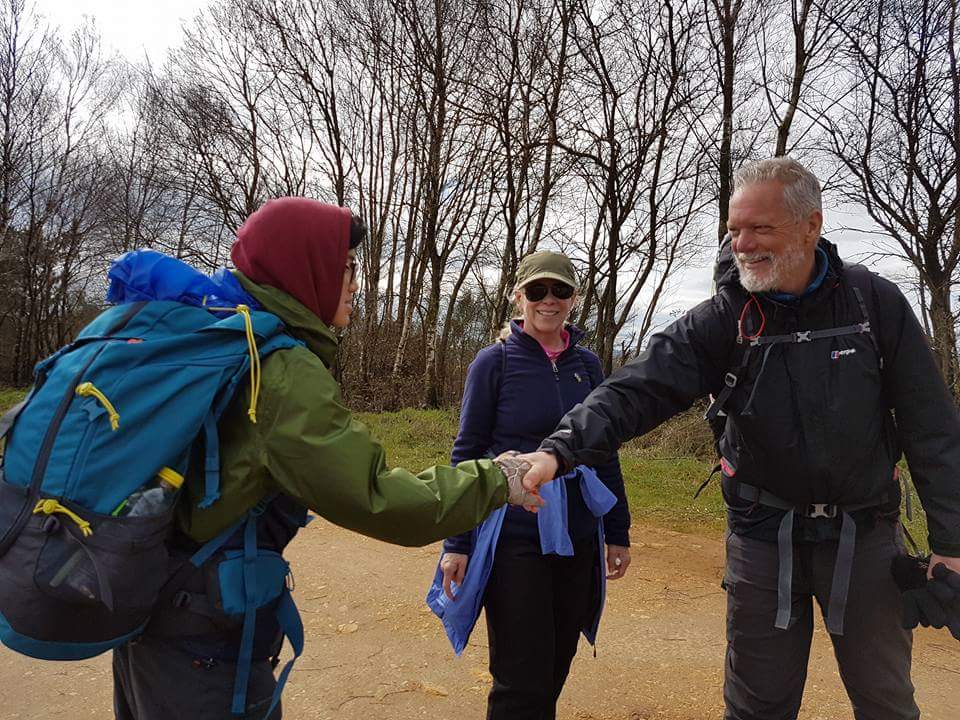 Some Caminos Start In London
Richard started his walk in London. His destination is Fisterra, Spain, 90 km further than we are walking. He started on February 1, when camping in the French Pyrenes, he was hit by a big winter snowstorm in France. After a retreat to Paris, his walk continued. He expects to arrive in mid-April and then back to his home somewhere.
Daniella
And there is Daniella. She is with us again. She walked with Richard the day before. We loved it when Daniella joined us. Her bright smile is infectious.
Day 2 – Early Finish
On the second day, we finished about 3.5 hours before my friends. He checked in to the hostel I was staying because they had room and it was close to the trail. He was in one dorm room and I was in another with my family friends. After check in we went out for a 1906 beer.
Later that night he made dinner and offered me half of what he had. I felt like it was only enough for one person, but he generously shared his meal with me. This was my second best meal on the trip. It was delicious. The next, morning he was drinking his coffee. I went to get a receipt, and when I came back, he was gone.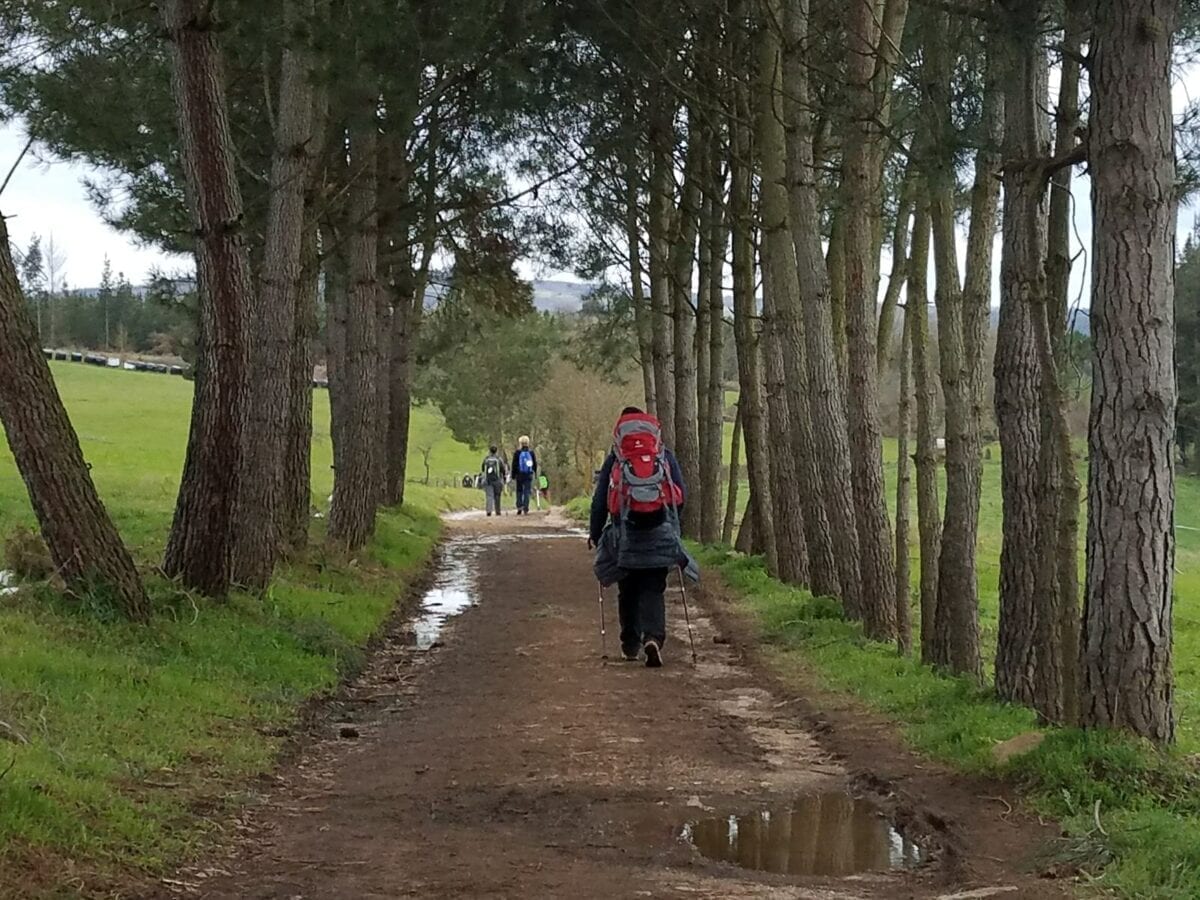 Day 3 – We Run into Richard
"I wish I had said goodbye." His reply was simple and gently brief.
"This is just how it is on the Way. You meet people. But, don't say goodbye because you will see them again." He was right. We ran into him again.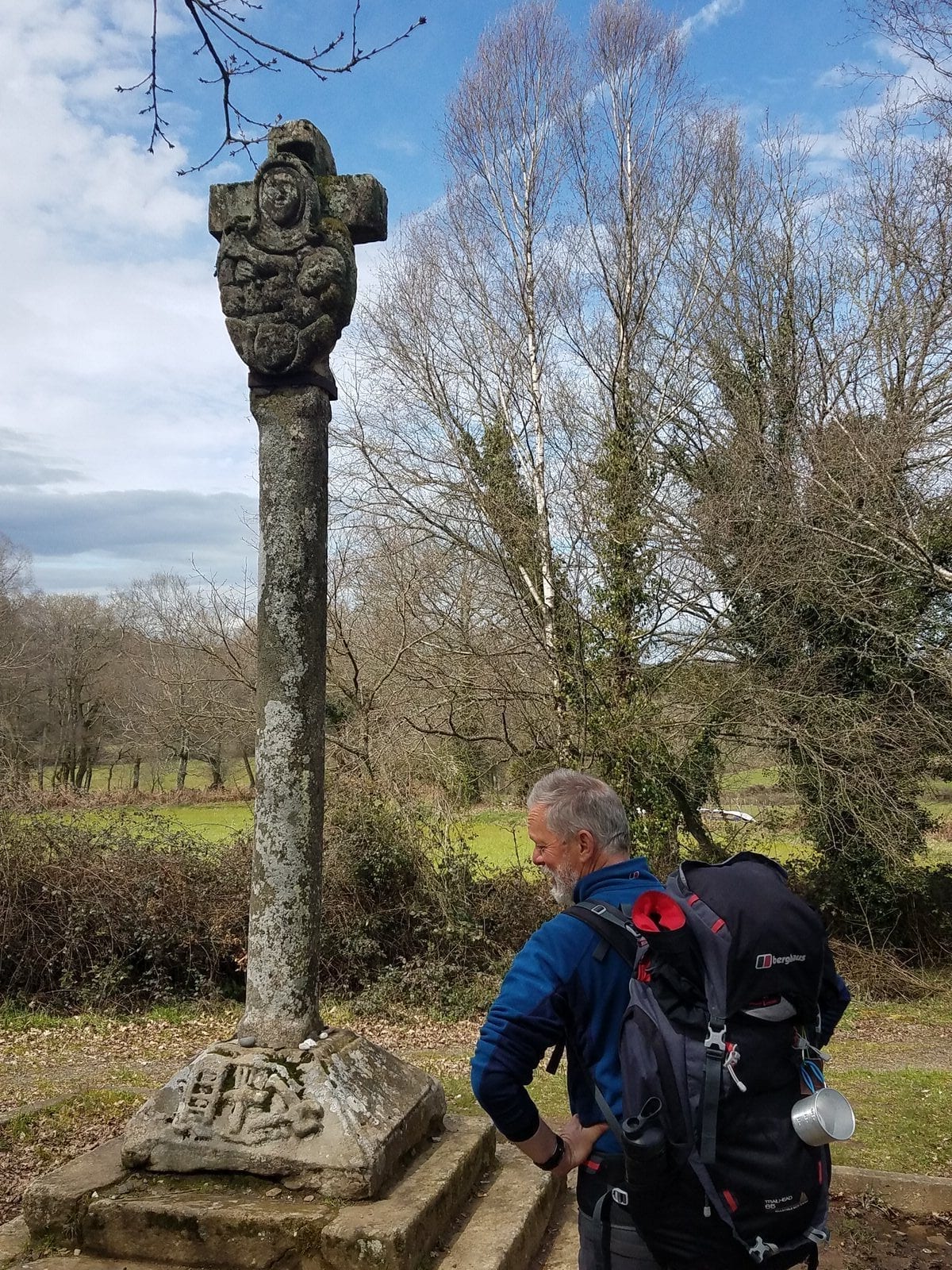 Day 4 With Matteo
Today's walking partner is Matteo. The weather turned very bad. I was walking with Matteo, who is 13 years old. He was pushing on but, worried. 'What's up Matteo?'
'The weather is terrible. I hope my mom is taking a taxi to the next town.' He repeated his concern for his mom, a lot of times. He was really worried about her. See the weather we were facing in this video. Her son's concern became his burning all-consuming fear. We sent WhatsApp photos back to his parents so they knew where we were on the trail and that we were ok.
Concerns Can Consume
His concern for his mother stirred my mommy empathy. All I wanted to do was get him safely to our next hostel. It was raining so badly we hid under a bridge. At times it hailed. When the wind and rain let up we walked quickly, finally arriving at our hostel. By the time we reached to the hostel, he was in terrible pain with blisters on his feet. We iced his feet with cold water in the bathroom's lined wastebasket. I rubbed his feet and legs with a tennis ball.
Luckily for Matteo – had finished a two-hour nap when his parents arrived. It turns out, his mom didn't call a taxi. Luckily, for Matteo, the next day, the blisters and pain were gone. However, the next day he stuck closer to his parents.
Day 5 – Rest Day 
Due to hail and incredible wind and because we liked our hostel, we took a rest day. That's one of the beautiful things about the Camino. You get to do it your way. You can take a break whenever you want or when the weather demands it.
Day 6 – Onward
The final day, full of sunshine and fresh smells in the air is more than welcome after the rainstorm. On the last day, I walked with my friend's eldest son, Jackson, who is 15 years old.  Jackson and I stood in the sunshine in front of the Cathedral and celebrate in the center square. The sooner we arrive.  the better for us. Eagerly anticipating our arrival, our energy seemed to propel us to our finishing point. Even when his parents told him to wait up, he pushes on because waiting is out for now.
Seeing our hostel only motivated us to keep walking to the square. We couldn't stop now, we were so close. We watched as students arrive, see my video here.
Jackson wants to celebrate the completion of Camino de Santiago at Santiago Compostela (the cathedral in the center of the square). And low and behold Daniella Lopez Valdez is there as we arrive. Music is here too. We all shared the moment. It's the perfect ending. The sunshine and Daniella made the finish even better than we expected.
We made it, celebrated with photos and then a remarkable meal. Gourmet tapas, I rate this my third best meal on the trip.
Sermon at Santiago de Compostela
The next day – We (my family friends and I) went to mass. We heard the Gospel, a sermon, and saw the pendulum swing (Video). I sat next to a woman from Germany. She spoke three languages, German her naïve tongue, English and Spanish.
As the service progressed, I took her hand, because this lovely 65 years old woman walked the Way eleven times. I squeezed her had because I felt so connected to her. She touched my heart. Every time she returns home, she books next years trip.
2023
The Catholic calendar celebrates a new beginning in 2023. The Popes is expected to arrive in Compostela Santiago in June of 2023. In January 2023 the doors of Forgiveness will open. the doors are in three places, here in Santiago, in Rome and Jerusalem. She is already booking next year's walk and the 2023 walk as well. I wish I knew her name, she really inspired me. I would love to walk with her. She could teach me a lot.
When the service was done she asked if I wanted her to translate the Gospel and the sermon. I said yes, but let me say what I think I heard. The priest read the gospel of Doubting Thomas.
The Sermon in Santiago de Compostela
The story is in the Gospel of John, though not in the three synoptic Gospels. The King James Version text (John 20:24–29) is:
24 But Thomas, one of the twelve, called Didymus, was not with them when Jesus came.

25 The other disciples therefore, said unto him, We have seen the Lord. But he said unto them, Except I shall see in his hands the print of the nails, and put my finger into the print of the nails, and thrust my hand into his side, I will not believe.

26 And after eight days again his disciples were within, and Thomas with them: [then] came Jesus, the doors being shut, and stood in the midst, and said, Peace [be] unto you.

27 Then saith he to Thomas, Reach hither thy finger, and behold my hands; and reach hither thy hand, and thrust [it] into my side: and be not faithless, but believing.

28 And Thomas answered and said unto him, My Lord and my God.

29 Jesus saith unto him, Thomas, because thou hast seen me, thou hast believed: blessed [are] they that have not seen, and [yet] have believed.
What Did it Mean
We watched as the pendulum swings, Helen shot video, and the ceremony closed. Then I said, 'The sermon told us that now that you have walked the Way, and successfully endured pain, carried your pebbles and backpack, and arrived in Santiago you are changed. Now, have no doubt that you can carry any burden you receive as you did to achieve Camino de Santiago.
Go out. Have faith because you believe; you can achieve your purpose no matter how hard it is because as you have done this, you can now do anything the Lord gives. No matter what is in your backpack, now you can carry it.'
Not Lost In Translation
'I thought you don't understand Spanish?' She said.
"I really don't, really."
'You understood the Gospel and the sermon in Spanish.' She invited me to share bread with her. My reply was instantaneous, how could I eat, I had to share what I heard with my friends.
'I can't because I have to go and tell my friends what I heard. My friends who walked with me are in the back of the church. I have to tell them what I heard.'
'That is what the priest said for you to do.' We hugged goodbye. She walked away.
First Full Day in Santiago More Rained
Next, I went with my friends to receive our certificate. It is terribly emotional, be prepared to feel the emotion. I couldn't stop crying. I don't know why it did this to me. Receiving the certificate, the man who gave it to me, came from around the counter, hugged me, and stopped for a selfie with me. Going to the church and standing in the square is overwhelming, after the long walk. My spiritual moments were hearing the sermon and receiving my certificate.
Here's my video of the pendulum swinging and how it looked as I stood behind the altar at the Cathedral in Santiago.
The Finish
If you walk the Way, I suggest going to Mass. Hopefully, the pendulum will swing for you. Go early to get your certificate because the line is longer later in the day. Here is my group's celebration picture.
Final Day in Santiago – Second Sermon
The final day in Santiago I went sightseeing on my own. I went back to the Cathedral – again listening to the mass, and sermon, again I understood it. I watched the Mass from behind the altar at the place of St James where people hug the relics and left my 4 little pebbles there. Having carried them from the trails in Seattle, one for my daughter, her husband, my grandson and me.  Behind the altar, I heard the sermon again.
'You have learned forgiveness and compassion as the Lord has given you the greatest gift his Son. Your faith will make all things possible. Go out and share with everyone, what you have heard here, what you have accomplished so more come and Walk the Way Camino de Santiago. Share your story as St James shared his with everyone.' Outside we watched Calypso dancers, dancing in the square. The experience in Santiago square is different every day. If you walk Glacia or all of the trail expect the unexpected when you arrive.
Marty from Santa Monica
Later that day, I went to a quiet coffee shop and met a lovely family. I met a man named Martin and his son attended the University of Colorado. I graduated from this University, so we talked. As we wrapped up the conversation and proceeded to sightsee, Marty invited me to dinner at the A Quinta da Auqua and the 2 Star Michelin restaurant, Restaurant Filigrana. Nervously, I accepted. I hadn't been invited out to dinner in a very long time.
The Number 1 Dinner On The Trip
The dinner was remarkable and the food delicious. It was an amazing seven-course meal that I couldn't finish all the delicious dishes. Marty had biked the Camino de Santiago last year, riding over 200 miles. This year with his children he walked Galicia, 119 KM in six days.
Why Walk 'The Way', 'The French Way' Camino de Santiago?
Everyone walks the Way for their own reasons. My cousin, who walked the week before me, walked in gratitude. Richard, the man I met in the ruin, walked to think and be present. Matteo and Jackson walked with their parents to share a family experience. The German woman, who I had the pleasure to sit next to in church, walked a spiritual pilgrimage, each year. She walks each year to be closer to God. Marty walked to share the experience with his children, after experiencing a tragedy in his home. I walked to give gratitude and thankfulness for what I have, and because of the sacrifices, my family made when immigrating to America. I walked to leave my past behind.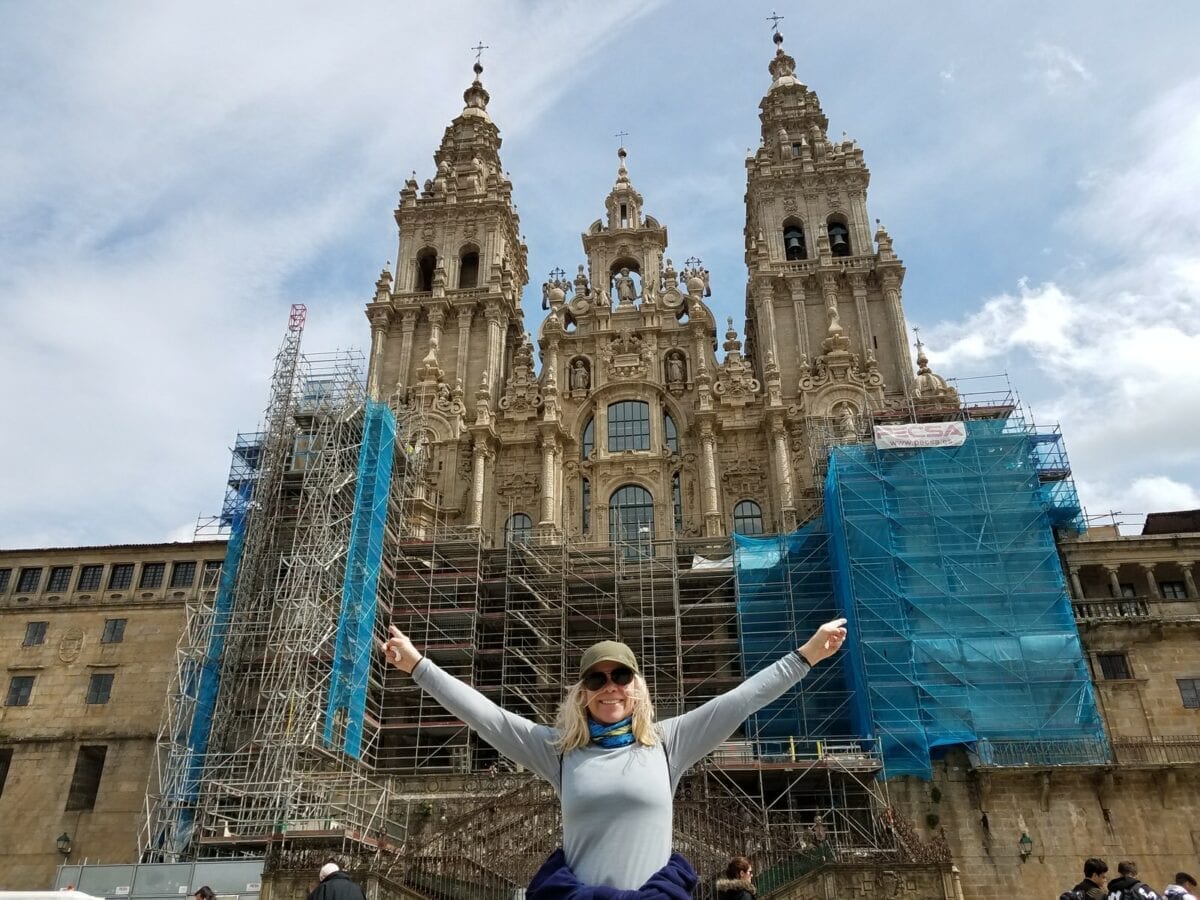 Local Hikes Near Seattle and Bellevue Are Perfect Practice Hikes
Copyright © 2021 Capetown-Rio, Inc. USA. All rights reserved. Republishing is allowed only with written permission. All photography rights on this page belong to Capetown-Rio, Inc. and the author. Do you have a question, business proposal, or speaking opportunity? Please contact me here.