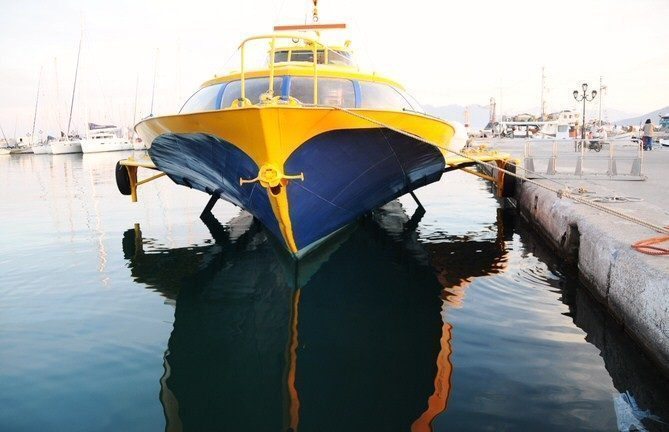 Greece
Enjoy a Day Trip to Hydra Greece
By
|
When I stay in Athens Greece and my work day ends early, I head to the Piraeus ferry terminal to hop on a ferry to Hydra, Greece for a day trip. Any of the Greek Islands are nice, the one I like to go to is Hydra. This time, I bought a ticket to Hydra, Greece on the Flying Dolphin. If you are planning a trip to Greece, you can do this too! The Greek's have a fabulous high-speed ferry system that leaves at the scheduled times.
See Hydra, Greece
I hopped on the ferry to Hydra Greece, a Saronic island in the Argosaronic Gulf for a day trip. You can take tours of and stay at hotels on the island. Most of my day trips from Athens are under 90 minutes one way from my hotel.  The trip is fast and a super easy voyage.
Transportation
Depart from Athens or other ports using Flying Dolphin ferries or a Helicopter
Ferries depart daily from the port of Piraeus (app. 1h and 30 min.) Flying Dolphin boats make the voyage smooth sailing and comfortable. Although the sea isn't usually choppy it was when I went, but the ferries made it smooth sailing. The tickets have classes, i.e. First Class, Economy Class, and either class gets you to the same place. Buy the ticket that best fits your budget.
Yes, you can go by helicopter! A flat area close to the village of Hydra is a place for helicopters to land and take off. Air Heli, based in Porto Heli, also has air transport links to Hydra (tel. 0030 210 3601600).
Hydra, Greece, Memories of Stone, Water and People.
Hydra is a Greek island, certainly one of Greece's most romantic islands, with cobblestone streets, churches, and monasteries. I think of it as the stone island. The Islands great mansions are now museums. Hydra, Greece has 300 churches and six monasteries spread around the island. The Island also has fantastic views from rocky cliffs, great hiking, and tranquil yachting. The wonderful ambiance makes Hydra a wonderful traveler's paradise.
For Movie Buffs – In 1957, the film "Boy on a Dolphin," starring Sophia Loren was shot on Hydra. Because of this movie, Hydra became world famous thanks to Sophie Loren.
Local Hydra Taxis Boat
Hydra Shops, Port, and Village
Hydra Means Water
Built of stone, Hydra, Greece is a quaint, village island. Stone buildings, stone roads, stone water wells and oh yes, no fresh water but surrounded by salt water. If locals dig a well, the hole immediately fills with seawater. Therefore, the Island named for water doesn't have fresh water.
Donkey Taxis
No Cars Allowed
Hydra, Greece is famous for Donkey taxis that take you to your hilltop hotel. I didn't stay on the island. I kept my room in Athens and spent the day here. But, I wish I had more time to relax, to do nothing, and hike around the island.
Stylish 'Country' Greek Villas
Greek Courtyards are part of the Mosques and Churches.
A Story About Eleni that Could Only Happen in Greece
I walk the island and on rocky cliff I meet Eleni. We were both looking for some shade, and since we were the only people on the sidewalk, we begin to talk. Eleni is from Greece. As a  woman in freight futures she is unique. She is smart. I could tell she was smart the moment she spoke in English. I eventually learn she went to Dartmouth and lived in the USA for a while. No wonder, she is so well spoken.
Eleni
She has been 'banished' (Not actually banished but that is what we called it) to the Island of Hydra by her employer. They sent her to the island to take a rest because her job is hard and the company didn't want her to burn out. She is living a great tragedy being banished to lovely Hydra.
She is extremely valuable and knows this is a great opportunity, but she didn't think she needed the paid vacation. However, the company sends her to Hydra with no cell phone, no internet, and no work so she can take a break. It is 'like' a Greek tragedy with me making jokes about it, turning it into a Greek Comedy. I can understand why they do this now. In the USA, our company's don't do things like this. She must be a very special woman.
Wandering for a Day
Eleni is beautiful, and she speaks German, French, Greek and English. She fences, and is an excellent cook. And did I say she was SMART?
We went for tea and watched the water wash the rocks, the birds hunt for fish, and the sea waves lap onto the shore. As we talk about cooking and about our family life we start to giggle. Eventually, after we settle down, we go shopping. Walking around the island we take pictures of each other, drink more tea, and we stretch the day out, making it a slow day not doing much of anything. The smell of the salt water leaves a taste in my mouth, and the sweet smell of flowers, whose name I don't know, burns a picture of red and orange swirls in my mind.
Hydra Memories
My memory of Hydra is now and will always be filled with Eleni memories. Through the years, we have stayed friends through Facebook. My hope is to do some volunteer work on the Greek Island of Chios through the group she has supported.
Chios Eastern Shore Response Team
Feel free to make a contribution to her work. They buy medical supplies and hygiene products and provide the basic needs of refugees on the island of Chios – Support is always welcome.
The name of the International aid group is Chios Eastern Shore Response Team. They are a 501C.

~ OINOUSSES – LIST OF NEEDS ~
These days Egnoussa receives on average 1000 refugees per week. Hopefully, this year it will be less.
Please see the list of needs for guidance or make a cash donation-it will go further.
…
Antimicrobial/antiseptic skin cleanser
Baby bottles
Baby wipes
Evaporated milk
Hygiene Pads
Men's shoes
Poly bags
Silicone gloves (blue)
Sleeping bags
Snacks
They are shipping supplies from Piraeus throughout 2016.
THANK YOU in advance for your incredible support.
Back to Hydra – More Tea
A Few Pictures of a Hydra Restaurant
Copyright © 2022 Capetown-Rio, Inc. USA. All rights reserved. Republishing is allowed only with written permission. All photography rights on this page belong to Capetown-Rio, Inc. and the author. Do you have a question, business proposal, or speaking opportunity? Please contact me here.