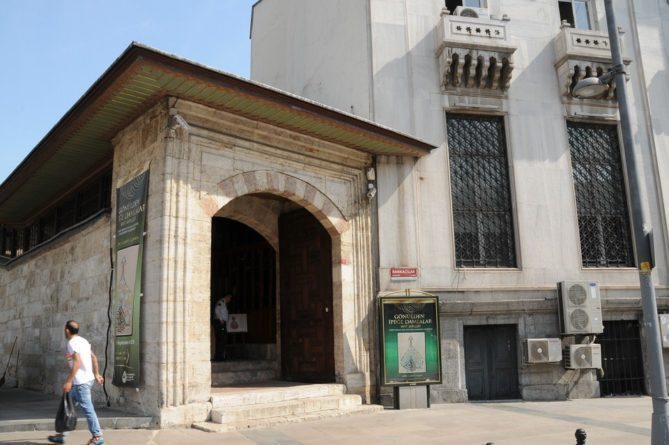 Advice
Visit Hunkar Kasri, Iznik Tile Exhibition
By
|
Next to the New Mosque is an Excellent Exhibition. The show is hidden but, in plain sight. Go to the new Mosque turn to the left and go down the alley. The art show is a 'Must-See' if you are interested in Istanbul's history, culture, Iznik tile, and art. If it is open, I highly recommend a Visit Hunkar Kasri, Iznik Tile Exhibition.
Hunkar Kasri, Iznik Tile Exhibition
Istanbul's hidden treasures and secrets are at the Hunkar Kasri, Iznik Tile Exhibition and its free.
Hunkar Kasri, Iznik Tile Exhibition
Hunkar Kasri is an Unknown Place in Istanbul but is a must see when it's open. You will never see a line, it never charges a fee, and you will have the whole place to yourself. But, don't be disappointed if you can't see it or find it. Because, this treasure, hidden in plain sight, makes it hard to find. It's right next to the New Mosque, also worth seeing. I went to Istanbul many times before I had the pleasure of seeing it on this trip.
No one goes to Hunkar Kasri, so there are no lines, no loud people, and no crowds. You may even be alone in the chambers. Hunkar Kasri is open on special occasions, such as Ramadan and Bayram, and is a must-see if it's open.
From Trip Advisor, contributor kuletgin says:
It is located in Eminonu district just opposite of Spice Market entrance as part of New Mosque-Yeni cami complex. The resting place for Ottoman sultans & members of the dynasty before & after mosques and long Ramadan nights. It has a long entrance hall, two large saloons and a big balcony.
Why Go to Hunkar Kasri?
The amazing Iznik Tile Exhibition, Hunkar Kasri was and is as beautiful as Topkapi Palace. Hunkar Kasri is free. There is no one there. No Tourist or local people for that matter come to visit this exhibition. You will have the place to yourself.
Hallway for art exhibitions
When I was at this site, an art show was in progress. For more information about the show, here is a link. This lovely woman is a retired teacher, over 50 years old. Art is her second career. Her bliss is painting calligraphy on silk. Striking paintings on silk that anyone shows her art talent and skill. Such detail on silk and think one mistake would ruin the delicate piece.
How to find Hunkar Kasri the hidden treasure of Ottoman sultans' life
Directions: There is a secret place to the left of the Modern Mosque, near the Grand Bazaar and the Spice Market. If you are standing in front of the New Mosque – with your back to the Bosporus and Tram line, look to the left. There is a tunnel. Walk through the tunnel, and at the end make an immediate left. The Sultan's Entrance to the Modern Mosque. The door is the entry to the exhibition. It had a spectacular art show on the day I went.
About Hunkar Kasri
This building contains one of the largest collections of Iznik tiles, mahogany and gold inlays. The Hunkar Kasri tiles are amazing! It's full of Iznik tiles. Once this was the receiving area of kings, dignitaries, and the sultan. The Sultan waited here for his formal entrance. He met his dignitary guests here before and after prayer.
It's free. It's not always open. When it is open, Hunkar Kasri is a must-see. This is breathtaking. Hunkar Kasri is one of my favorite things to visit in Istanbul.
Bathroom from the past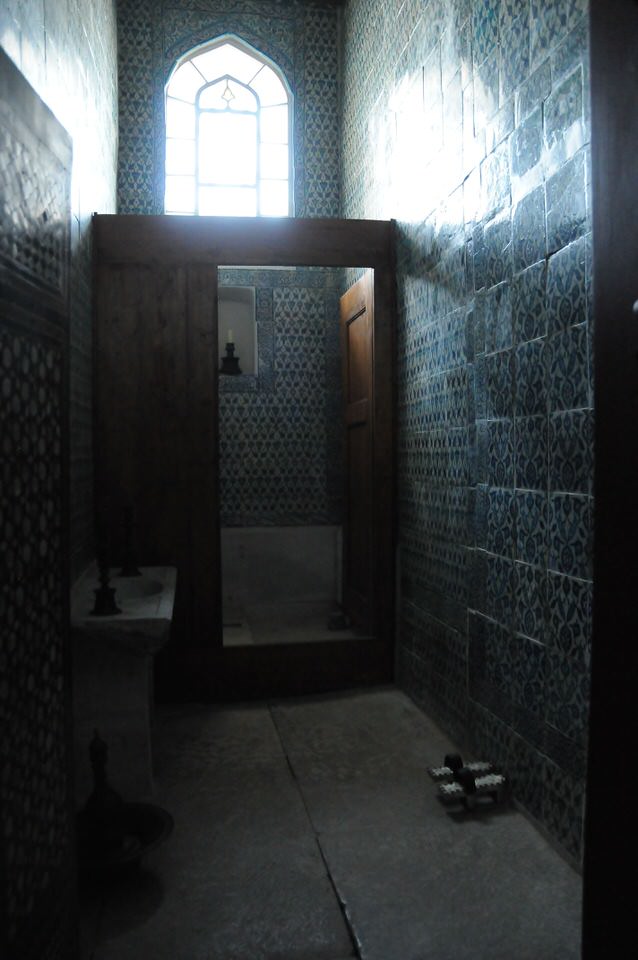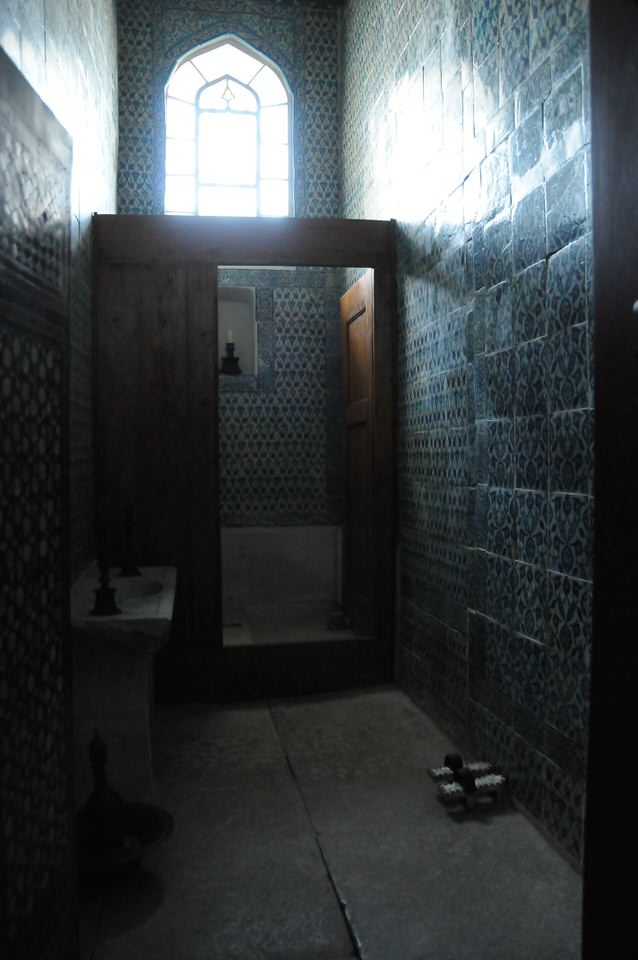 Hunkar Kasri, Iznik Tile Exhibition
It also has a fully functioning bathroom, one of the first bathrooms in Istanbul. Worth the walk over here, even if the building is not open. It's right next to the Modern Mosque, so go to both places while you are in the neighborhood.
Prints of the hallway
Prints of the Hunkar Kasri hallway can be bought here. (We are not an affiliated with Where in the World is Kate? nor are we endorsing the prints.)
My Sightseeing List for Istanbul
These recommendations are perfect for solo female travelers, travelers 50+, solo travelers with a school-age child and travelers of all ages.
Hagia Sophia (Ayasofya) – Buy an Istanbul "Museum Pass" for the best value
Dolmanbahce Palace – requires a tour
Topkapi Palace (Topkapi Sarayi) – expect long lines
Bosporus Sightseeing Boat Tour of the East and West sides of Istanbul, and the Black Sea Warning: don't buy from street vendors
Ortakoy – Free. Nice neighborhood to stroll, shop, cafes, by the sea very upscale.
Basilica Cistern – this is not included in the Istanbul Museum Pass. It is privately owned
Princess Islands – in the summer, the Bosporus can be rough and ferries may be canceled at any time
Just be present!
Tours for Solo Female Travelers 50+
The Hippodrome in Sultanahmet, Istanbul is free to enter.
Check out Free Google for related audio guides.
Note: If you want a tour guide at the Hippodrome, make sure that shopping will not be part of the tour or the time you have contracted for with the guide.
Egyptian Obelisk – Dikilitas
Stone Obelisk – Orme sutun
Serpentine Column – Burmali Sutun
Goths Column – Gotlar Sutunu
Constantine Column – Cemberlitas Column
A ferry ride away, no guide needed
Kiz Kulesi (Leander's Tower – Maiden Tower) are just a ferry ride away. The cost is 20 lira and can be seen without a guide.
Princess Islands (there are three, but the weather has to be good or the ferries stop)
Go to Asia while in Turkey. Visit the Kadikoy district in Istanbul.
Here are two more lists of ideas for the best things to see in Istanbul
Copyright © 2023 Capetown-Rio, Inc. USA. All rights reserved. Republishing is allowed only with written permission. All photography rights on this page belong to Capetown-Rio, Inc. and the author. Do you have a question, business proposal, or speaking opportunity? Please contact me here.