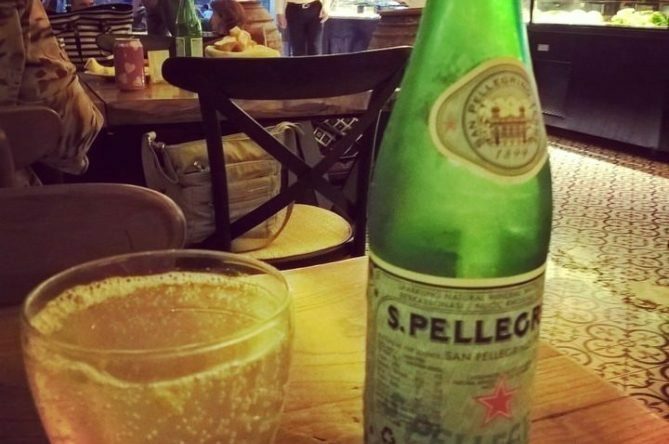 Feature
The Best Regional Turkish Food in Istanbul
By
|
Let's talk food. More specifically, The Best Traditional Turkish Food and Regional Turkish Food in Istanbul. Istanbul's excellent local Turkish food is world-class and world-renowned. Restaurants in Istanbul prepare many of the same dishes, but each restaurant makes the dish, in their way. Turkey is the place for 'foodies.' Everything is fresh and natural and that is why Turkish Food is some of the best in the world – and it is all natural.
Traditional Turkish Food
Food in Turkish towns or villages is unique. Each village has unique dishes that are all there own.
Istanbul Excellent Regional Turkish Food
Local restaurants make favorite traditional dishes from the area as well as unique versions of other cultures' dishes. For example, Iskender kebap, a restaurant in Bursa, invented Iskender kebap, now a famous Turkish dish. All the Turkish restaurants make it. In my opinion, no one makes this dish as well as the original in Bursa. It's worth a ferry trip to Bursa and the short bus ride to taste this dish at Iskender Kebap. You can see the Silk Hans (shop) while you are there. In southern Turkey, if people live by the coast, they eat lots of fish and stews.
People from eastern Turkey prefer lamb and beef. Fish isn't preferred unless the town is at a port. In the eastern mountains and inland areas, fish, rarely served unless you are in a restaurant specifically focuses on fish. They love cheese and bread, rice and sauces.
Some people don't like Salmon
It's hard for me to believe that some people don't like Salmon, which is a Pacific North West favorite. I am from Washington, so salmon is on most menus and is a favorite of our region. Maybe it's just my friends, but I haven't met a person in Istanbul who likes salmon. My comments are my opinion; just my random comments made to me.
One time, I ordered my dinner guest some salmon as a special treat. My guest choked when he ate it. I thought it tasted great. The waiter came by, spoke Turkish to my guest and said, "I don't like salmon, either." They laughed. They were both from eastern Turkey.

Being from Seattle, I love salmon
My friend Moses said he didn't like salmon. Moses told me that once when he was in Washington, D.C., the hostess made a special meal of salmon. He couldn't even take one bite. He is from Van, a town in eastern Turkey. Moses thinks people from eastern Turkey don't like salmon because it's rarely if ever, served there. To Mose's point, it's an acquired taste, and he hasn't acquired it.
Another excellent regional food found in Istanbul is octopus salad. I love octopus. I order it whenever it's available. LOVE it! My favorite restaurant in Istanbul for octopus is Magnaura Café. I recommend you order octopus salad without the dressing or have it on the side. Remember always to ask if the octopus is fresh. If it's not, have the courage to send it back.
Traditional Turkish Food
Octopus salad at the Magnaura Café offers a huge variety of food for every taste
Istanbul's food is ethnic and cosmopolitan. The menu posted on the door help you make your choice before you ever sit down. In Istanbul, you can find every type of food, including Chinese, Italian or Turkish food. Each restaurant puts their spin on the cuisine, making it their dish.
Curry is very popular in Istanbul. I didn't find my favorite type of curry, but with 20 million people and a massive number of restaurants. I am sure an authentic curry is out there, just waiting for me to discover it. I'm still looking!
Suggestions wanted!
Istanbul has restaurants that fit your budget
Cheap Eats for Everyone's Taste
In Istanbul, you can find everything from a sesame pretzel, fresh watermelon, hot roasted corn-on-the-cob and roasted chestnuts for a quick treat from a street vendor. You can eat at communal tables with Turkish people. So you won't ever need to be lonely in Istanbul.
Everyone is very talkative.
If you are looking for a little peace and quiet, you can find it on the street in cafes and local eaters. Yu can find what you want to eat in a short distance from your hotel. When it comes to great food and restaurants, there are plenty for every budget.
You can find a quiet café like this one in Sultanahmet. Mealtime is a social time in Istanbul. Think about the strategy you will use when you are traveling solo and take advantage of opportunities like this to meet people.
Suggestion: Stay away from tourist areas when dining out.
Dine at neighborhood restaurants; they are less expensive. Have the courage to go and try some out.
You can get mussels on the half-shell from street vendors. I didn't try them. The guys at the market loved to eat them, almost daily. There is Turkish ice cream for six lira (about $2 per scoop). If you can't live without fast food, you can get it in Istanbul. Kentucky Fried Chicken is the most popular.
Fast food is cheaper there than in the U.S. McDonald's sells ice cream cones for 1.50 lira, about $0.50 U.S.
There were plenty of mornings when it was hot, and I was tired of my hotel's breakfast that I went to Mikey'D for an ice cream cone in the heat of the summer and enjoyed every mouthful. Did you know ice cream cones have one of the lowest calorie counts on the McDonald's menu?
Vegan, vegetarian and gluten-free: Your favorite food is available in Istanbul
Inexpensive take-out in Istanbul costs about $1.50 for a salad like the one below. A full take-out meal is about $6. Turkish pizza is very inexpensive and a staple. Vegan, vegetarian and gluten-free foods are available. Restaurants will post that they offer it. Eggplant dishes and stews are available cafeteria-style.
Shepherd salad is a traditional dish, consisting of usually chopped tomatoes and cucumber with pomegranate sauce and olive oil.
The Best Traditional Turkish Food and Regional Turkish Food in Istanbul
Ottoman Food
Some restaurants add shredded carrots. Onions come in everything. Remember to hold the onions if you don't like them. I found that they were good there because, in Turkey, they season fresh onions with sumac. The onions are less bitter with this spice and have a lemony taste
The Turkish people buy sandwiches from local street vendors that cost 2 lira or about $0.75 cents. They'll customize your sandwich with pickles, onion, spices and peppers. It's the Turkish version of Subway without a storefront, delivered by a man carrying the sandwich on his head. It was amazingly delicious!
Here is another type of sandwich served at restaurants in Marmaris, Turkey. This one cost 1 lira or $0.33 cents.
Turks Love Sweets
You can find the best sweets here. If you go to famous places like Mustafa's (shown in the white box below), it will cost more than going to a local bakery. Both taste great. People in Istanbul love to give and receive freshly baked sweets and cakes. It's my favorite gift to give in Istanbul.
The Best Traditional Turkish Food and Regional Turkish Food in Istanbul
Food
Make yourself a picnic and watch the people. If you don't want to eat at a restaurant, you can go to the market and buy local products and produce. Citizens in Istanbul love to eat in gardens and on terraces. They stroll the boardwalks by the seashore and spend the day with their families picnicking in parks. You can go to the Spice Bazaar and get lunch to go, eat in a neighborhood café or just wander until you see a place that looks like this. The people in Istanbul feast in the parks in the middle the day and during Ramadan, late at night, too.
Istanbul Excellent Regional Food
Find fresh juice from street vendors and make a picnic. You can get fresh juice from cafes that serve, tea, lattes, and Turkish coffee.
Simple. Basic. Fresh.

Everything is fresh. If the restaurant was serving packaged bread, I usually didn't stay for a meal. In some cases, the restaurant may charge a service fee for little extras such as water and bread. Pay it and move on. The food is too good to have a bad meal in Turkey. In Turkey, food purchased from a restaurant, a market or from a shop 'to go' is a great value. Most of it is very healthy. Always eatting when I travel, but, I didn't gain a pound. Probably because I am walking and moving so much, I l=have to say; I love to walk.
Here is an example of my Turkish breakfast. Most people add a hard-boiled egg at breakfast. I got a little sick of hard-boiled eggs, so no egg on my plate. Cheese and salads are part of breakfast.
Local and Sustainable
The pictures below are of the breakfast that comes with your room. You can see in the photos below that Turkish people eat everything for breakfast. Restaurants buy from local farmers at local markets. So breakfast is fresh, with local, seasonal fruit and an enormous amount of vegetables. They do eat a lot of processed meat. I don't like processed meat. But as you can see, there are a large variety of other things and lots of goat cheese.
Meat
Everyone knows about this type of meat. Lamb. You have seen it in Greek restaurants. The Greeks claim it is Greek, and the Turks say it's a Turkish food. Arguments about the origin of dishes happen a lot here because the countries are rivals. Beans and rice are eaten for lunch and dinner frequently.
I loved the food in Istanbul and all over Turkey and ate like a pig while I was there.
One final thought. You probably won't see bacon or pork in this country because it's primarily a Muslim country. You may see it at 4- and 5-star hotels serving Western guests. I can live without pork. Turkish food is excellent.
The Best Traditional Turkish Food and Regional Turkish Food in Istanbul
Great Food I love Traditional Turkish Food!
Travel tip; I Love The Best Traditional Turkish Food and Regional Turkish Food in Istanbul
Copyright © 2023 Capetown-Rio, Inc. USA. All rights reserved. Republishing is allowed only with written permission. All photography rights on this page belong to Capetown-Rio, Inc. and the author. Do you have a question, business proposal, or speaking opportunity? Please contact me here.