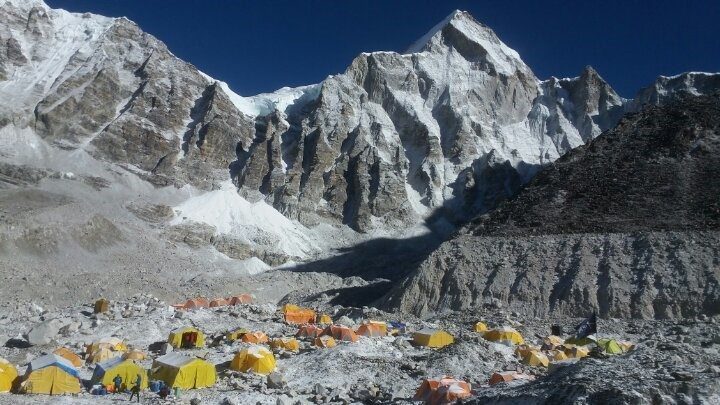 Sajun Baniya
Guest Feature
Everest Base Camp Trek-Itinerary – (14 Days) 5365M
By
|
Written by Sherpa, Sujan Baniya <baniyasujan30@gmail.com> and his trek to Everest Base Camp, Everest Base Camp Trek 14 Days Itinerary. I am posting this if one of the readers wants to go to Everest Base Camp Trekking. I know Jim Allen is going. Do you want to join him?
This is a trek my friend Sujan leads. If you want to do it – email me, and I will put you in touch with the others who are going. Sujan will write you and tell you all about it. I have heard from readers it's a great experience. I share this in case you are a solo traveler and want to join this adventure. My friend Sujan Baniya <baniyasujan30@gmail.com> is going to be the guide, so I want to share the trek, hike, and climb he is leading.
Trip Itinerary Details by Day
We will let you stand on the base of the Mt. Everest (8848m), the highest mountain in the world. The trails to Everest Base Camp need not entail being experienced and accomplished trekker; anyone, physically fit body could choose to this experience. Many say this is the most awe-inspiring experience of a lifetime., Everest Base Camp trek will present a chance to take a trip through long-established Sherpa communities and Goombas meaning monasteries.
We will let you stand on the base of the Mt. Everest (8848m), the highest mountain in the world. The trails to Everest Base Camp don't require experience or that you are an accomplished trekker. Anyone with the bodily fit body can take this journey. Hiking to Basse camp is an awe-inspiring experience and lessons of a lifetime. Everest Base Camp trek will present a chance to take a trip through long-established Sherpa communities and Goombas meaning monasteries.
Arrival day in Kathmandu (1,300m/4,264 ft)
Day 01:
Welcome to the Himalayan country of Nepal. Upon your arrival at the Tribhuvan International Airport, we meet and transfer to your hotel in Kathmandu. Overnight at Hotel.
Day 02
Shopping Day or City Tour (1,300m/4,264 ft)
IT'S UP to you how you start; we will have a discussion and introduce our fellow trekking staff for your adventure trip. Overnight at Kathmandu.
Fly to Lukla (2,800m/9,186ft) Trek to Phakding (2,652m/8,700ft), 3-4 hrs
Day 03
Early morning we fly from Kathmandu to the tiny airstrip at Lukla for about 40 minutes scenic flight; you will have time to stroll around, while the guide sort and divide the loaded baggage to be carried by porters. The guide will manage the lunch place depending upon the time of arrival at Lukla. We then take an easy walk to Phakding village for the overnight stop and rest of the time stroll around the village for local knowledge.
Trek to Namche Bazaar (3,440m/11,283ft), 5-6 hrs
Day 04
After breakfast we will continue up the banks of the Dudh Kosi, crossing it twice by small suspension bridges before reaching the village of Monjo the entrance gate of the Sagarmatha National Park. When entering the National Park boundary, we descend, and a gradual walk brings us to the suspension bridge over the Bhote-Koshi River to Jorsalle village, the last village till Namche Bazaar. Namche is a prosperous trading town and the capital of the Khumbu Region.
Acclimatization Day at Namche Bazaar
Day 05
We will spend a day in Namche Bazaar resting and allowing our bodies to become acclimatized to the altitude of (3,440m/11,283ft). You have full day leisure or visit Everest View Point hotel for beautiful panoramic view or stroll around the market if Saturday can be seen many people in Saturday market for shopping to fulfill their daily needs and only one shopping market in the surrounding areas. Also, you can visit Sherpa Museum as well a great place to learn Sherpa culture and history of mountaineering and stroll back to the hotel for overnight.
Trek to Tyangboche (3980m/12884ft), 5-6 hrs
Day 06
Today after breakfast we start our trek with a pleasant walk through the forest with a magnificent view of mountains. The great view of the mighty peaks of Everest, Nuptse, Lhotse, Ama Dablam, Thamserku and Kwangde peak with a view of the eastern snow capped mountains. The trail leads uphill through the forested path and the hard walk to get to Tyangboche. One of the most beautiful place in the Himalaya and the first thing that comes to your eye is the huge Monastery, then the large field with campsites and teahouses, lodges beneath the towering majestic, beautiful peak Ama Dablam.
Trek to Dingbuche (4480m/14,776ft), 4-5 hrs
Day 07
Today start our trek with a pleasant walk and descend through a forest of birch, fir, juniper, and rhododendron and coming to lovely spot at Deboche 3,650 m with magnificent views and the path is gradual up to the Pangboche village, from here onwards the lush vegetation, and tree lines vanish. Our further walk up to the ridge can be seen the Dingboche valley and continuing to descend to the river will reach Pheriche. This is the windiest Valley and afternoon time better to stay at the hotel.
Acclimatization Day at Dingboche
Day 08
Today we rest for acclimatization at Dingboche valley. You may have full day rest, or if you like, there are local places to hike for a day. Some go to Nagarjuna peak (5,050 m). From the summit, you can see the breathtaking views of High Mountain including, Towering Mt. Lhotse, Amadablam, Mt. Makalu, Island Peak and much more.
Trek to Lobuche (4,928m/16164 ft), 5-6 hrs
Day 09
Today the trail diverts towards the north; the path is flat for an hour and gradual up an hour after a pleasant walk through the meadow will reach Thukla from where you can view Mt. Pumori and other peaks west of Everest. Thukla is a good place for a few minutes break after the strenuous climb, and here you can also see a number of the memorial of the unfortunate climber's monuments, who died in expeditions around the mountain of this region. Our trek continues to the Lobuche an hour for overnight.
Trek to Gorakshep (5,160m/16,929ft) Hike to Everest Base Camp (5,320m/17,450ft), 5-7 hrs
Day 10
After breakfast, we continue our trek to Gorakshep in a windy and rocky path with a fantastic view of Mt. Pumori, Mt. Nuptse, and other magnificent peaks. After check in at Lodge & lunch, our adventure continues towards Everest Base Camp and to the Khumbu Icefall. The trail passes through over rocky dunes and moraine and streams, till you reach the base camp. In Everest Base Camp the climbers gather for summiting Everest during the high expedition season. We explore base camp and its surroundings glacier and return to Gorekshep for overnight.


Early hike to Kala Patthar ( 5,550m/18,204ft) and trek to Pheriche (4,358m/14,295 ft), 7-8 hrs
Day 11
Your Guide will arrange a time for this morning to start early hike up to Kala Patthar for the most incredible sunrise views of the Everest. It takes about 2 hours to reach this hilltop (the famous view point). This small peak offers the best views of Mt. Everest, Nuptse, Pumori and Ama Dablam along with the entire mountain views of Khumbu Himalayan range. Being here for some hours, we hike down to Gorekshep, breakfast and continue to walk towards Pheriche for overnight.
Trek to Namche Bazaar (34,34m/), 6/7 hrs
Day 12
Trek down to Phungithanka a small settlement with a couple of teahouses. The trail leads downhill through the forested path of silver fir, blue pines, rhododendron and some few magnolia and birch trees and with great memories and after crossing the suspension bridge over the Dudh Koshi river trek onwards to the Sansa and re-track to Namche Bazaar for the overnight stay.
Trek to P Lukla (2,800m/9,186ft), 5 hrs
Day 13
After a long trekking trip today we'll have long and last day trek back to Lukla. We trek back with enjoying the lush green scenery around and passing through the incredible mountain scenery and local Sherpa village. After your arrival at Lukla, you have time to stroll around the areas and guide will reconfirm your flight ticket and enjoy the last celebrate dinner with your crew member.
Fly back to Kathmandu (1,300m/4,264 ft)
Day 14
After an early morning flight to Kathmandu, our guide transfers you to your hotel. You may have time to relax after a long journey and take back your breath and rest at your hotel with ending your Himalayan trip with us.
Departure from Kathmandu
Day 15
Today is free or last minute shopping for souvenirs or gift to your family, friends or relatives for you until your departure flight/drive or to commence any extra trips or activities you may have booked with us. If departing, from the International Airport your transfer is included. On to your next destination with the memories of a lifetime and safe travels to more treks soon in Nepal.
Travel tip: Make sure you get a list of supplies and clothes from your guide to assure they know what they are doing.
Here are Kate's planning tips. https://whereintheworldiskate.com/travel-planning/
Copyright © 2023 Capetown-Rio, Inc. USA. All rights reserved. Republishing is allowed only with written permission. All photography rights on this page belong to Capetown-Rio, Inc. and the author. Do you have a question, business proposal, or speaking opportunity? Please contact me here.