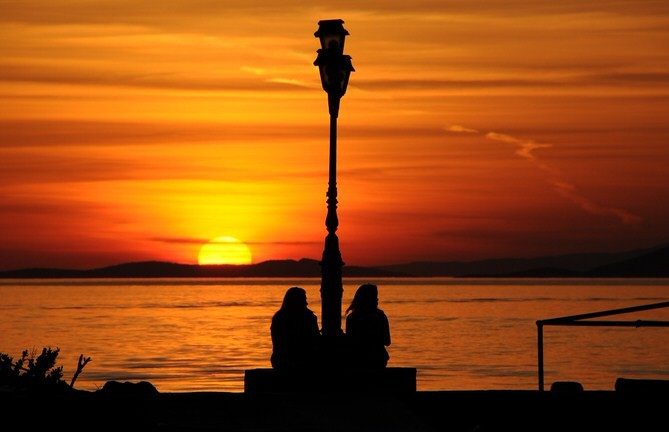 Katherine Green
Feature
Grapes, Olives, and Aegina Greece
On this day, I decided to go to the Island of Aegina Greece. I bought a ticket on the Flying Dolphin departing from Piraeus Port in Athens Greece. My ferry ticket was easy to purchase, or you can use this Greek ferry booking service. Use the high-speed Flying Dolphin ferry line.
All About Sunsets on Aegina Greece
Here is how to go to Aegina from Piraeus Port, Athens, Greece. Hop on a ferry at the port.

Directions to Aegina from Athens
Bus X96 will take between 60-90 minutes from the airport to the Piraeus port.
Aegina is a 40 minute trip by the Flying Dolphin from Piraeus Port, Athens. The regular ferry takes around 75 minutes.
Smaller boats
You can also travel to Agkistri using smaller boats (caiques) with daily departures.
The Port of Aegina provides information for bookings to Agkistri.
The Truth About Greek Sunsets and The Myth About Aegina
According to mythology, Zeus was the father of all Gods and fell in love with the God Aesop's daughter. She was breathtaking, and her name was Aegina. Zeus kidnapped her as that is what God's like Zeus did – they never asked they took what they wanted. He took her to the island of Oinoi. On the island, they had a son called Aiakos. aZeus named the island after her, the Island of Aegina. Aegina was the first capital of Greece.
Today's Aegina Greece
Egina aka Aegina is famous for pottery and covered with pistachio trees. The shops carry every type of pistachio souvenir that you could imagine. Pine forests surround its beautiful green villages. Aegina is also the home to Aphaia famous temples.
Aegina is the island of the pistachio nut. In Greek, pistachio is called "Fistikia." The Fistikia harvest celebrated every year in September, is called "The Aegina Fistiki Festival." TAegina Fistiki Fest is a four-day festival with lots of food, music, dance, theater & art. Check the Aegina calendar for the harvest dates this year. There is still time to book a trip to the Island.
Experience Sunsets on Aegina Greece
It was mid-afternoon when I got off the ferry. I walked down the pier and spied this woman on her motorbike. She looked like an advertisement to "Travel the Greek Isles."
Mark and Sunsets on the Island of Aegina, Greece
The port has large yachts and small fishing boats. Paved shoreline walkways lead to the village's lovely restaurants. As I walk through the village, I meet a man named Mark Cross. He is on his vacation sitting in a pub having a beer and just chilling out. Mark had seen all the sites and is relaxing, almost waiting to meet a fellow tourist. I'm looking for a bathroom. We chat for a few minutes. Since he knew the owner, he asks the owner if I could take a health break. After a quick pitstop, Mark asks if he can join me on my walk along the Aegean boardwalk.
Taking Photos While Walking
As Mark and I walk and chat, I took copious photos. I am always aware that I take a lot of pictures, and this could bug the other person. I stop to take my pictures but never slow my travel friend down for a shot. By the way, I never walk and take a picture. If you don't stop walking to take your photo, it will be blurry, and you can fall or walk into something or somebody – which is rude. Once I saw a Chinese man doing this. I warned him "You are going to fall." No sooner did I say, "Watch out!" then he went head-over-heals, landed on the ground and his glasses flew off next to him on the road. He had to shake off the fall. I wonder if he learned the lesson from the experience.
Aegina Greece Spectacular!
As we stroll, I photograph the sunset I have come to watch. Mark walks with me while watching the lovely sunset, beautiful ladies, and boats and listens to my excitement and chatter about the changing light of the moment.
The Light Turns White Building Blue
The light makes the churches look very Greek-like and turns the white church classic Greek blue.
Romantic Aegina Greece
Here is a photo – a pretty romantic photo, showing the Sunsets on Aegina, Greece
Fantastic Sunset Shared With a Dear Friend for Life
Back to Athens on the late ferry, I go. Ready for another day and to Santorini – the sunset capital of the world.
Travel Buddies Are They For Life?
The reason I mention Mark on my blog and share this story is that we are still buddies today. He is an ambitious world traveler. Mark works to travel and is now married to his lovely wife. They see the world together. He wasn't always married, but traveling solo never stopped his journeys to exotic places. Mark met his wife because of his travels. I think it's important to find a friend who you like and who also likes to travel. It only makes sense that you might just meet that "person of your dreams" while you are out traveling. After all, it takes one to know one. You will truly get to know someone well when you travel together. If you can travel together, you can probably stay married.
Mark
Mark and I have stayed friends over the years. I enjoy traveling vicariously through him to more places than I can ever go. Sometimes, I travel a lot. He visits Greece, more than I do.
He is from the UK, so the companies and travels services are different than the tour I use. I always ask his advice and recommendation when I want a great travel experience. Because we are friends we most likely have the same taste. So I ask their advice. Now, that we are friends, his recommendations are valuable to me. Making lifetime friends while traveling is an added benefit.
Copyright © 2022 Capetown-Rio, Inc. USA. All rights reserved. Republishing is allowed only with written permission. All photography rights on this page belong to Capetown-Rio, Inc. and the author. Do you have a question, business proposal, or speaking opportunity? Please contact me here.
Kate
Kate started traveling for work. Now with grown children, who are travelers, she travels for pleasure looking for great travel experiences. Currently, her home is in Bellevue, WA, and lives with her cat Angelina Jolie. She has a Bachelor's of Fine Arts, Studio Arts and Art History from the University of Colorado, and from City University, Seattle, an MBA and Master of Arts, Management. Her favorite things are exploring cultures, traveling the world, creating a painting and sour foods.