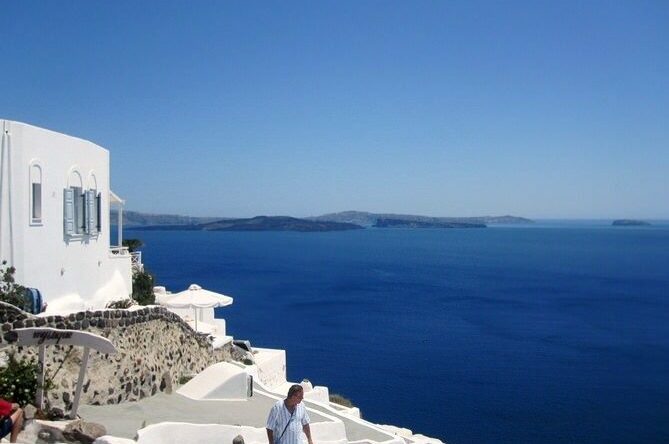 Greece
Sensual Santorini Greece Sunsets
By
|
SUNSETS! Santorini Greece is known for sunsets. I love the sunsets in the Greek islands and especially Santorini Greece Sunsets. That is what makes Santorini Greece so unique – the sunsets. Undeniably, the sunsets are spectacular. Hopefully, my photos demonstrate the incredible views on the island. All the restaurants and hotels worth going to everything faces west and every night the dramatic sunsets are center stage. Santorini deserves two posts. I will need two posts to do it justice. There is so much to see, do and feel in Santorini, Greece. Map – More detailed Map and Tours and more. Santorini Greece is a passionate, emotional – relaxing location. Whether you are single and traveling, over 50 traveling solo or with a friend or partner – it is a must experience.
Worlds #1 Sunset Location – All about Santorini Greece Sunsets
Now Santorini has beaches, the white, red beach, and black beach. The beaches are marvelous. The center part of the island is dessert – dreadful hot, dry, dusty desert. My first hotel was horrible, let's not go there.
What's Special?
I took one look at where the tour company put me, and exit stage left I asked the taxi to drive. I wouldn't even let my bags exit my seat next to me in the car. These things happen, you can't travel without a little drama, but this isn't the place to have to have a bad hotel. I want, and you should positively book a hotel facing west in one of the 'cave houses' and enjoy the view when you shower when you wake and when you sip Greek coffee – enjoy the view.
Ferry to Santorini
Entrance to Santorini
Santorini Bay
White Homes, Business, and Hotels Spot the Cliffs
Santorini Greece Sunsets and Sea Are Center Stage
Restaurants Line the Sunset Venue – Framing the Evening Sky
Restaurant Frame The Sky View
The Heavenly Drama Begins at Sunset
Let The Music and Remarkable Colors Begin
Feel The Love of Light – Santorini Greece Sunsets
Night is Lite by Romance and Love – Love Blooms
Santorini Greece Sunsets
The Boats are Ready for the Next Day – You will love Santorini
Copyright © 2022 Capetown-Rio, Inc. USA. All rights reserved. Republishing is allowed only with written permission. All photography rights on this page belong to Capetown-Rio, Inc. and the author. Do you have a question, business proposal, or speaking opportunity? Please contact me here.