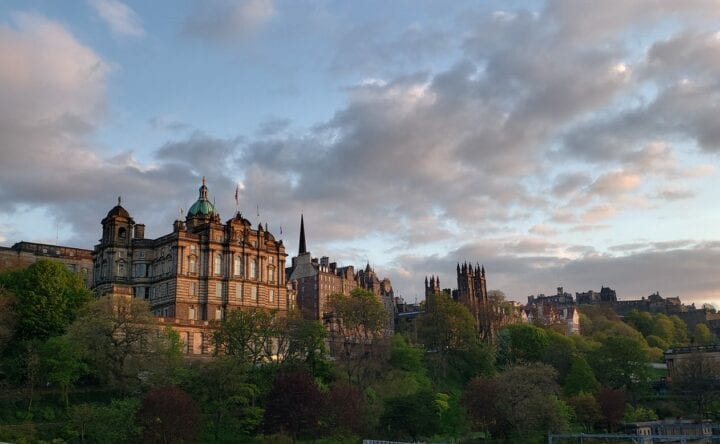 Scotland
Old Town Edinburgh, Scotland – Visit the Land of Highlanders
By
|
I love the land of the Highlanders. Edinburgh is the capital of Scotland, a medieval old town with an elegant Georgian New Town. Old Town Edinburg, located on several small hills, is a walking town requiring good walking shoes. Edinburgh Castle is the highest point in the city. The city constructed in two stages the medieval and the Georgian era. Edinburgh's gardens and neoclassical buildings transport me back to the time of long ago and the movie, "Outlander."
Edinburgh Castle is home to Scotland's crown jewels, the Stone of Destiny, which is still used today in the coronation of Scottish rulers. Reminiscent of ancient times, Arthur's Seat is a majestic peak in Holyrood Park with sweeping views. Edinburgh Castle is also the location for the money shot at this destination. If you go to the new town and look up at the Castle at sunset, especially if it's been raining, you will take the most fantastic photo.
The Best of Old Town Edinburgh, Scotland
Planning a trip to Edinburgh? It is one of the most beautiful cities in the world. There are a few things to know. First, many people spell it Edinborough or Edinboro, but the town's correct spelling is Edinburgh.
You may also want to know how to pronounce your destination. Phonetically, Edinburgh pronounced ed-in-bruh. Edinburgh's nicknames are:
Athens of the North – Edinburgh shares similar topography as Athens, and there are similarities in the city's architecture (keep an eye out for Grecian columns around the city)
Auld Reekie (Old Smoky) – from the days that Edinburgh was shrouded in smoke from coal and wood fires.
Dunedin – deriving from the Scottish Gaelic, Dùn Èideann.
Monuments in Edinburgh
My favorite monument is in the center of the Old Town. It is a statue of Adam Smith. Americans consider him one of the cornerstone economists of the American economy and survival of the fittest. As you can see from the photo, rain or shine, it's a great place to walk and take in the sights.
Calton Hill monuments and memorials are on the way to the hilltop of Arthur's Seat, making it easy to visit two places on one trip.
Old Town Edinburgh
In old town Edinburgh, bagpipes play as I wander through the streets, inhaling all the medieval nuances.  The Scott Monument is a Victorian Gothic monument to Scottish author Sir Walter Scott. The statue is across from the old Waverly Train, which is the second busiest railway station.  This station is the central station serving Edinburgh. The Glasgow Central station is the most active depot in Scotland. The Tour buses and buses to the airport all leave from this location on Old Waverly bridge.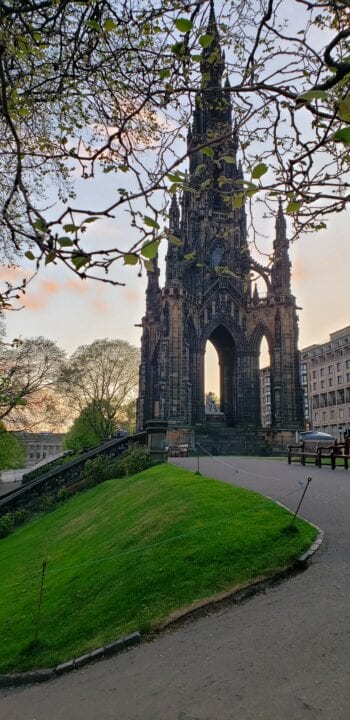 Arthur's Seat
Arthur's Seat is an extinct volcano which is considered the central peak of the group of hills in Edinburgh, Scotland, which form most of Holyrood Park, described by Robert Louis Stevenson as "a hill for magnitude, a mountain in virtue of its bold design." Arthur's Seat interested me a lot because of my grandfather's family, who came from this area. I had heard from him when I was young, that his name, Arthur, a highly regarded, Scottish name, was my grandfather's name. As I visited this part of Scotland, I understood the significance of his name.
Bag Pipes, Owls, and Carnival Entertainers
I see a man with a hawk in Old Town, Edinburgh, Scotland. He spies me. Earlier I spied bagpipers, but this man with the owl looked right into my eyes. His spell cast on me, made me smile and realized, he wants me to smile back at him and to give him a tip. Then it dawned on me some of the people entertaining the tourist are from Scotland. In his eyes, I see the flare of engagement, storytelling, love for the outdoors, and his hawk. This is something I inherited from my Scottish ancestors. I have a lot in common with this man, which I discovered in a glance.
Another reason he draws crowds is Edinburgh is where J.K. Rowling wrote Harry Potter sitting in a coffee house.  All things Harry Potter such as owls draws a crowd. As I walk the city streets, the city feels alive. The city's inspirational impact is felt today in literature, the arts, music, and Scottish life.
The town sells all things Harry Potter for souvenirs. Many of the locations in Harry Potter are based on  Edinburgh locations. Harry Potter Tours are available. The tours show some of the interesting points found in the book. Unfortunately, the tour I took wasn't perfect.  I don't recommend the Harry Potter tours at this time. They may get better in the future. It's more fun to wander the streets and find your Harry Potter inspirations.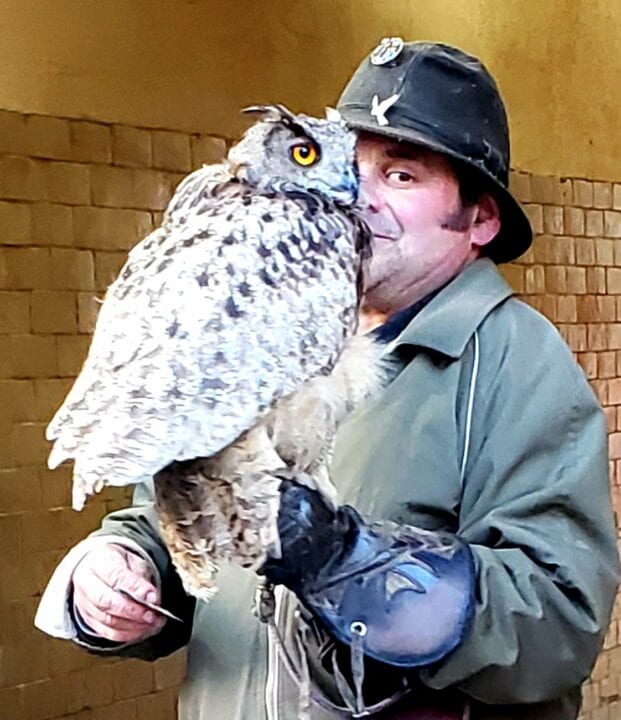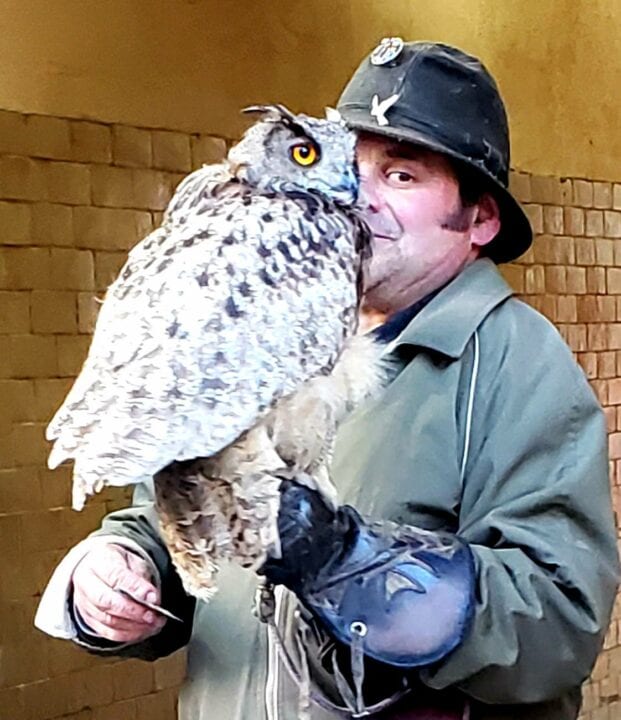 Celtic Cross
In Scotland and Edinburgh, there are many abbeys and churches. However, unlike other European churches, the Christian crosses of Scotland are the Celtic cross. A Celtic cross is a form of Christian cross featuring a nimbus or ring that emerged in Ireland, Scotland, and Britain in the Early Middle Ages. It's also known as the Gaelic cross.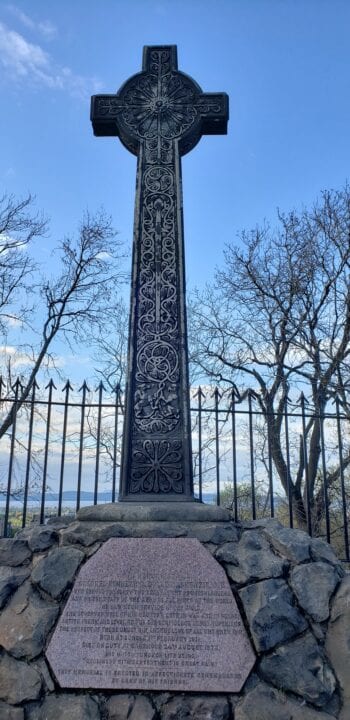 Royal Society of Edinburgh
The building with the turquoise dome is the Royal Society of Edinburgh, established in 1783 and still operational today. As of 2017, it has more than 1,660 fellows. Scotland's national academy of science and letters is a registered charity, operating on a wholly independent and non-party-political basis and providing public benefit throughout Scotland. At night, it is beautiful, and at sunset, this is one of the money photos of Edinburgh. The most photographed sunset photo is Edinburgh Castle at sunset from below, from New Town Edinburgh, where there are lots of famous brands that I can find at home and the least expensive souvenirs. Stay away from the Royal Mile for meals and gift buying.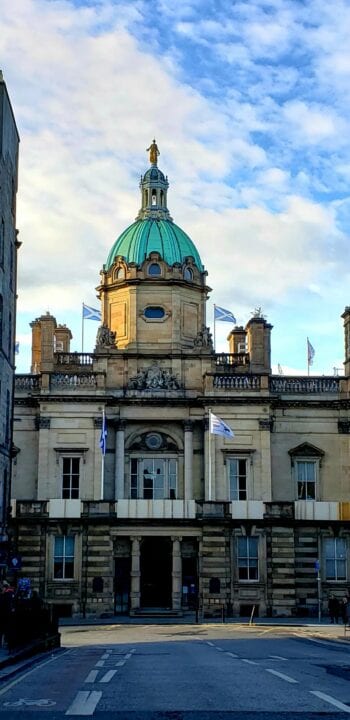 Royal Mile
The Royal Mile starts high-on-the-hill at the Castle to the Holyroodhouse Palace.  Both are worth seeing, although not much, is behind the fortress walls of the Castle. The Royal Mile is both Old Town Edinburgh's main thoroughfare and one of the city's main streets. The top attractions on the Royal Mile after the Castle and the palace are on this one-mile stretch of shops with souvenirs.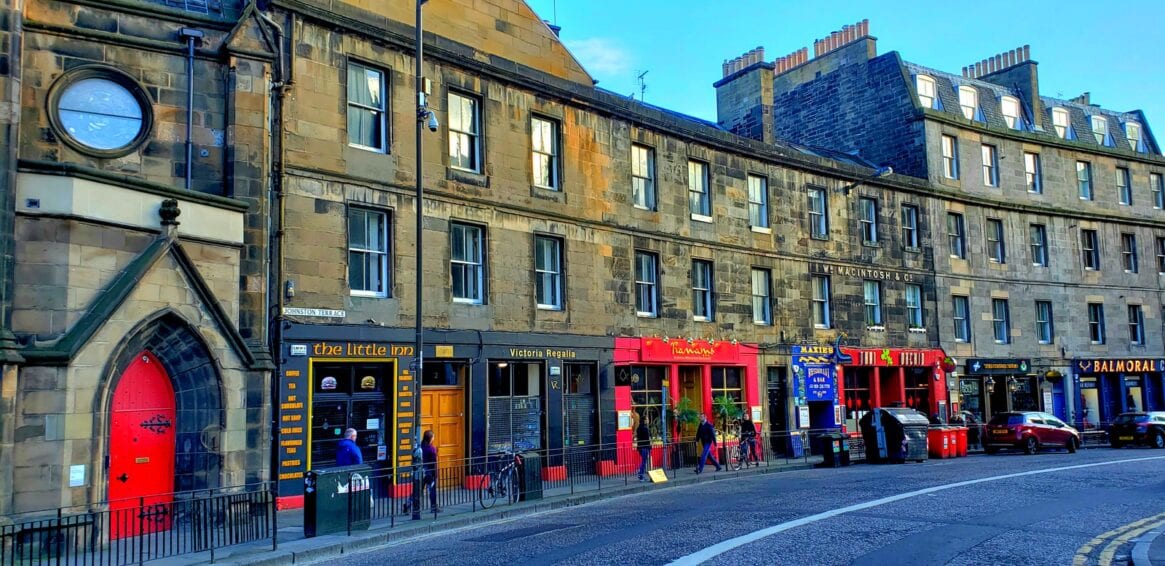 Scotch
One of the best things I think to do is to go on the experience Scotch Whisky tour. If you want to skip the tour, the small shops will give you a small sample or two or three. Some people sample hop by taking samples from shop to shop.
To have the full experience, have a drink in one of the old pubs where you will meet the most helpful people. In one pub, I met a person from the East Coast who knew my brother. What are the chances of that? Well, in Edinburgh you are sure to meet people at a cafe, pub, bar or any place where people gather. It's a place where everyone is in a good mood, and everyone seems to be a tourist. And why not, it's a beautiful destination.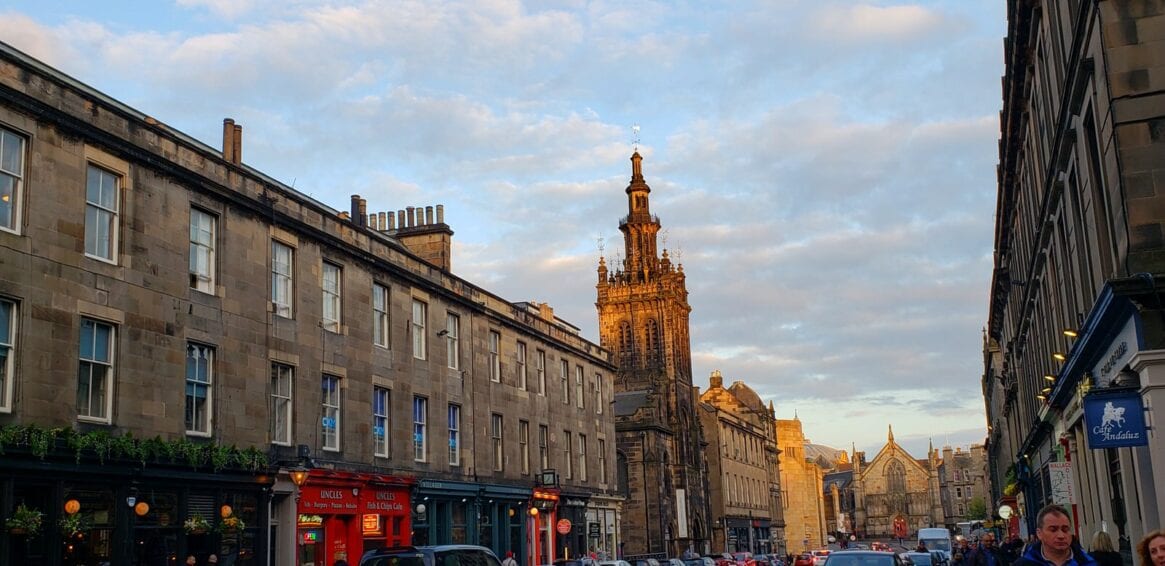 Outside of Edinburgh – Stirling Castle
Scotland has many fantastic castles. Braveheart's Stirling Castle is easy to get to by local bus or a bus tour. Buy your tour from the hotel for a local experience, and to hire a local company, use Trip Advisor or GetTours. I prefer GetTours. Here are a few pictures from my trip to Stirling Castle. I have seen plenty of castles in France, Germany, Italy, and even Dracula's Castle in Romania. Scotlands castles are authentic, meaning if the Castle's interior is destroyed, they leave it unrestored in many cases.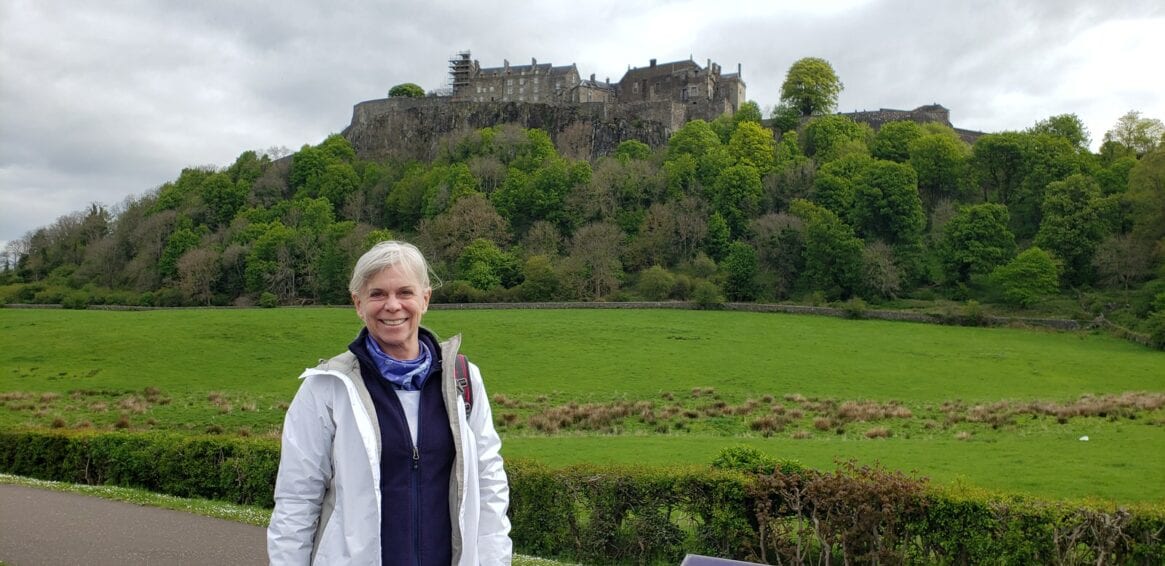 People
I met a lovely couple from London via India and went to lunch with them. We walked around Stirling Castle from the outside, Stirling Abbey, and graveyard. Walking and spending the day with them is now one of my fondest memories of Stirling.
I think the people I meet on this trip made this trip very special because their perspective added a lot to the location. It broadened my American Prospective to see Scotland through the eyes of someone else.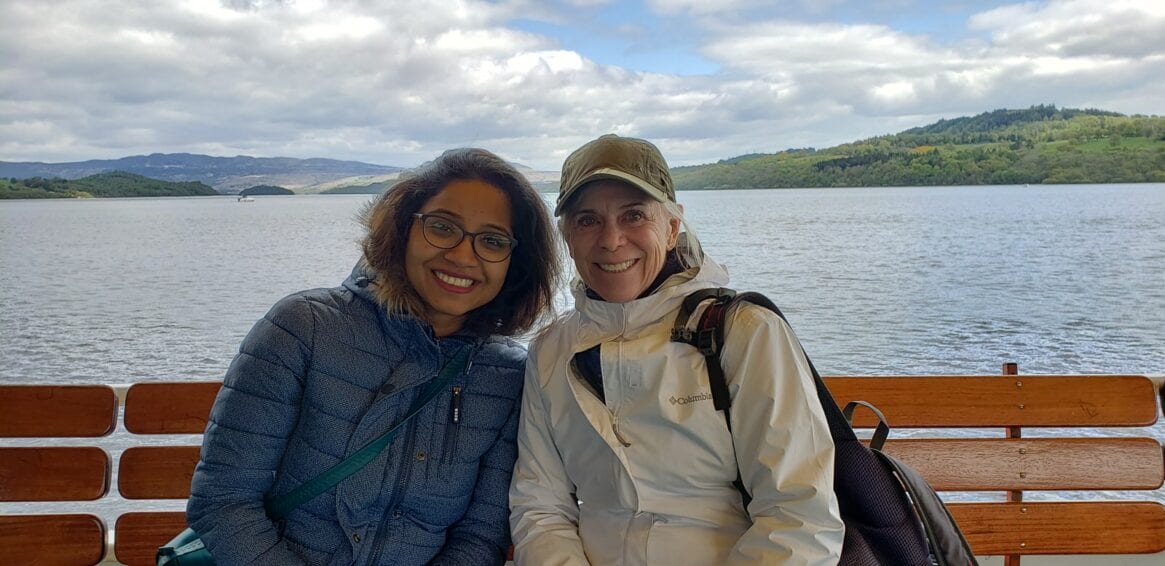 Other people have their favorite things to see in Edinburgh. Whatever you do in and around Edinburgh, you are sure to have a wonderful time. The town is small like Salzburg, Austria and just as historic.  I hope you enjoy your time in Scotland.
Copyright © 2023 Capetown-Rio, Inc. USA. All rights reserved. Republishing is allowed only with written permission. All photography rights on this page belong to Capetown-Rio, Inc. and the author. Do you have a question, business proposal, or speaking opportunity? Please contact me here.