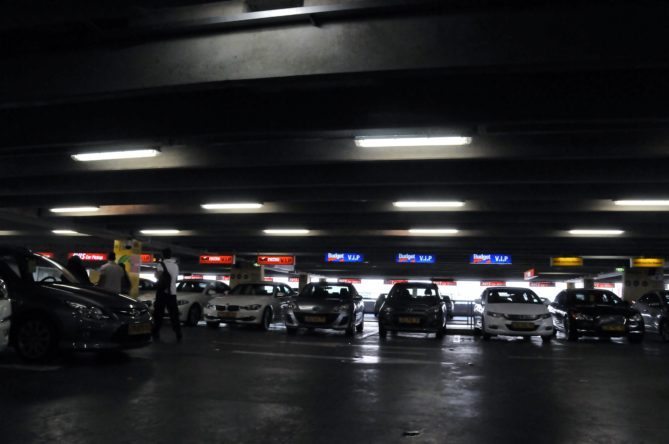 Feature
Maps, Plans and Tips for Israel Itinerary
By
|
The maps show the Israel itinerary that I used for my 2014 trip to Israel. Before this segment of my trip, my journey started in Amman, Jordan, where I spent a week as part of a medical mission. Next, I went to Petra and then to Wadi Rum, also in Jordan. Then I went to Istanbul, Turkey, for five days. My last destination was my Israel itinerary starting in Tel Aviv, Israel. Although the trip happened in 2014, the information is very relevant today.
Israel Safety Advice. My Israel Itinerary
Roads close in Israel during holidays. Road closures are an important consideration for Israel travelers. Since roads don't close in the USA for holidays, it never crossed my mind that this could happen. My friend Ella, an Israeli, who helped me make my Israel itinerary. Sometimes, I still giggle about missing something so basic. Remember to consider holidays, road closures, cultural restrictions and other customs when making your travel itineraries and trip plans. I think after I tell you about adventures in Israel you might decide to use a tour company.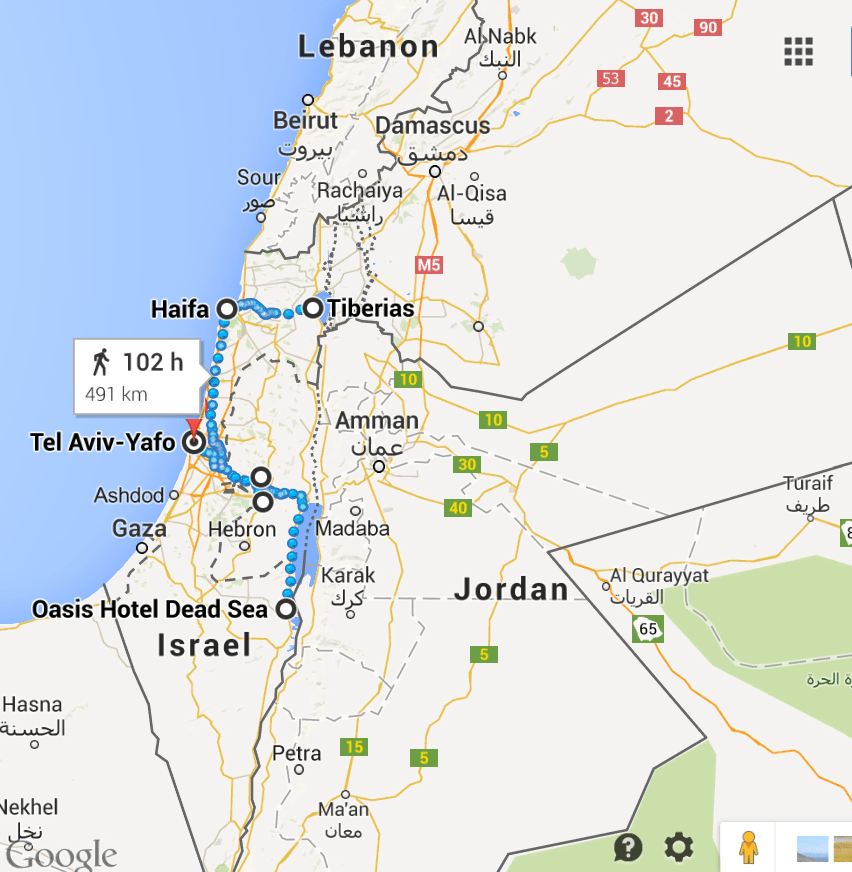 Israel Itinerary
In the dark airport garage in Tel Aviv, I began my trip by picking up a rental car and driving the route shown on the map to Haifa. The one thing I forgot is I forgot to check the calendar for religious holidays.this is a very important part of planning any Israel itinerary.
Travel tip: Check for religious holidays.
At the end of the Israel-Palestine war, on 9/11, 2014. I left for this trip. When I left, I was euphoric that the war had ended and my trip could go forward. Most importantly, it was 'safer' to travel without the war. In my excitement, I forgot to check for religious holidays which close the roads in Israel.
I didn't realize the holidays would affect my trip until I got to Haifa and my car battery died
I forgot that Israel is both a democracy and a religious state. I can't believe I made such a silly mistake. The nation-state has different holidays and observances than the US, and a lot of Israel's holidays follow Jewish religious conditions and restrictions. These holidays added complexity to my travel plans. These are the holidays I experienced: First Sabbatt, then Rosh Hashanah, Yom Kippur and then Sabbatt again. Actually, Sabbatt was celebrated at the beginning, middle AND the end of my trip in Israel.
Religious and national holidays are celebrated in completely different ways in Israel and the US
I don't recommend going to Israel and Palestine during this extended holiday season. Sometimes the days seemed very confusing because of road closures. My trip was also much more stressful than it had to be. Everything shuts down during a religious holiday. In the areas where strict religious customs are followed, it can get a little edgy if you drive down a road when it's closed. I made that mistake. Israel's strict rules, customs, and religious traditions are observed throughout the country, so during Yom Kippur, roads are closed completely.
Trying to navigate with a GPS that doesn't have an option called, 'Avoid streets closed due to religious holidays,' made it harder to travel safely on the correct streets. You can go the shortest route or the quickest, but you can't set the GPS to use roads unaffected by religious holidays. The GPS took me down closed streets and to unsafe parts of town. In one such incident I got surrounded by men and was threatened stoning, but that is another story.
The Jewish holidays also had a positive effect on my trip
Some parts of the journey yielded fascinating experiences because of the closed roads. I think that every travel experience has a silver lining, Some even have unusual stories and memories.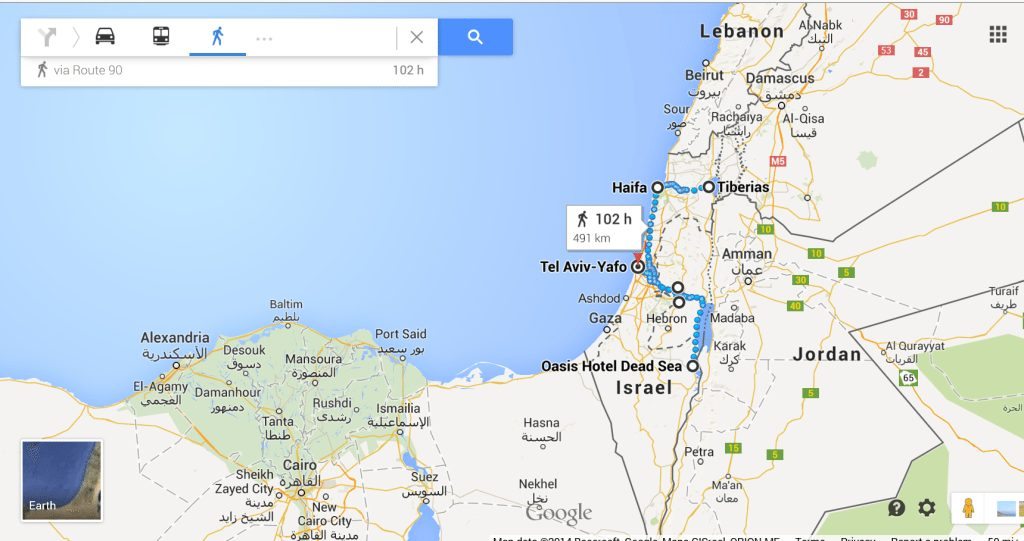 Israel itinerary: A photography mission
The goal for my Israel trip was to photograph Israel and Palestine for the church I work with on Middle East peace. Now, I am affiliated with St Mark's in Seattle. I submitted a proposal to the church and they helped fund my trip. The mission was to document the current situation in Israel and Palestine and report back on the church partner's projects. I learned so much on my first trip to Israel.
I used my Israel itinerary for this trip and advice from Israeli people
As you can see on the map below, I started in Tel Aviv, drove to Haifa, then to Tiberias, and to the Sea of Galilee before coming to Jerusalem. I stayed in Jerusalem for several days. Honestly, it's not the most relaxing place. Even with secure parking next to the hotel, the streets are in constant turmoil. I chose Jerusalem for my longest stay because it was easier to select one place as my home base and to travel from there.
You may choose to book a hotel in Bethlehem. Staying in Bethlehem will save money and time if you are going to Palestine. To me, it felt as safe in Palestine as Jerusalem. Honestly, at times, I didn't feel safe in either place.
To go to Palestine from Jerusalem, take the #24 bus to Bethlehem. From Bethlehem, I went to Ramallah and Hebron with a guide who drove me around. Cars need different license plates to drive in the three distinct road areas, A, B and C. The guide kept me on safe roads, provided transportation, access, and information about Palestine and the West Bank.
My excellent guide was Elias Chacour. I got his name from people at the church who had used his services in the past. He was a very competent Palestinian guide, a Christian, and reasonably priced. Elias helped me do everything I wanted to do. He provided tons of background and understood the political and historical situation. Elias can't be a guide in Jerusalem because he was born in Palestine. Therefore, he provides guide services only in Palestine.
Build an Israel itinerary for yourself on Google
Google Maps helps me to quickly understand a town's location and its relationship to the next town. I use Google Maps for all of my trip planning.
Click here to make an Israel trip map on Google.
I used Google Map to create the routes shown in this article. Then I entered Tel Aviv as my starting point. You can change your destinations and easily find the best or shortest way to go. It gives the time, route and best course based on the transportation method you are using.
I find a 'great circle' route avoids backtracking. Try making a map using my route if you want to practice and to see how it works. Check to see if you get the same map as I have published here.
Copyright © 2021 Capetown-Rio, Inc. USA. All rights reserved. Republishing is allowed only with written permission. All photography rights on this page belong to Capetown-Rio, Inc. and the author. Do you have a question, business proposal, or speaking opportunity? Please contact me here.