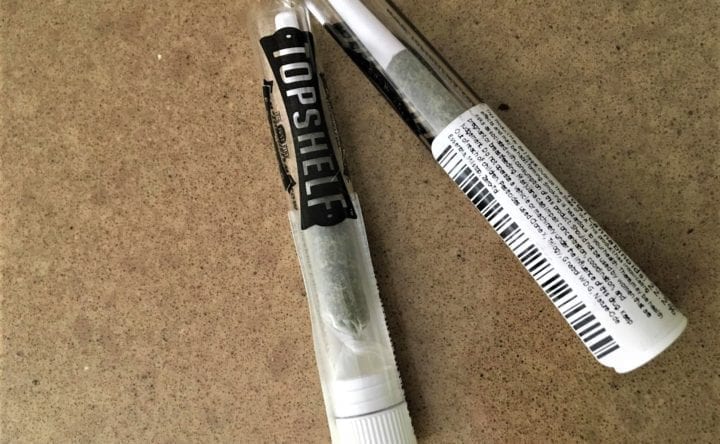 Jim Allen
USA
Frugal Traveler Takes Washington Cannabis Vacation
By
|
I was going to lunch with Kate the other day. She told me that her neck had been hurting. She had a broken her neck, long, long ago, survived but, has pain from the injury. Lots of people recommended marijuana as a remedy for her pain. I said, let's go on a self-guided marijuana travel tour of Washington State's cannabis stores. After a week on our Pot vacation, here are my best frugal traveler travel tips for taking a Washington cannabis vacation.
Frugal Travelers Washington Marijuana Vacation
Okay, so before you go into a store, remember Marijuana is legal in Washington state. God forbid, you don't want to be labeled a paranoid newbie. Well actually, they don't care why you are in the store. They don't care what age you are, or what you look like. The workers are professionals, all love their business and love marijuana tourists! And of course, they love and want you to take Washington marijuana vacations and want marijuana tourism in Washington state.
There are no rules and tricks here. Nothing ensures you are cool because you don't need to be cool. In the store, everyone passes as somebody, who is smart because they are buying pot and not alcohol.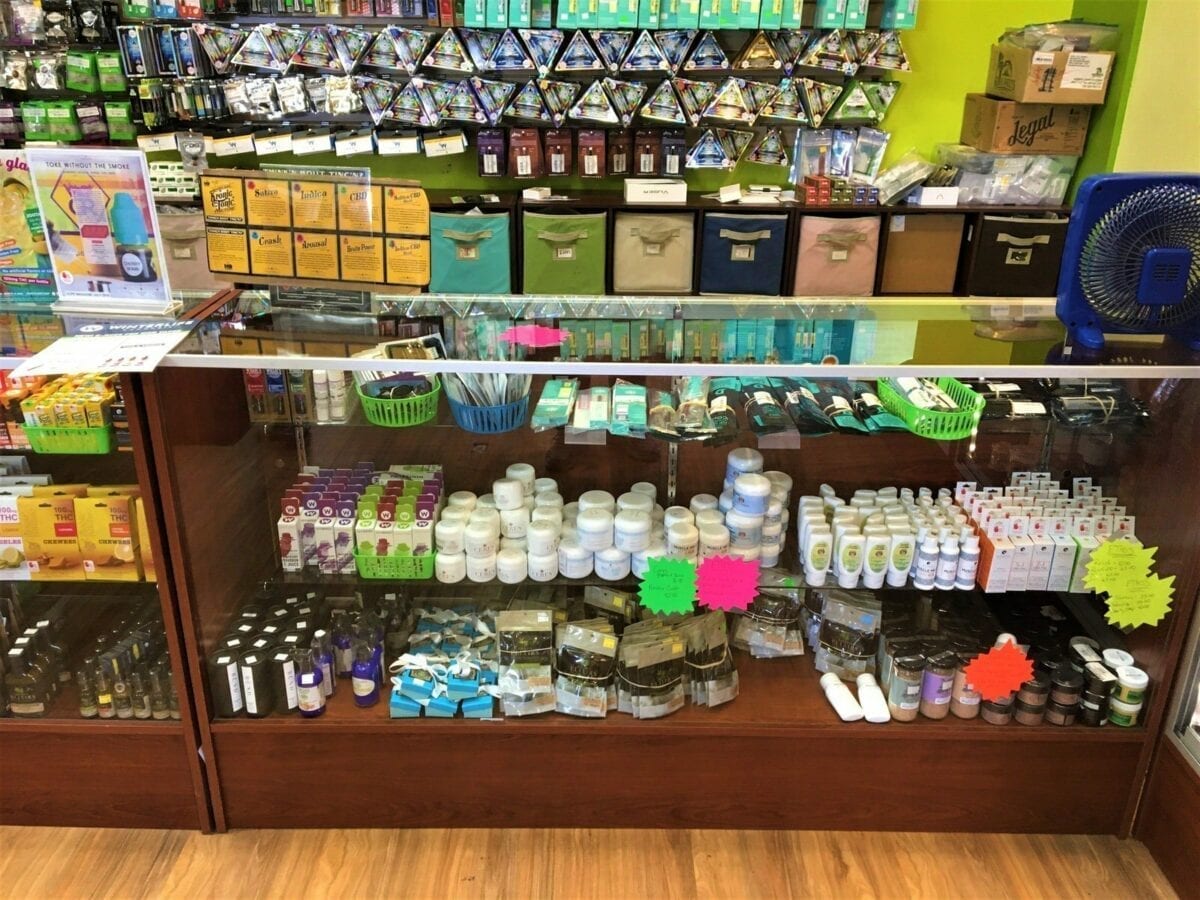 About Me
I worked as a Special Agent with a federal law enforcement agency. While employed, "BC Buda, marijuana" was considered a menace, and large distributors of the product were routinely prosecuted in the Washington Western District Court. Weed was considered "evil," yet now, it seems okay because I'm on the other side of the fence now. I'm simply a guy experimenting with different quantities of an herb we call cannabis.
You can buy the Sativa or indicia strains or even a blend of both. Sativa produces an energetic or uplifting high, while the indicia strain highs will leave you relaxed and social. Stronger varieties of indicia will actually numb your body and put you to sleep.
Good news for lovers of highly potent cannabis–hash is available. Back in the day, it was called "laughing gas." Sounds like the kind of medicine I need and want. You can also buy cannabis oils and the solid form of the oil or resin known as "shatter."
My First Experience
I completely blew it when I visited my first store. The word "marijuana" made me feel old and dated. The clerk looked at me weirdly, I think? It may have been my lack of confidence and she might not have given me a weird look. My paranoia got the best of me for sure. I felt ashamed and somewhat uneducated.
Quickly gaining my composure, I started to correct my attitude and language and said, I can't believe my eyes, you have so many varieties. The shops were beautifully designed like a fine boutique.
The clerk changed or I changed. We had a great experience shopping for pot. The clerks are very accepting and knowledgeable. I breathed a sigh of relief. Remember to bring cash – they don't accept credit cards. Or if you forget, you can use the ATM in each of the stores.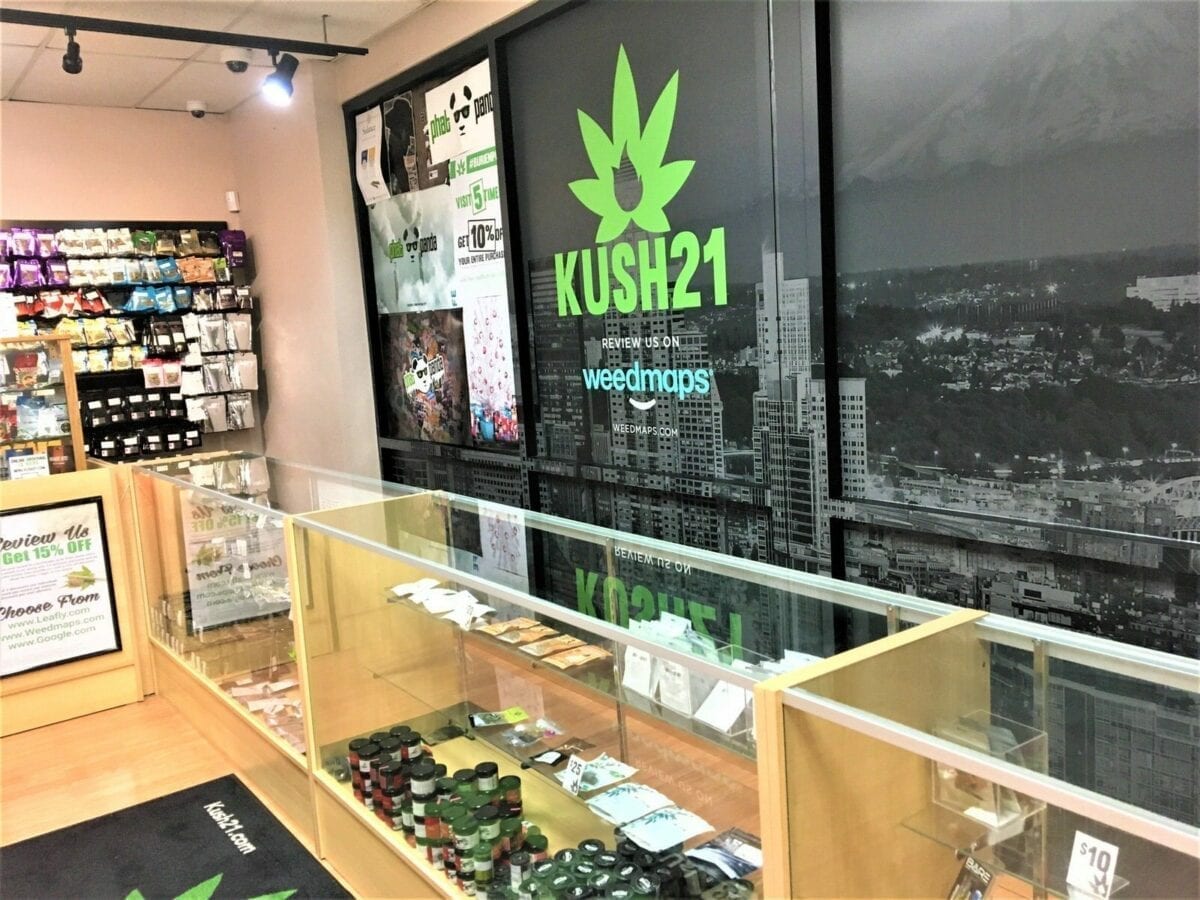 Terms of Endearment
If you see a brand, an edible, a beverage, maybe some loose or rolled package that interests you, just ask to see it. It isn't pretentious in the stores. Anyone over 21 can shop at the stores in Washington. Everyone shows their ID at the door.
Anyone over 21 can shop at the stores in Washington. Everyone shows their ID at the door.
Everybody is equal. The culture is friendly and relaxed. It's a "happy place." However, you'll have a better time in the stores if you aren't shy. For example, you might ask the clerk about Acapulco Gold brand. Acapulco Gold is hard to find. If you find it try it, you will love it!
Or just ask if they have a good recommendation.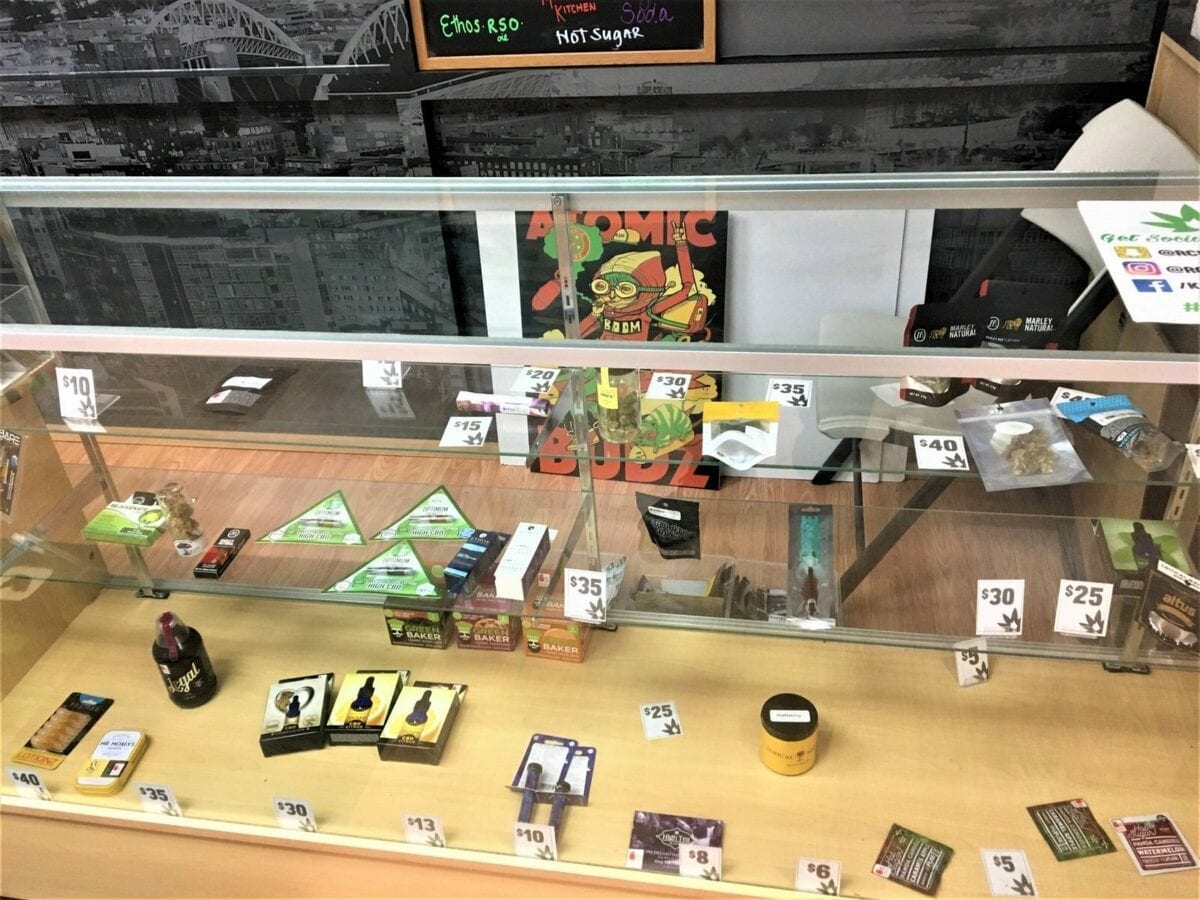 Washington Cannabis Vacation Starts with the Shopping Experience
When you look at the products, you can decide if you want to buy pre-rolled "joints" or "blunts," or "bud." You just take the bud, place it in a pipe and smoke it. You can also buy edibles, such as chocolates and crackers which have THC in them. These products take a while to produce a high, so never use edibles while you are driving. After eatting an edible, I ate a whole package of crackers before bed and didn't remember anything the following morning.
You surely, don't want to get behind the wheel of a car after smoking, eatting or drinking, pot.
Chill Out
Just be relaxed. Have fun, after all, you are on vacation, and hopefully, your Marijuana vacation in Washington State will be memorable. Our week was a blast. I can assure you that you will learn from the shopkeepers.
Our Pot Vacation and Tour
We went to these stores on our Washington Cannabis Vacation and tour.
Emerald Haze – the happy place
Buddy's – Located on Sunset Blvd. Renton
Green Theory – in Factoria and close to shopping and behind McDonald's
Higher Leaf – close to the Washington State Patrol and Bellevue College
Kusch 21 – closest to the airport where the vacationers and locals go
Nimbim – Medically Endorsed and huge selection
If you want a map to see all of them select Weedmap.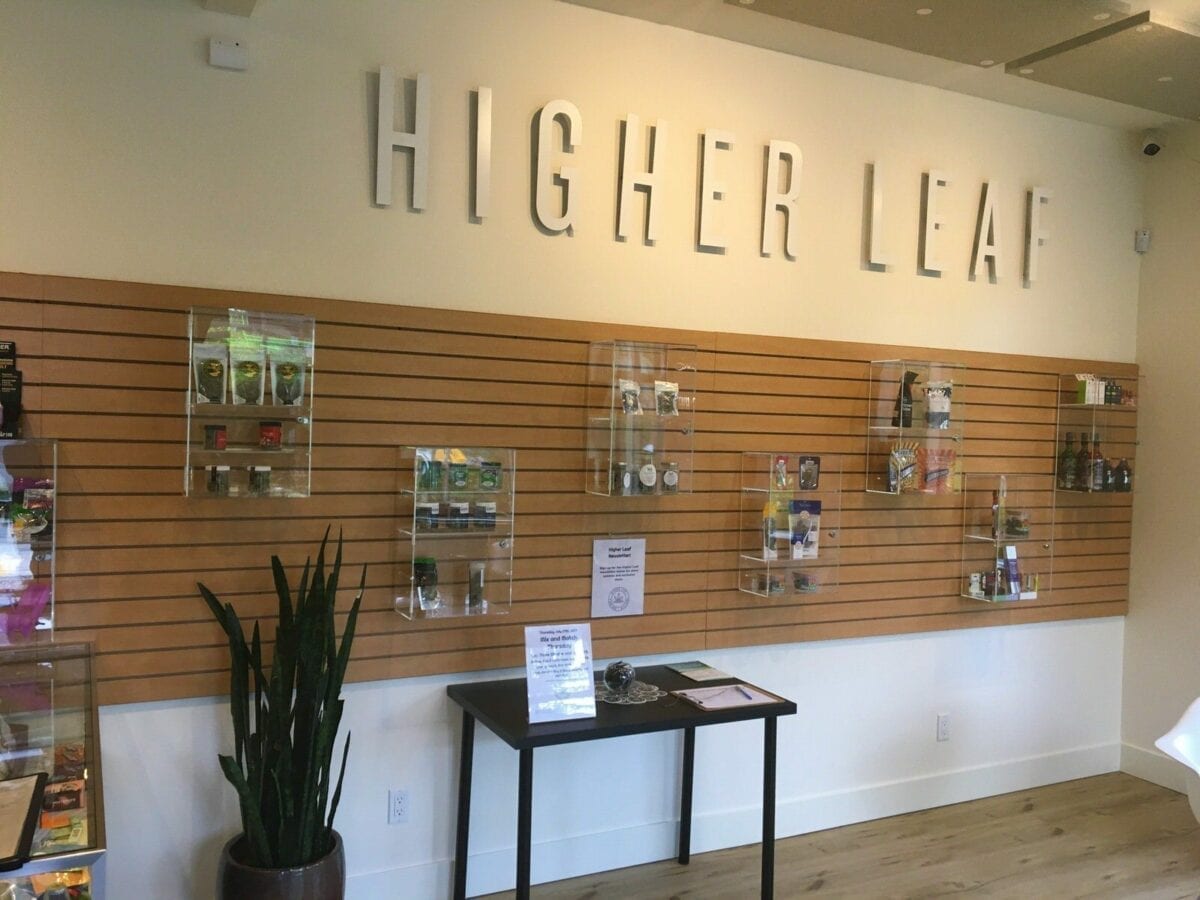 Frugal Traveler Travel Tips
As Frugal Traveler on a Washington Cannabis Vacation, a fledgling pothead, I realize that the habit is expensive. When you check out, don't wince at the price. Say something like "Thank you." Mumbling to the clerk that your merchandise is expensive is lame. At the least, it's inconsiderate. The clerk and you are part of the new legal culture. They want you to be a repeat customer who buys their product. They are very proud of their products, and each store offers different types of products and styles of service.
Every store we visited had its own personality. If you're like most people, you'll probably shop at a store you're comfortable in because you like the staff and the service they provide.
Honestly, the shops were nothing like I thought it would be. We had an awesome time! Lots of great conversations, recommendations, friendly people, its like we joined a club. Best of all, we were the customers and treated like we were special in every store. Some were quiet while others were very friendly.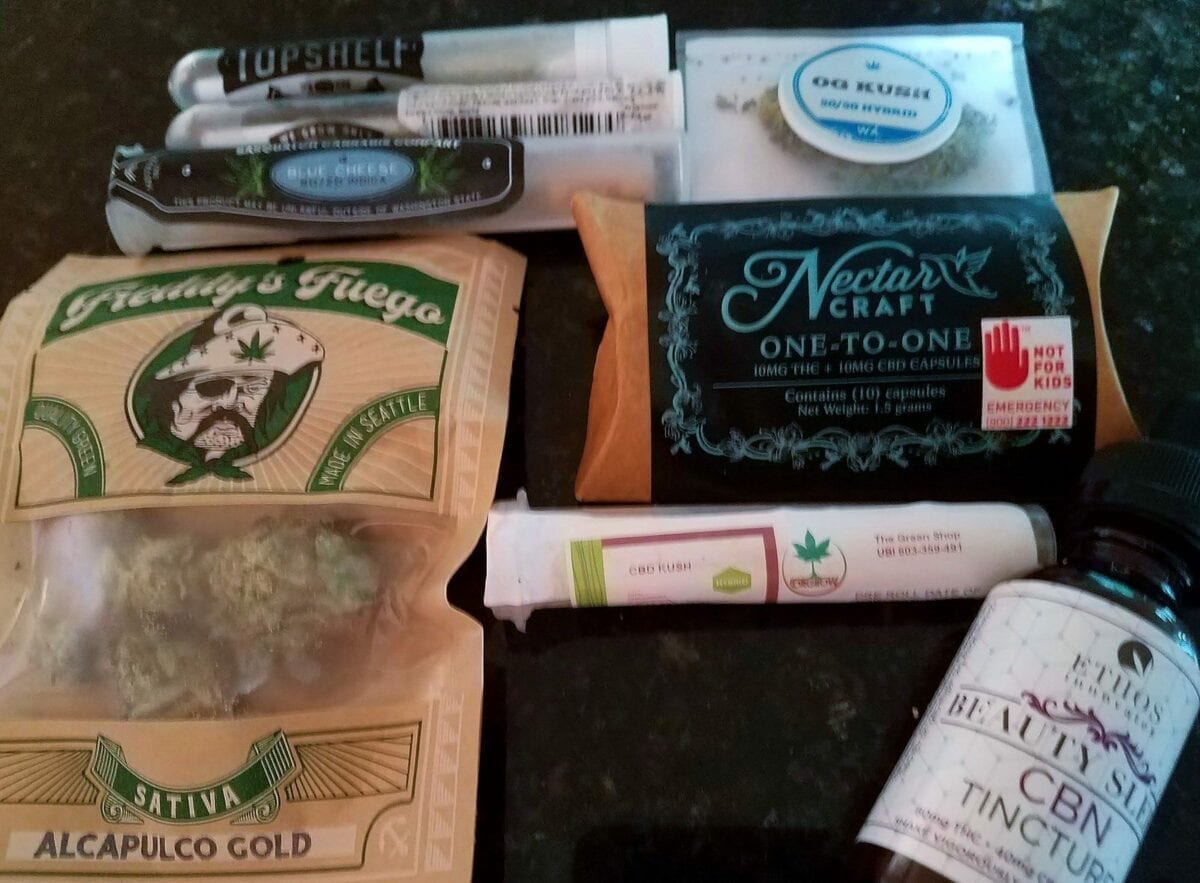 Next Day Breakfast
Kate and I met for breakfast the next day after I had been smoking the night before. I must have smoked a lot. At the breakfast table, I asked if they serve eggs at the 'breakfast restaurant'. Kate looked at me as if I had lost my mind, and started laughing hysterically. The waitress replied, Yes. She had a huge smile and started giggling. Then the waitress smiled at Kate. Imagine, I'm asking the server if they have eggs at a breakfast place. Yikes. Later, after taking my order, she replied, "you must have had some night last night!"
She then said to Kate, "I can play along."
"We serve breakfast cocktails if you need one?"
Travel Tip: Travel to Washington State for a Cannabis Vacation and Marijuana Holiday, it's the best.
Tip: The Frugal Traveler's experience was excellent but be aware pot is expensive, but cheaper than drinking alcohol. Washington taxes on Alcohol are very high compared to other states.
Travel Tip: Smoking pot in Washington State and driving can earn you a DUI. Also, know that in Washington State Texting and talking on a cell phone with your hands on the mobile phone while driving, even at a stop light can earn you a DUI-e in Washington State too.
Don't take the pot to another state, that is a Federal crime. My best travel tip is Washington state is where you can use pot.
What kind of Camera bag should you bring to Washington State?
Copyright © 2023 Capetown-Rio, Inc. USA. All rights reserved. Republishing is allowed only with written permission. All photography rights on this page belong to Capetown-Rio, Inc. and the author. Do you have a question, business proposal, or speaking opportunity? Please contact me here.