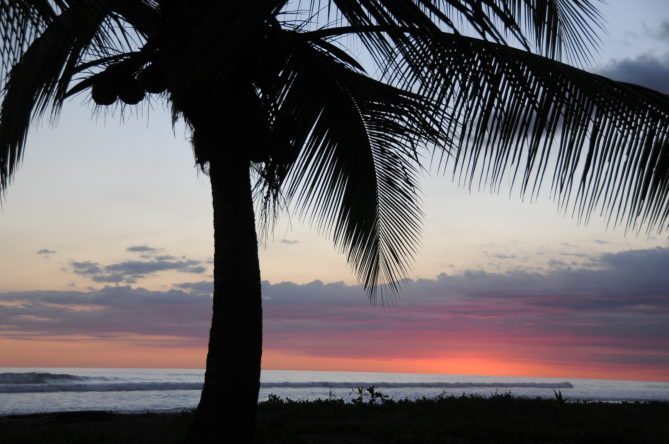 Costa Rica
Blissful Costa Rica Beach Trip
By
|
Costa Rica is a beautiful environmentally diverse habitat. It's no wonder that a Blissful Costa Rica Beach Trip made it on my Bucket List and got checked off. First, here is a little background about Costa Rica. Costa Rica's tourism and service economy support the people here. The country will maintain its true natural state because most of Costa Rica's land is set aside as 'naturally protected habitat.' Since the country virtually has no manufacturing, expect to pay hefty prices on everything manufactured because of import taxes and duties. I always try to buy local products whenever I can. Hopefully, you will buy local products and services from local people also.  So even though, it's expensive, it is worth the trip. Costa Rica is one of the most beautiful places in the world with breathtaking views, animals, and friendly people.
Travel tip: Buy alcohol at the duty-free area before you leave the airport
I love Costa Rica!
Amazing Costa Rica Beach
When I arrived at my friend's home, the caretaker greeted me with freshly cut coconut grown on the grounds of my hostesses' home. My hostess was my friend Laura and her husband from Seattle who invited me to spend a week at their Cost Rica home. I was beyond thrilled to accept her invitation. They also invited Rene and her husband Fred two of her friends from home. The location and week is everything I imagined.
Vacation Home
Laura's home is fabulous. She rents it on Airbnb and Vacation Homes to Go.
We had everything we needed and never needed to go to town. Her home had a private beach, pool, beach cabana, grounds keeper and cook, and private beach massages. For the small charge of $6.00 per person, we could even avoid cooking by hiring their private cooks who were also the grounds keepers. the food was authentic and regional favorites. All the ingredients were fresh, and the meals were typical Costa Rican cuisine. Our cook made rice, beans, tortillas with lots of chicken, fruits, and plantains. Laura's two other guests were the ultimate conversationalist and fab company. They made my vacation very special. Unfortunately, I got sick with a terrible cold. I have to say. There is nothing worse than being sick on vacation in a humid location.
Laura's two other guests were the ultimate conversationalist and fab company. They made my vacation very special. Unfortunately, I when I got sick with a terrible cold.I have to say I wasn;t much fun because all I did was sleep. There is nothing worse than being sick on vacation in a humid location.
Here is a photo of the home. Her home is tranquil and beautiful, complete with security, caretakers, and a cook.
This is the inside of the Pink Castle, with kitchen and covered terrace on the main floor. Mike and Laura had a covered terrace on their floor too.
Massage on the Beach
Let me tell you about some of the great things we did. Our first activity was a massage under a palm tree with the sound of the waves and crashing surf. It is sublime location. The young lady smiled and asked what type of massage I wanted. Since she was the expert, I let her decide. Whatever she did, it was perfect and exactly what I needed to get into the vacation mood. She used coconut and jasmine in the message oils  – it was heavenly!
The Beach
Past the message table is a cabana, our private shaded area to picnic or read in the shade. It is perfect for getting out of the hot Costa Rican sun and the heat and humidity of the day. But be aware of the rip tides. Along the coastline, rip tides occur so be careful when swimming. We careful not to get in the undertow. If you ever do get caught walk out of the rip tide by walking or swimming along the coastline. Don't try to head directly to the shore, this won't help you get out of the rip tide. So be patient and move horizontally to the beach until you are out of the rip tide.
Our Cabana
After swimming, I walked back to the house to grab my Kindle and sat by the pool and read. We always ate dinner together but didn't eat all our meals family style. Self-serve meals are the norm which I thought was a splendid idea. We all bought food and things to drink, so we shared the supplies that we had.
The Grounds
The gated grounds are magnificent. There are palm trees, orchids, and butterflies all over. Butterflies hide in the heat of the day. So go butterfly hunting early morning starting at sunrise or at the end of the day before sunset. Butterflies need a temperature change and a breeze to soar. We saw more butterflies at Laura's home than we did at butterfly farms.
Our Garden
Back at the Pool
Blissful Costa Rica's Beach Trip
By the time the week was over, I had read a lot of books. Seven books to be exact. When on vacation, do whatever you have to do to make the time exceptional. This might mean you don't do very much at all. Vacations don't have to be about doing activities. Sometimes vacations are just sitting around. Make the moments special, with special friends even when you are sick. Get into the spirit of the day regardless of how you feel.
I am happy my hostess is so accepting and willing to take me as my sick body is. Surely we both wished I could get well quickly. My hostess is so laid back – that she left me to my books. At meal time, we all helped and cooked together. The others did a hike without me. They hired a private guide. She has a book at the house that provides local things to do such as, horseback riding, deep sea fishing, surfing, and zip lining.
Relaxing by the pool and walking along the beach, was as much as I could do. Along the beach, I found shells and sand dollars. The best holiday – even when sick as a dog can be tons of fun and make great memories.  After all, there is no better place to be sick. Very luckily, and thankfully no one else caught my cold. So, everything worked out well.
Travel Tip: Always have your Kindle up-to-date with your favorite books
Copyright © 2023 Capetown-Rio, Inc. USA. All rights reserved. Republishing is allowed only with written permission. All photography rights on this page belong to Capetown-Rio, Inc. and the author. Do you have a question, business proposal, or speaking opportunity? Please contact me here.