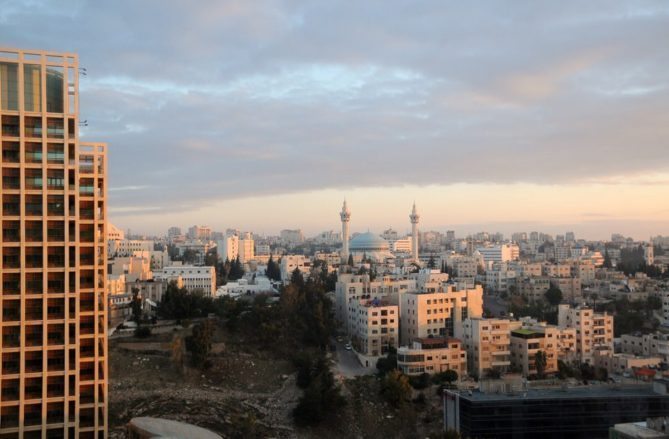 Katherine Green
Amman
Amazingly White Amman Jordan
By
|
When my work took me to Amman Jordan, my plan was to visit my Microsoft Partner Accounts and then visit my two friends I worked at Microsoft. These two people were Wajeeh and Anas. The people of Jordan are very polite and generous. To Wajeeh and Anas, a big thank you for showing me the two sides of Amman Jordan. I feel like a local now because of the two of you.
Amman, Jordan, Two Views. An Amazing Experience!
My visit showed me two views of the city. One viewpoint was from Wajeeh, a Christian Palestinian, who left his homeland, and now calls Amman, Jordan home. The other view of the city is from Anas, a native son of Jordan from a prominent family who has lived here for centuries. His father is an amazing man who taught at University and brought Anas to Seattle when he was younger. The one thing that stands out to me is that Amman, Jordan is very different from Seattle. In Seattle, you don't see camels along the road!
Security
During my first visit to Amman, Jordan, I stayed at the Intercontinental. My hotel security was tight. They always searched the cars whenever they entered the parking lot. Before I entered the lobby, a woman would search me. Without fail, my bags and I were searched every time I entered the hotel. You have to stay at a high-security hotel. There is no compromise or guarantee about security these days, you have to be willing I feel to travel at your own risk.
Wajeeh AL- Mesherky met me at the hotel for breakfast. We talked about work and what he thought I should see. He made a checklist for me because the day was fully booked. We set a time to meet later in the day to walk around Amman.
Recommendations from Locals in Amman Jordan
Later in the day, I meet with Anas Atiyyat in the lobby for coffee. He brings along a colleague from work as a show of respect, by not meeting me alone.
Anas' manners are impeccable. He is meticulously dressed and respectful in every aspect of our meeting. His exceptional British high-manners style, emphasizes the difference between the US casual business style and his more formal Middle Eastern style.
Wajeeh 
Al-Mesherky

 – 

Jordan Sites

Wajeeh's recommended sites include Roman ruins – the Temple of Hercules at the Amman Citadel, the Roman Theatre, the Odeon and the Nymphaeum.

He also suggests the Jordan Museum artifacts that date back to 7000 BC.

Here is Wajeeh at the Citadel
Anas Atiyyat – Jordan Sites
Anas's sites include a large palace on the Amman Citadel Hill, known today as the Umayyad Palace. Then Qasr Al-Abd (Castle of the Slave) which is southwest of Amman, the town of Salt in Jordan and Petra – a UNESCO World Heritage site, a two-hour drive from Amman. He and I also recommend Wadi Rum – a UNESCO World Heritage site.
Weather
First, the weather in Jordan is always hot compared to the weather in Seattle. However, it isn't as hot as I imagined. At night in Amman Jordan, there is a breeze. Sometimes there are heat waves, but when I was there, the weather was lovely. Amman's cool evening breeze made all the difference for me.
Business
Amman's new building projects continuously transform the city's skyline.  This is the business hub of Jordan. Amman is the 4th most visited Arab city. Because of this, only eight other Arab cities have more foreigner spending. International visitors spend a lot of money in Amman.
Architecture
I think of Amman as the white town. My friend, Wajeeh, tells me that building code requires white concrete construction for all new buildings. The building code maintains the historic character of Amman – so the city looks like a sea of white. The city remains true to its old style.
Amman Jordan
Amman is considered one of the most liberal and westernized cities in the Arab world.[5][122] The city is one of the most popular destinations for Western expatriates.
The city has lots of falafel joints, embraces traditional western restaurants and fast-food restaurants (McDonalds, and Kentucky Fried Chicken)  and for 'foodies' has Asian fusion, French bistros, and Italian trattorias. The city is famous for an excellent dining scene.
Foodie Paradise
The next day, Anas took me to dinner at his cousin's restaurant. We filled up on yummy, hummus, falafel, salads, lamb kabobs and platters of colorful roasted vegetables. You won't find alcohol in most restaurants – though you can order it in clubs and bars.
Amman, Jordan "Best Cities" in the Middle East
Amman, Jordan is considered according to experts,  one of the "Best Cities" in the Middle East and North Africa, according to economic, labor, environmental and socio-cultural factors. I found it to be a great trip and I have gone back several times. However, I was with friends and because of this, my view on safety might be different than most tourists.
Diversity
Lastly, Amman is diverse and has all levels of incomes. Affluent neighborhoods, the US Embassy area, and poor communities are all located in the city of Amman. Because of this diverse population, Amman is a city of rich textures, sights, and sensations.
Amman Jordan See Everything in Jordan
Finally, from Amman Jordan, you are able to travel to many of the fantastic sites in Jordan. I was fortunate enough to see all the sites Wajeeh and Anas suggested. From your hotel in Amman most places in Jordan are reachable as day trips. It's a small country.
Therefore, a day trip to anywhere in Jordan is possible. Enjoy your time in Jordan, I did.
I went back I liked it so much!
Copyright © 2023 Capetown-Rio, Inc. USA. All rights reserved. Republishing is allowed only with written permission. All photography rights on this page belong to Capetown-Rio, Inc. and the author. Do you have a question, business proposal, or speaking opportunity? Please contact me here.