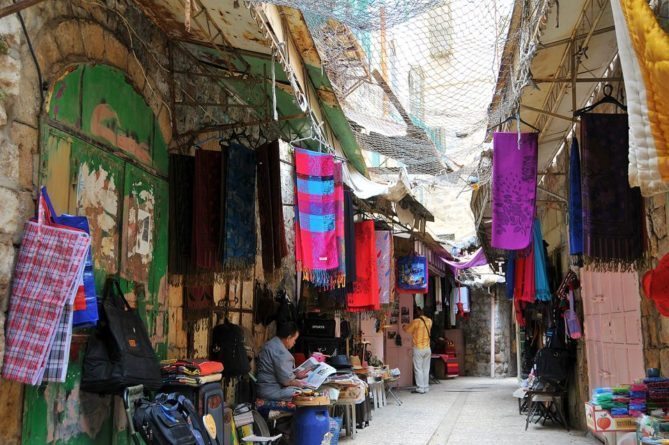 Feature
Experience Empty Streets – Hebron Walking Tour
By
|
After my Memorable Drive to Hebron, my guide gave me a Hebron Walking Tour. I was looking for ancient coins, shops in caves and graffiti, in Hebron, I took a walking tour. Walking Tours are my favorite type of trip and Hebron was no exception. My guide, Elias (Grace Tours) showed me more of Hebron than I ever expected to see in one day. His relaxed attitude and the local atmosphere gave me the chance to talk to people. The tour started with a drive from Bethlehem to Hebron. We drove around Hebron, visited the religious sites and then took a walking tour through the market.
Hebron Walking Tour
The Market is Empty
When I go walking, I love to talk to the residents about everyday things. This is an excellent tour for travelers who want to immerse and to meet local people or for solo women travelers who want to shop.
Ancient Coins
We began our Hebron walking tour looking for Palestinian coins, which may be real or fakes. Beware of fake coins are abundant here so shop with someone that can help you buy real coins. If your guide is not reputable, you can easily buy fakes. Elias loves to shop for ancient coins. So, shopping for coins becomes our mission! He is a coin expert so if you are looking to buy coins shop with him. He can help you.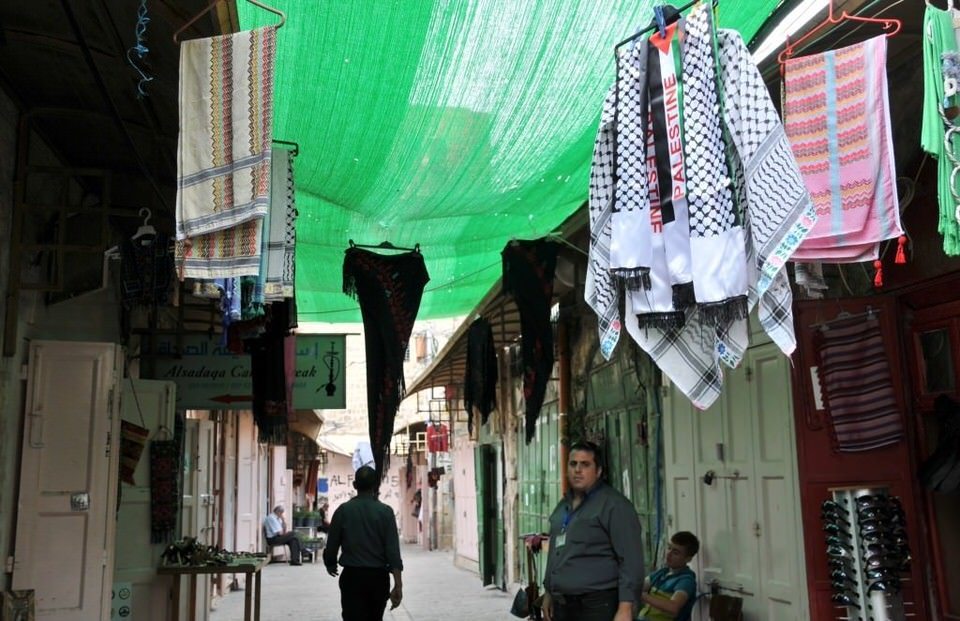 Bored?
I think Elias is getting bored with my many stops to take pictures. Doesn't he look a little tired in the photo?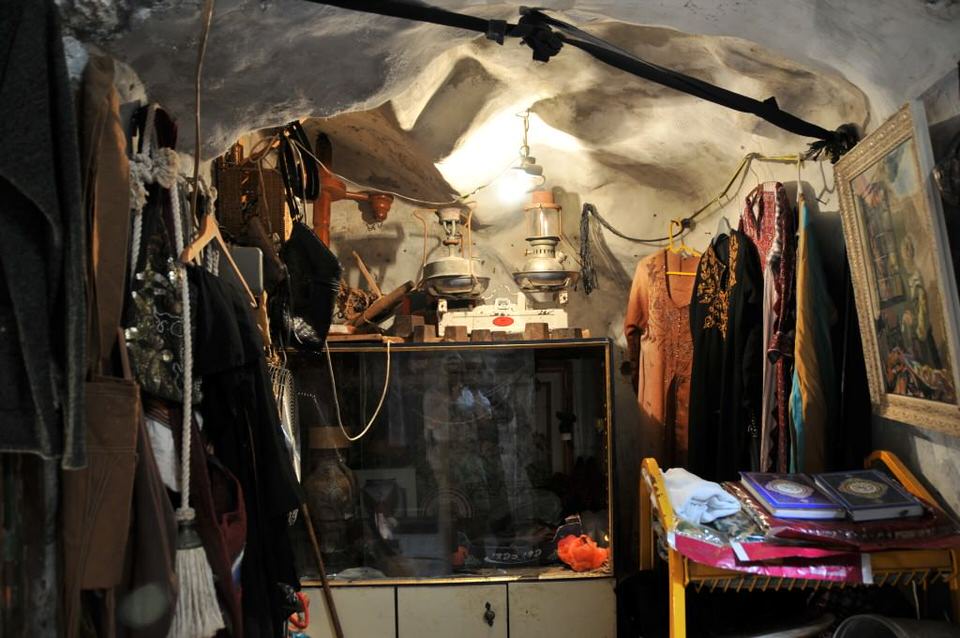 Shops in Caves
Woman Shopkeeper – It's Cold in a Cave
Yes! A Cave
The shops have been here for a long time. Elias bought some coins and told me they were an excellent deal. He asked if I wanted to buy some coins. No thanks – I do not buy souvenirs especially if I do not know anything about what I am buying. I don't know anything about buying coins.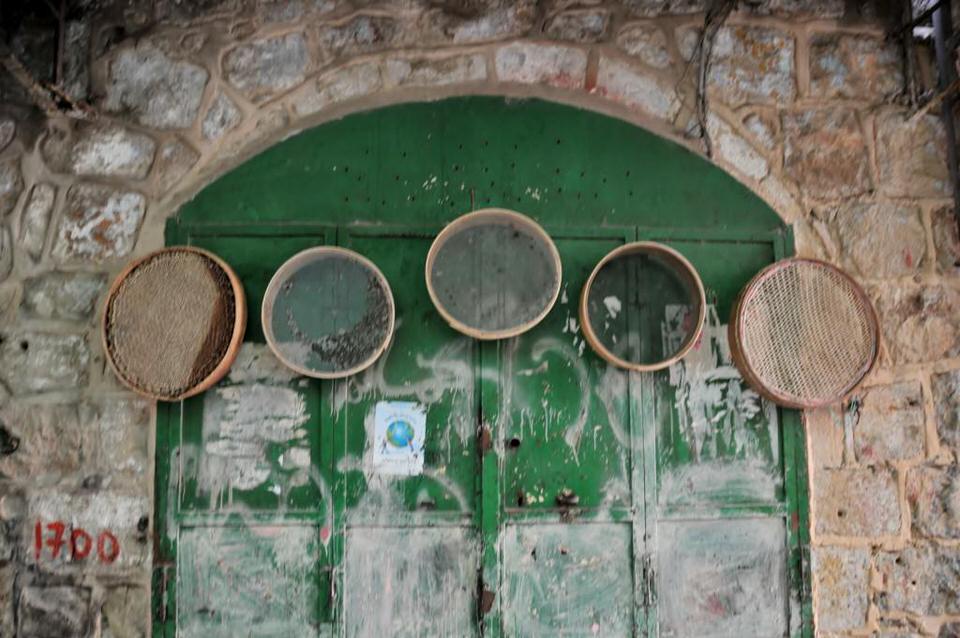 Pots and Pans
We continued our Hebron walking tour. If you are interested in Jewish, history sign-up for Jewish tours. Here is more information – Hebron Walking Tours.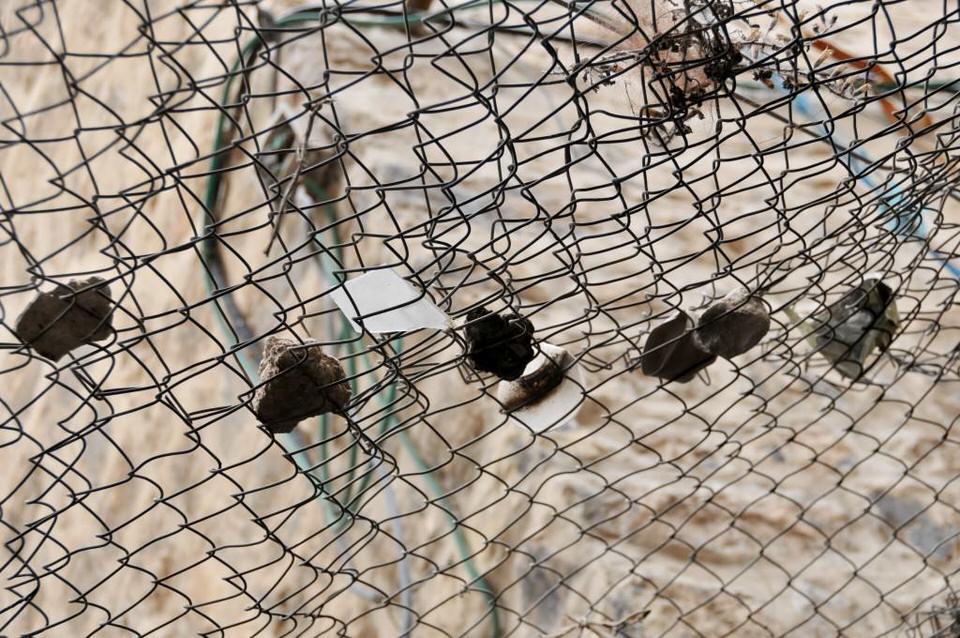 Wire Ceiling
When I looked up, I saw wire overhead. The cable provides a structure for a canopy when the weather is exceptionally hot in June, July, and August. But it also serves another purpose. Apartments above the market throw garbage out their windows. The canopy protects the shop's owners from the overhead garbage thrown into the market.
Military Service
Everyone must do military service in Israel. Some Israeli soldiers assigned to Hebron were very relaxed and kind to us. They were there because this is a Walled City that guards the Aida Camp, the religious sites and Tombs of the Patriarchs.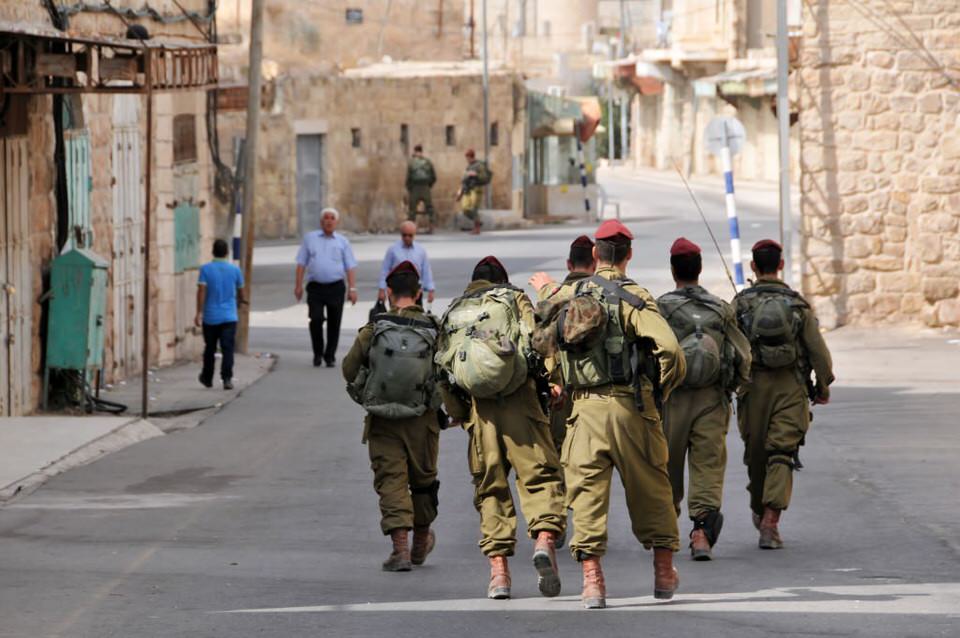 Graffiti
Like other cities in Israel and Palestine, street art and graffiti is everywhere. Graffiti is 100% political in Palestine.
You don't have to go to an art museum to find art in Hebron. We find it everywhere. Continuing, on our Hebron walking tour, the two things I notice are a lot of cats and Arabic tagging.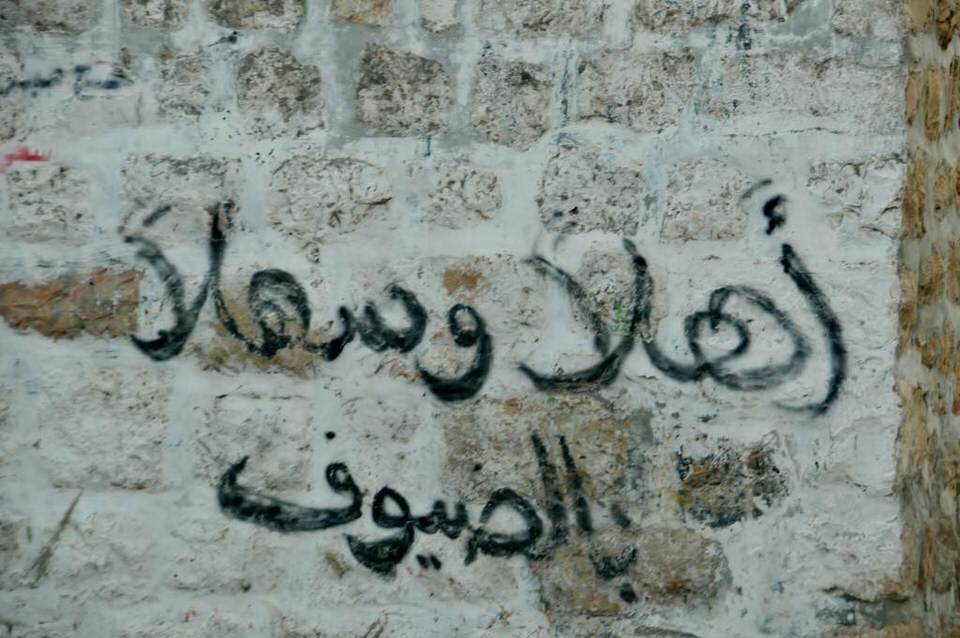 More Arabic Tagging
I don't know what it says. I hope it's nothing naughty.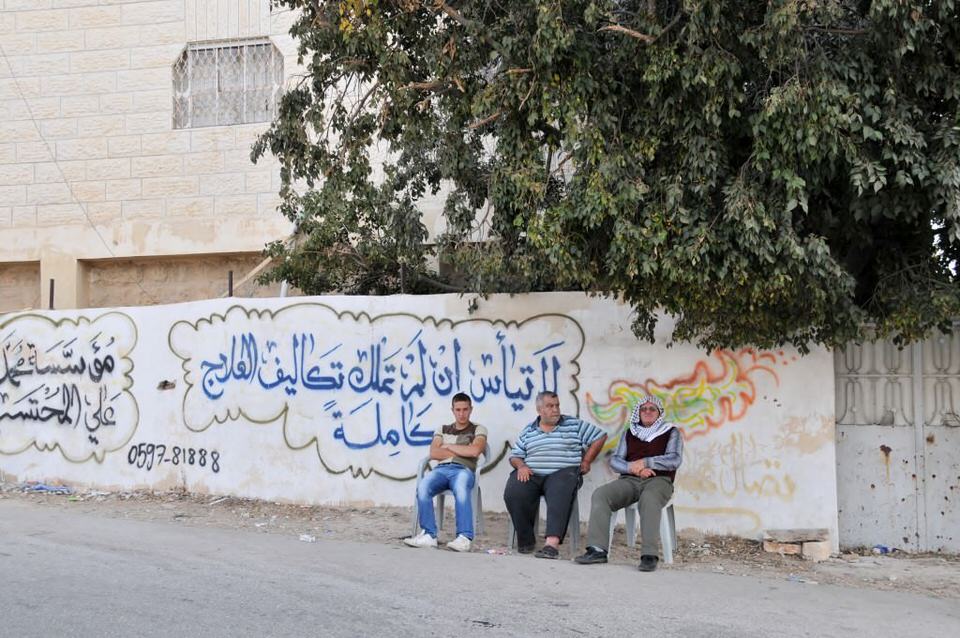 Street Scene
Gentlemen were sitting and waiting, just hanging out. This is a typical scene. The street scene reminds me of the men in the South or even New York City. Men were sitting in chairs, outdoors, close to the street, talking, watching and waiting. Are they waiting for something to happen? Do they just like to sit and watch people passing by, hard to know what's going on this photo? The scene seemed to be like any city except for the Arabic tagging in the background.
Everyday Life
We finished the walking tour and drove through other parts of Hebron.
Driving through Hebron, Elias pointed out the butcher shop. The butcher was getting ready for the big holiday coming up – the Feast of Eid Al-Adha. The Feast of Sacrifice, remembers Abraham's sacrifice faithfulness and obedience, now in remembrance Muslims sacrifice animals, such as cattle, goats, sheep. The meat shared from the sacrifice during the 4-day festival is a sign of charity. At this butcher shop, the camel heads displayed show excellence.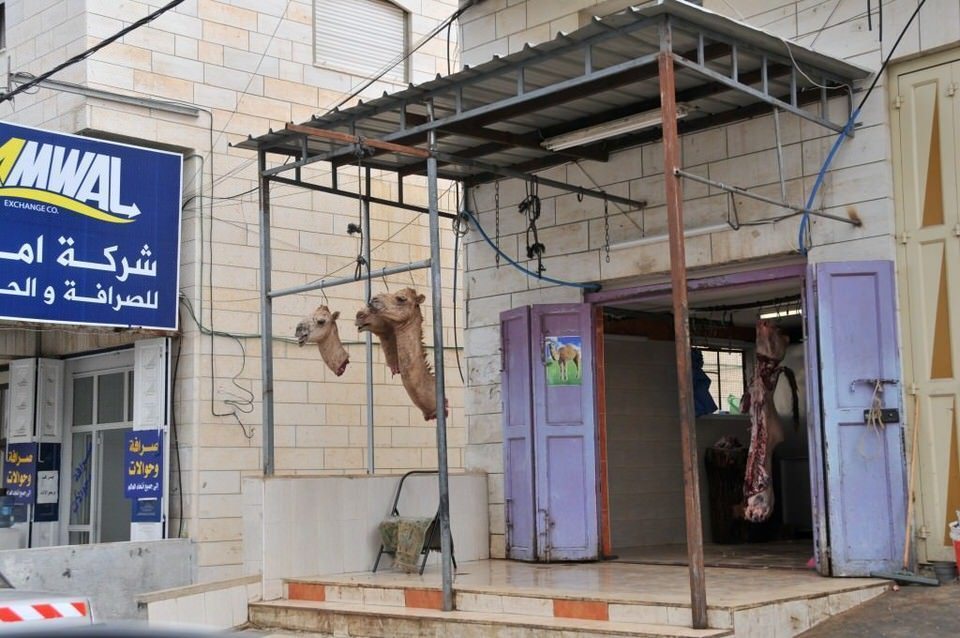 Palestine's landscape Looks Desolate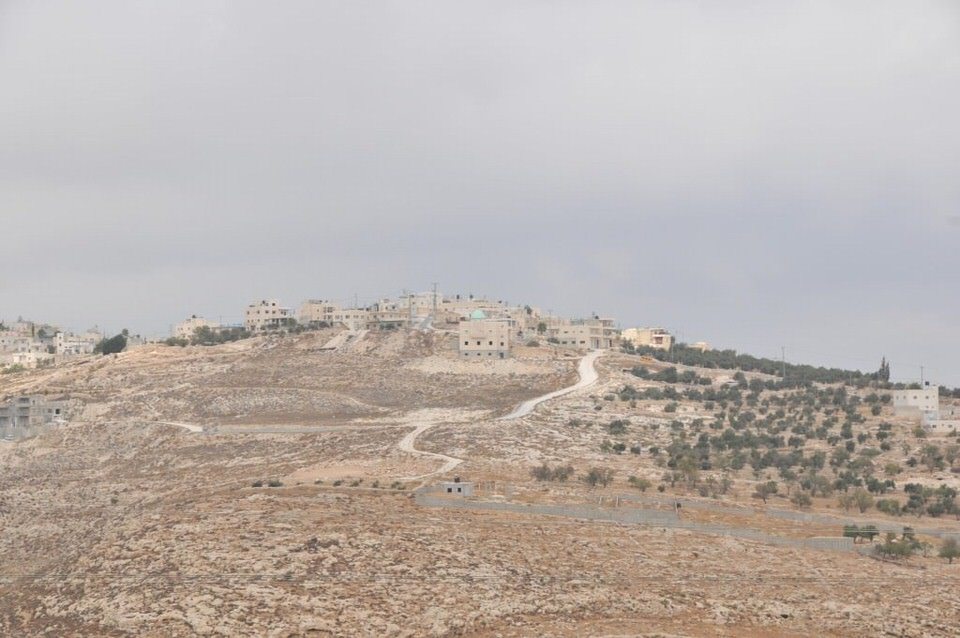 Look Closer
There is Ancient Roman Terraces.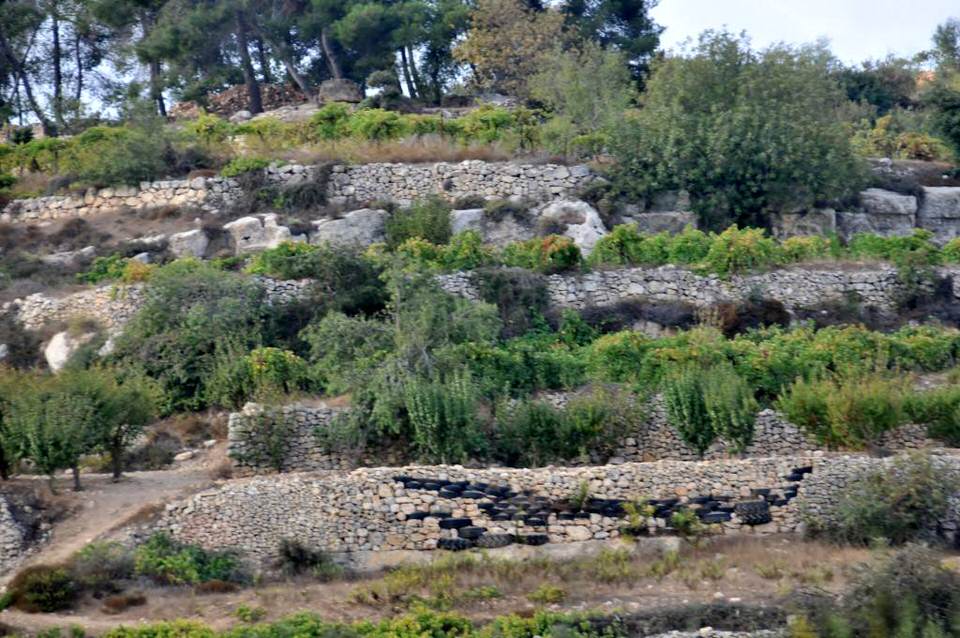 Israeli Side
There are lush gardens and beautiful homes.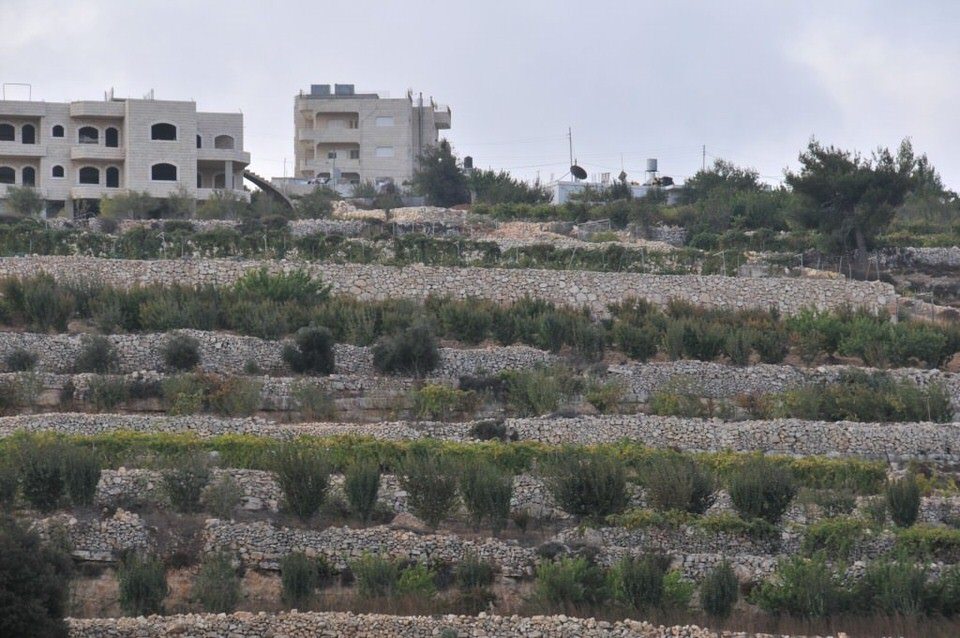 Heading Back to Bethlehem at Dusk
Before heading back to Bethlehem, we had a few more places to see. We stopped at the Peace Center and a glass making shop. A long day filled with many sites, interesting people and a culture different than mine. Most of my travel days packed with this many activities become a blur to me. I get so tired; it's hard to recall all my feelings. However, these experiences were overwhelming to me.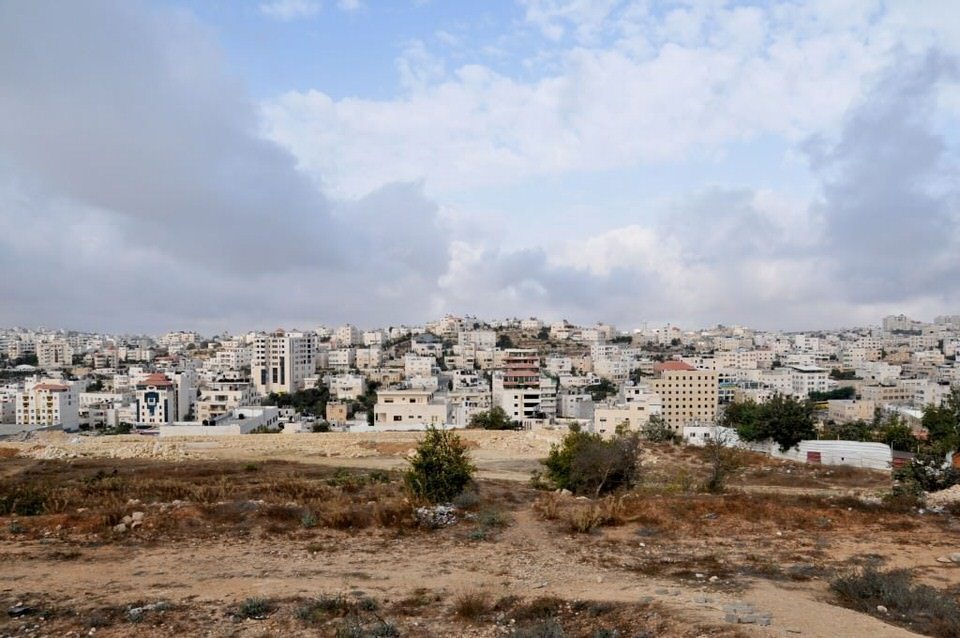 The Glass-making Shop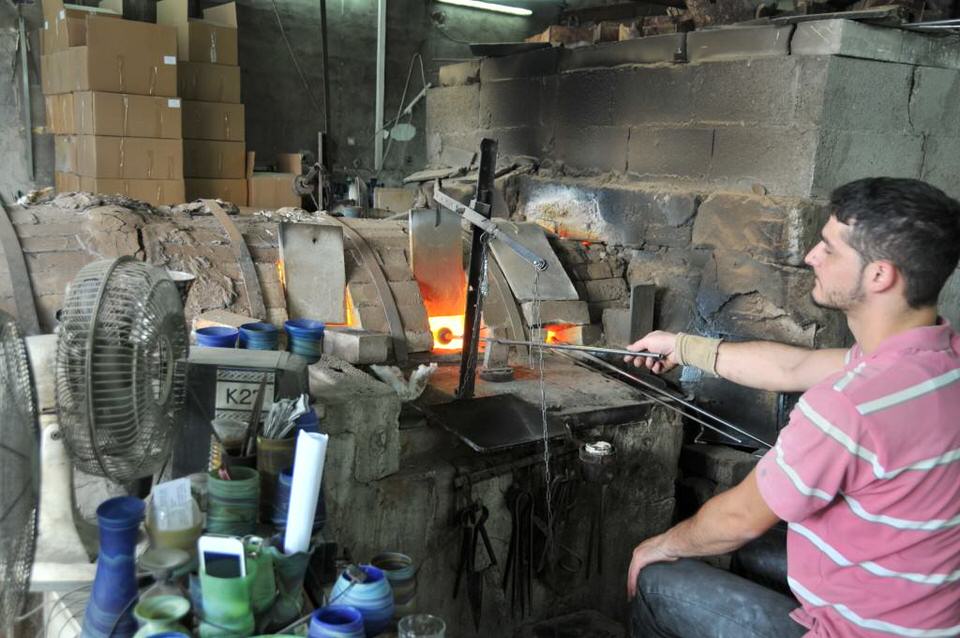 Hebron – World Famous Glass Making
Hebron once was the glass-making center for Europe. When Western Europe began modern glass manufacturing, the Hebron method became obsolete because it is less efficient. Today, Hebron glass is too expensive for export, so tourists and residents buy the glass.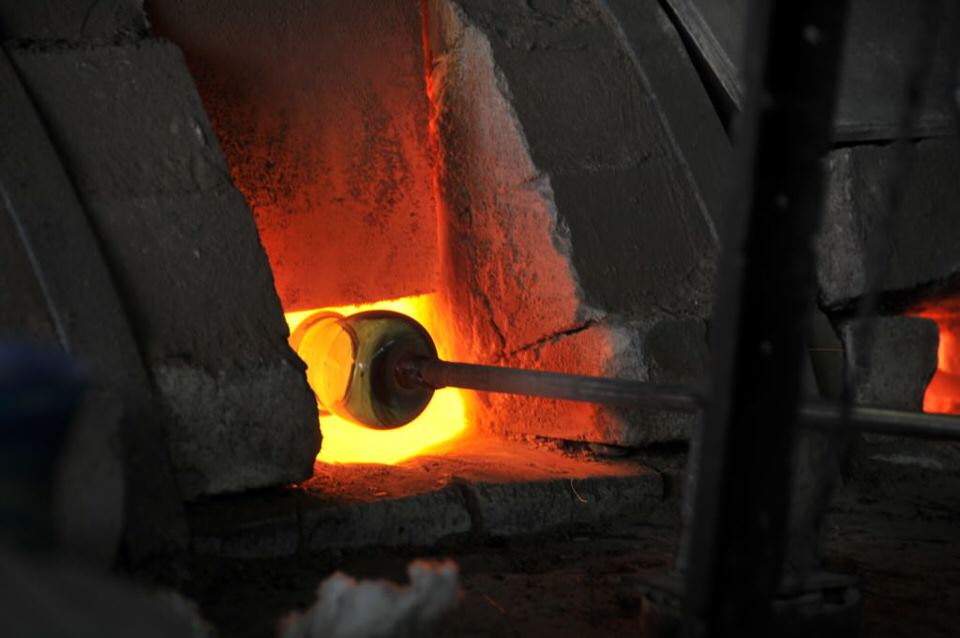 Sundown – Heading Back to Jerusalem
If you are in Israel, do not miss out on going to Hebron. Be sure to take the time to see the religious sites, visit the markets, eat the food and talk to people you meet. Thanks to the introductions from the St. Mark's congregation, Hebron is a place where I meet a lot of individuals. I didn't buy anything, and in hindsight, I probably should have bought something to be supportive. It is humbling how generous, warm and generous the individuals are that I met. I genuinely appreciate their hospitality to me.
Copyright © 2020 Capetown-Rio, Inc. USA. All rights reserved. Republishing is allowed only with written permission. All photography rights on this page belong to Capetown-Rio, Inc. and the author. Do you have a question, business proposal, or speaking opportunity? Please contact me here.