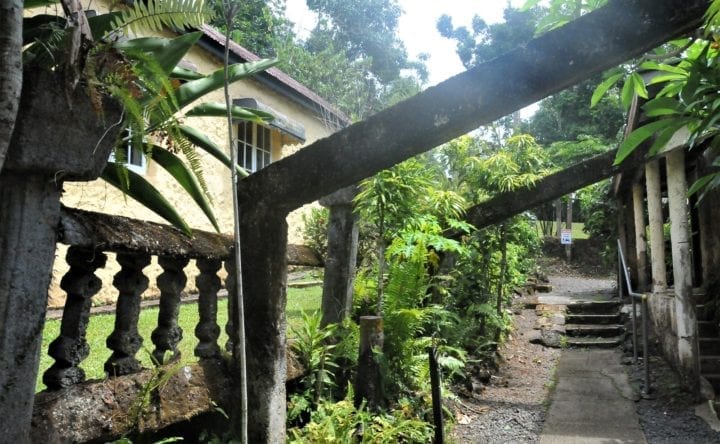 Australia
Tunnel of Love, Paronella Park, Mission Beach
By
|
Paronella Park is an Australian tourist heritage attraction located in Mena Creek, Queensland, Australia. South of Cairns, close to Mission Beach, the historic grounds are a romantic location with Spanish-inspired buildings. There is an old, vintage hydroelectric generator and waterfalls and a 'Tunnel of Love.' We were on a mission to find the Tunnel of Love in Paronella Park.
To The Tunnel of Love at Paronella Park
Grounds
Paronella Park has a park, hotel, and gardens. Stay at the park for a romantic holiday. The humidity was already extremely high for our early morning start. We dressed in our lightest clothes and tried to prepare for the heat of the day.
The Paronella mansion was once a beautiful home, but it has since deteriorated after all the humid years. In the higher elevations, a short distance from the park is tropical rainforests. The grounds felt like a jungle and Australians, especially from Queensland, are proud of the heat, humidity and this heritage attraction.
Gardens, Walkways, and Meandering Paths
The Old Family Home
Waterfalls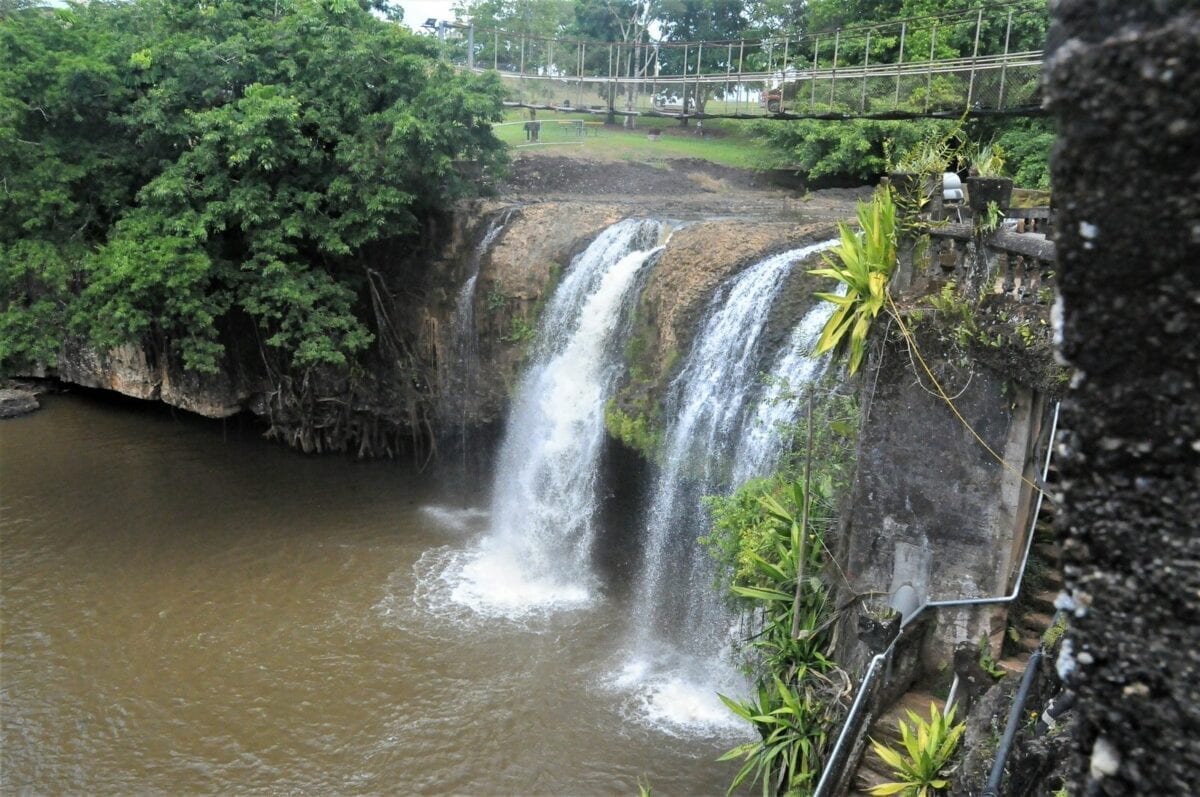 Pond

Hunting for the Tunnel of Love
Heath told me about the 'Tunnel of Love' and asked if I wanted to look for it. Who wouldn't want to see a 'Tunnel of Love'? It sounded like an excellent idea. We continued our walk through the garden spotting beautiful plants, flowers and critters. secret coves and hideaways, meandering paths, romantic jungle lighting gave the experience, an enchanted feeling.
Fish in the Murky Water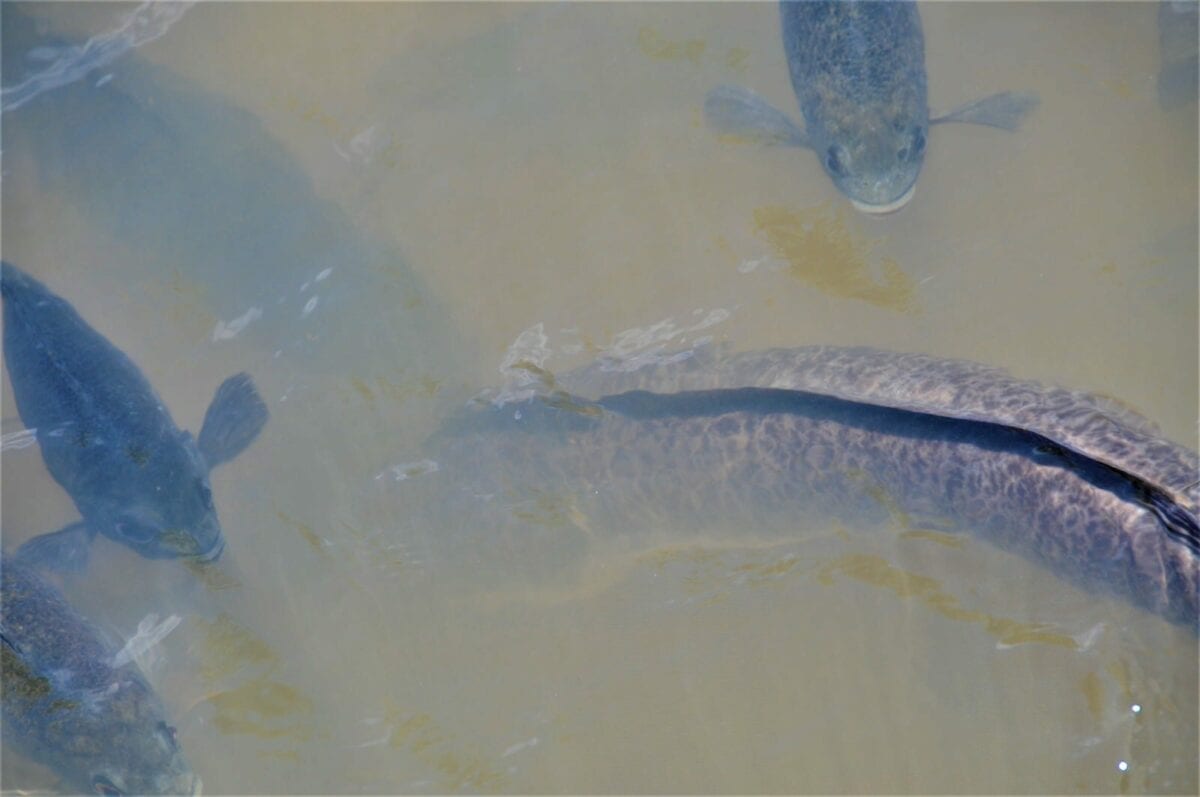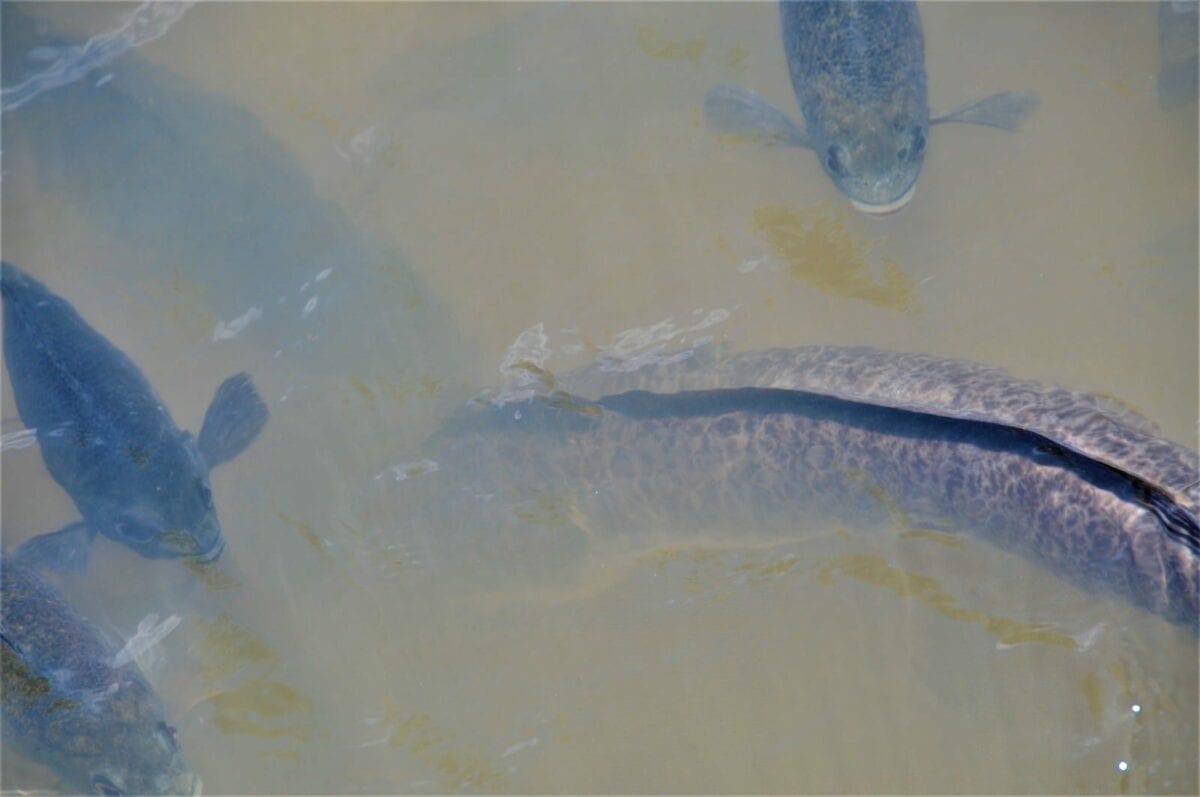 Turtles Melt into the Water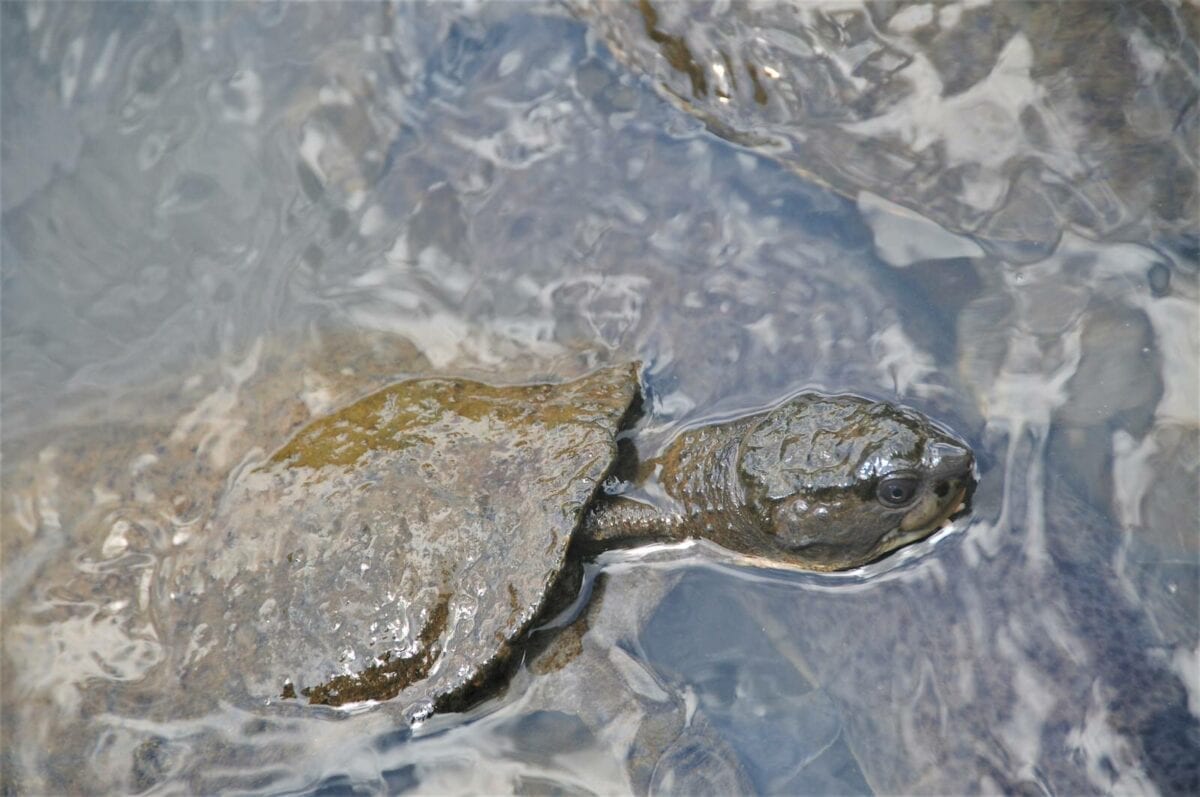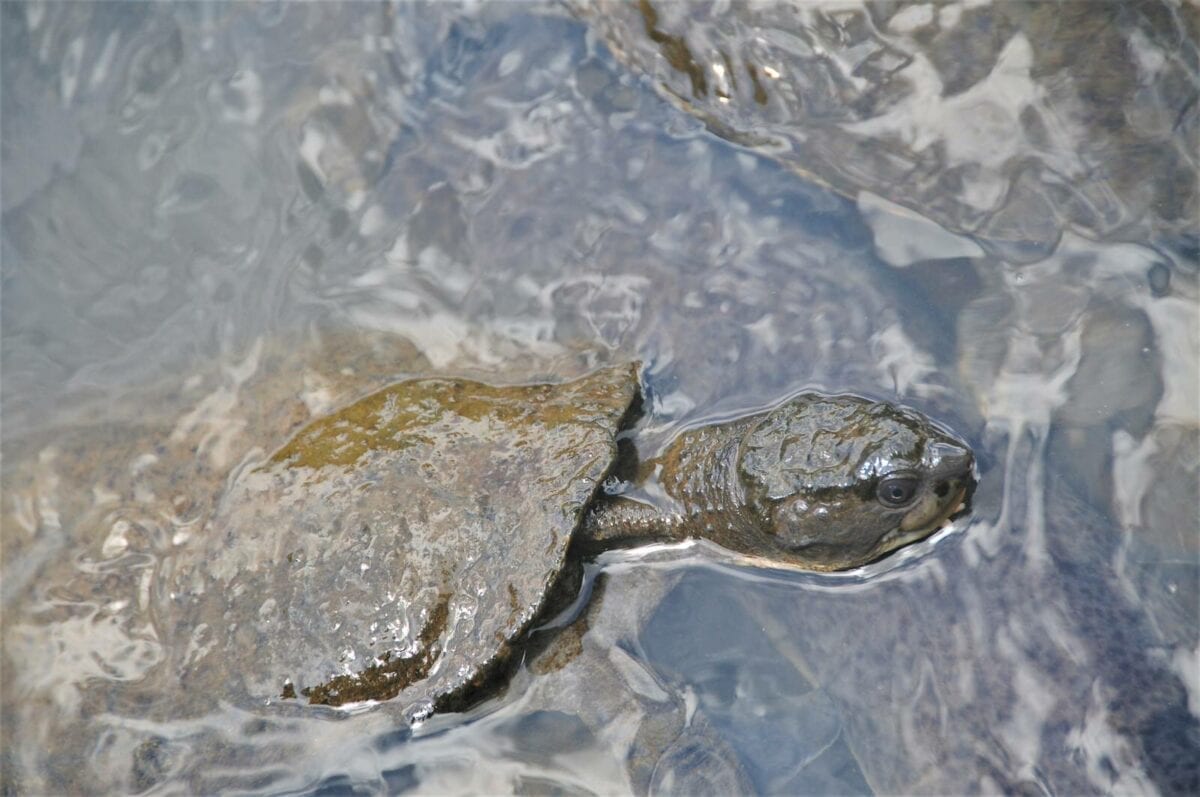 We saw some pretty creepy, slimy, looking animals, as we walked. Then, I noticed that things were degrading as if the further we went into the park and deeper into the jungle, the more overrun the grounds became. From nowhere, Australia's version of a turkey walks by and stops. The turtle just parked itself, blocking us, and look at us as if it was asking for our invitation. Then, as if he was mocking us, and asking, 'who said we could walk the path?'
Shall we carry on?
We stepped around the turtle – I hoped he didn't bite.
Australia's Version of a Turkey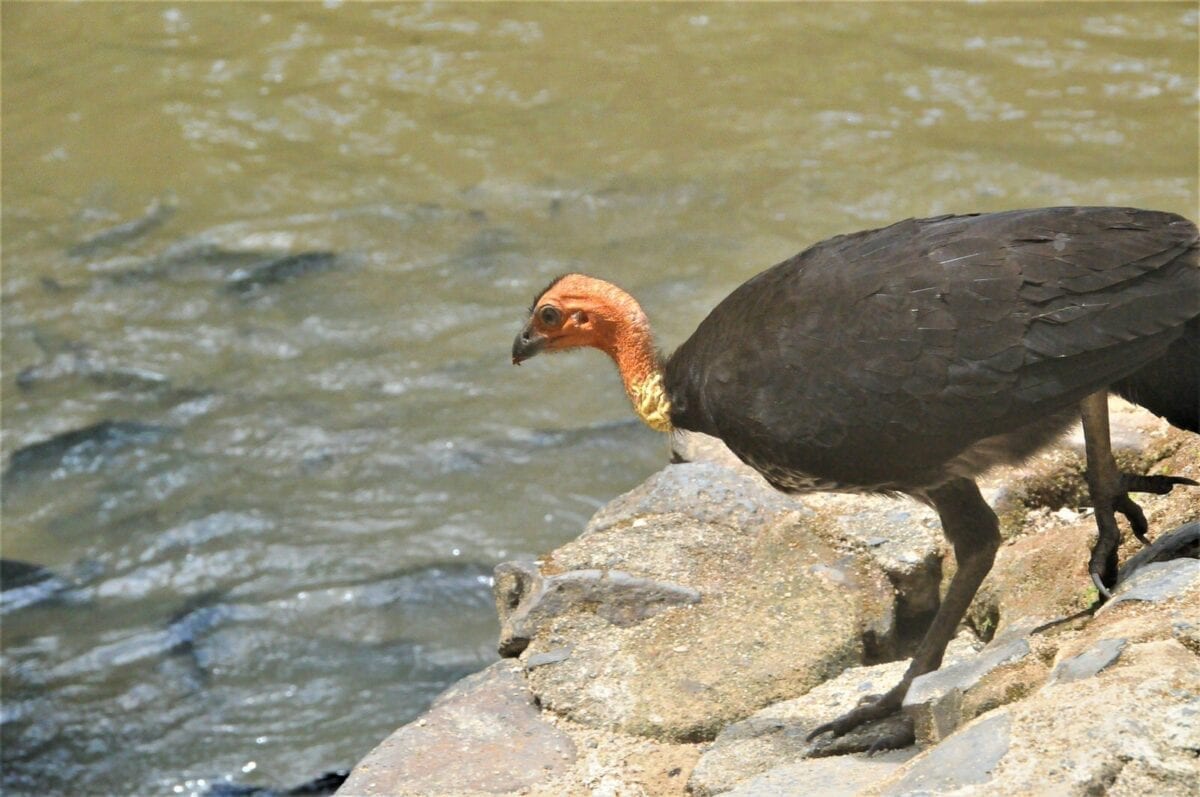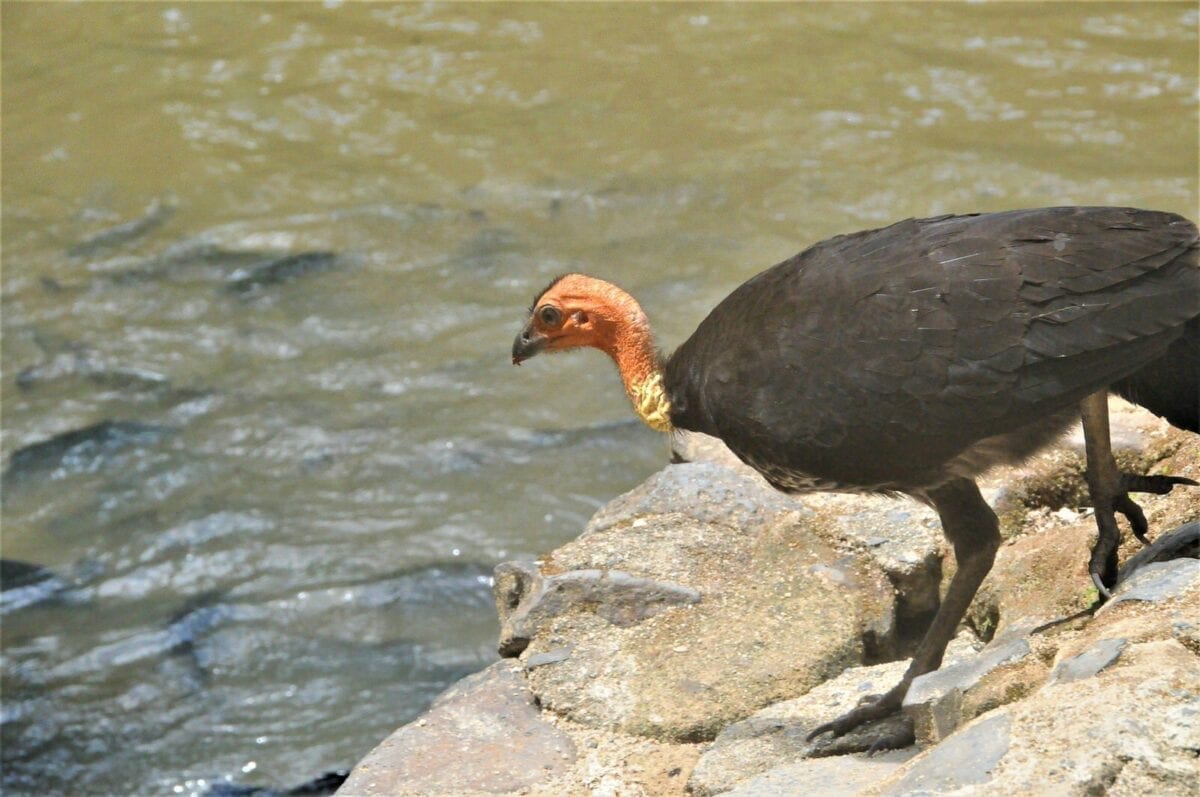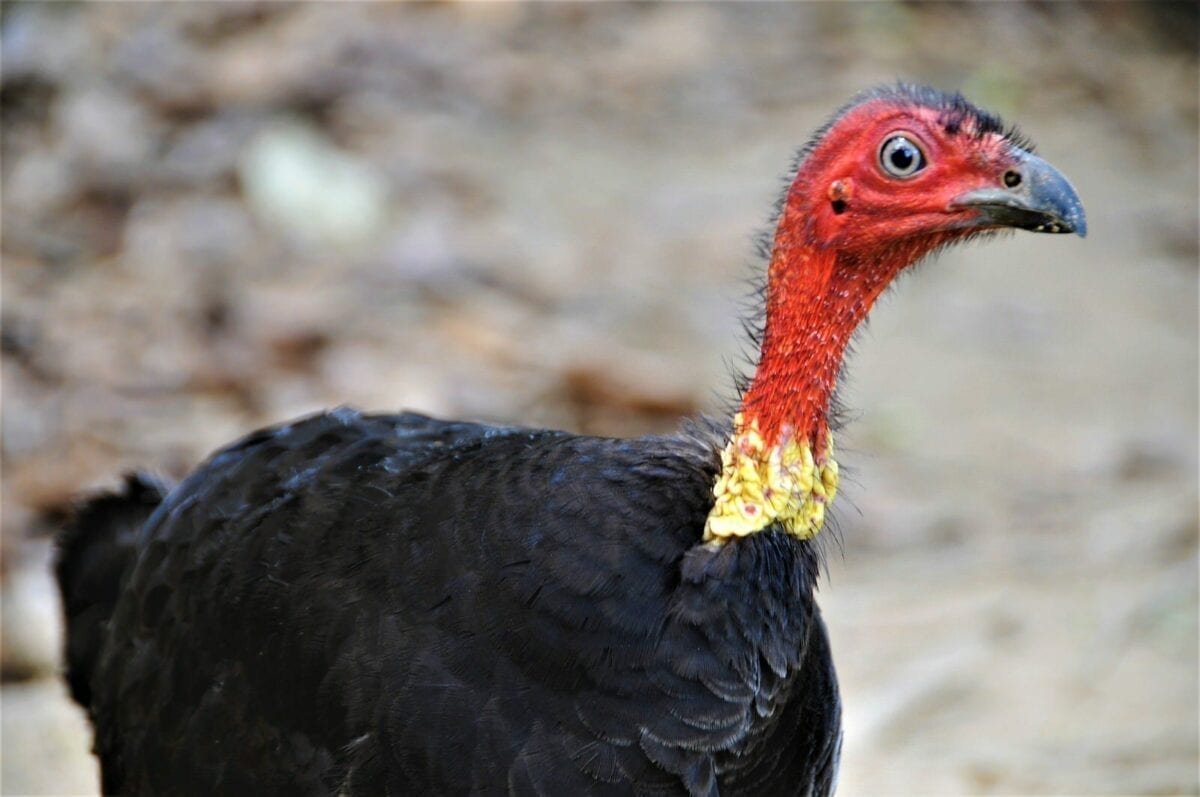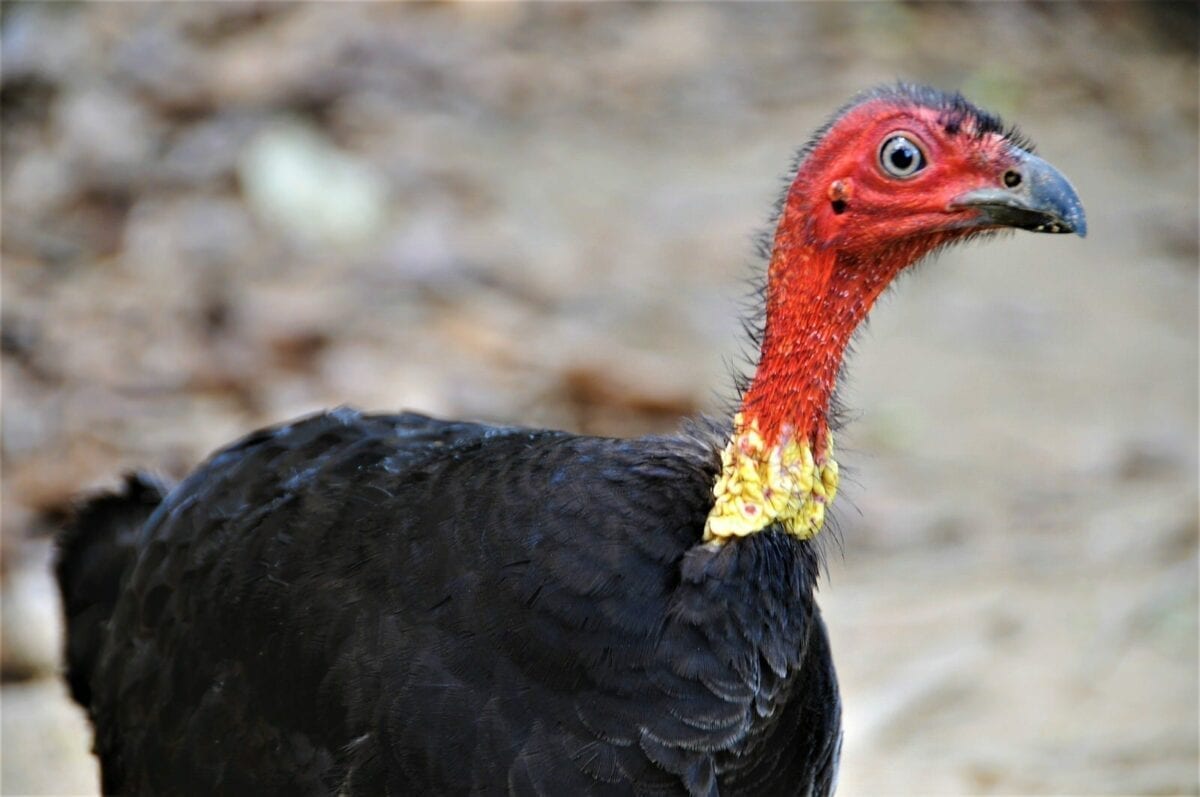 A Bench
We walked to a bench to sit for a break until we noticed it was covered with something strange to me. The bench was coarse to the touch, with shades of jade green, white splotches, and yellow blotches. We stared at it and each other, and commented, "This place looks like it needs some maintenance."
The old seat seemed like a memorial to the past. We didn't want to disturb the memorial and the history on it aka barnacles and growths, by sitting on it. Instead, we kept examining it. After all, it's called a heritage attraction, and maybe this is historical Australian.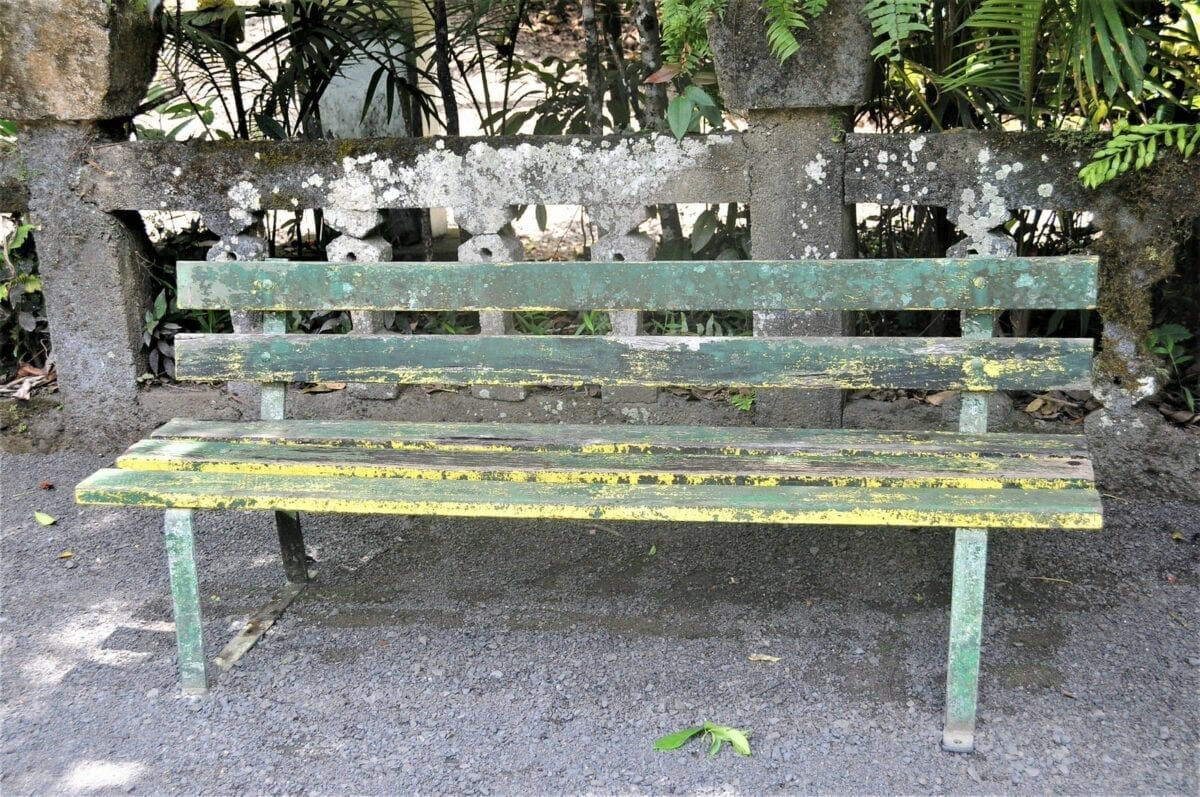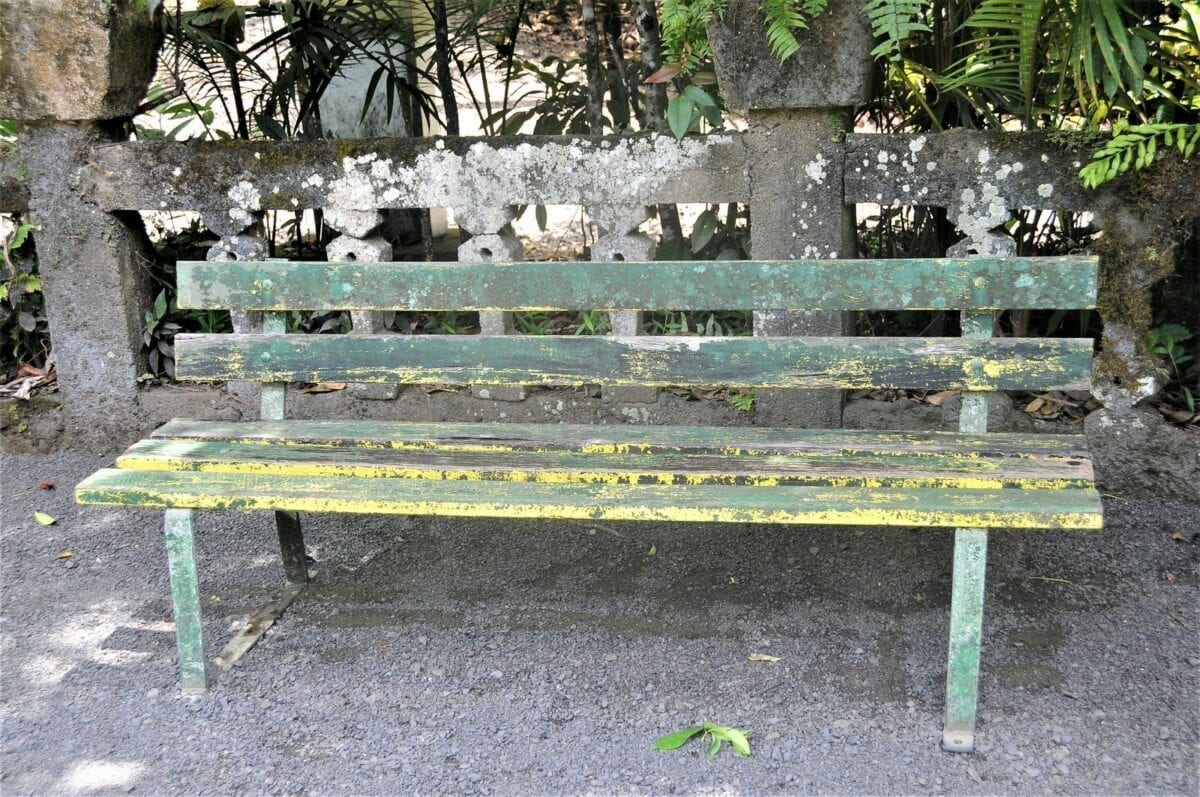 Surprise Guests
We turned around, looked into the woods, at the same time, we both spotted a sign. Considering this is a heritage attraction, I wondered why the crocs, weren't contained. People visit here with crocs wandering around. A Croc out and about in a park would make national news in the States.
Heath asked, "Do you want to keep looking for the 'Tunnel of love?"
'Sure, just don't leave me here alone, I don't want to meet any Crocs.'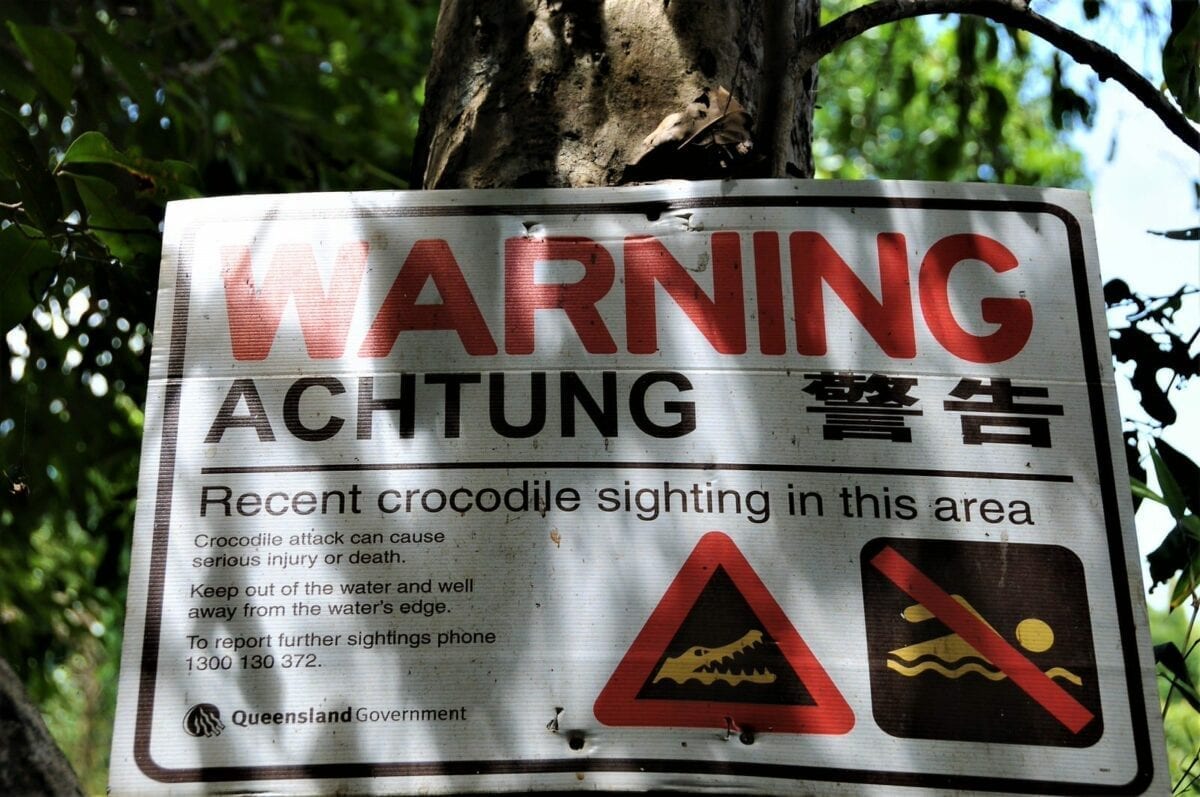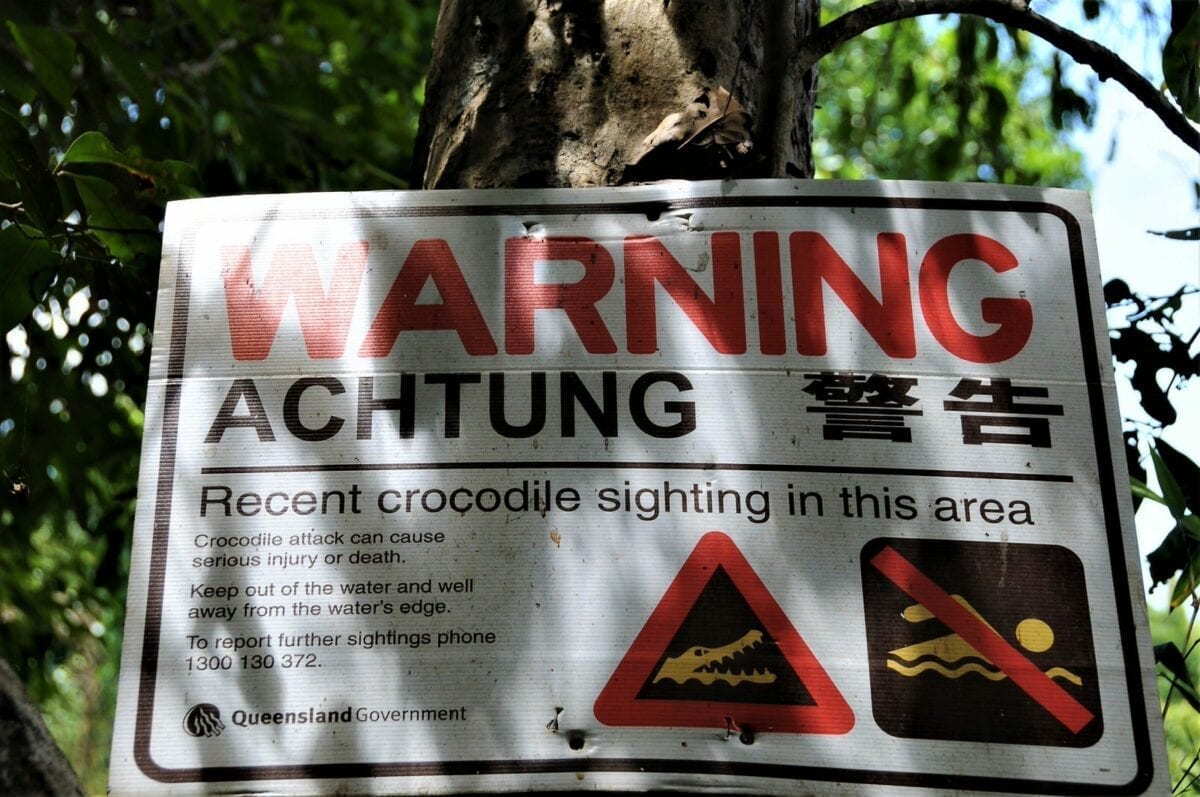 Spotted the Tunnel of Love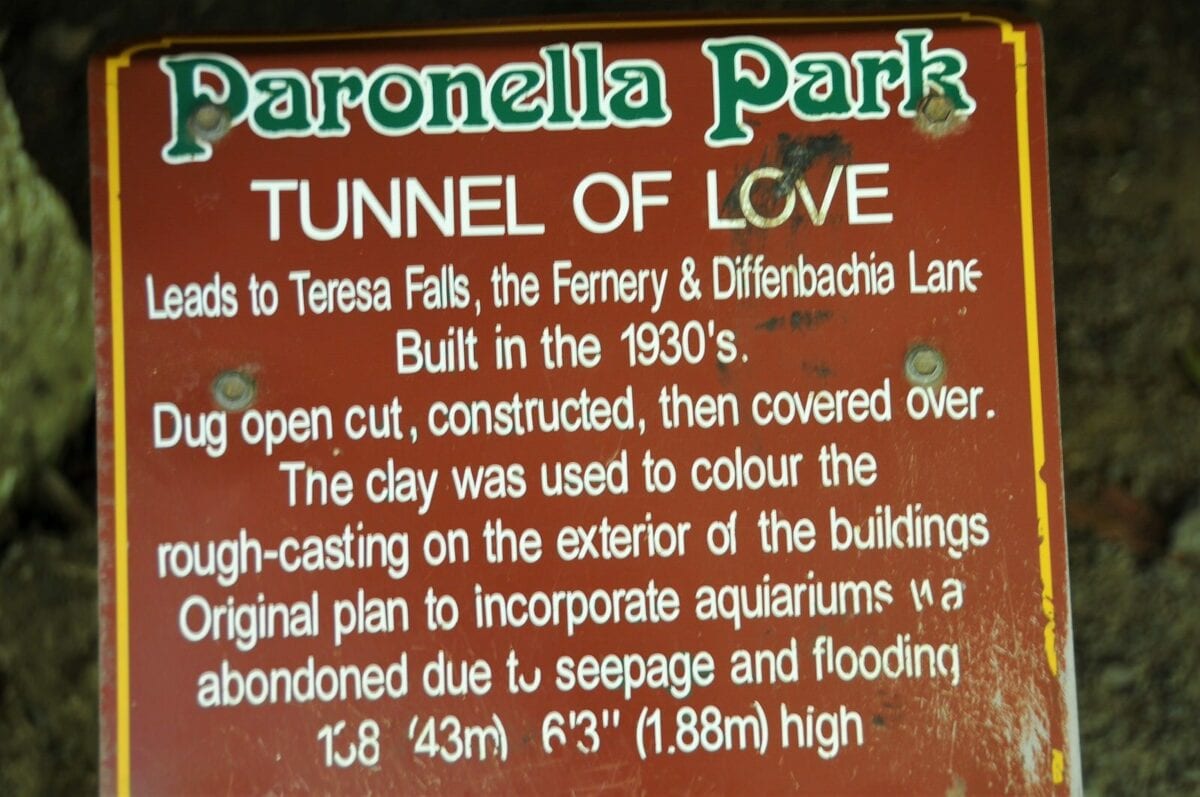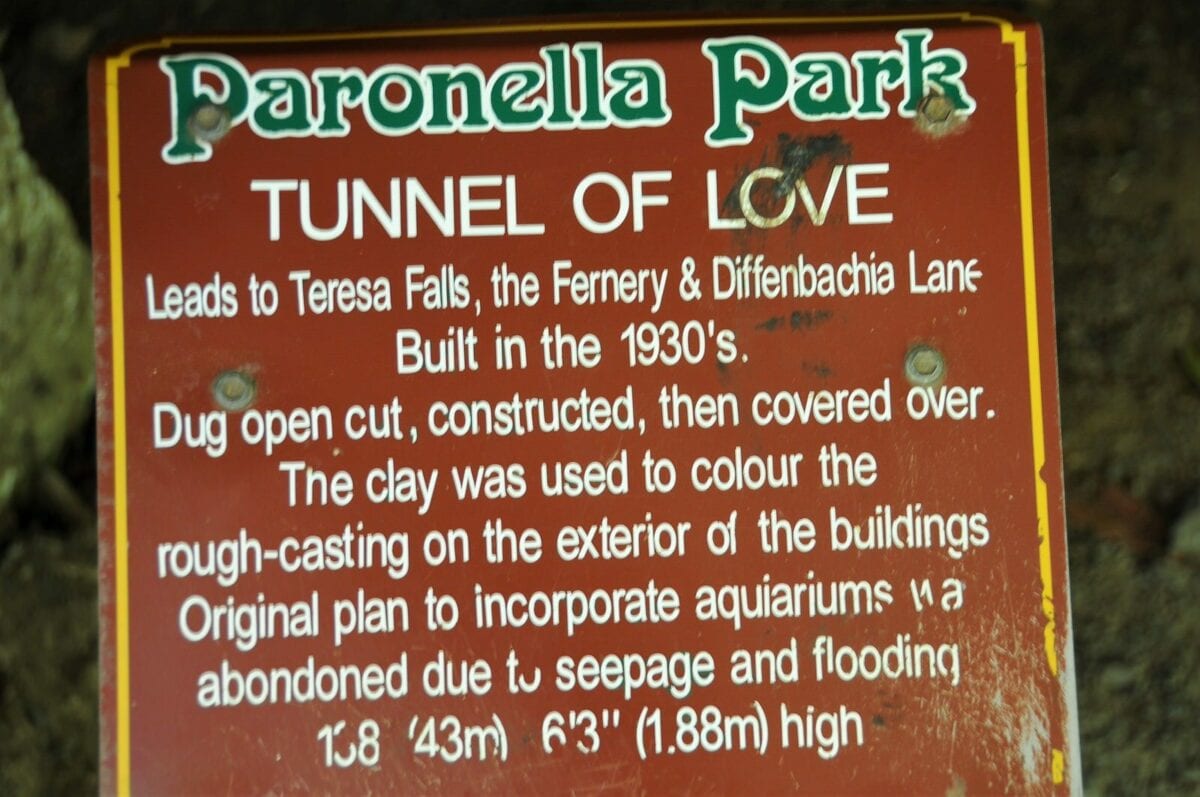 Everything we suspected was spelled out in the sign; good plans sometimes don't work out.
We entered the tunnel and walked a very short distance and then we saw one of the animals I dislike the most. Bats!
How can a "Tunnel of Love' be filled with bats? Not to romantic in my mind.
Bats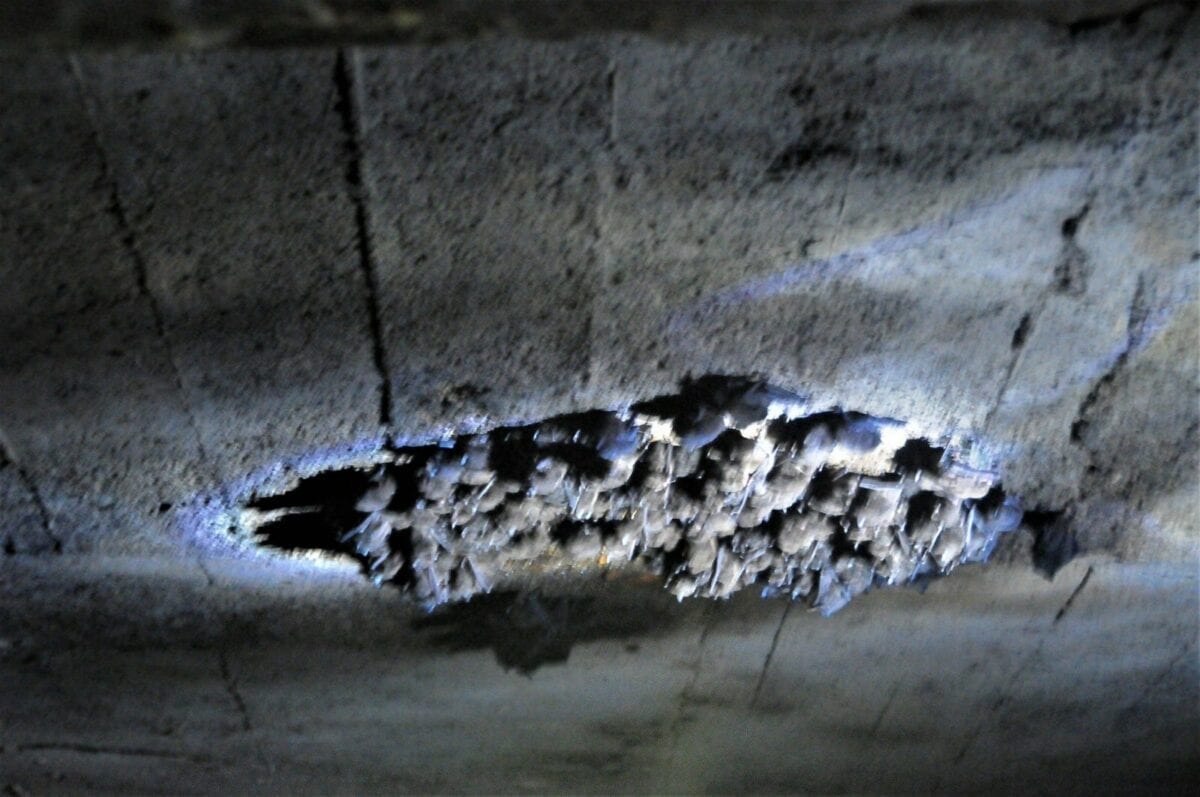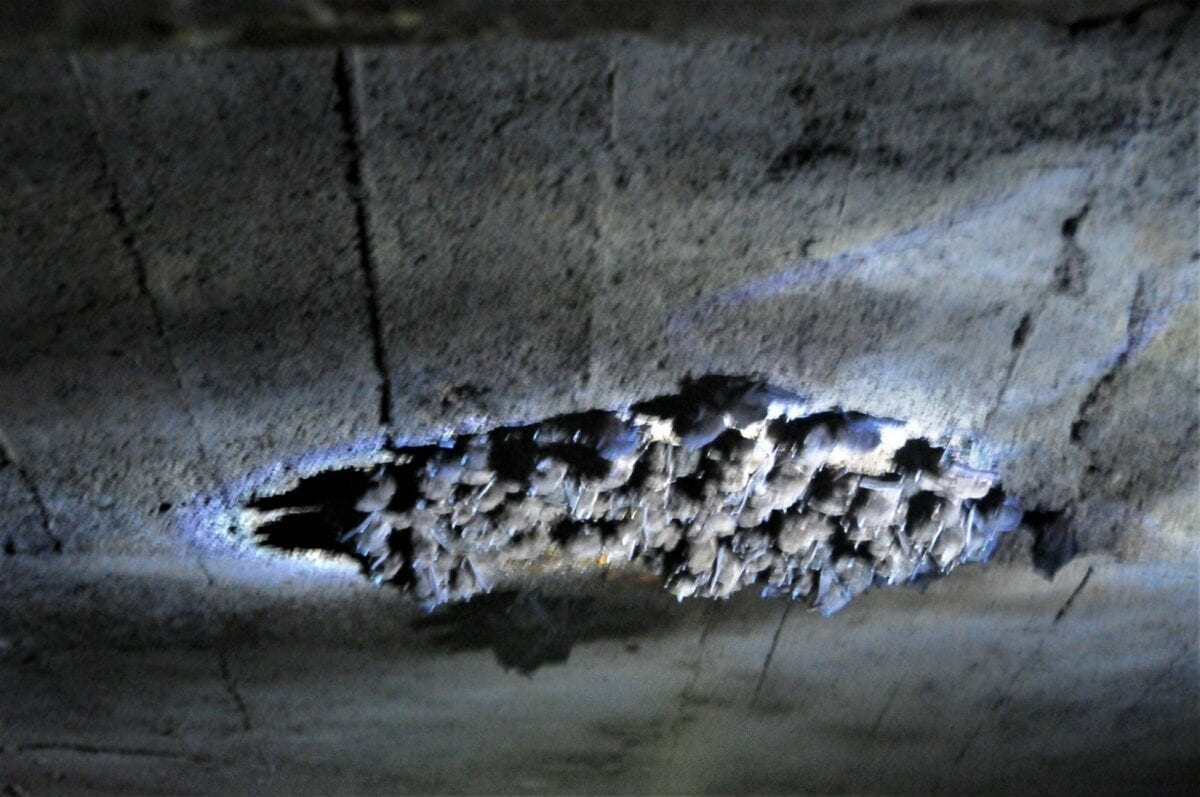 Leaving the 'Tunnel of Love', Heath took my hand and squeezed it, he could tell bats aren't my thing. We looked around and spied more bats.  Bats were everywhere. Man bats are not for me. The bats were in the trees, hanging upside down. They looked like black large leaves. Being here at dusk would be bat-central, bats were everywhere!  I squeezed his hand back, and couldn't wait to get out of here.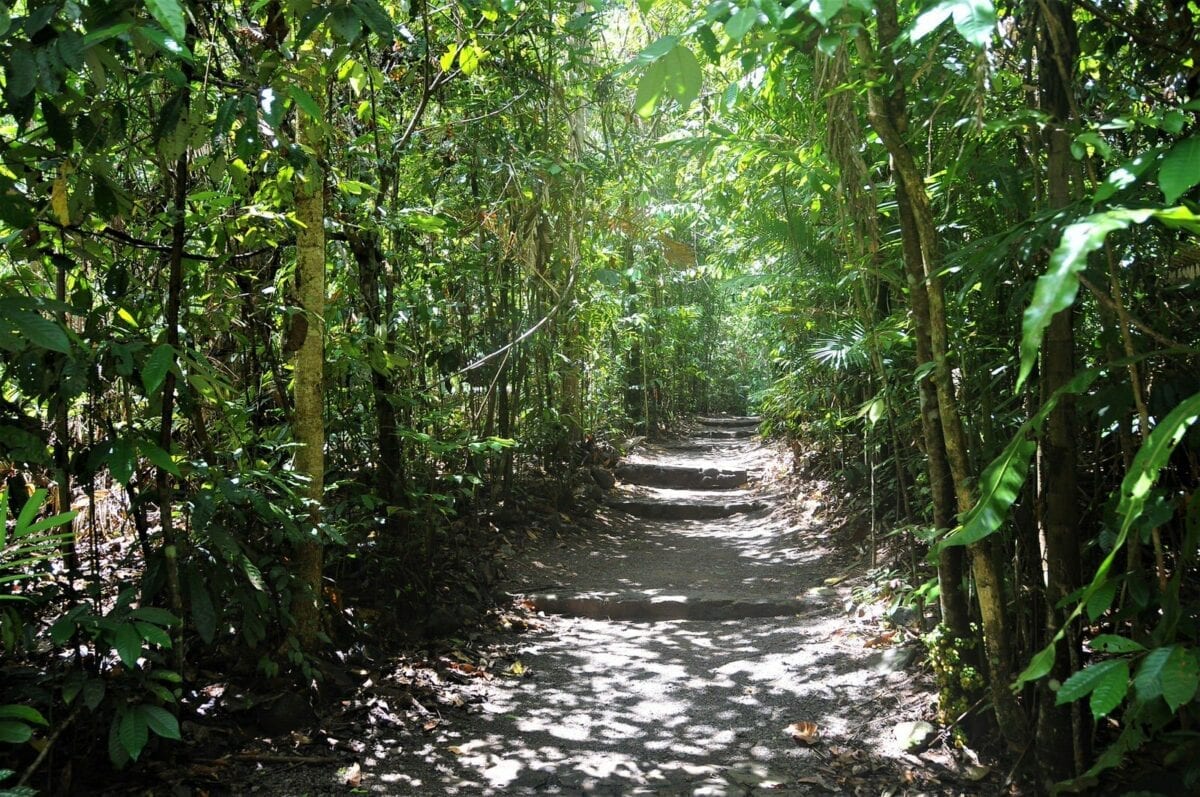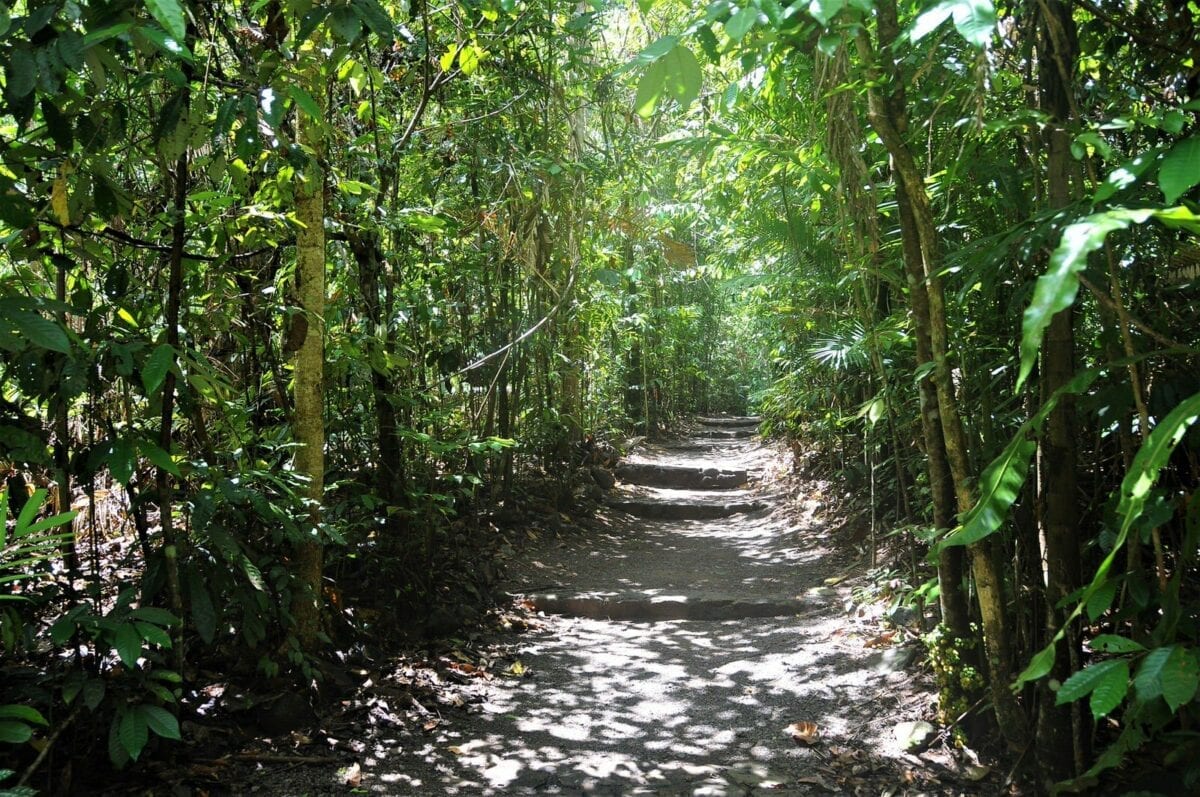 Everything was Super-Sized. the bats, the turtles, the fish, and  Cros. Down the trail were huge spider webs, giant flowers, fungus, and mushrooms. Honestly, this is an unusual garden. This heritage attraction would make a great movie set for a monster movie.
Things of Beauty
At Paronella, we watched out for each other, anticipating a situation about to come. It made us both feel apprehensive. Most of all I felt small. The garden's unique, earthy smell, from plants, fungus, and dark muddy water smelt dank almost like mildew even though we were outside.
Flowers
The lighting in the woods was fantastic, dark with rays of light. Without a tripod, I used a little point and shoot camera, Canon Power Shot
And took this photo. The lighting in the garden is spectacular.
Colossal Fungus Grows on Trees and Stumps
Hopefully, you will get to see this if you go to Mission Beach. It's a unique place, and the overgrown, old ghost town feeling. The 'Tunnel of Love', Paronella Park, Mission Beach is really different than most tourist destinations. My take away was that it's interesting to see how rainforest Jungles age and deteriorate, and how large plants can grow.
Copyright © 2023 Capetown-Rio, Inc. USA. All rights reserved. Republishing is allowed only with written permission. All photography rights on this page belong to Capetown-Rio, Inc. and the author. Do you have a question, business proposal, or speaking opportunity? Please contact me here.