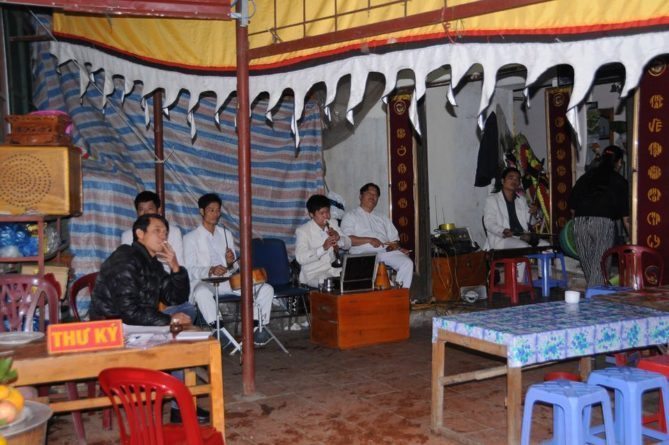 Advice
Taking Photos in Vietnam
By
|
Taking Photos in Vietnam is a blast. My camera is one of my best friends. When I woke in Vietnam, I dressed and grabbed my camera to go to breakfast. Every moment offers an excellent photograph, even at breakfast. The places and people in Vietnam were incredible. And just different enough from my everyday life, that the light and moments seemed unique.
Taking Photos In Vietnam – Infinite Possibilities
My featured photo, a picture of a Buddist funeral was something I just found walking to my hotel from our hike with KC. I had never seen or been to one before. The photo was memorable to me. I got it because I heard chanting. We walked into a café after our hike in Sa Pa and wandered into this Buddist funeral. I pointed to my camera to the man at the front door. The man nodded, yes.  KC waited outside; I continued in, and I took a few shots. There were a lot of photographic moments like that in Vietnam. The country was a photographer's nirvana.
Warning about Your Cameras
Every time we left our hotel, the staff warned us, "Hang on to your camera."
The motorbikes make the streets fast moving, a little dangerous, and chaotic. Motorbikes are known for grabbing tourist handbags, cell phone, mobile devices, and cameras.
When Taking Photos In Vietnam – Hang on to Your Camera
Beyond the motorbikes, if you can hang on to your camera, interesting sbujects can be found in the temples. There are unusual still lifes, lots of Buddhas and new things to discover in temples.
Remember – The warning about taking photos in Vietnam. Always ask first unless it's in a group or on the street. Ask permission if you want to take a picture of a business, their shop or a person who isn't in a public place. A shop, restaurant, beach, or religious setting – ask before you shoot, and always ask before you take photos of children. When I take pictures of people on the street, I try not to have the person's face in focus. I want to get the feeling of the street scene.
Hang on to your camera. Put the strap over your head and around your shoulder. But have your lens cap off. Be ready for the shot.
Graffiti Vietnam
Taking Photos In Vietnam – The Streets and Alley of Vietnam are Endless
The old town areas of Vietnam have lots of alleys. The alleys reflect the old way of life and the way it was before the communists modernized Vietnam. Hanoi is the best example of classic "old town" setting. The countryside still has villages right next to the cities of Vietnam. Venture out and you'll find some original locations. Around Sa Pa, there were villages over 3,000 years old.
Taking Photos In Vietnam – Natural Beauty of Ha Long Bay
At any time, especially at sunset, the natural beauty of Ha Long Bay was breathtaking.
Sa Pa
Sa Pa's majestic mountains were remarkable. In Vietnam, the country feels like you have stepped back in time or into a movie location. The area around Sa Pa was luscious shades of green as if we were in a sea of green. The mountains of Sa Pa Vietnam are among the most beautiful on earth and one of the most beautiful places I found while traveling.
Vietnamese locals taking Selfies
Street Guides who want to practice English
Shoot Street Scenes
Street scenes are always fun to shoot. The people in the street, animals and of course brides. If you run into students like we did, they will ask to practice English with you and then ask for pictures with you. They do this for school credit. They document their practice time with you by taking your picture. Students show their teachers the photo of the tourists to complete their assignments. Some students work through volunteer organizations which manage the scheduling.
Free Walking Tours
Official tours can be booked online for free. Or walk down the street and you might be approached and asked to lend a helping hand. You will help a student if you use their services. The volunteer guides need these volunteer hours for English credits for graduation. Try this site – where we booked our free walking tour.


The Bride Shot- a Sign of Good Luck
You might see a bride, two or three. As I have written before, I am always looking for a bride shot. In Vietnam, this was an easy photo to get. In the cities, you can find brides everywhere posing for pictures. Before their wedding day, pictures are scheduled. I think this is a good idea. In the photo above, the tender moment of the photographer was one of my favorite photos that I took in Vietnam. It's my favorite because it captures the tender kindness that is part of the Vietnamese culture. It seems so sweet to me.
You Are the Photographic Subject in Vietnam
People will take photos of you. Unfortunately, some people just want to steal your camera if you give it to them to take a picture of you. Be cautious if you are asked, "Hey can I take your picture?" Your camera could go running down the street with the kind soul who just offered to take a quick snapshot of you.
Women of Vietnam
The women of all ages are beautiful in Vietnam, and they go out for a day to take photos of themselves. We saw it so many times that we asked the women why there were taking photos, were they graduating or was it a ceremony of some sort? Nope. The women we asked said, they post the photos on social media, Facebook and dating sites. They take the time to get great photos for social media because this is how they meet people.
Social Media & Photography in Vietnam
The people of all ages in Vietnam are totally into social media. They take their appearance and social media very seriously. Social Media is the ultimate way to find their future spouse. Therefore, they take their profile photos very seriously. In Vietnam, you will see people taking their social media photo for their profile. None of this going to the bathroom and taking a picture of yourself in the mirror, nope, they stage their photo shoot and dress up for it.
Still Life in a Buddist Temple
People watching in the Parks of Hanoi
Hanoi Hilton with KC – take pictures of fellow travelers
Copyright © 2021 Capetown-Rio, Inc. USA. All rights reserved. Republishing is allowed only with written permission. All photography rights on this page belong to Capetown-Rio, Inc. and the author. Do you have a question, business proposal, or speaking opportunity? Please contact me here.