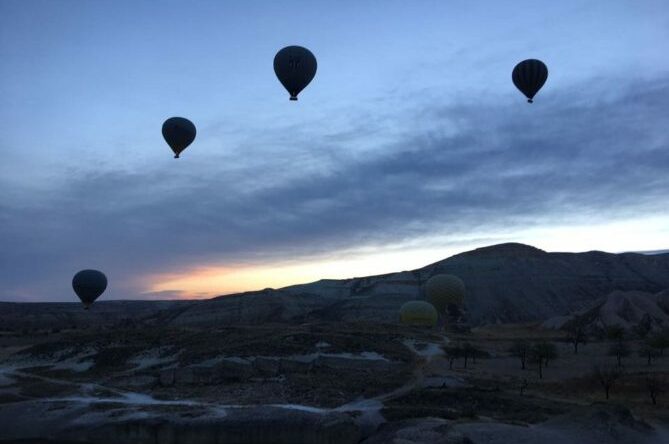 Cappadocia
See the Best of Cappadocia, Turkey
By
|
As a girl, I learned about Cappadocia from the Bible. All I knew was Cappadocia in Southern Turkey. There has to be more to the story than the stories in the Bible. So when my friends asked to go to Cappadocia Turkey, a very popular tourist location. I jumped at it. Cappadocia is easy to get to from when you are in Turkey. More importantly, it's worth seeing no matter how you get there.
Best Sites in Cappadocia Turkey
I wanted to understand why so many tourists go to Cappadocia. When offered the chance to go, I had to go. Furthermore, I wanted to see it for myself and to learn why it's one of the most visited places in Turkey.
Cappadocia Transportation
Flying to the Cappadocia's little airport at Kayseri is accessible from anywhere in Turkey. Airlines, buses, and trains from Ankara, Istanbul, and other cities take you directly to the Anatolian region. Taxis wait patiently to take tourists to their hotel. Don't worry. I feel the taxis are relatively safe and inexpensive. There is always the bad taxi driver – but the area isn't known for bad taxi drivers.
Istanbul Airport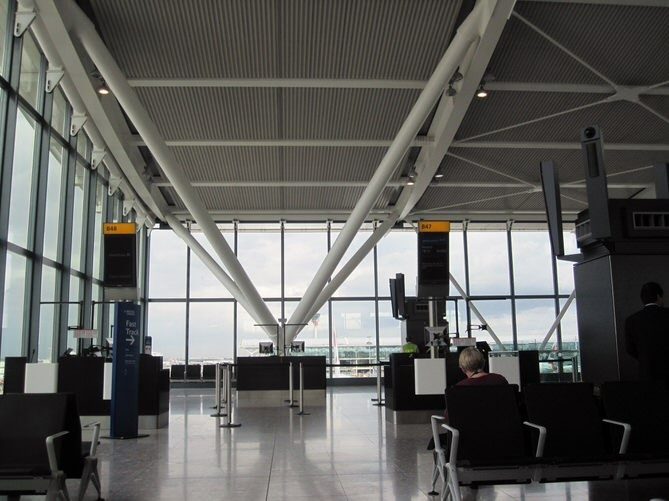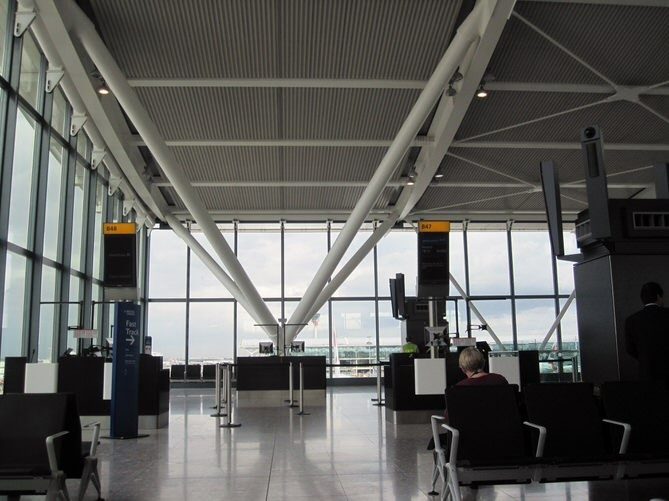 Best Sites in Cappadocia Turkey
The best natural wonders of Cappadocia are the fairy chimneys or the Cappadocia UNESCO World Heritage site. Cappadocia historical and cultural heritage is also very special to see.
The Cappadocia Hotel accommodations fit everyone's budget – you can select a great hotel, pension and bed and breakfast in the area that suits your budget and style.
International Destination – UNESCO World Heritage Site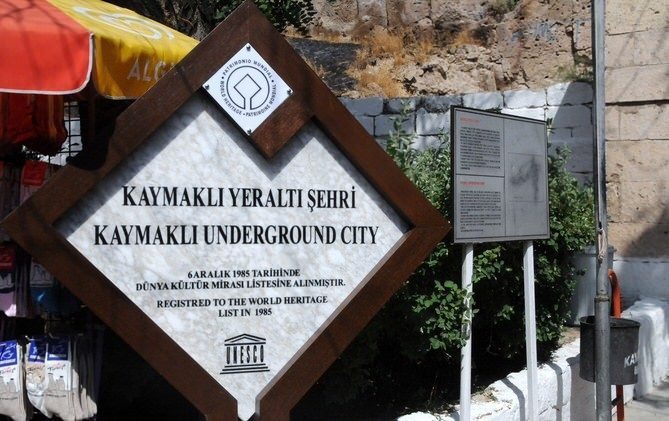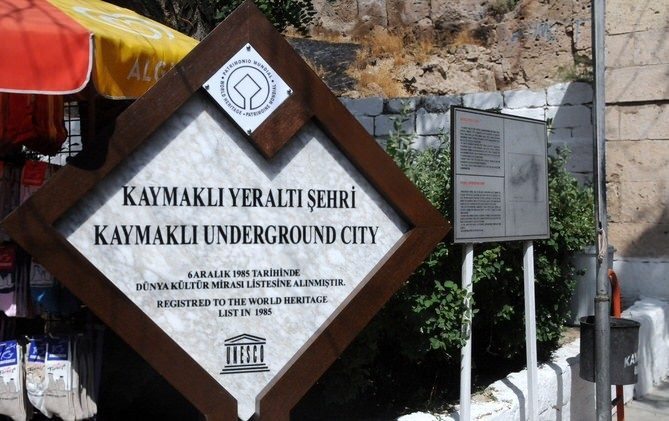 Location: The Town is Southwest of the Kayseri Airport
Even today, with all of the fears about traveling, Cappadocia is a top international tourist destination and a great place for solo female travelers. Single female travelers are always welcome to join any of the group tours. There are private tours also if you prefer private tours.
Historical and Religious Background
Historically, Cappadocia was once inhabited by Jews and then by Christian. It has always been valuable farm land.
The religious significance of Cappadocia is great. Cappadocia is important to Jews, Christians, and Muslim. The Cappadocia region is in Mishnah, in Ketubot 13:11, a Jewish text. Additionally, Acts 2:5 says that the Cappadocians were "God-fearing Jews" lived. Furthermore, in The Book of Acts 2:9, the Cappadocians are one group that heard the Gospel. Lastly, The Book of Galileans says that Cappadocians were part of Pentecost after Jesus Christ's resurrection.
Source Wikipedia.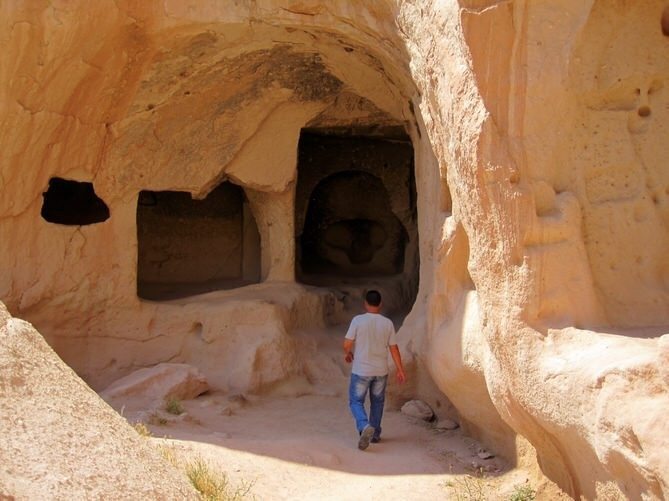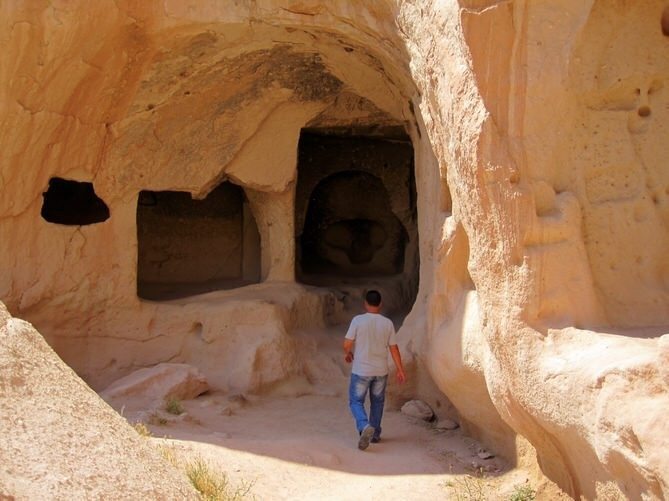 My Tour Guide Lacked Knowledge
Unfortunately, my tour didn't discuss the religious history of Cappadocia or anything cultural. Furthermore, only Turkish history was part of our tour. Therefore my tour and this tour guide presented the region's history only from a Muslim point of view. This region of the Cappadocia region was part of the Silk Route. I was kind of surprised that he left out the history of the Silk Route. How could he do that and be a good tour guide?
Ignoring the bad tour guide is possible because the scenic overlooks are very where and breathtaking. Don't forget to stop and see the extraordinary natural wonders.
Göreme
The rocks of Cappadocia near Göreme create hundreds of spectacular pillars and minarets. I recommend this tour of Cappadocia.
Rock Formations
Cappadocia is a giant plateau similar to foothills of Boulder, Colorado. The rock formations make Cappadocia a top tourist destination. Therefore, rocks are the reason people come here. They way people go to see the Grand Canyon.
The word Cappadocia once meant lowland and flat area. Once upon a time, the mountains and sedimentary rocks formed lakes about nine to three million years ago. Ignimbrite deposits erupted from ancient volcanoes making this crazy, uniquely beautiful landscape. These rock deposits created unusual turrets as if the Gods built sandcastles on this plateau. The area is spectacular.
Additionally, the laid back lifestyle and hot air-ballooning make a top romantic location.
Fairy Chimneys of Cappadocia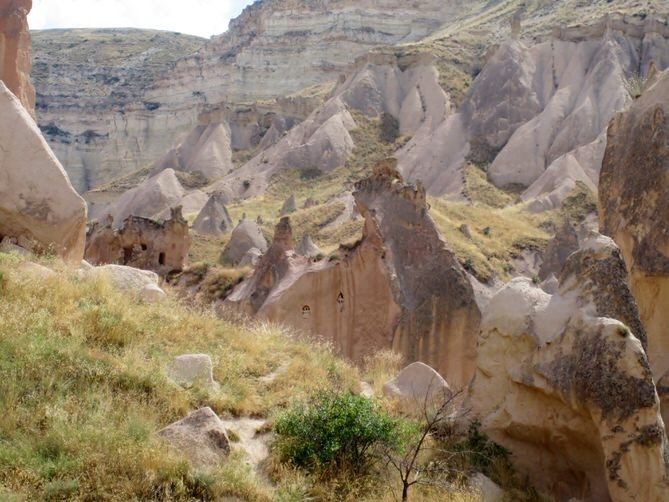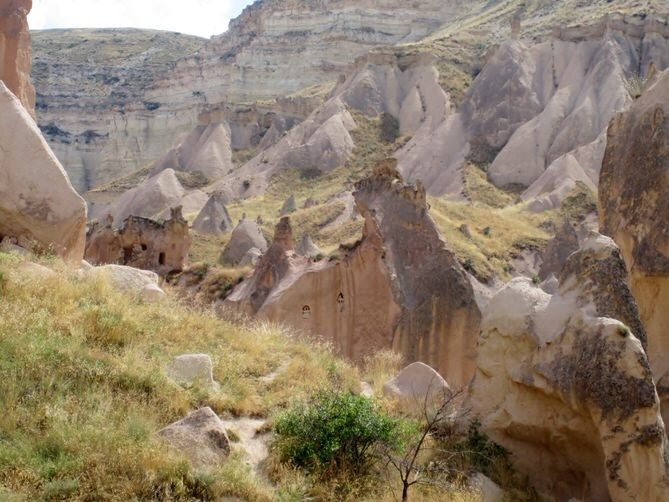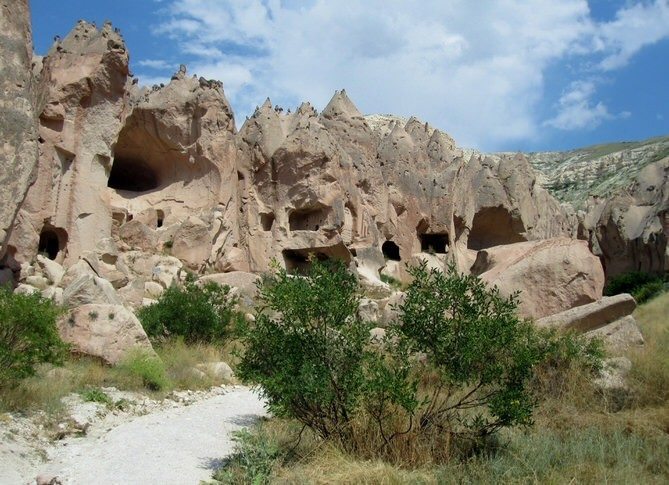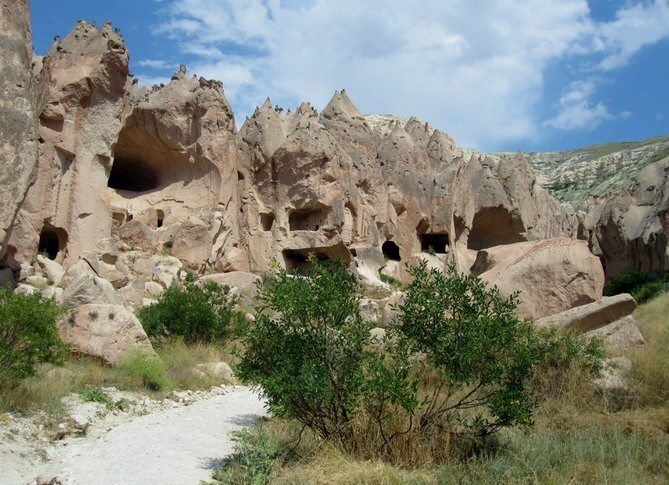 Guzelyurt, Urgup, and Uchisar
Cave homes are now bed and breakfast hotels in Goreme, which are easy to book. I booked my hotel on Booking.com. You can also stay in Guzelyurt, Urgup, and Uchisar to see the sites and tours. Additionally, book your trip and hotel from your preferred tour agent or your hotel in Istanbul or Ankara, if you don't have time to plan.
Göreme Monastic Center in 300–1200 AD
Houses, churches, and monasteries carved from the soft volcanic soft rock are everywhere and are the focus of the tours.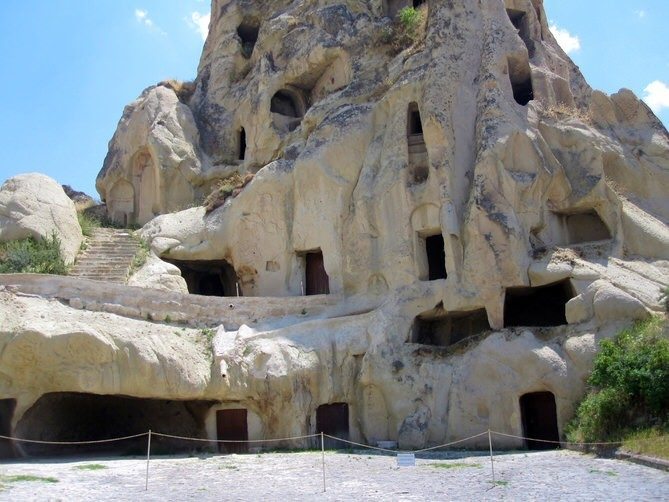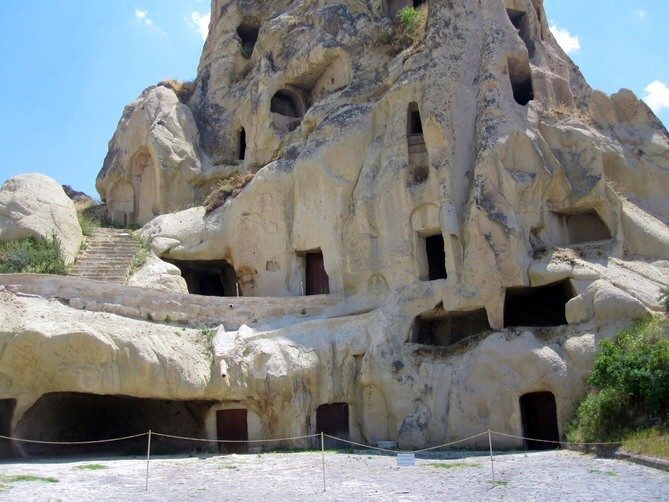 Pigeon Fertilizer
Once upon a time, this was the Pigeon 'pooh' farm capital – I never knew Pigeon 'pooh' farming even existed. But, from these caves in Cappadocia, Turkey it was once the Pigeon 'pooh' farming center of the world.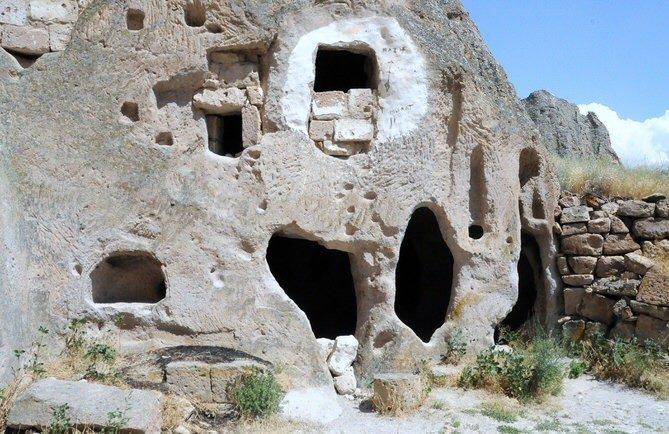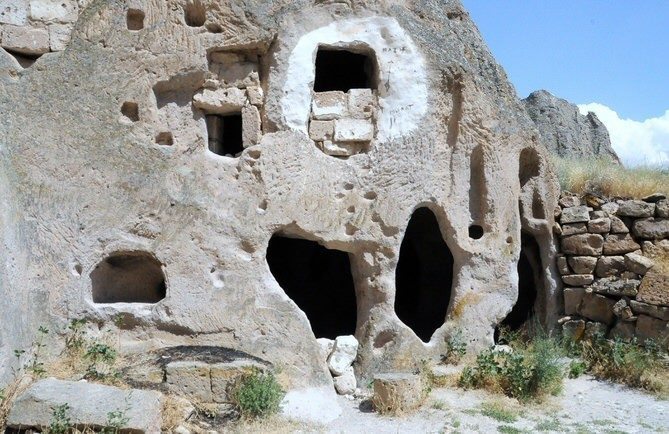 Caves Home, Cappadocia, Turkey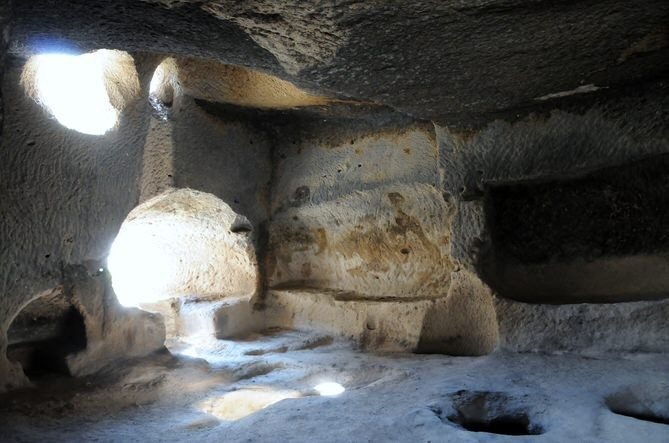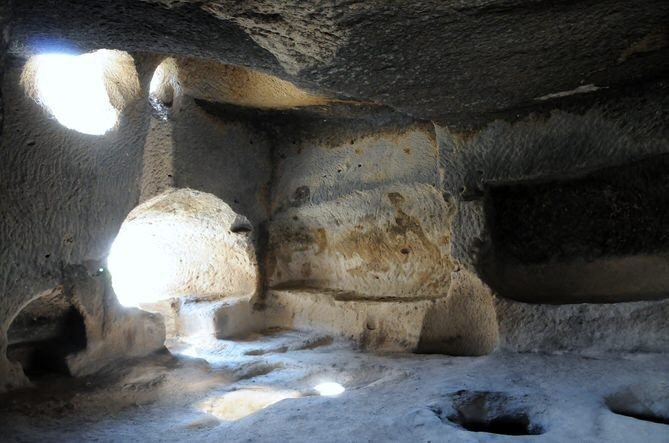 Cappadocia Cave Home, Cappadocia, Turkey
Here is a little more about the cave homes. The reason why early Christian survived was that of these forts protected them from the invaders. The Cappadocia Cave homes protected early Christians from the Arab invaders. Christians took refuge for up to 90 days in the cave homes and lived there as easily as they did above ground. Furthermore, families lived communally in these homes. They carved out new spaces when children were born or married. The underground community grew successful for hundreds of years using the cave home. The cave homes had sanitation, natural air conditioning, and storage for people and animals. A measure of the community success is the labyrinth of rooms in each home. By adding rooms for each new generation, the families homes grew and the village prospered. Just imagine, living with your parents and in-laws all of your life.
Underground World of Cappadocia Turkey
The industrious Cappadocians invented heating, air conditioning, and ventilation. Another interesting point to realize is living underground takes organizational skills. Stockpiling everything you own or need for 90 days takes ingenuity, so the Cappadocians were smart. Imagine all of your food, your animals, and their food, and supplies all stored underground to survive the invasion for a 90-day siege. Early Christians stayed safe in the cave homes until the danger passed. I think the invader must have gotten tired of waiting out the Cappaodican, so they left.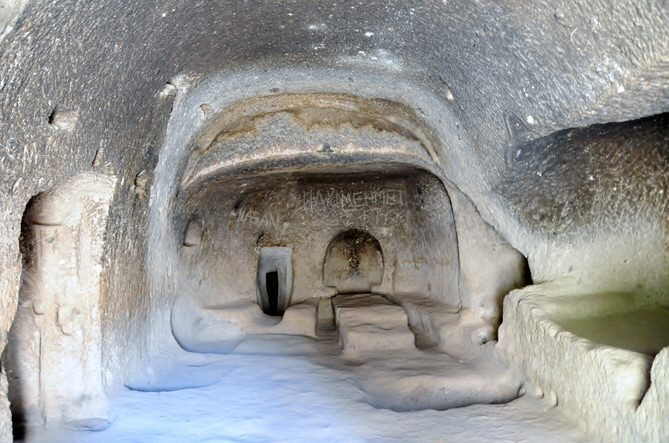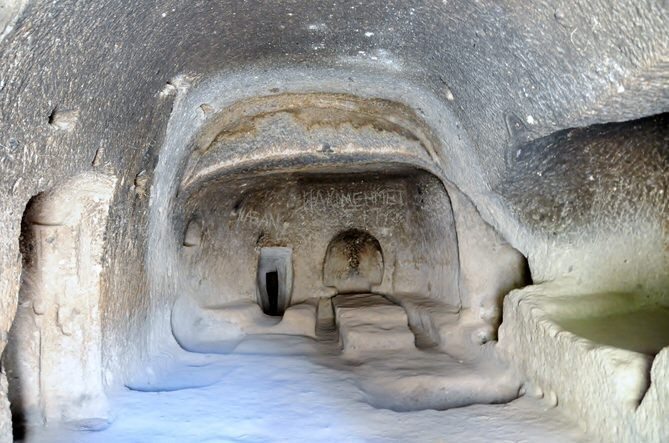 Cappadocia Cave Art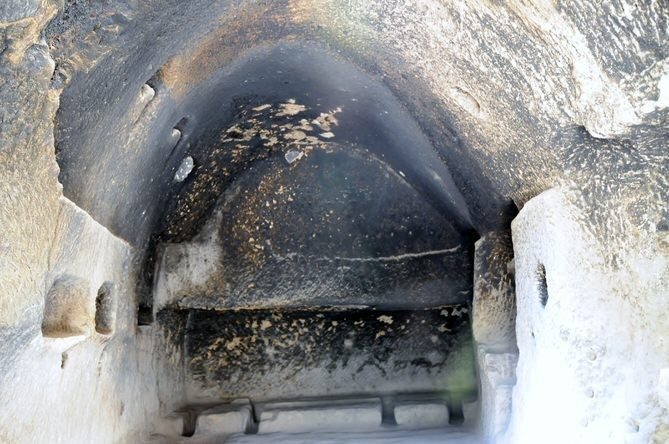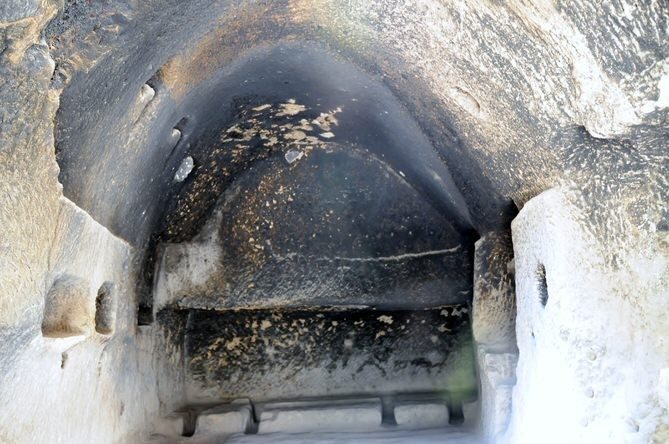 Cappadocia Turkey's Best Sights
The Black Church – Frescos, Cappadocia, Turkey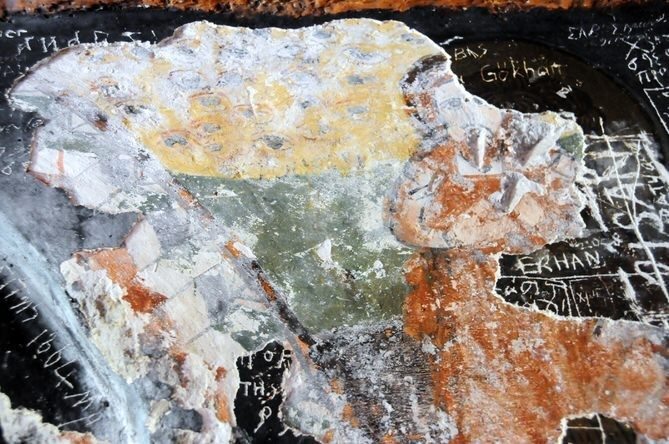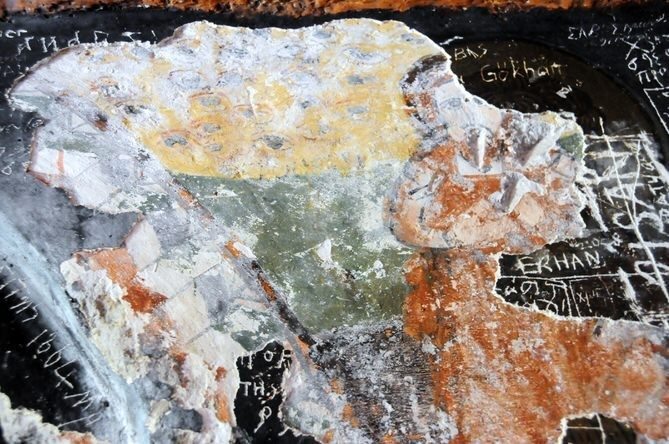 Sunset in Cappadocia, Turkey
Best Hot-Air Ballooning
Hot-air ballooning is very popular in Cappadocia and is available in Goreme. Trekking in Ihlara Valley, Monastery Valley (Guzelyurt), Urgup and Goreme is extraordinary. I also thing that Cappadocia is a great place to watch sunrises and sunsets.
Sample of the Great Views in Cappadocia Turkey
Lastly, if you want to relax, hike, take hot air balloon rides at dawn, to avoid the heat of the day, it is hot here. You can book through Gurhan @ +905051064200 and www.travelplannersturkey.com Filiz @ her website.
How Long to Stay in Cappadocia Turkey?
Cappadocia, Turkey, is a great place to visit. Stay a maximum of three days. Lastly, I have gone several times to Cappadocia. Every time I go, I see incredible beauty, spectacular scenery, and now, I understand why Cappadocia is a top tourist destination in Turkey.
Want to know more about my trips to Turkey?
Wandering the Road Less Traveled – Turkey
Copyright © 2023 Capetown-Rio, Inc. USA. All rights reserved. Republishing is allowed only with written permission. All photography rights on this page belong to Capetown-Rio, Inc. and the author. Do you have a question, business proposal, or speaking opportunity? Please contact me here.