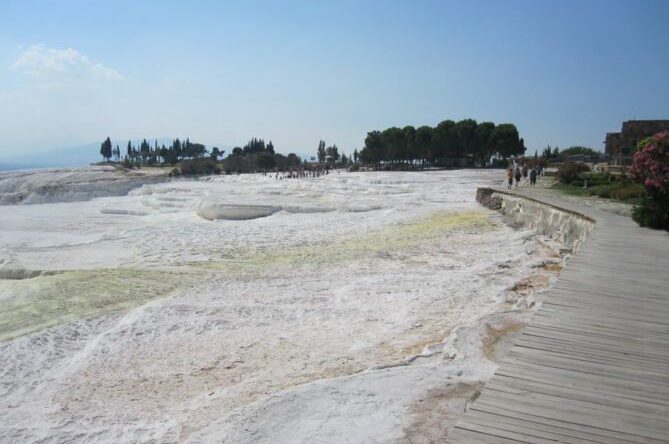 Katherine Green
Feature
Find Your Beauty in Pamukkale Turkey
By
|
When I went to the one and only remarkable Pamukkale Turkey, Sandy from Florida, one of my dearest friends joined me. Perhaps I was exhausted, but when I arrived, I couldn't find her at the airport. Eventually, after an hour of searching for her and with the help of my friend Ersin, who is a Security Officer, we found each other. When my initial embarrassment passed, I was thrilled my friend was with me. We met in 2007 at the America's Cup, and we hit it off right away. Our friendship grew over the years. Finally, we were taking a vacation together.
Cleopatra Found Her Beauty at Pamukkale Turkey
Sandy came on vacation with me to Hierapolis, also known as Pamukkale, Turkey. She took all of her savings and came over for a week to visit me. We went sightseeing in Istanbul and then took the bus to Southern Turkey to see Pamukkale.
Making Friends while Traveling
When I travel, I like to meet people. I seem to develop some of my best friends while traveling. Even though I don't get to see Sandy very often, she is a remarkable woman and friend. We met in Spain. Because we had fun together, we decided to take this vacation.
The best part of my memory of Hierapolis or Pamukkale, Turkey, is that I saw it with Sandy.
Cleopatra
When I was in Hierapolis, I felt like Cleopatra. Historian's report that Cleopatra came to Southern Turkey. There is Cleopatra Island. She met Anthony in Tarsus, a Bible site in modern-day Turkey and she bathed in Pamukkale. Some say that Cleopatra became more beautiful in the hot, calcium-laden mineral water of Cleopatra's Pool at Pamukkale. I swam in the Pamukkale water, and didn't see much of this site but spent most of my time in the Sacred Pool's mineral water and lounging under the palm trees.
Sandy's Sightseeing Sites
Sandy went on the sightseeing tour and saw the Archeological Museum. She walked up the hill about a 10-minute walk from where I lounged and slept. The sites in Hierapolis include a grand theater, a vast North Necropolis (cemetery) and a colonnaded street. The city's superb hillside location has spectacular views.
I didn't spend every moment with Sandy. She walked for a time alone, while I rested on a palm tree and daydreamed. That is why Sandy is unique. We are comfortable together. We can do things together or apart, and we never feel needy or left out. I guess that is what friends are. Friendship is accepting and takes people as they are. I am forever grateful I had the privilege to see Hierapolis or Pamukkale, Turkey with Sandy.
Hierapolis or Pamukkale Turkey
Hierapolis or Pamukkale, Turkey, is a beautiful place. It's known for sweeping views, warm breezes and an oasis with views that look like they reach to Turkey's borders.
My photos show the beautiful memories I have about Pamukkale better than any words could.
Kusadasi
We took a bus from Istanbul to Kusadasi. It is super easy to take a bus to most places in Turkey. Our hotel located in the city of Kusadasi was almost a pension, straightforward and inexpensive. The owners liked Sandy, so they took us out to fish dinner to their favorite restaurant. We picked our fish out of a tank and watched the preparation in the kitchen. Next, we were invited to have our fortunes read by one of the owner's wives at his home. My feeling was the situation was becoming too familiar therefore we skipped the fortune telling. Sandy thinks I am overly cautious but, better safe than sorry.
Men Are Well-groomed
The men in Turkey, not just Kusadasi, spend a lot of time at the barber.
Kusadasi is a fun place to people watch at night and an excellent location for a photographer.
The Spa and Mud Bath
Enjoy Lunch at Hierapolis, Pamukkale Turkey
Travertine Plateau, Hierapolis, Pamukkale Turkey
Hierapolis or Pamukkale Turkey
Sandy went sightseeing with me. We saw the travertine plateau. I almost slipped, but she caught me – it's very slippery – watch out. Only certain areas are open to tourists to protect this UNESCO World Heritage site.
Sandy's Sites to See
Grand Theater – Hierapolis or Pamukkale, Turkey
Vast North Necropolis (cemetery)
Colonnaded Street – Hierapolis and Pamukkale Turkey
Archeological Museum
Sandy Climbed the Ruins at Hierapolis, Pamukkale Turkey
Shade Under a Palm Tree and Swimming

We Meet Up
More accurately Sandy woke me up and we walked to the travertine plateau where the views are spectacular.
Travertine Plateau, Pamukkale, Turkey
Walkway Limits the Entrance by Tourists to the Area
Beautiful – Travertine Plateau, Pamukkale, Turkey
This area is a UNESCO World Heritage site.
Slippery When Wet
The entrance to the pools are slippery, be careful walking, you can slip.
Returning to Kusadasi
At the end of the day, we were exhausted and came back to Kusadasi and fell into bed.
Copyright © 2023 Capetown-Rio, Inc. USA. All rights reserved. Republishing is allowed only with written permission. All photography rights on this page belong to Capetown-Rio, Inc. and the author. Do you have a question, business proposal, or speaking opportunity? Please contact me here.